One of the oldest bridal trends of all times, pearls are the perfect companion for an utterly elegant bridal look.
These lustrous gems are timeless, and you can't really go wrong with choosing pearls as your bridal look theme.
Besides pearl-encrusted wedding dresses, there are plenty of accessories you can use to incorporate these sophisticated gems in your bridal ensemble. Whether we are talking about timeless pearl jewelry or pearl-adorned bridal shoes, pearl detailing makes a shimmering statement and a popular choice for brides all over the world. Read on for the easiest ways in which you can incorporate pearls into your bridal look.
Timeless Pearl Jewelry
What a better occasion to showcase those stunning heirloom pearl jewelry pieces than your own wedding? Pearl drop earrings and blingy dangle earrings are the perfect choice for an up-do, while the more dainty and discreet stud earrings work with almost any hair style and are comfortable enough to be worn all day. To add that much-needed extra glow to your wedding ensemble, complete your bridal look with a beautiful pearl necklace in shades of white, ivory or soft pink, depending on the color of your earrings. A statement pearl choker necklace works perfectly with a strapless or off-shoulder dress, while a plunging neckline requires a lariat necklace. For a boho or eclectic bride, forget the classic whites and incorporate peacock-colored pearl earrings, pink gems or golden pearls for that added touch of glow.
Whimsical Pearl Hair Accessories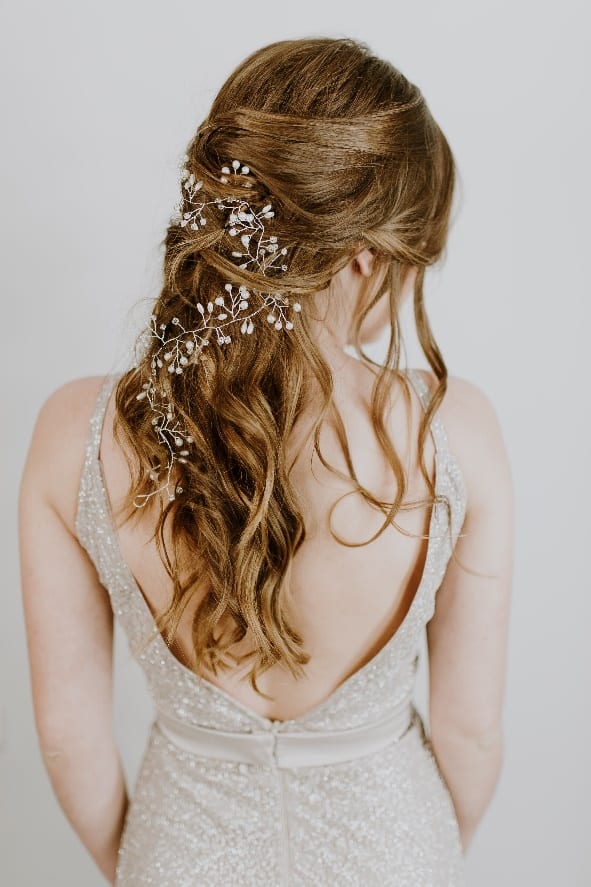 Besides jewelry, another elegant way in which you can incorporate pearls into your bridal look is by adding a few hair accessories that showcase the lustrous gem. If you decide on an updo for your big day, try adding a few pearl hair pins to really make your look pop. However, if you choose to wear your hair down or half-down in loose curls, add a statement pearl hair comb on one side to complement your hairstyle. Vine hair combs featuring dainty freshwater pearls are a highly popular choice and the options are endless. To put a twist on this classic look, try colored pearls, in shades of pink or gold, as a more contemporary alternative.
Pearl-Adorned Bridal Bouquet
Whether you choose a premade bridal bouquet featuring dry or faux blooms, or decide on fresh blooms for your big day, your bouquet is a big part of your bridal look, so it should perfectly complement your other accessories. A few pearl pins added at the base of the flower arrangement give a slight hint of the pearl look you are going for, while large hand-made pearl flowers mixed in with your blooms definitely make a big statement. You could also try wrapping your bridal bouquet with a string of pearls, in shades that complement your wedding dress, to really showcase the beautiful gem.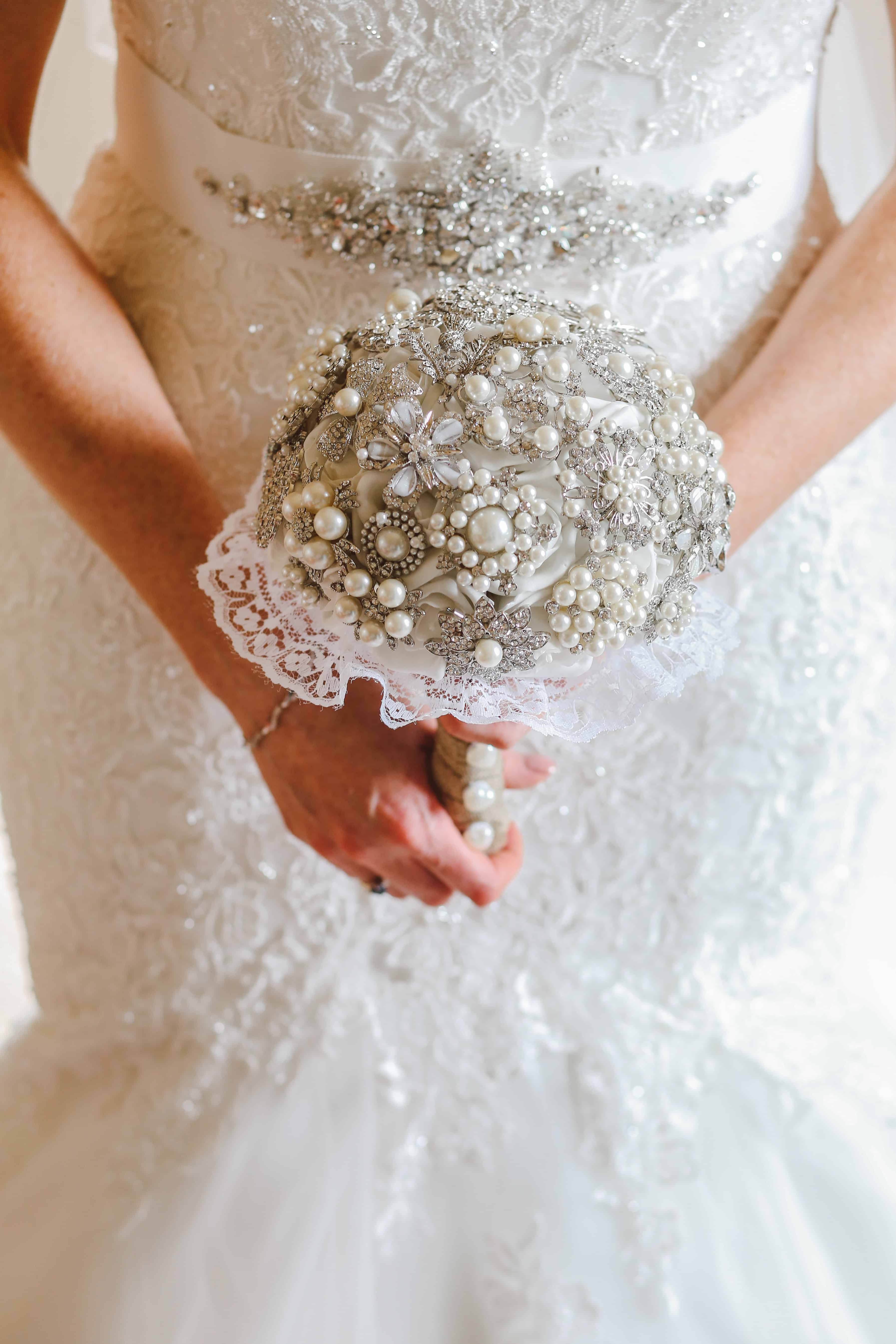 Pearl Embellished Shoes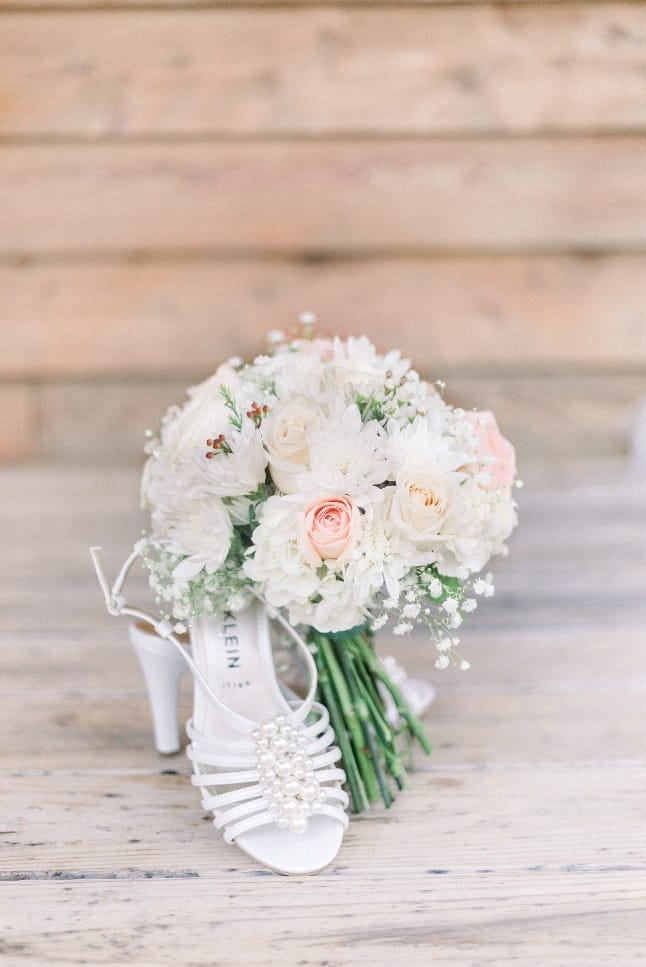 Pearl-adorned bridal shoes are the perfect finishing touch to a wedding day look meant to showcase these lustrous gems. Bridal shoes come in many different shapes and sizes, from high heeled sandals and pumps to ballet flats. Whatever your choice may be, make sure you find yourself a fabulous, yet comfortable, pair for your big day. If you want to carry out your glamorous pearl look from head-to-toe, choose a pair of pearl embellished bridal shoes to complete your look. However, if you have already purchased your shoes but still want to add pearls to them, get yourself a hot glue gun and plenty of flat back pearls from Amazon and add them to the heel of your shoes, in whichever design you wish. Besides being one-of-a-kind, you pearl-adorned pumps will add a hint of sophistication to your overall look.
Pearl-Adorned Clutch
Every bride needs a small purse to hide her necessities in, so use this accessory to complete your pearl bridal style. There are plenty of options out there to choose from, from fully pearl-embellished clutches to delicate, but blingy ones, just take your pick. However, if you only want a hint of your pearl theme on your bag, use a statement pearl brooch and attach it to your simple white clutch and you've got yourself a sophisticated accessory to complete your glamourous bridal attire.