I'm deviating from weddings just for today and, as promised, I'm finally posting the results of my adventures in searching for the perfect violet perfume! As someone who loves violets (actually, more like obsessed) I've recently been on a quest to try a variety of violet perfumes, hopeful that I'll find something that lives up to my ideals inspired by vintage French perfume and soap labels from when this scent was so popular in the 19th century. I hope we see this type of packaging again, by the way. I found there are many beautifully packaged violet perfumes available today, and over the last few months I've been trying them out. There are still many more to try, but so far these are the ones I feel are most worthy of sharing with you.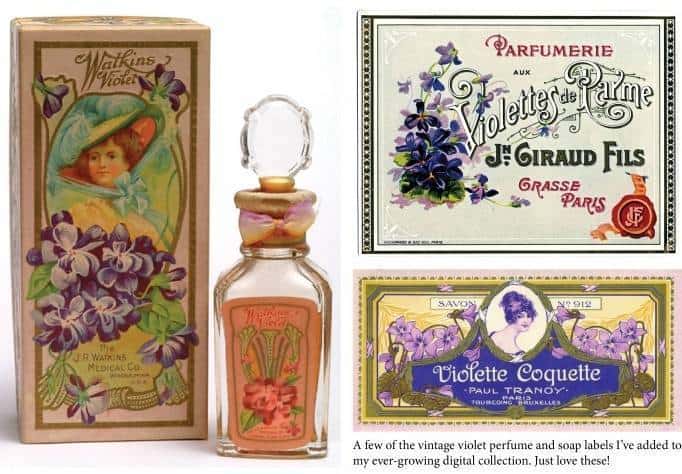 Violet – Single Note Solid Perfume by Aires Aromatics (Top Pick!)
This natural solid perfume arrives from Dublin, Ireland in a cute little eco-friendly tin. I was pleasantly surprised by the elegant scent of this single note – its rests on the soft, green floral side which I love (I'm not keen on overly powdery scents, which many violet perfumes can be). I use this perfume almost daily and don't ever seem to tire of it! It is created with essential oils from an ancient Italian herbalist shop and captured in a nourishing base of jojoba, vitamin E and natural, fragrant beeswax coming from a family owned beekeeping in the hills of Umbria, Italy. "A Symbol of the 1920s Belle Époque, it is for women that love art and the Liberty style," as it says in the Aires Aromatics Etsy shop. This is not one to pass up! A 10 ml tin retails for $18.
Wood Violet – by Sonoma Scent Studio (Top Pick!)
This is my absolute favorite liquid violet perfume that I've tried thus far. It has dreamy opening notes of soft violet, plum, and violet leaf, with a light woodsy and musky base. There are also very light background notes of cedar, cinnamon, clove, and sandalwood. The green notes help anchor the violet, and the plum complements both the violet and cedar. It has a warm and dry feeling to it and every time I inhale this one I feel transported to a woodland fairy realm – and that is a place I love to be. It retails at $40 for a 17ml spray.
Voile du Violette – by Sonoma Scent Studio
This one smells like spring to me, and is another great choice from this perfumer. It is a soft violet complemented by iris, cedar, vetiver, violet leaf, a touch of rose, myrrh, and tonka bean. It is not a traditional powdery violet, nor is it sweet, but an unconventional violet fragrance with fresh aspects from the green violet leaf and woodsy additions from the cedar, vetiver, and tonka. It is fresh and romantic without being overly flowery. It retails at $40 for a 17ml spray.
Laurie Erickson (the artisan behind Sonoma Scent Studio) on Voile du Violette:  One of my earliest perfumes as a girl was a violet soliflore housed in a pretty little ceramic bottle hand-painted with violets. It was an intense violet scent with a hint of green. I'd often remove the stopper, perched above a pretty lavender satin ribbon, just to sniff the contents. Now and then I'd dab it on my hand and sniff on and off for hours. I didn't grow scented violets until many years later (I had only seen the scentless varieties when I was young), but I loved my early bottled introduction to violet fragrance. I wanted Voile de Violette to be a soft violet with a touch of green, similar to my memory of that long-ago scent but softened with gentle woods.
Lieu de Reves – by Sonoma Scent Studio
Lieu de Rêves, meaning "place of dreams," doesn't have a strong violet scent, but it's in there. It combines soft floral notes of violet and rose with a base that balances sweet notes of heliotrope, tonka, amber, vanilla, and musk with woodsy notes of cedar, vetiver, and orris. This is a beautifully delicate scent that has gentle aldehydes adding elegance and intriguing base notes which add unique accents to this modern take on the classic powdery floral heliotrope theme. It retails at $40 for a 17ml spray.
Violette – by Bourbon French Parfums
Part of the Bourbon French Parfums vintage floral collection, it has a green undertone and an overtone of delicate, powdery flowers. It is the most powdery of the ones I've tried so far, but I tend to be overly sensitive to the powdery ones. If you like powdery scents, you'll love the smooth blend of this one. It retails at $32 for ½ oz.
Geisha Violet – by Aroma M Perfumes
When I first tried Geisha Violet, it was not what I expected. There are very light notes of violet but it is also lightly suffused with lilac, ethereal Japanese lotus, and spiked with bitter chocolate. This is a very modern spin on a Victorian aroma. "Imagine sugar undercut with an edge of irony. Here is a knowing fragrance for contemporary youth," as the Aroma M Perfumes site says. In fact it is named more for the color than the flower – violet being the richly opulent color that the geisha chose for the silk brocade of their autumn kimonos, though in truth it is a borrowed hue from the French. Geisha Violet is a cross-cultural fragrance and references Japan's longstanding love affair with everything French. It comes in a portable, roll-on with a pretty flacon, taking up no more space than a lipstick. It retails for $55 for 8ml.
Violets and Rainwater – by Soivohle
One of Soivohle's signature demi-absolutes, it starts off with a clean watery after the rain scent with notes of Parma Violet Flowers, violet leaf from the absolute, and iris and then has lingering notes of light patchouli, white musk, and labdanum absolute. I would have preferred more violet and less musk. Unless I knew there were traces of violet in it, I wouldn't have guessed. It almost has a mysterious quality, though not necessarily bad. Retails at $35 for 11ml.
Violet Blonde – by Tom Ford
A bold scent, Tom Ford Violet Blonde is "an opulent, dressed-up fragrance that reveals a stunning new facet of violet with a ravishing, intriguing elegance," as it says on their site. This one is more "perfumey" than I normally like and reminds me of walking by the perfume counters in a department store. It is said to have notes of Violet Leaf Absolute, Italian Mandarin, Baie Rose, Tuscan Orris Absolute, Tuscan Orris Butter, Jasmin Sambac, Sampaquita, Benzoin, Cedarwood, Vetiver Absolute, Musk, and Soft Suede. I honestly have a hard time smelling the violet (or any individual note) in it after having the pleasure of using the aforementioned ones in this review, but it does have a certain red-carpet opulence to it. Retails at $70 for 1 oz.