We've featured hundreds of real weddings here on Sweet Violet Bride in the past five years. That is a lot of bride's and more than a few had some tips for those in the planning process. In fact they've shared so much great advice we decided to split this post into two parts (keep an eye out for part 2 very soon). In this post we've gathered wedding planning advice from outdoor brides on the subjects of weather, staying true to yourself, and going with the flow. Grab your favorite drink and enjoy!
*Click on the brides' names to check out their wedding feature!
WEATHER
Remember that people won't know what was "missing," don't stress it – especially on your big day! However it looks is perfect and so enjoy it! You can laugh at any mishaps later, I promise. In regard to mountain weddings, weather can be unpredictable – be ready for anything! Also, have a good photographer – your pictures can be breath taking! It's worth paying for the memories. – Kallie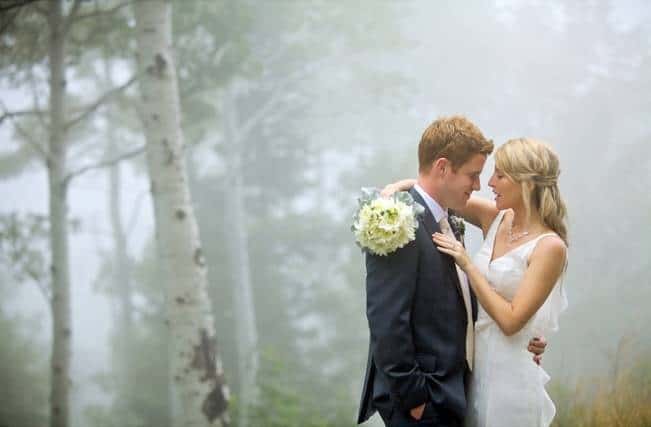 Plan your transitions! This was a time of stress for everyone. Delegate who is going to carry what and who is in charge of driving certain cars ext. Trying to figure all of this out in a matter of minutes to stay on schedule is stressful but avoidable if you take the time to plan it out! For mountain brides specifically: Plan for changing weather and have a rain plan set in place that you will be happy with! This is something that I ended up doing only 2 days before the wedding and I wish I would have set it up prior to the big day! – Lyric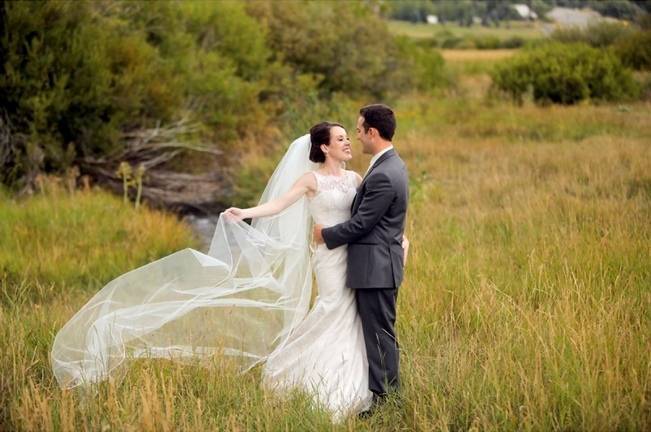 I think the best advice was to allow the wedding to be an example of our love and not to worry too much about the details. I'm BIG on details but I think everyone most enjoyed seeing Damon and I happy and having fun. I wish I would have had a better plan for the rain though! We missed out on some of the things we had planned for our cocktail hour and I really hadn't wanted to acknowledge the possibility of rain, even while it was raining. – Kate
Advice for mountain brides: Don't buy very expensive shoes, they'll get ruined! – Ingrid
Figure out what parts are most important to you and focus more of your time and financial investment in those particular things. Breathe and realize it will be just how it's supposed to be. Oh, and look at the 10 day weather forecast and if it's predicting rain on your outdoor wedding, have a good cry, and let it go. That way, when the day comes, you'll be prepared! – Joanna
YOU DO YOU!
Just chill! Seriously, chill. If you find yourselves getting all worked up, try to remind yourself (and actually listen to yourself) that this is just ONE day of your entire lives. It will be what it is, and that is more than likely going to be amazing. So just give it up to the universe and relax! Also, make sure the music you actually want is what gets played / performed. That's another biggie. – Allie
Your wedding is about you and your soon-to-be spouse. Don't stress out over making everyone else happy. Your wedding should be a combination of what each of you wants. NOT all of your guests. You can't make everyone happy. Also try to have almost everything done before a week before. You'll need that last week to breathe and relax (and catch up on last minute things you forgot). – Lindsay
Don't over plan because things always change and you don't want to be stressed, you want to be able to enjoy each and every moment. Also hiring a day of wedding planner or designating a good friend as the planner could be a good idea. I wish I had one as I was fielding flower and caterer questions while I was also getting ready! Oh, and if you have an outdoor wedding get a microphone so everyone can hear you! People really appreciated that. – Alexis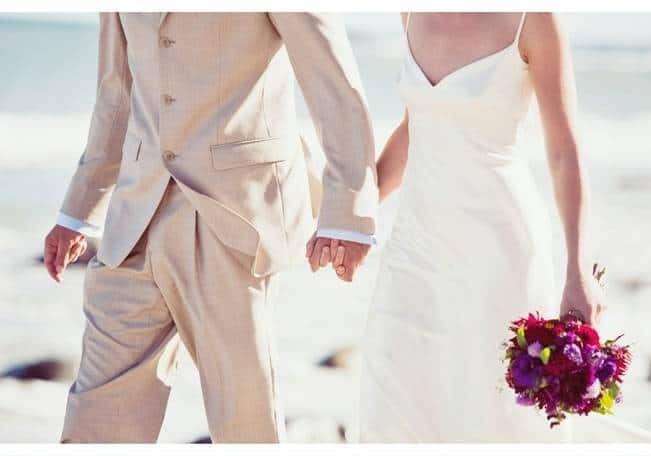 I know you hear it over and over again, but the day goes by SO fast. Take a few seconds throughout the night to just pause and be in the moment. Remember how your parents' faces look, how your flowers smell, how your cake tastes, how much love you feel. Other things? Splurge on your photographer (pictures are way more worth your money than the chocolate fountain),  carry a clutch with emergency items in it or ask your maid of honor to do so, and ask someone to set aside some wrapped up dinner and cake to take home, because it's so hard to find time to eat. Most of all don't sweat the small things and enjoy every second! – Hana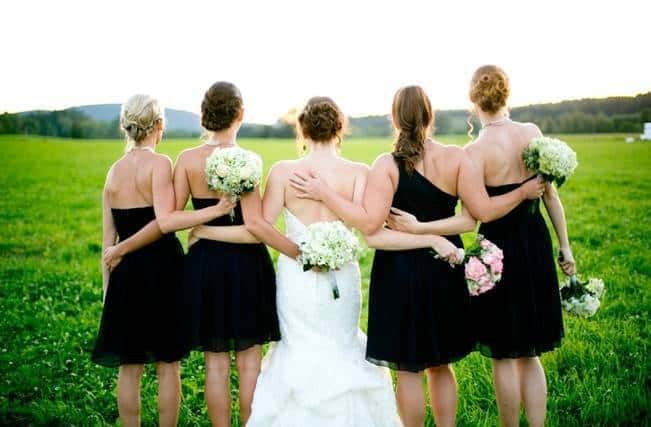 Our advice to future brides and grooms is to think through why you are doing each aspect of the wedding. For us, if we were doing something solely based on tradition and it wasn't particularly meaningful, we tried to think of another way to do it that was more true to who we are (or cut it out altogether). We mixed things up a bit, and many guests told us they appreciated how personal that made the day feel. – Angela and Dave
My advice for future brides is to make sure you stay true to yourself. Weddings nowadays seem have so many high standards for the couple to live up to and with websites like Pinterest you will always feel like you could do more. We know that our wedding was very non-traditional and most people would probably find our decor a little different, but what was important is that our wedding reflected us and that is all that matters. You can only do so much, don't go crazy trying to please everyone. Remember it is your day! – Jen
Do whatever your heart desires.  People want to get involved and though it is so sweet, it can lead your vision astray.  I wore lace up boots and love that decision! Your wedding day should revolve around you and be as stress free as possible.  It should be one that you think about and immediately smile, so the more positive you can make it (and that means following your heart) the better! – Jessica
GOING WITH THE FLOW
Unless you plan on eloping and you're browsing the deep corners of the Internet searching through elopement packages. You know very well that you simply cannot plan for everything. As much effort as I put into the details, we had some big issues go asunder (bartender didn't show up, people ate our pies before we got to cut our own pie, our wedding cake ended up being a cheesecake from Food Lion we bought on our honeymoon, haha!) You can't plan for it all and you have to be prepared for when things go astray! Just roll with the punches and enjoy the day because at the end of it, if you both showed up, the details really don't matter! – Hannah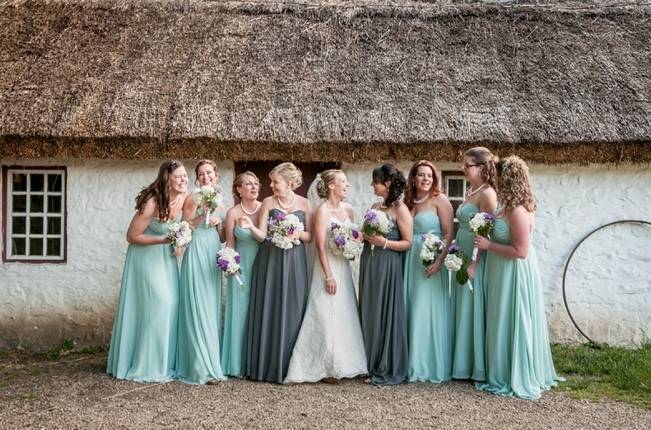 Just enjoy it! I know people say that all the time, but it really is true. Do whatever it takes to stop stressing, keep breathing and enjoy the whole process! We had our moments of tears during the whole planning process, but we tried very hard to stay level headed and make time for ourselves in the months leading up the wedding – time both together and apart! When the day of the wedding came, we just told ourselves that it was what it was – whatever goes wrong, it'll be fine. And it was! The ovens that we rented kept breaking and dinner was delayed, but we didn't care – we were having too good of a time! And because we didn't care, our guests didn't even notice! So just enjoy the day. If something goes wrong, let someone else handle it. Just focus on yourselves and all of the love surrounding you! – Sera
Just to relax and enjoy every moment of your special day. It all seems stressful but in the end it will work out and if it doesn't no one will even notice! All of our groomsmen, including the groom, forgot to wear their boutonnieres and we didn't even notice until a couple days later. – Sarajane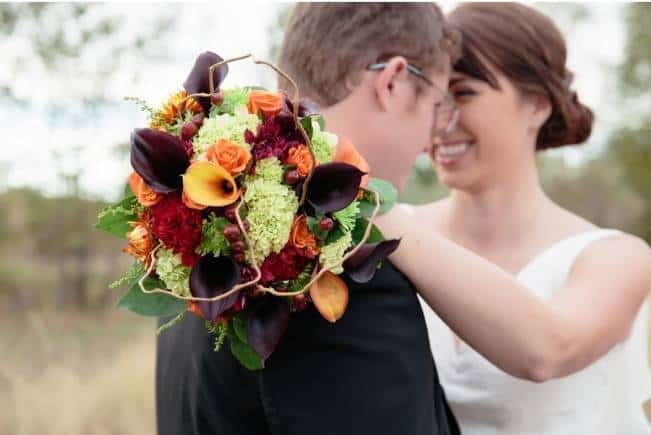 I know that everyone says it but just try and relax and enjoy the day. Remember that this day is about you and the person that you are marrying. As long as you are together that should be the only thing that really matters. Things will happen that will throw a kink in your plans. We had the possibility of bad weather looming all day, dessert showed up later than expected, and a clasp broke on the back of my wedding dress. All of those things caused some stress but I ultimately decided that we were still going to get married and that was all that mattered and the rest would fall into place. – McKennon
Check back soon for Part II in which brides give advice on time management and budget!