Every bride-to-be wants to look their best as they formalize their commitment to their partner on their wedding day. It's a momentous occasion that they'll want to capture in photos and videos so many brides go on diets and frequent the gym to lose a few pounds before the big day. Sadly, shedding excess fats, especially in the midsection, is not easy.
You might be feeling conscious about having a big belly ruin the look of your wedding dress. It could be caused by having excess fat or bloating due to stress. Even your monthly period can make you look more pudgy than usual. Whatever reason you have for desiring a flatter-looking tummy, we've got you covered. This piece will offer doable tips to help take the attention away from your belly so you can wear your wedding dress with confidence.
From buying control top tights and other shapewear items to highlighting your best features, there are many things you can do to make your middle area less prominent. In case you have yet to purchase your dream gown, we will also offer a few guidelines to help you pick out a wedding dress that will give you a lovely silhouette and stunning appearance. And since you may experience belly-bloating on your important day, we will also enumerate several pointers to help you prevent this problem.
4 Tips to Make Your Belly Less Obvious on Your Wedding Day
Making your belly a bit less evident is not as challenging as you may think. The key is paying attention to every little detail to create an overall gorgeous look. Here are a few tips and tricks toward this end: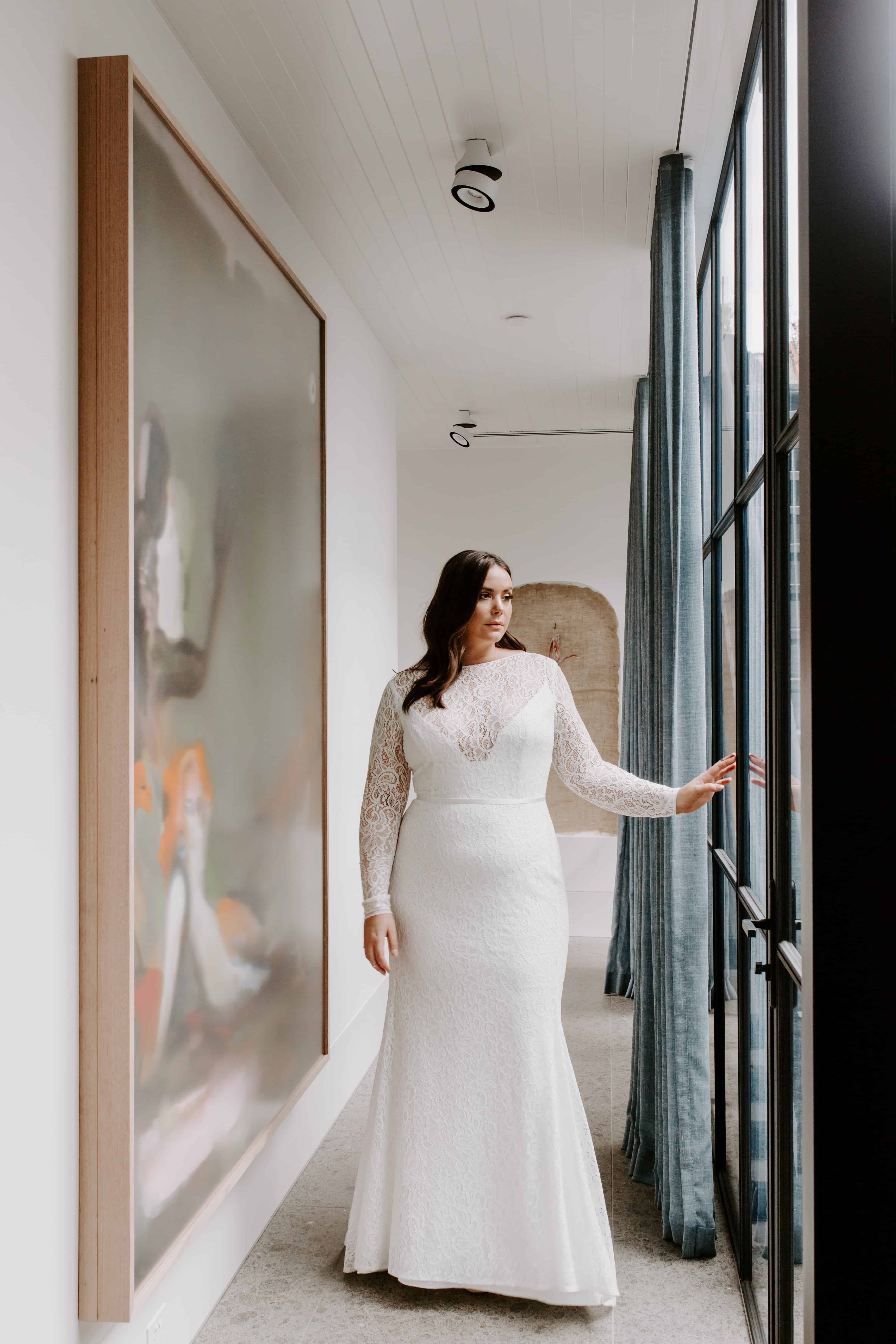 Wear Control Top Tights and Other Shapewear Pieces
Have you ever wondered why full-figured celebrities look fabulous in their tight-fitting gowns? The answer: layering two to three pieces of shapewear. So, your best bet to create a slimmer and flatter tummy area is to do the same.
Start by wearing a pair of high-quality control top tights to tuck and smoothen your midsection, lift your buttocks, and slim down your hips and thighs. Then put on cami shapewear or a bodysuit for additional tummy-tucking support.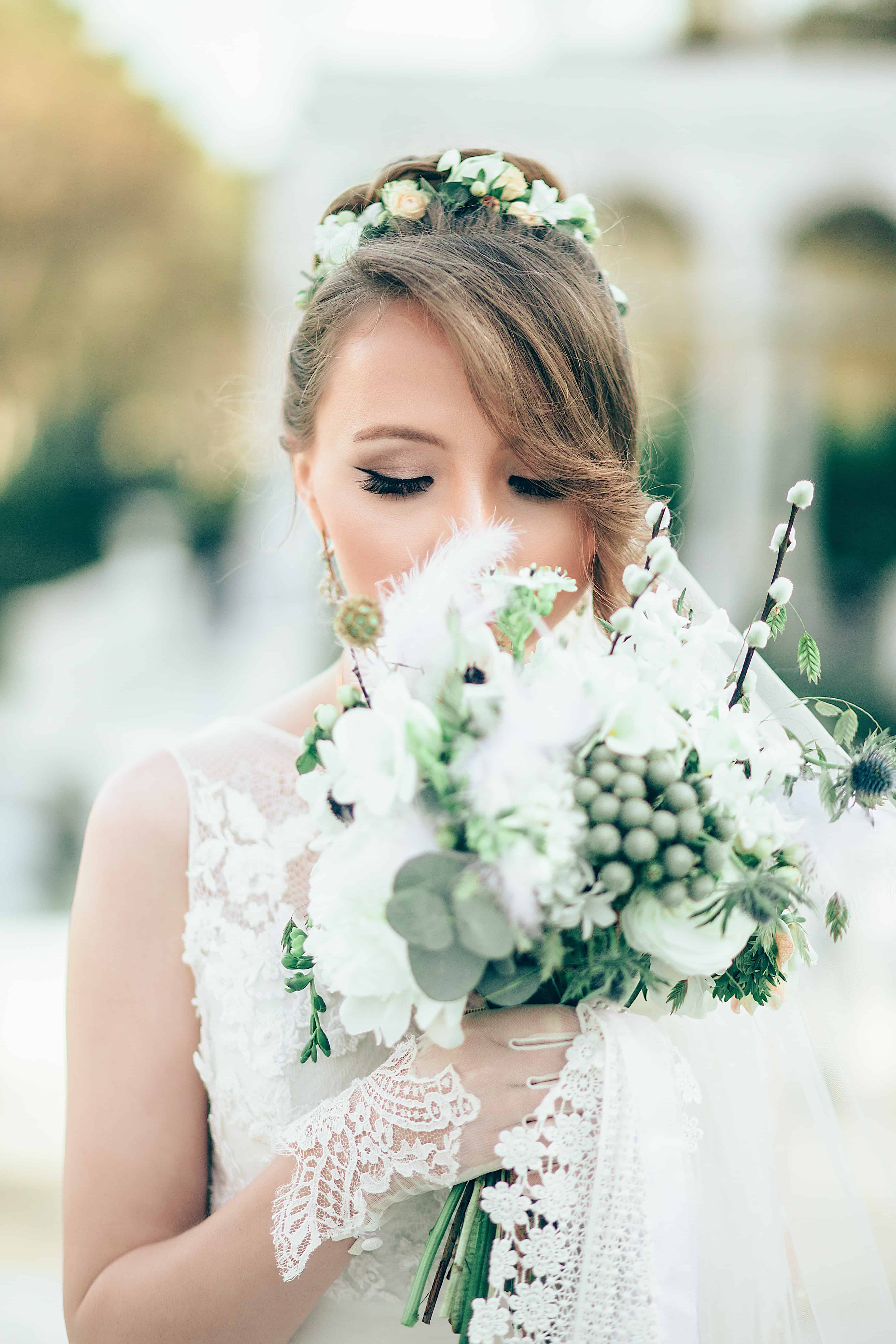 Besides opting for superior-quality shapewear, make sure that you wear items in your size for better fit and comfort. Otherwise, you may feel so constricted that you can hardly breathe or focus on anything else.
Opt for a Flattering Makeup and Hairdo
Another strategy to make your midsection less eye-catching is to draw attention to your beautiful face. Put most of the focus on your makeup and hairstyle so that other people will spend more time making eye contact rather than noticing your midsection.
With a bit of contouring, highlights, and the right hairdo, any professional makeup artist and hair stylist can make your face and overall appearance visually stunning. Complete the look with a joyful glow and a radiant smile, and your soon-to-be spouse won't be the only one who thinks you're the most beautiful woman in the room.
Practice Proper Posture
Some people tend to hunch over in an attempt to hide their belly but it can actually have the opposite effect. Instead, you should stand tall and practice proper posture because an erect bearing will elongate your body and create a more slimming effect. Additionally, standing and sitting up straight can increase your confidence and self-esteem. And you know full well that a confident woman is always beautiful.
Learn How to Use Your Bouquet
Your wedding bouquet adds sophistication and color to your ensemble. It is also a valuable and beautiful tool to make your belly less noticeable as you walk down the aisle and take pictures. The key is to know how to position them against your body.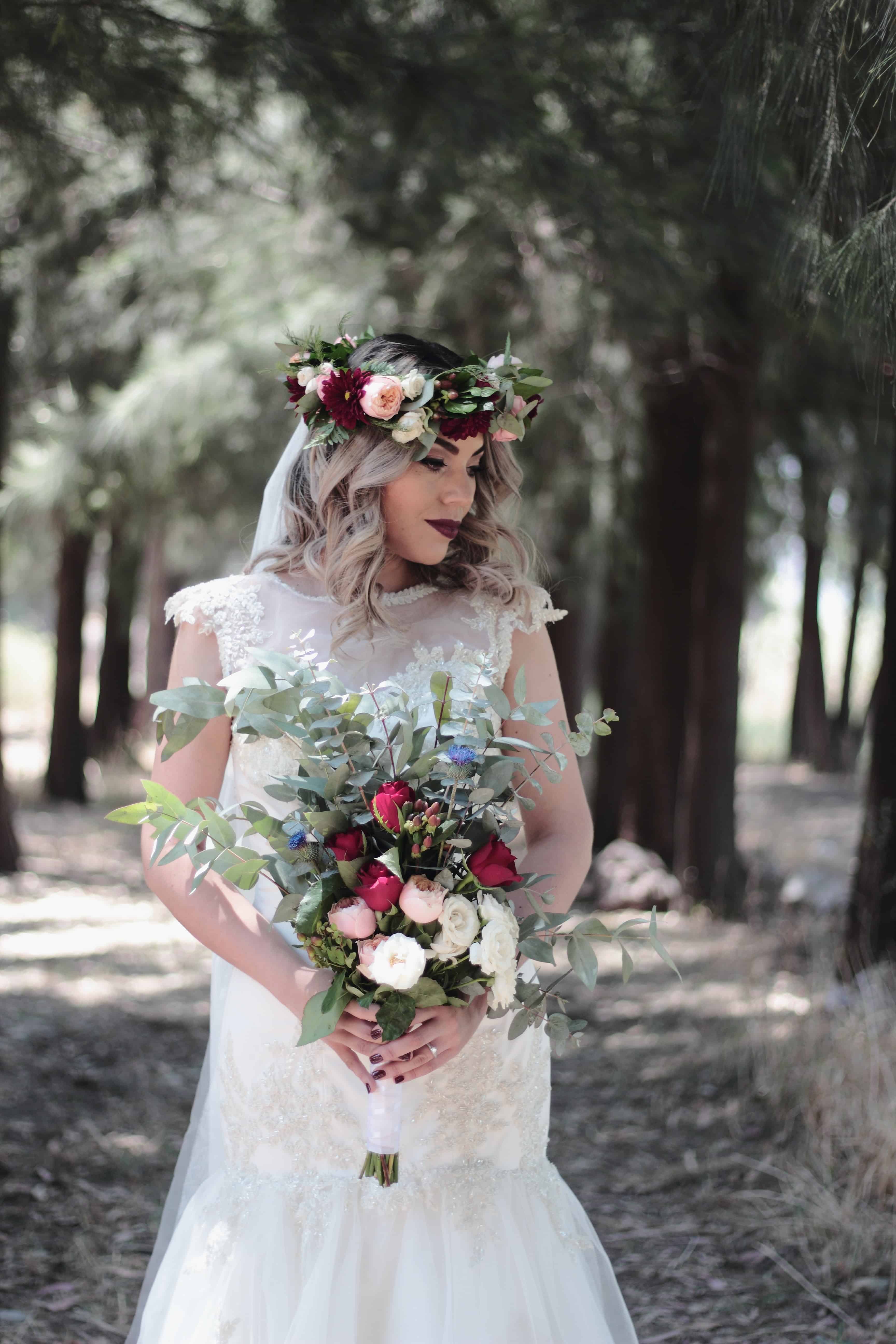 Instead of holding the blooms on your side or clutching them against your chest, position your bouquet close to your belly button. Then curve your arms away from your body rather than laying them flat on your sides. These two simple steps can effectively conceal your tummy, create an attractive silhouette, and make your arms appear slender.
The Dos and Don'ts of Choosing a Wedding Dress That Hides Your Midsection
While it may not be easy to find, there is indeed a perfect dress for every bride. A wedding gown that accentuates your assets and hides problem areas can make you look and feel your best. To help you find the ideal outfit that diverts attention from your midsection, consider the following dos and don'ts:
Do Look for a Dress Suited to Your Body Type
When picking out a wedding dress, go for pieces that complement your natural figure. What you want are cuts and styles that will conceal your middle area and draw attention to other parts of your body. For instance, you can opt for empire cut or A-line dresses as they are tight in the chest area and loose and flowy under the bust line, creating an illusion of a higher and slimmer waist.
Don't Choose a Tight-Fitting Gown
Another important reminder is to steer clear of wedding gowns that hug your body from top to bottom since they can make your belly more noticeable. That said, you may want to avoid mermaid dresses and similar tight-fitting styles.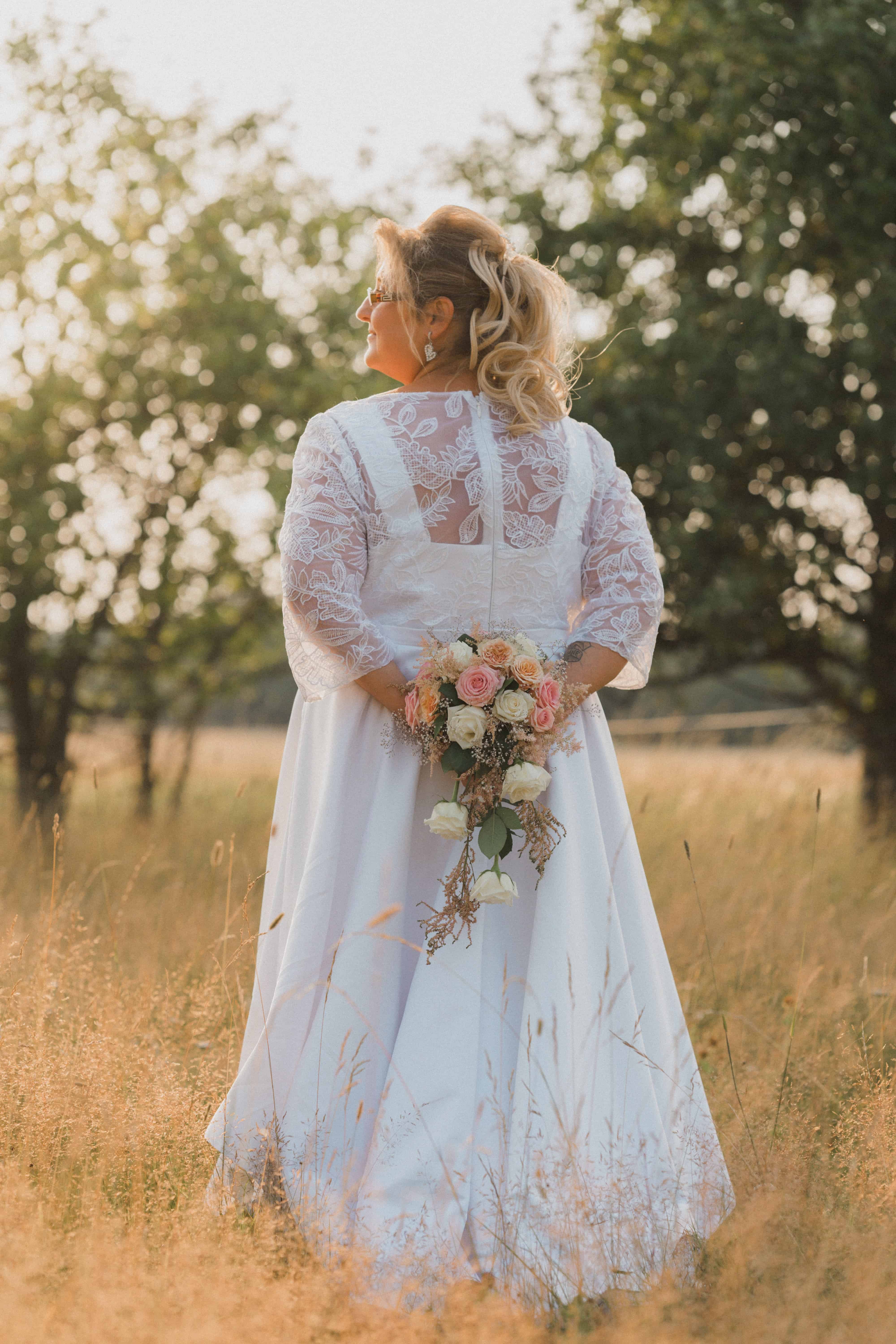 Do Opt for Light Fabrics
Aside from the dress style, you also need to scrutinize the fabric as it can affect your overall look. Look for materials that are light, flowy, and airy. That way, they can gently drape over your middle area without inviting attention. Organza, tulle, chiffon, and georgette are a few examples of lighter fabrics that work best.
It is also worth pointing out that while heavy fabrics like stretchy satin and lace are popular choices, they can make your body look fuller and bulkier. If you would like to follow this trend, carefully consider how it would look on your body type.
Don't Discount a Flattering Waist Belt
You can also opt for a wedding dress with a waist belt to make your waistline appear slimmer. However, ensure that the belt's thickness and tightness flatter your figure. Keep in mind that a belt that is either too thick or too thin can ruin your proportions and highlight your belly even more.
Do Pay Attention to Details
Attract attention to your neck or shoulders and away from your midsection by opting for flattering necklines. For example, a sweetheart neckline can elongate your neck, making you appear slimmer and taller. Off-the-shoulder, square neck, boat neck, and v-necklines are also elegant cuts that can make you look more feminine and slender.
Don't Forget How You Feel
Perhaps the most crucial factor when choosing your wedding dress is your satisfaction and happiness. Remember that when you wear something that makes you feel confident, beautiful, and happy, you will radiate positivity and power. Your guests will hardly pay attention to anything else when they see your glowing aura. Isn't that a clever way to make your tummy less obvious?
4 Ways to Prevent Bloating on Your Special Day
So, you have the perfect dress and the right strategies to make your belly less noticeable on the big day. But there is still one thing you need to keep in check—bloating. If you want to keep your tummy from feeling fuller due to excess gas and liquids, consider the following pointers:
Limit your alcohol consumption, especially of drinks that promote bloating like champagne or beer. It's best to avoid drinking altogether or to limit your intake to a single glass during toasts.
Eat a lot of fiber-rich foods to aid better digestion, but avoid cabbage, broccoli, brussel sprouts, and similar veggies that produce excess gas.
Chew your food well and eat slowly to reduce the strain on your tummy.
Whether you go for a long walk at the park, enjoy a bike ride, or swim a few laps, physical activity can help deter bloating.
As a bride, you deserve to exchange "I dos" with the person you love while looking and feeling your best. So, if you feel self-conscious and worried about a slight belly bulge, try following the tips and strategies mentioned in this piece. Not only are they effective in making your tummy less noticeable, but they can also enhance your overall appearance—making you more confident and radiant on your wedding day.