Your wedding gown is probably one of the most sentimental possessions you have. It will forever be a reminder of the most special day of your life. For many brides, the wedding dress is an heirloom to be treasured and cherished. To make sure it stays that way, it takes a lot of care and knowledge. If you're not sure how to go about making sure your wedding dress remains as pretty as it was on your special day, we've put together a guide that will help you properly clean, preserve (if you wish) and store your wedding store so that you and future generations can enjoy it for years to come.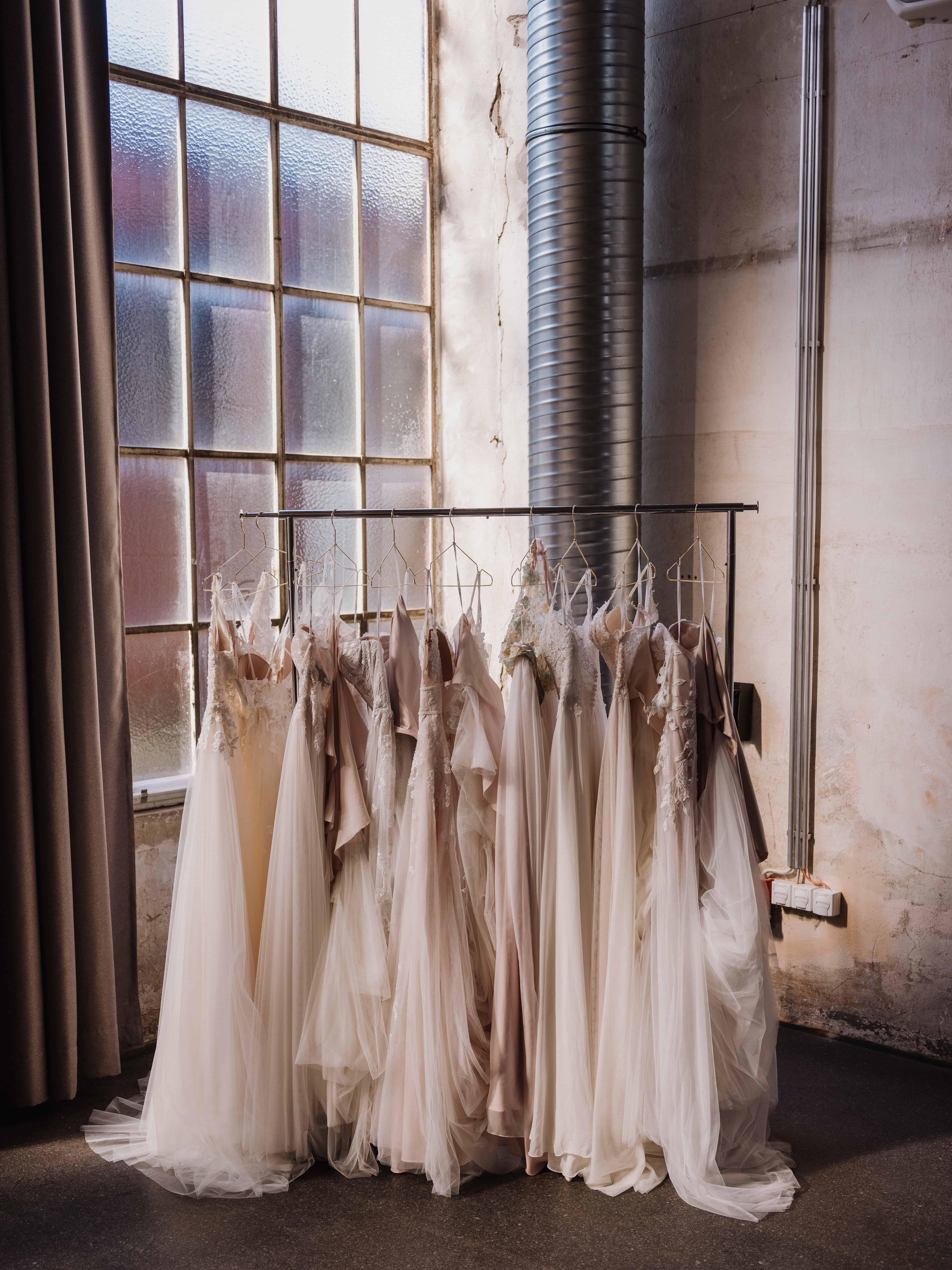 Without further ado, let's walk through these three steps that help you care for your dress:
Cleaning
Cleaning your dress is the first step to take to make sure you extend the life of your wedding gown. Here's what to do to clean your dress:
1. Consult a specialist
Start with the salesperson, the bridal designer or the boutique owner that sold you the dress. Ask them how best to care for your dress after the big event. After all, they're the experts, and they're the most likely to know how each type of material must be cleaned and how the dress behaves over time.
2. Check the label for cleaning instructions
Besides getting specialist advice, you could also check the label for other tips – you might find out whether your dress needs to be professionally cleaned or if you can wash it at home.
3. Turn to professional cleaning if needed
It's very likely that you'll need to turn to a professional cleaning service to have your gown cleaned after the big day is over. Check with them to make sure they've dry cleaned wedding dresses before and whether their expertise covers this type of clothing. Also, plan on sending your wedding dress the following day to avoid any perspiration, food or makeup stains setting in, especially if you're leaving for the honeymoon right after the wedding.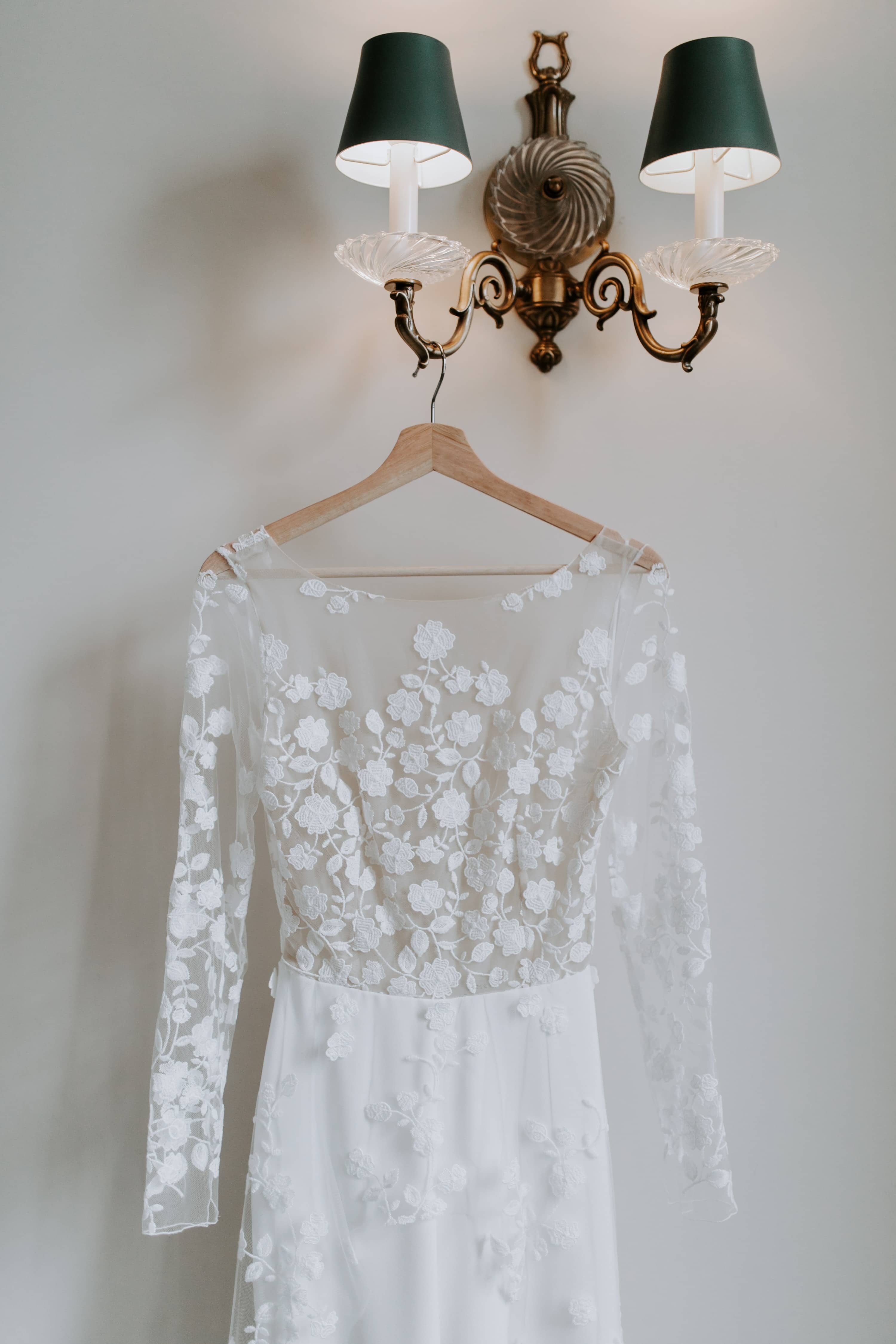 Feel free to inquire about their process as different solvents and cleaners are used based on fabric, as well as various sequins, beads and pearls. You should know if the cleaning is done on-site and if they offer a warranty.
If your cleaner is packing your dress for storage after it's been cleaned, asked them to pack it in an acid-free box to help your dress preserve its qualities.
4. Handwash it at home
If your dress is made from plain fabric and has no other delicate material, you can wash it at home. Pretreat the stains and then wash. Give it plenty of time to air dry before packing it away. Also, keep it away from light – natural or artificial – as this type of exposure can also damage the fabric.
Wedding dress preservation
You might want to take your dress one step further from cleaning, and that's wedding dress preservation, if you wish to keep it for posteriority. Preserving your dress prevents it from yellowing, creasing, oxidation and all the harms associated with mold and mildew. In many families, a wedding gown becomes an heirloom to be passed down to future generations. If you'd like to take this route, here's what to consider:
Find a professional and consider the options
A professional looking into preserving your dress will make sure your dress is clean and spot-free first and do any mending (if necessary) before starting the process. It can cost between $150-$500 to have your dress preserved.
There are three main ways of preserving your wedding gown: you can have it sealed, hang it in a bag or box it in an acid-free box. Sealing the dress method consists of vacuum sealing the wedding dress before putting it into an acid-free box. However, this might not be ideal, as mold can be trapped inside and the fabric can be severely creased.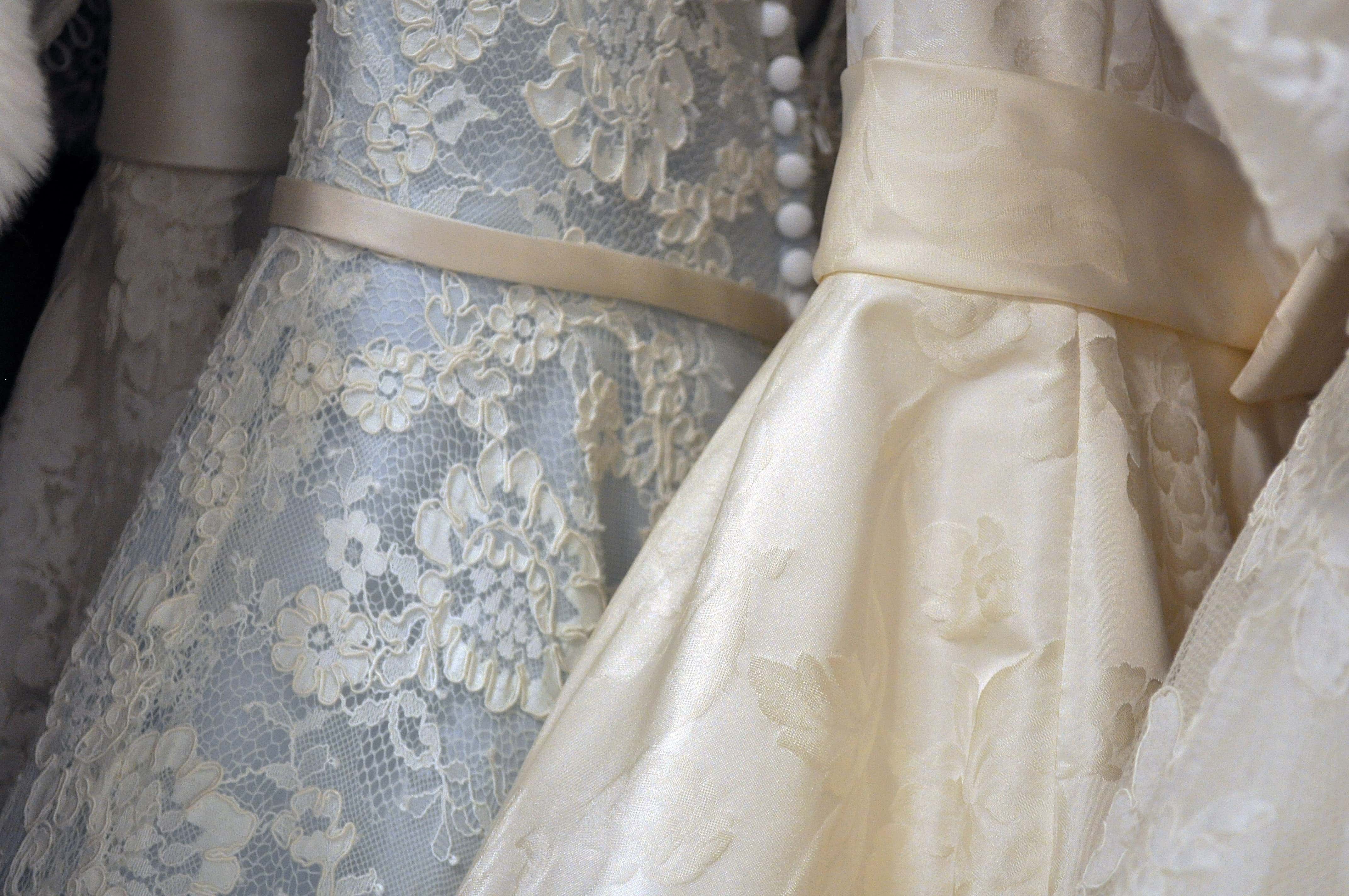 How to store your wedding dress away
If you forgo professional preservation, you might still wish to give your wedding a long lease of life. Keep in mind that this isn't a regular piece of clothing, so storing it requires special care.
There are several ways you can consider storing your dress:
Box your dress
Once the dress has been cleaned and properly dried, you can place it in a box, where it's protected against sunlight and other elements. Avoid plastic as a storage material as it can hold moisture and cause mold to form. Place your dress in an acid-free box – make sure it's not acid-lined.
Boxing is ideal for fabrics that can't be hung, such as silk and organza. Moreover, boxing is a great storage option for layered gowns as keeping it flat won't cause them to lose their shape. Beaded dresses and those that come with prong-set stones are also ideally stored in boxes as opposed to hanging them which can cause them to brush against other pieces and clothing and cause chafing or other kinds of damage. Cover the dress and the stones in tissue, all the while avoiding any rolling or folding so as not to put pressure on the beads.
Hang your gown
Hanging your dress can be a great storage option if it's made of silk, chiffon, tulle and some laces. Make sure to use a sturdy hanger that's also covered in a delicate fabric that won't scratch your dress. Go for a padded hanger to offer extra support to the dress. Always use the hanging straps inside the dress to avoid warping the dress over time. They're typically attached to the sturdier seams and are meant to help keep your dress in great condition while it's in storage. Once it's hanged, use a breathable cover – preferably a cloth garment bag that allows your dress to breathe. Avoid plastic ones, as they can encourage mold formation. Additionally, there should be plenty of space around your dress – cramming it with other wardrobe items might crease or damage it in the long run.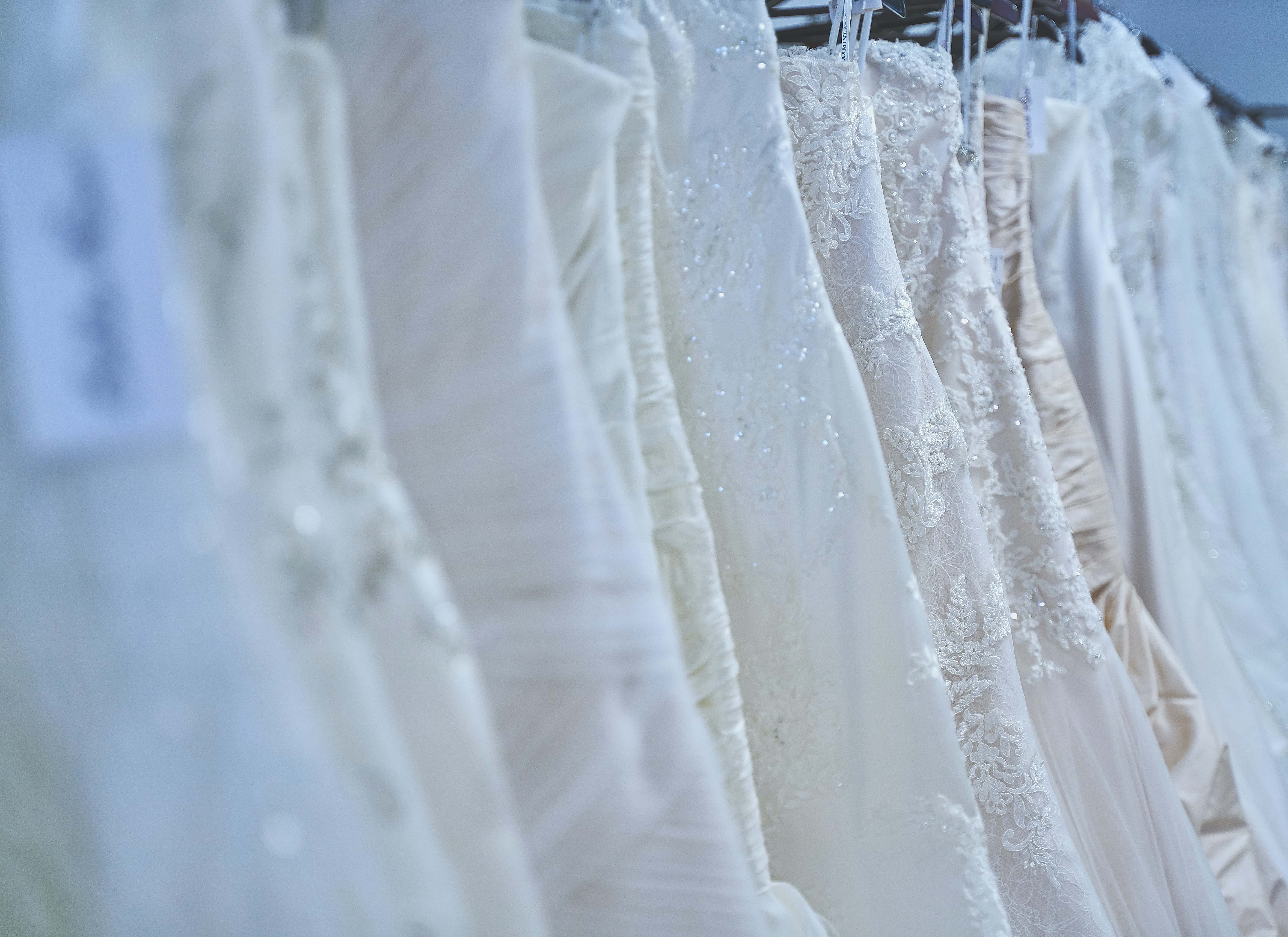 Store accessories in original boxes
The wedding dress is the star of the show, but you also need to take care of the accessories. Jewelry and shoes can be kept in their original containers, with added padding to secure them. Keep track of where you're putting them – preferably in the same spot or container so you can easily find them later.
You can also hang your veil or fold it and put it in a breathable garment bag. Keep it away from sunlight exposure and add silica gel packs to keep the moisture away.
Where to store your wedding dress
Now that you know how to store your wedding, deciding where to keep it is equally important. You might want to keep it at home if you have enough room in your closet and it won't cramp the rest of your belongings. However, make sure it's kept away from sunlight, moisture and extreme temperatures. That's why your garage, basement or attic are not ideal for wedding dress storage. If you do wish to keep it at home, your best bet is in a guest bedroom or in a closet, away from extreme humidity, temperature, exposure, heat sources or cooking odors.
Besides the home, your wedding gown can sit in self storage. This way your gown can stay in excellent condition, especially if you put it in a climate-controlled storage unit, designed to maintain an optimal humidity and temperature level for sensitive items such as your wedding dress. This becomes vitally important if you live in a region that experiences high temperatures and humidity levels, such as the South.
When it comes to caring for your wedding dress – whether we're talking cleaning, long-term preservation or storage – knowing each step of the way can help make the task less daunting. Being armed with this kind of knowledge can help you have the peace of mind that your special dress will stay as fresh as the day you wore it when you go away on your honeymoon after the big day is over.