Sometimes what a girl wants is not a diamond. Sometimes she's thinking: classic, elegant and understated. Add the fact that engagement rings tend to be expensive and there are numerous alternatives to consider. Purchasing a jewelry piece that represents one of the most important unions is an emotional purchase and the right choice is not always obvious.
Think about it: it is a piece of jewelry that you'll be wearing for the rest of your life. Which is why it should reflect your individual style and taste. Not everyone wants to wear a diamond or a classic shape– that's why many designers and retailers are starting to carry other options.
The reality is this: finding the perfect engagement ring is no simple task.  Not only do you have to pick the design your partner will love most, but you also have to be aware of details like the gem size, finger size, and many other details. Enter Kristin Coffin, a renowned jeweler who creates stylish rings without the humanitarian and environmental costs of many traditional engagement ring options.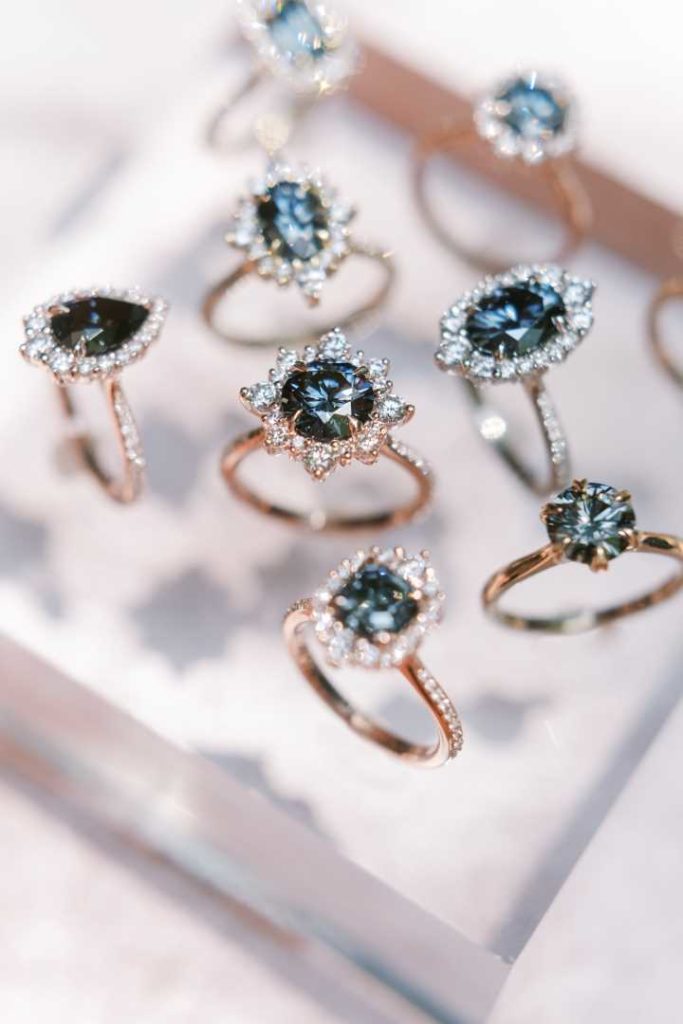 Meet Kristin
Kristin is the brains and designer behind Kristin Coffin Jewelry, a jewelry brand that makes one-of-a-kind engagement rings and jewelry. In 2007, she graduated from the University of Vermont after studying metalsmithing. Soon after, she started creating her first unique engagement rings in her tiny apartment studio.
She sold her first designs in the same year, and since then, Kristin hasn't looked back. Not only has her brand grown from a one-woman show to a small company with a team of talented artisans, but she continues to deliver a personalized experience for each client. Today, her amazing work can be found on the hands of thousands of brides worldwide.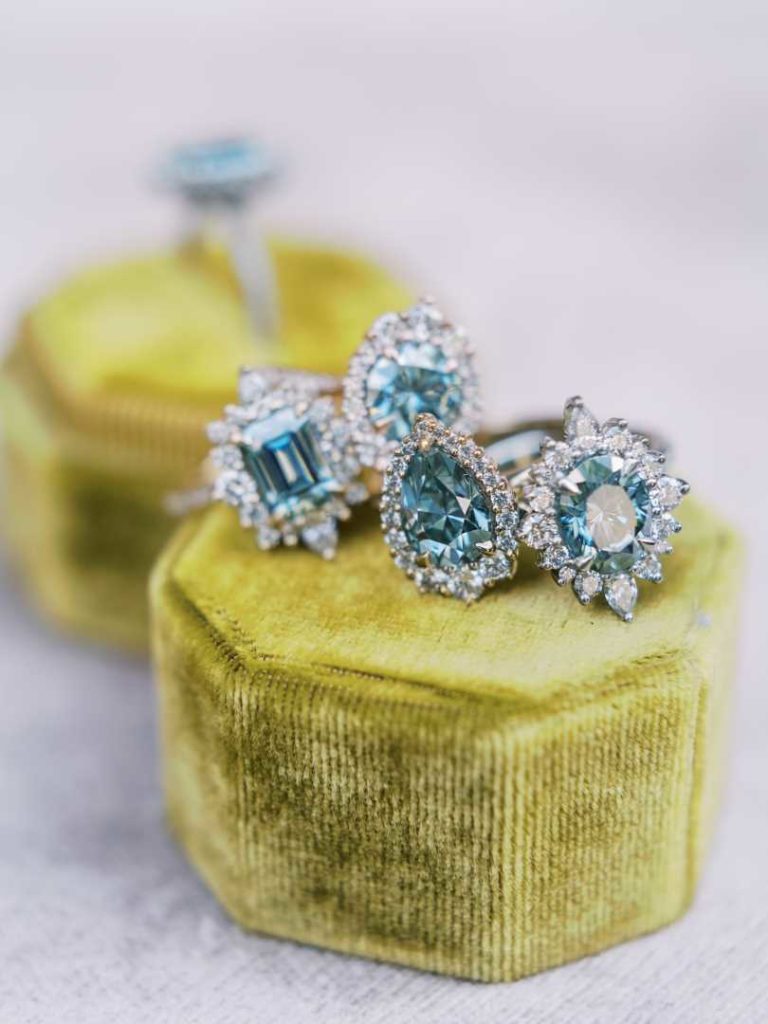 Besides the thousands of brides who rock Kristin's ring designs, her work has also been showcased on Martha Stewart Weddings, Harper's Bazaar and more.
Kristin Coffin is also one of the brands in the jewelry industry that shuns the dark history of harmful practices. Some of these practices have created humanitarian crises worldwide while others have polluted our environment from land to the skies.
Since 2007, Kristin and her team of artisans have specialized in ethical lab-created diamonds, moissanite and sapphires. These lab-grown gemstones have identical qualities to their mined counterparts. However, they don't carry with them the humanitarian or environmental damage and costs.
A Shift In The Industry
It's no surprise that more couples are looking for non-diamond engagement rings. They want to be unique and different. This new trend has led to a surge in rings featuring lab-created gemstones, diamonds, and metals.
More couples are looking for engagement rings that represent their individual lifestyle and taste. Many brides are choosing alternative stone options like sapphires, rubies, emeralds, and many others. One of the more unique engagement ring options that has started to gain interest are salt and pepper engagement rings.
Salt and Pepper Style Rings
Featuring unique salt and pepper diamonds, Kristin Coffin's salt and pepper engagement rings are perfect for a future bride that's searching for a ring that's anything but standard.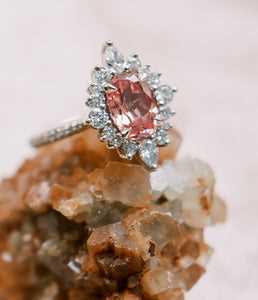 Salt and pepper diamonds look just as they sound — a diamond speckled with varying levels of black inclusions. For years, these stones were cast aside and labeled as "imperfect diamonds." However, jewelers such as Kristin saw the unique beauty within them and helped them start to gain more popularity amongst brides.
Just like traditional diamonds, salt and pepper diamonds come in various shapes and sizes. Each diamond is individually hand cut. As such, they are unique and one of a kind. In fact, no two stones ever have a similar patterning. Every natural and rustic salt and pepper diamond has a unique personality and characteristic. However, it's when you place these stones into a stunning Kristin Coffin setting that you see the true beauty of these rustic diamonds.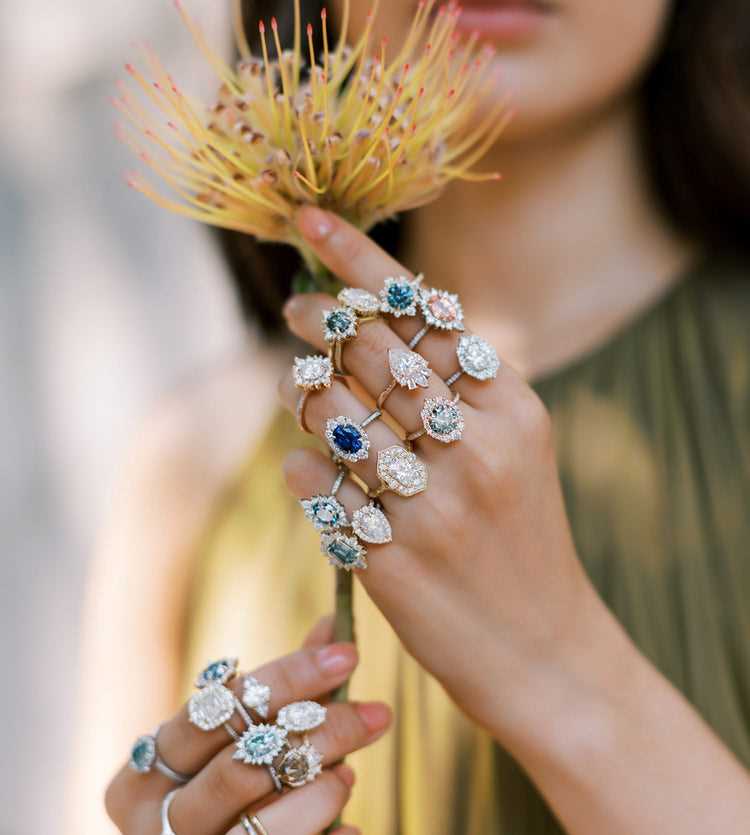 Some of my personal favorites are the Olive, Petra, Reyna, Artemis & Anika style rings.  All of these ring designs have enduring style with an edge.
Pioneers in Moissanite
Another non-diamond stone option is moissanite — the unexpected result of a meteor that struck earth. And while the options for moissanite engagement rings are a bit more prevalent than salt and pepper, Kristin Coffin was a pioneer in offering these gorgeous stones. In fact, Kristin was the first jeweler to offer grey moissanite — a stunning twist on its white counterpart.
All Moissanite on the market today is grown in a laboratory, making it a fantastic choice for future brides looking for a conflict-free option. One thing I like about Moissanite is that it has a higher Refractive Index of 2.65 – 2.69 while diamonds have an index of 2.42, which means it has more brilliance than diamond (aka much more sparkle!). Moissanite is also the second hardest stone on earth after a diamond, making them ideal for daily wear.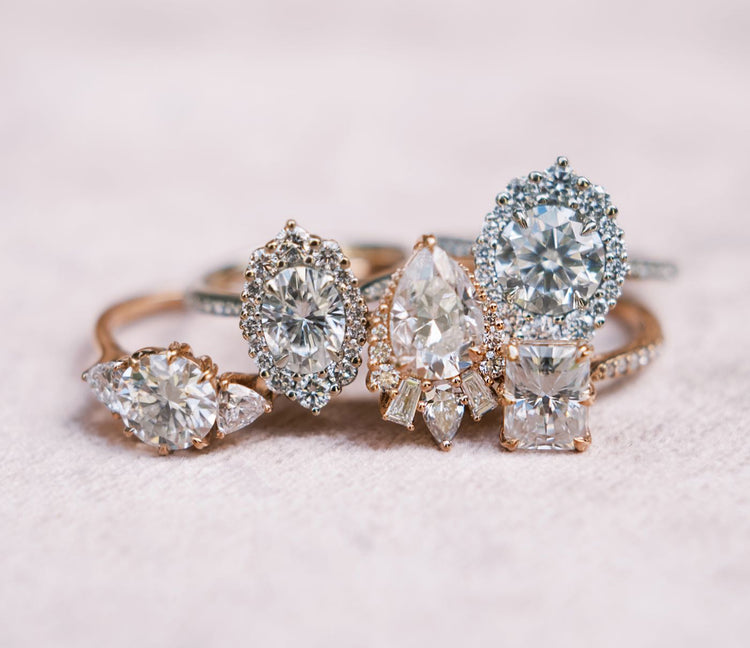 If your mind is set on mined diamonds then you should know that Kristin Coffin also offers conflict-free mined diamonds. These diamonds are sourced from Canadian-based vendors.
I hope you find this helpful in your shopping decision!