If you're getting married this year, have you figured out what you will do for your wedding flowers yet? Wedding flowers can be quite expensive, but they're such an integral part of the beauty of your wedding day. If you want gorgeous wedding flowers but aren't sure if you want to hire a florist or DIY your own flowers, here are a few suggestions for you.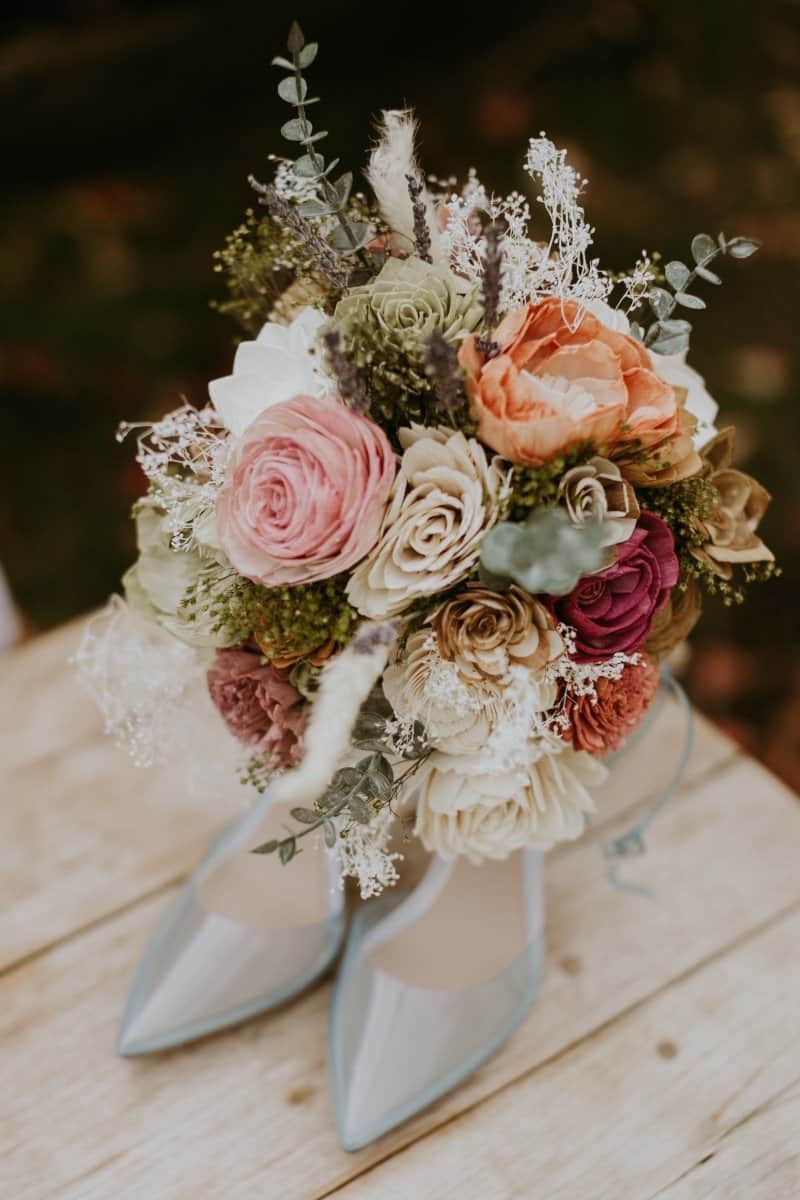 Hiring a Wedding Florist
Pros:
A wedding florist will usually have the necessary experience and knowledge to create the wedding flowers of your dreams. Wedding florists also often have access to supplies that you wouldn't otherwise have. If you have a unique vision for your wedding flowers, this can be a huge benefit. Many florists will also take care of the wedding flower set-up and take-down, which is one less thing for you to worry about.
Cons:
When you hire a wedding florist, you won't only be paying for the supplies and hours of labor required to create your gorgeous wedding flowers. You'll also be paying for their years of experience and education. Additionally, most wedding flowers will upcharge their wedding flowers since wedding industry vendors are normally more expensive than other event vendors. This wedding industry inflation might be expected by some, but it can make it more difficult to meet your wedding budget. If you hire a wedding florist, you'll also have to be very clear in your expectations and communication about your budget, vision, and deadlines, since you won't be managing the project yourself.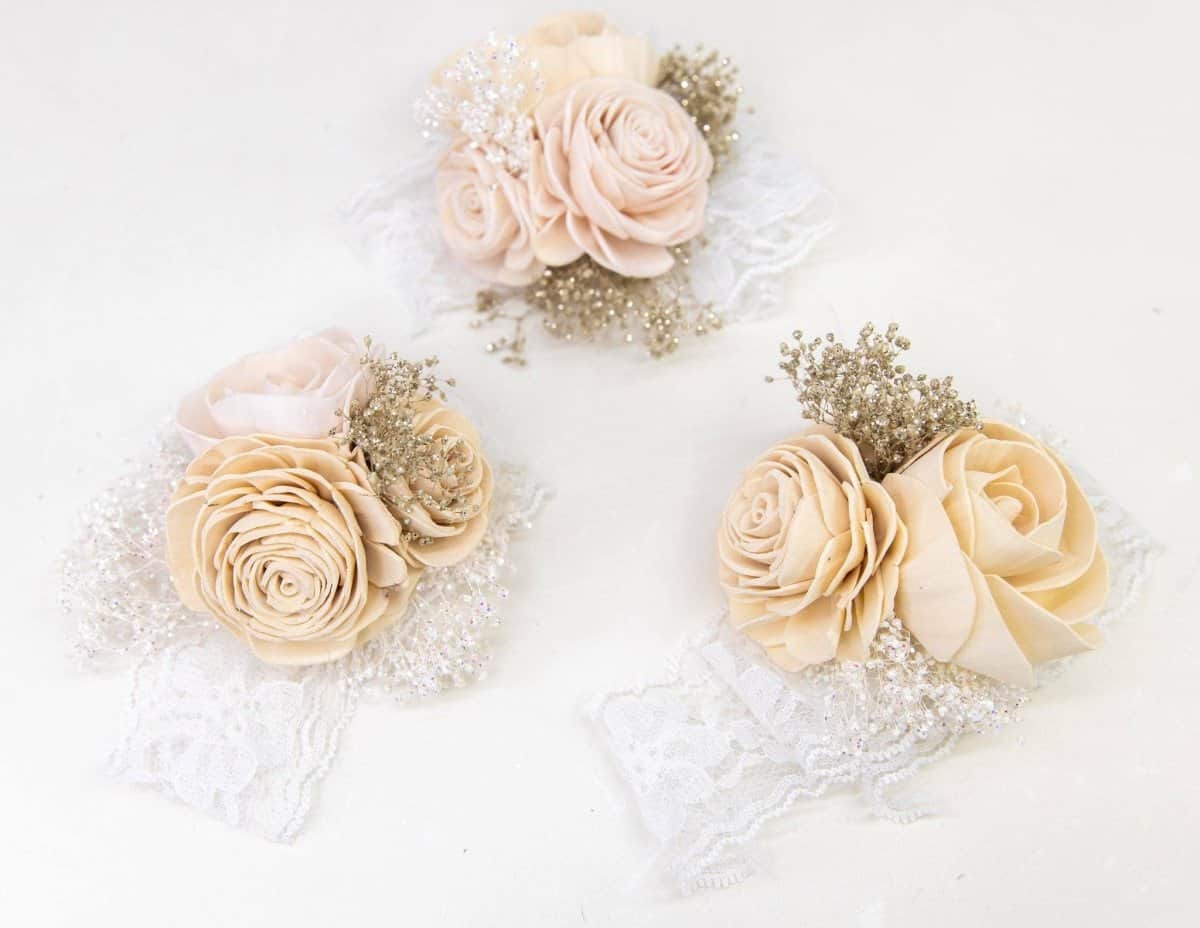 DIYing Your Own Flowers:
Pros:
When you choose to DIY your own wedding flowers, you'll save a lot of money. You won't be paying for labor or industry upcharges. Instead, you'll just be paying for the flowers and supplies necessary for your creations. Also, when you're in charge of the creation of your wedding flowers, you can guarantee that they'll turn out the way you envisioned. You'll be able to shop for flowers and supplies that perfectly match your ideal wedding aesthetic and create the perfect arrangements for your dream wedding. You can even have your bridesmaids or family members join in on the fun of DIYing your wedding flower bouquet.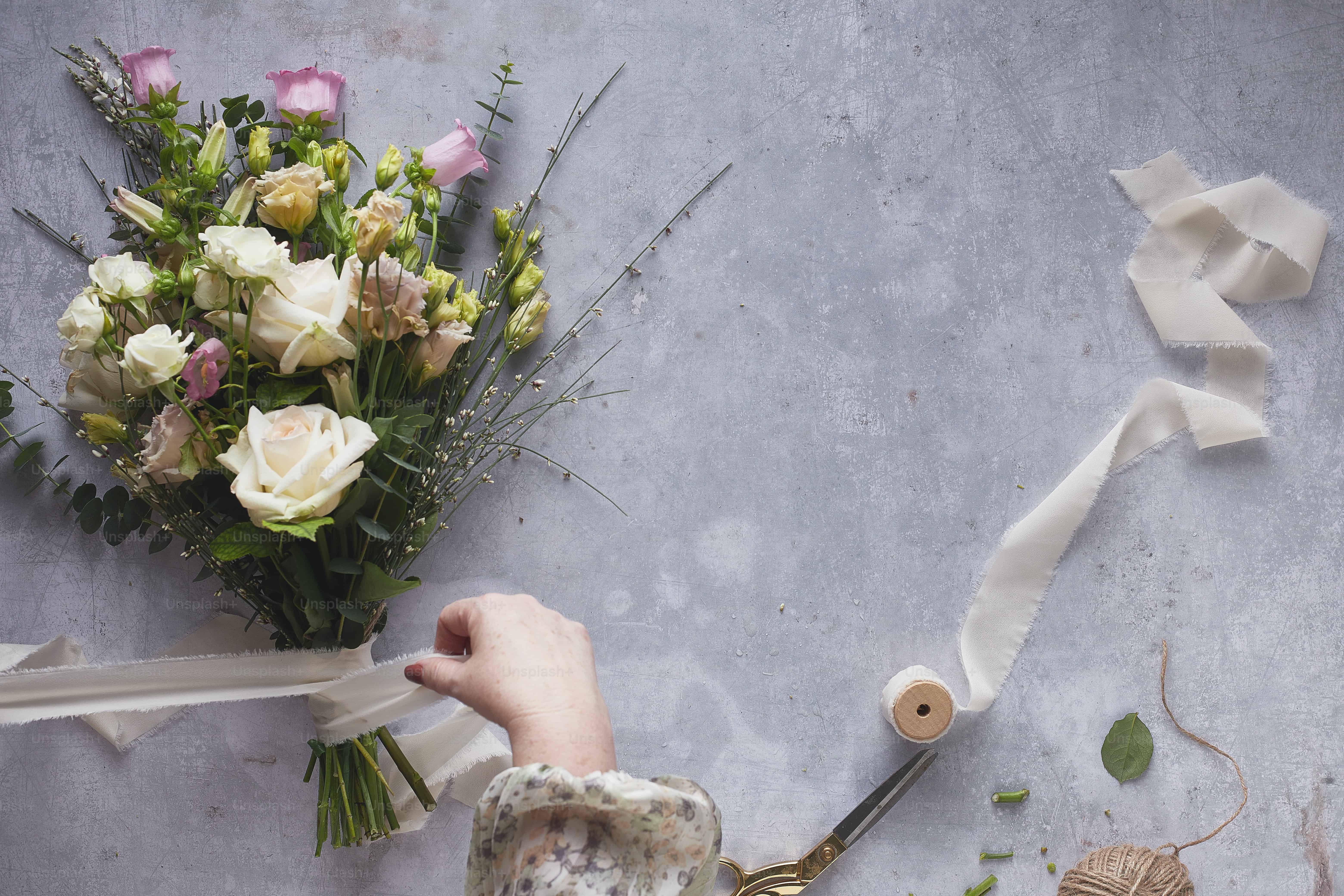 Cons:
If you don't have a lot of confidence in your DIY abilities, arranging your own flowers can seem very intimidating. You might have to spend a lot of time educating yourself on how to create arrangements. Also, if you're using fresh flowers in your DIY arrangements, you might get a little stressed creating all your arrangements last minute. You might even find yourself arranging bouquets the night before your wedding. However, you'll likely need to do so since fresh flowers don't last very long. One easy way to avoid this is to use artificial flowers, such as wood flowers. Wood flowers are stunning, highly realistic, and can be custom-dyed to match your unique wedding colors and vision.
How to DIY a Bridal Bouquet
Gather Your Supplies
First, you'll need to gather the supplies for your flower arranging. You'll need a few sizes of flowers, floral filler, greenery, floral tape, floral wire, ribbon, and any other decorative elements. If you're creating a centerpiece or installation, you'll also likely need some floral foam and supportive elements, such as a vase, that will house your floral arrangement.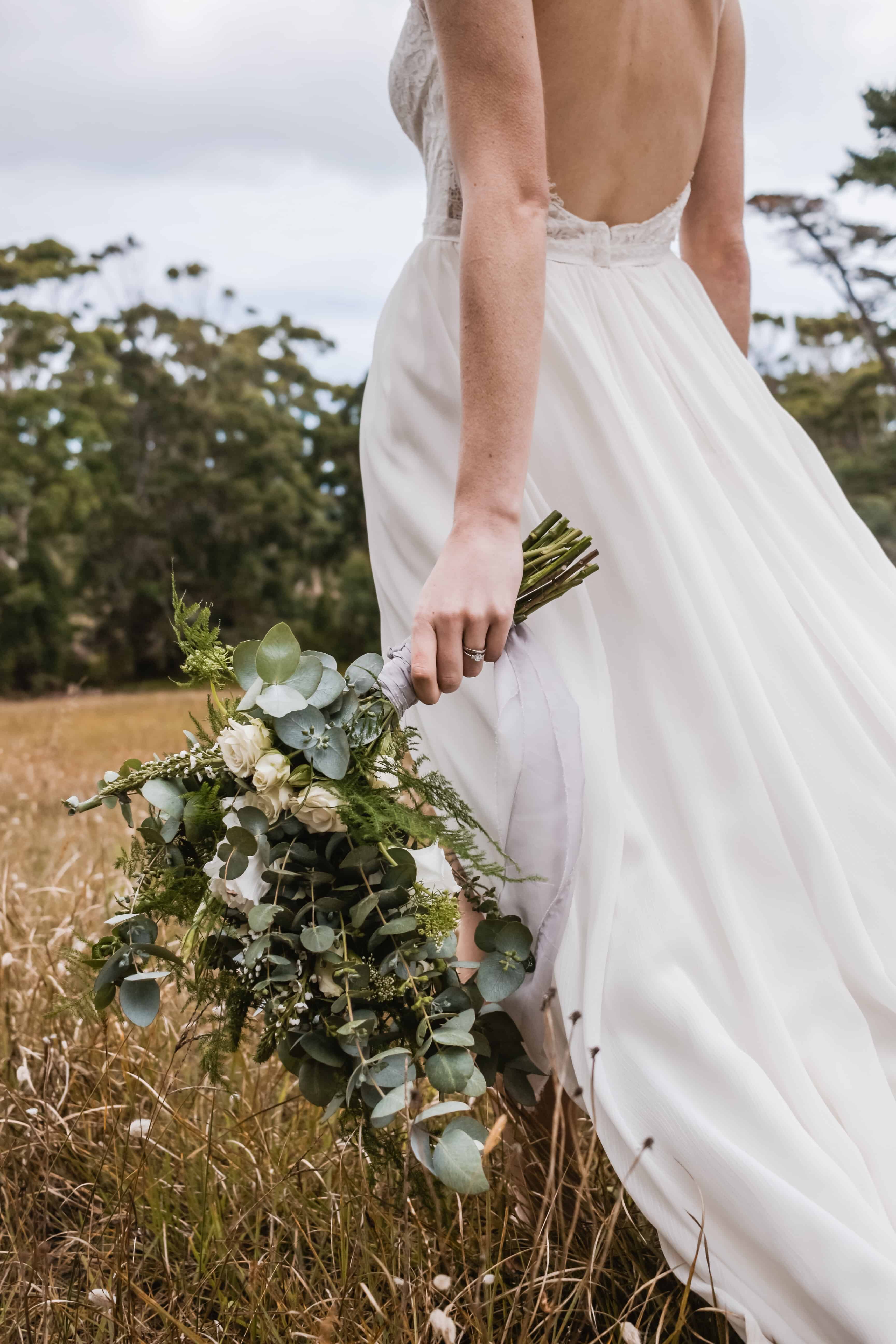 Start With Your Biggest Flowers
To make your bouquet, you'll want to start with your biggest flowers. These flowers should reflect your favorite wedding colors and be large, full, and bold. Spread out your different colors and types of flowers to get a whimsical, effortless look.
Add Your Medium Flowers
Next, you'll mix in your medium-sized flowers around your larger flowers. The color, size, and style of these flowers should complement your main, larger flowers. Make sure to add a variety in height to your flowers to give your bouquet a fuller appearance.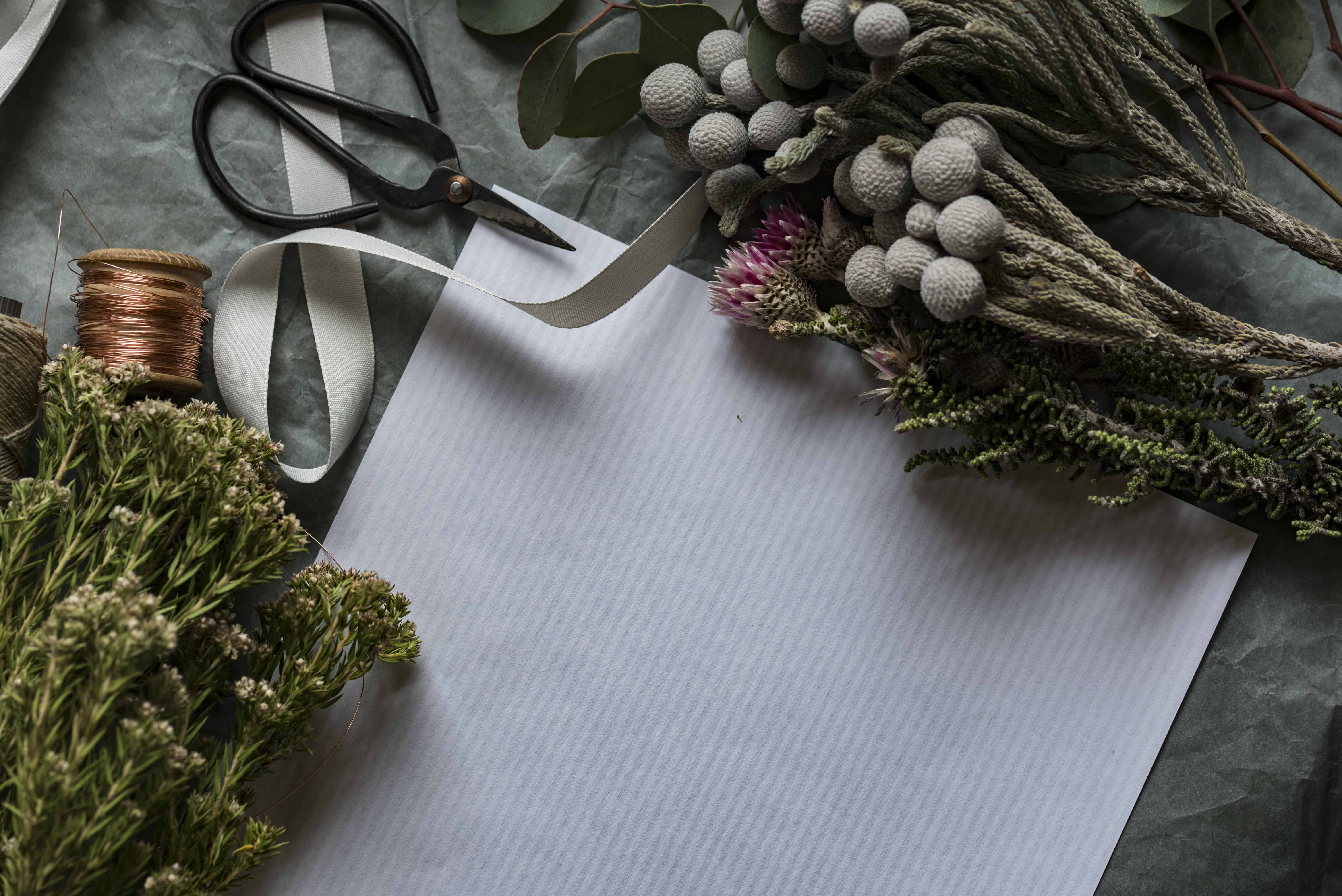 Fill In With Your Floral Filler
After you've added your medium flowers, fill in any gaps with your floral filler. Floral filler is usually a type of smaller, more intricate flower that will add additional detail and texture to your bouquet. A few popular types of floral filler are baby's breath, wax flower, dianthus, Queen Anne's lace, and sweet pea.
Frame With Your Greenery
Next, you'll frame your bouquet with your choice of greenery. Make sure you have longer, draping pieces of greenery that will give your bouquet a finished look. You can also work in some smaller, more delicate sprigs throughout your bouquet to break up the colors of your flowers. However, it seems like "less is more" as minimal greenery seems to be trending this wedding season.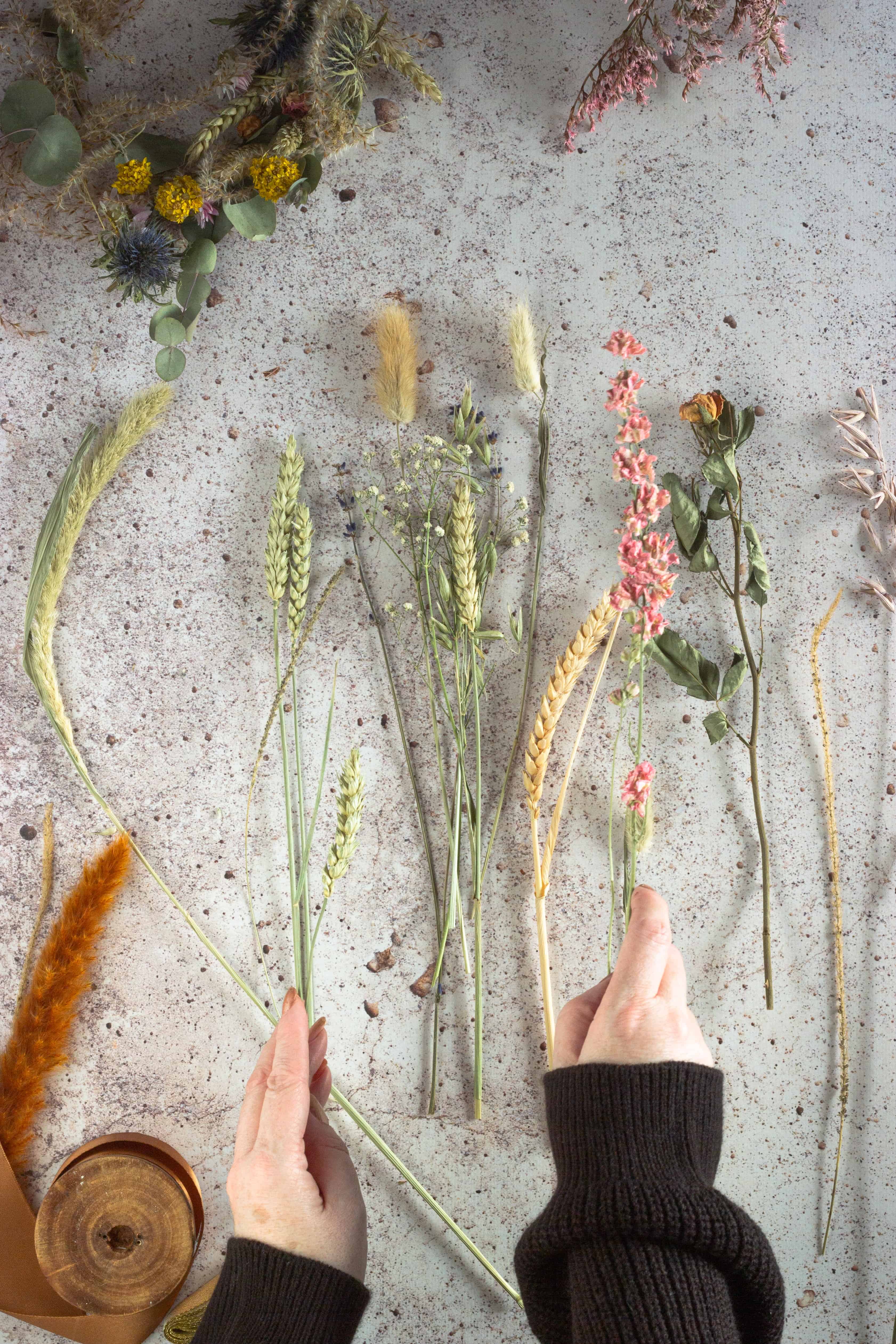 Add Finishing Touches
Finally, finish off your bouquet by securing it with floral tape or floral wire. You can also wrap the stems with a few rubber bands to hold everything in place. Then cover the floral tape and rubber bands with some pretty lace or ribbon. If you want an extra romantic, boho look, leave long streamers of your ribbon. This will give your bouquet an extra dramatic touch in your wedding pictures.