I love wedding colors, lights, and decorations and of course a couple exchanging vows and sharing an eternal bond with each other for a lifetime. While there are people that like the minimalistic trends of wedding décor and floral arrangements, many a people still like to go old school by incorporating a perfect pop of colors for the wedding décor and arrangements. And if you're one of those people looking for fun ways to add more color to your wedding then luckily – you're at the right place
We have the perfect ideas to add more bright wedding colors to your décor without making it look showy or all over the place. So here we present the 7 ways for the perfect dose of inspiration:
Cocktails, mocktails and ice creams:
Fix a garnish bar for drinks or even a toppings bar for ice cream and cakes to add more than ever colors to your big day. The traditional ways of floral arrangements are always there for you but to add even more colors to the canvas of your wedding décor you can always take the help of red, orange and coral colored drinks to serve as the perfect pop of colors.
The ceremony backdrop:
The ceremony backdrop is the perfect way to make a statement in terms of colors for the wedding. You can always opt for more greenery, garden roses, peonies and pincushion flowers in the wedding arch to go for a more vibrant setting and even improvise with copper pipes or untreated wood pieces to take it to another level altogether. There is also an option of using customized paintings and designs from a local artist to serve as an even more intensive color backdrop for exchanging vows for the wedding.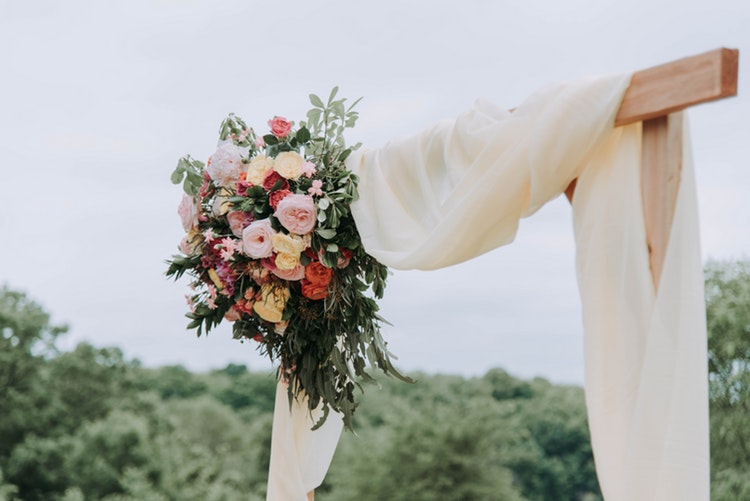 Balloons:
Probably the most underrated but powerful way to go all colors for your wedding theme is using balloons. You can string up a colored balloon wall or even improvise different designs and shapes to go all creative with the display. You could always bring a rainbow of colors to the wedding décor table with these amazing things called balloons without much effort.
Use artificial flowers:
Of course, nothing can take place of the original flowers full of amazing colors, textures and exotic perfumes but it never hurts to get some fabric ones on board for a change. The artificial flowers made up of fabrics, silk or even papers are not only more affordable but they can be easily molded into all sorts of shapes and colors according to your whims and fancies. You can even add some whimsical ribbons and other colorful things to go even more berserk with colors.
Use the venue:
You can very well use the wedding venue to your whims and fancies in terms of either bright wedding colors or subtle and minimal displays. There is an option of hanging colorful ribbons from the ceiling or behind the ceremony site to top it off by using more colorful napkins on reception tables. And using a display of your names in lights through marquee signs, there's always that, of course, for more.
Use a more colorful bridal bouquet:
Being minimalistic is good but adding more pop of colors is even better, we are talking about the wedding bouquets here, in case, you're getting confused. You always do have an option of choosing garden roses from white spray roses for your wedding bouquets and so you should for making it count in terms of more wedding colors. Using more of peonies, ranunculus, hydrangeas, carnations, dahlias, anemones, roses, and pincushion protea flowers can give a whole lot of options in terms of a full and colorful wedding bouquet for you. You can customize not just bridal bouquets but even the small bouquets that are presented to guests and the bridesmaid's bouquets for more colors. Not to mention, there are extensive greenery options available also for even more color variations.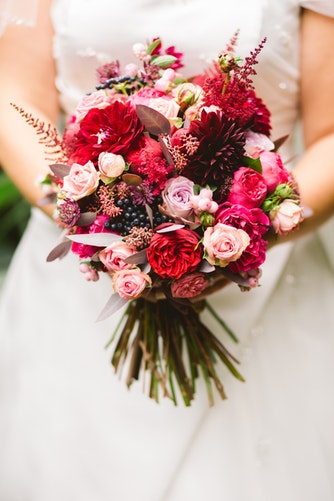 The other ways:
Giving away wedding favors full of striking colors or even using more colorful centerpieces on reception tables are the other ways you can add bright wedding colors to the décor. You may as well use colorful signs, escort cards and wedding attires to your advantage. There is no rule that you should always go for a crisp white and traditional bridal dress and same is the case for your bridal party. You can have all of your bridal party don different colored attires and bridal bouquets that complement each other as well as of the bride. The wedding cakes are good when they are traditional and white but they'd be as much better with more colors peaking from within. Socks, shoes, ties, buttonholes, corsages, nails (nail paints); make them all count when it comes to showing more striking displays of colors for the wedding décor.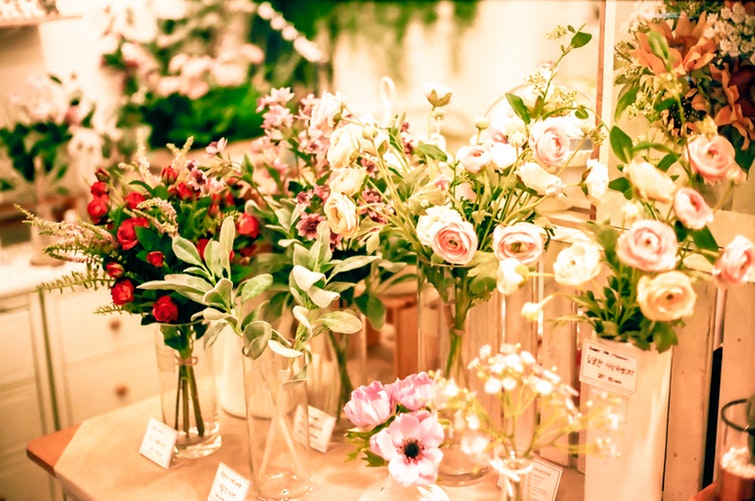 It is your special day and once-in-a-lifetime moment so it always boils down to what your choices and preferences are for the décor rather than the conventions set in terms of traditions, looks, and colors. You can always start by choosing a more vibrant color scheme for the wedding or even more colorful wholesale wedding flowers and the rest of the things will pretty easily follow the suite. There are infinite colors and color combinations that are yet to be tried out if they'd look good in terms of wedding décor and floral arrangements and you could always be the first one to find out. The spring is known for its colorful blossoms and other elements and so you could always have a wedding planned out in the season to use more colors on your big day décor and floral arrangements. There are florists who are known for specialized wedding décor, you can go and look up who can fit the bill with colors and get his professional help too for the big day.
We did our thing and now, it is your turn to inspire us. Do you have any more ideas to add more colors to your wedding décor and floral arrangements? Please do share with us.
Happy coloring!…