As promised here is part 2 of our roundup of advice from real brides we've featured on the blog! If you missed part 1 check it out [here]. In this post we've gathered wedding planning advice from outdoor brides on the subjects of time management and budget. It's not always easy staying organized, but these brides have some great tips. If you've recently been married we'd love to hear your tips in the comments too!
TIME MANAGEMENT
I would have definitely hired a planner.  I also would have started planning further out in advance so I didn't forget things I wanted in my wedding. Never wait until the last minute to start planning.  Also definitely write all of your ideas down in one spot so that you do not forget.  My biggest thing was running out of time and forgetting things that I wanted to do. – Brittany 
Most of my wedding was DIY all the way down to the ceremony site and tables for the reception.  I planned my whole wedding from start to finish and I had a day of coordinator to help make sure everything ran smoothly. My advice for the DIY bride is to ask for help when you can, don't be afraid to let others help you! I know it's hard to let something you have worked so hard to create go into the hands of someone else parent, friend, bridesmaid, coordinator, but you will usually wind up with too much finishing touches to do for just one person and you definitely don't want to stress the week of your wedding… so do yourself a favor and spread the tasks around. You will feel less pressure and others will be excited to help you! – Melinda
Don't bite off more than you can chew and think everything through. Although having the mismatched china was beautiful and everyone loved it, it was a lot of work. It was very time consuming to collect and wash the dishes and coordinate them to each table. And the washing afterwards was the worst. It was worth it, don't get me wrong, but it took time from other projects I may have wanted to do. But at the end of the day, I married my best friend, so all the shoulda, coulda, wouldas don't matter anymore. And that's my other piece of advice: no matter what happens the day of, you're marrying your best friend, so just go with it. – Alicia
I think the most important thing is to hire good vendors and let them do what they are good at! That way, you don't have to worry about the details on your wedding day so you can relax and enjoy your own party! Specifically for mountain brides, I'd let the scenic mountains do their thing! I wouldn't over style or over decorate. – Maddie
There's no good time to get married. What's important is to ask for help and to work with the people around you- a wedding planner/coordinator if you can (I wouldn't have survived without mine), family if they're interested, friends if you're lucky, but most importantly, your finance. I was studying for the bar exam (which I took two weeks before we got married), but Rob just kept stepping up and handling everything. Grooms can be great wedding planners! – Camden
Having a day-of coordinator or planner–or at least an MOH who is really organized and assertive–is so important!  By the day of the wedding, I was so preoccupied with getting married and saying my vows (we wrote our own – and didn't hear each other's until the ceremony!) that I was not at all helpful with last-minute decisions.  I firmly believe this is how it should be — when you're getting married, focus on the getting married part, not ensuring that every detail is executed with precision.  I tried to stay in the moment, and now I have great memories of that day and saying my vows to my husband in front of a whole bunch of people who care about us. – Emily 
MEMORIES
This is not exactly related to wedding day planning but still important. Many brides are loving getting their wedding dress preserved after the wedding. There are many great websites that offer affordable preservation. This is what bsquinn1451 from San Diego says about her experience:
I got married in June and decided to have my dress preserved in Sept . So my dress sat dirty in the dress bag for 3 months until I decided to do something with it.
I ordered my kit and I received a box in the mail that was my "kit." It contained a bag to put my dress and accessories in, stickers to mark the extra dirty spots, like wine or food stains, packing slips, ups pre-paid label, box, and tape to mail it back. It was a nice and sturdy box. I wasn't worried about mailing it in at a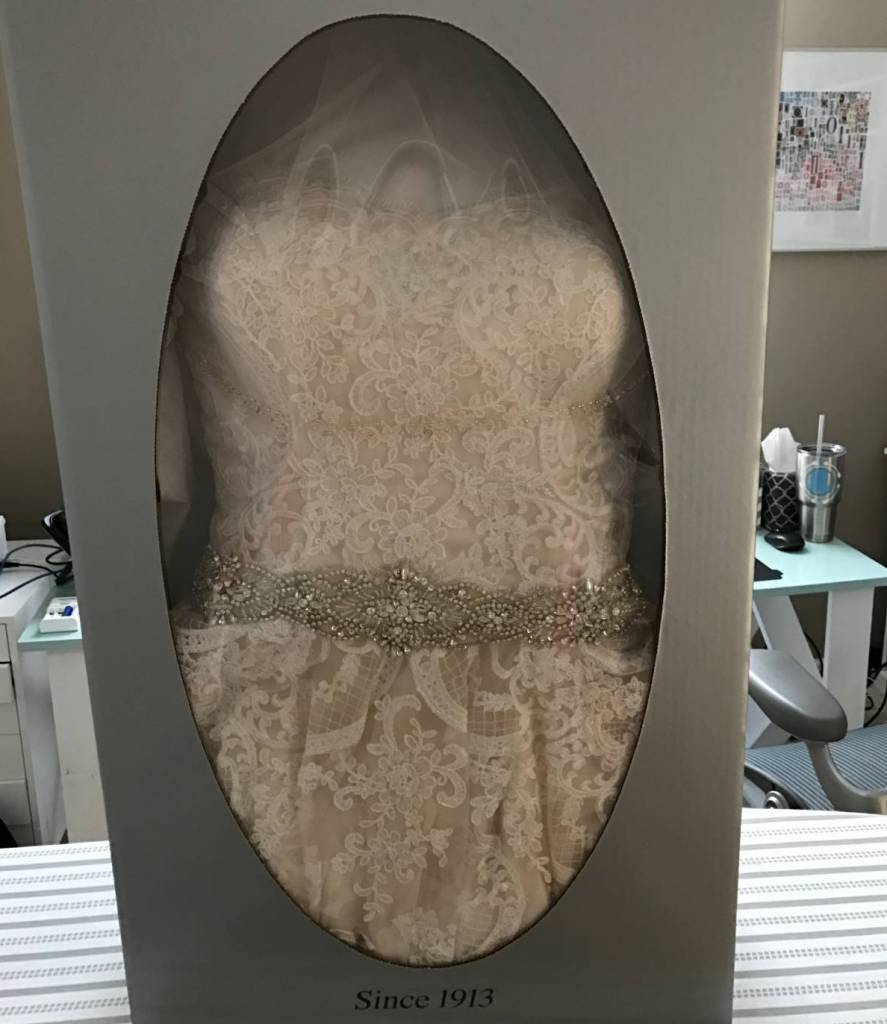 I followed the easy, clear instructions and ran into one problem, my dress was to poofy to fit in the provided box. After calling the customer service number included in the kit, they informed me that I could use any box I wished as long as I was comfortable mailing it with my dress inside. I dropped the box off at UPS on 9/24. I received an email from them on 10/4 that they had received my dress and that the box also included my veil, the same day my Kit Serial Number showed up as received online here. I received an email on 10/24 that my dress was complete and had been shipped back to me, and received it at home on 10/27.
Upon opening the box, my dress was inside a box, in a second box, inside the outer box. So 3 protective levels. My dress looks wonderful displayed in the box, and they even found a nice way to show my veil in there too. Although I won't open it to verify all dirt and stains are gone, the orange grease stain at the top of my dress new the center of my bust is now gone.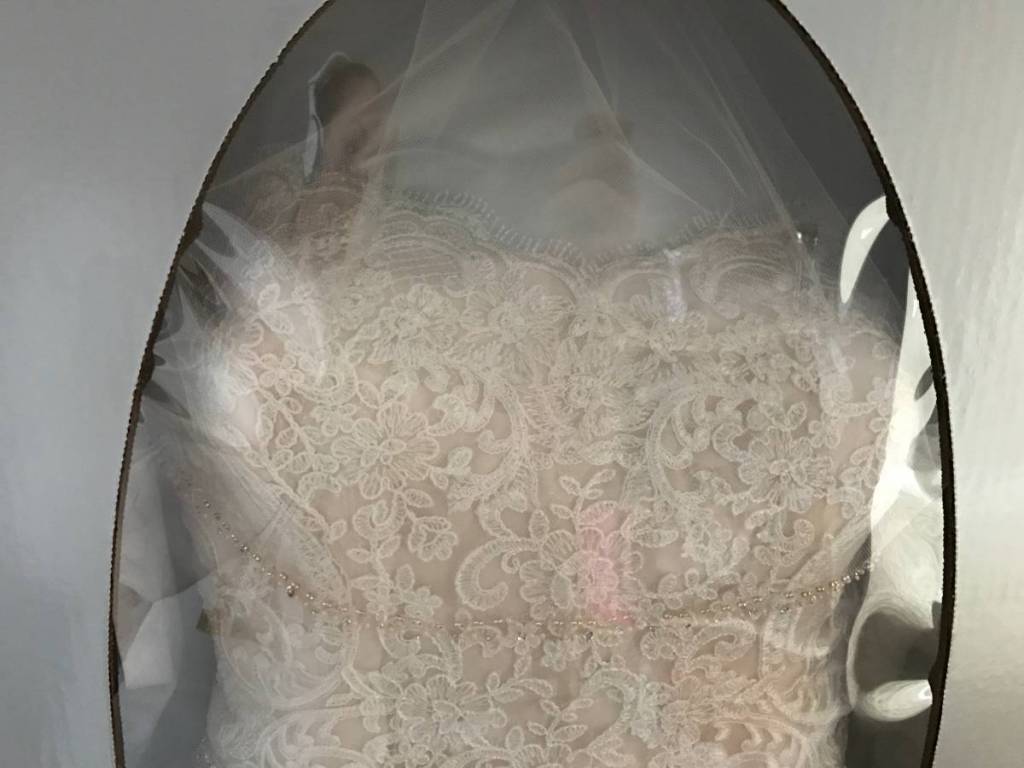 BUDGET
Planning a wedding is like going to the grocery store hungry – you want to buy and eat everything that you set your eyes on, but since your budget can't afford it, you gotta be okay with settling with the important necessities. Stay away from the 'processed foods', the necessities will make it perfect. In layman's terms – pick three things that you love for the wedding and hold the rest loosely. – Madeline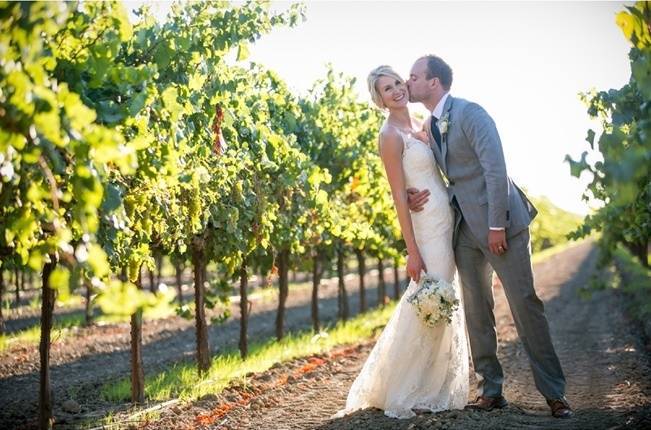 Be confident in your ideas.  I had several people question my decisions especially on the wedding party attire but when I saw everything come together I was so glad that I had stuck to my vision. Decide what is most important to you and spend your budget there.  For me photos and food were what I cared about.  I know absolutely nothing about flowers and had no desire to blow our budget on bouquets.  Freddy and I went to Central Market the day before our wedding and picked out flowers together for my bridesmaids and I. – Madison
Look into local vendors that you might not have thought of to see what they can do to help you cut costs and make your day great. Also, make sure that you have a budget to stick to and priorities picked out for more "splurge" spending. We wanted a wonderful day without too much out of pocket cost. We were able to get a lot of decorations by repurposing things we already had or by borrowing odds and ends from family and friends. Check into what others have and be open to other ideas. Additionally, find someone to take the lead and be in charge of making sure things run smoothly on your big day because the bride and groom should not do that or even close family members. You want your family to enjoy and celebrate too! – McKennon