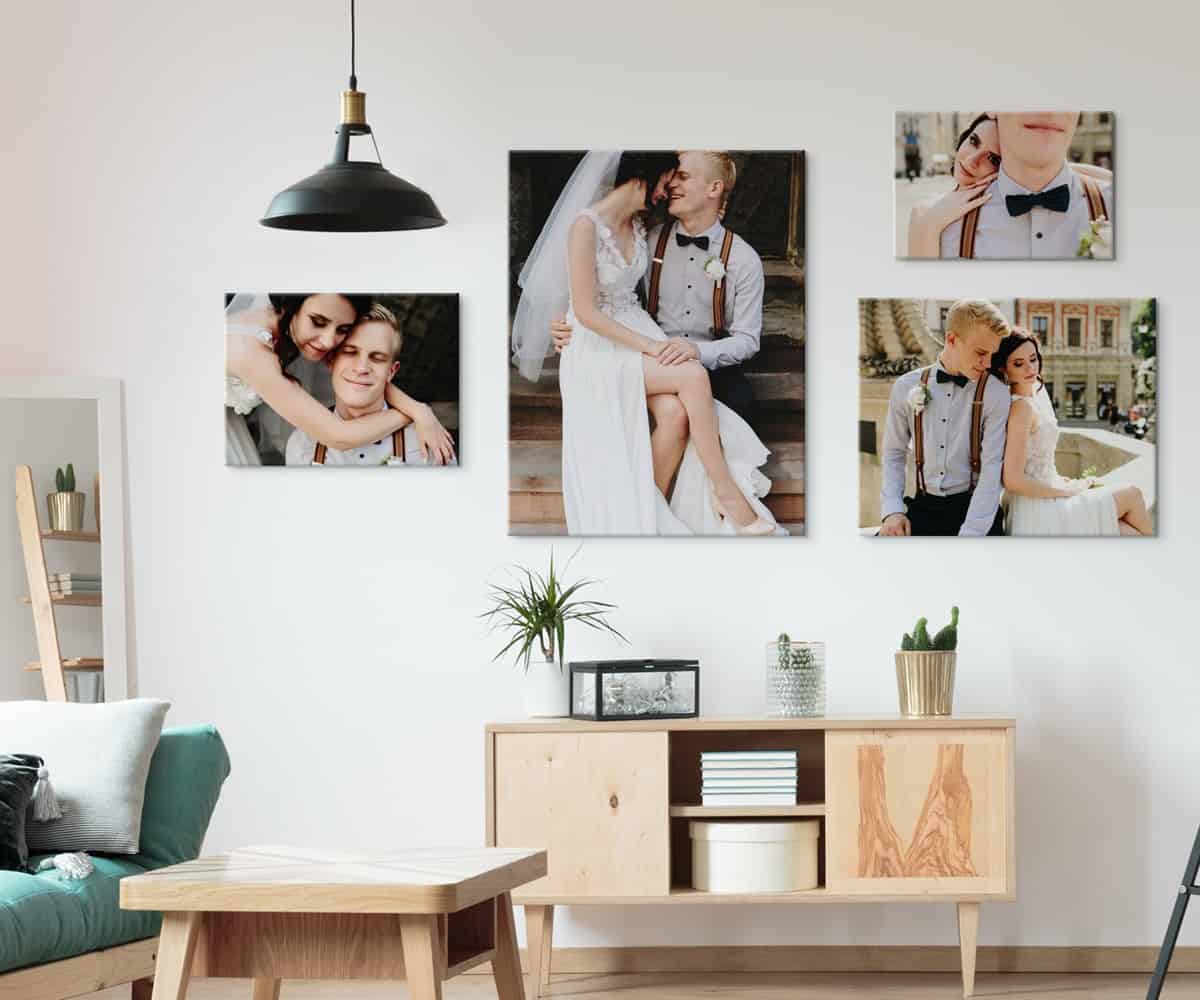 Wedding photos are such a special reminder of the momentous occasion that is marriage. One thing I love about wedding photos is how they commemorate happy memories; they are a physical manifestation of the unconditional love two people share so that we can look back and enjoy those wonderful moments. My own wedding photos tell the story of the day – of all the laughter, tears and everything in between.
To me, looking at the framed prints we had made showing the best of our wedding photos reminds me of why I chose to get married, of how blessed I am to have found someone who loves and supports me as much as my spouse does. Our shared memories will always be immortalized through our wedding pictures, an enduring legacy on which future generations can look back and treasure in time. The purpose of this post is to give you creative ideas for incorporating wedding photos into home décor
Creating a Gallery Wall
Creating a gallery wall of wedding photos is quickly becoming a popular trend for newlyweds. While it may feel daunting to begin the process, following a few steps will help make the selection and configuration of frames easier. When it comes to choosing frames, pick pieces that match your décor but still allow your photos to stand out. To switch things up, I consider mixing in wood, glass and metal to get the desired look. As for arranging the photos on the wall, grids, clusters and asymmetrical configurations are all great options depending on what space you're working with. A big tip when hanging up your gallery wall – be sure to pick an area in your home where it can stay as a permanent reminder of your special day.
Using Wedding Photos as Accent Pieces
Incorporating your wedding photos into your home's décor is an ideal way to add a unique and sentimental touch. You don't have to limit yourself to hanging photos over the mantel. Place smaller prints on bookshelves or inside glass frames as a tabletop display. If you want to make your photos stand out, I consider displaying them in a photo cube, a multi-dimensional hanging frame, or even sculptural pieces that incorporate your photos into a functional living space piece such as mounted jewelry holders with photos interspersed. Get inspired by the fond memories of that special day and use wedding photos as creative accent pieces throughout your home.
Unusual DIY Projects for Your Wedding Photos
If you are looking for a unique way to incorporate your wedding photos into your home décor, then why not get creative. Taking beautiful wedding photos and turning them into personalized items can be a great way to ensure that your special day will be remembered fondly. Use the stunning photographs from your big day to create items like mugs and mouse pads for yourself and as wedding souvenirs for guests. You can even print photos on fabric and hang them as gorgeous wall art or have them made into attractive cushions for placing around the house. Re-imagine all the ways you can bring these memorable snapshots from your wedding day to life.
I believe wedding photos are one of the most important elements of a newlywed couple's memories. As such, I encourage couples to be creative in how they wish to commemorate and share those memories with their loved ones. Traditional photo albums can be a great option for showcasing wedding photos, but there are so many other alternatives that can really make your wedding photos stand out. If you're looking at a reputable website to get some of your photos turned into art then I recommend you to check out CANVASDISCOUNT.com. They're both fast and reliable! From framed wall art, to personalized photo books, or even turning them into ornament keepsakes; the possibilities are seemingly endless. Consider what feels special and meaningful to you both, and let your creativity run wild.