Your big day is coming up and you've spent tons of your time and money on getting every detail right. But did you consider how to decorate your getaway car? This will be your chance to let the world know that you are married!
When considering your vehicle, you want to make sure that it's in wonderful working condition with good tires. Once the safety checklist is completed. Then you can move on to the fun. We put together a list of 11 things you can use to make your getaway car look festive, fun, classy, or traditional. Whatever your theme is, we have something here to fit it.
You don't have to tie yourself down to one of these ideas either. They interchange well and most people use a mixture of two or more. Let's get started.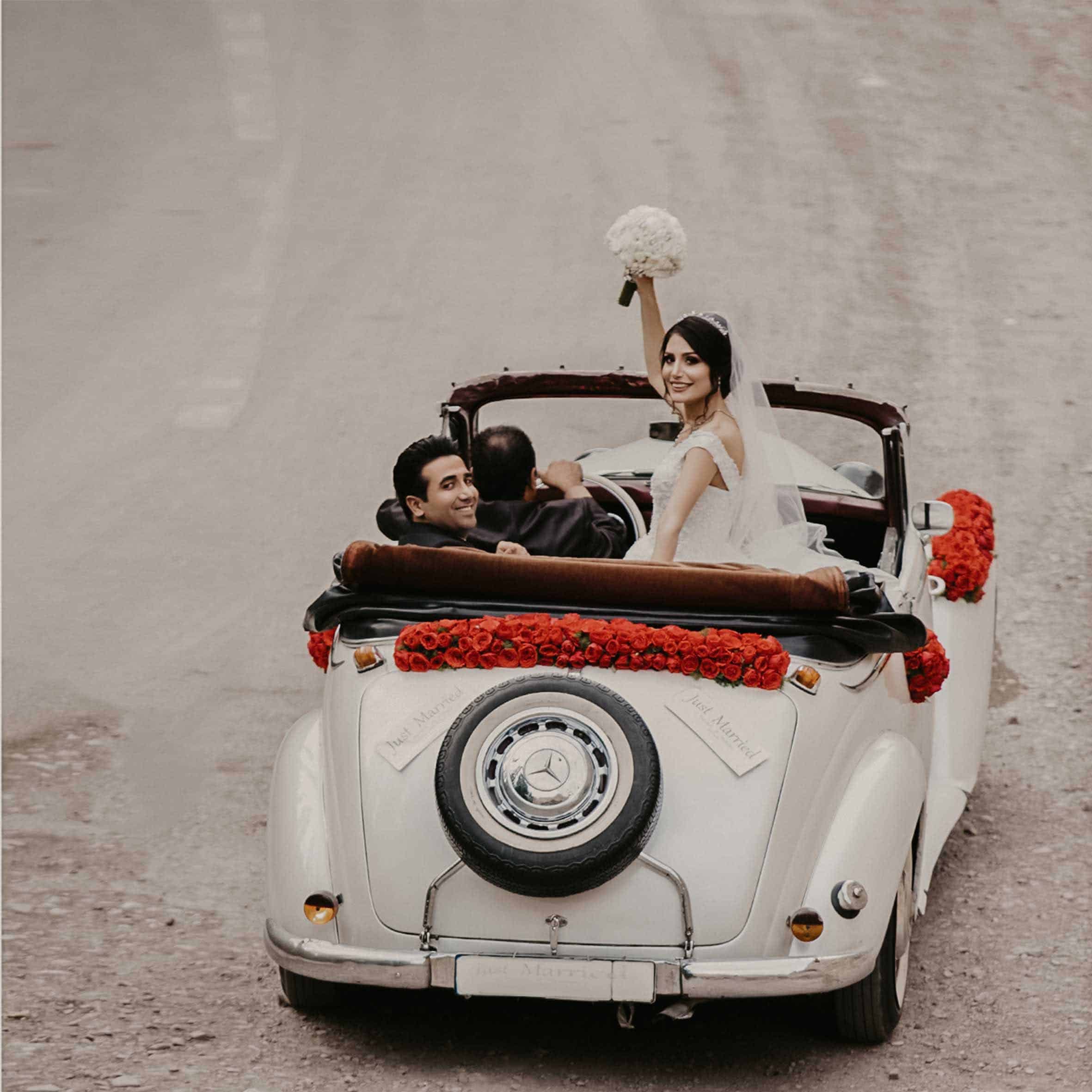 1 – Cans
This is as traditional as it gets. Nothing screams "we just had a wedding" more than a couple of strings with tin cans tied to them attached to the back bumper. The clanging of the empty soup cans is adorable and everyone in the neighborhood would be sure to look your way. You can paint them, personalize them, or even order specialty ones online.
It began with throwing shoes in England and evolved to tied cans overtime.
2 – Signs
Our next suggestion may seem obvious but there is so much you can do with a sign the possibilities are endless. You can create a banner; you can have bumper stickers made. There are specialty license plates, magnets, and so many other ways to put the words "Just Married" on your car, this is where you can let your creative juices flow.
And signs are a great companion piece to cans.
3 – Balloons
Everyone loves balloons. The manufacturing of the rubber balloons we know began in 1907 and they slowly grew popular over time. People use them to celebrate birthday parties, anniversaries, graduations, rites of passage, religious ceremonies, the list goes on and on. And they are easy to coordinate with the color scheme you chose.
Balloons make people happy and you want everyone to feel joy on your special day.
4 – Flowers
Another way you can let everyone who sees your car know that you are celebrating recent nuptials is by decorating your car with flowers. If the climate agrees this is a fantastic choice. Floral arrangements add a touch of elegance to anything they touch. This scheme would work well with a rented antique car or even a classic pick up with a bed of flowers in the back.
Paired with a simple hand-written sign, this would work from a city wedding to a barn burner.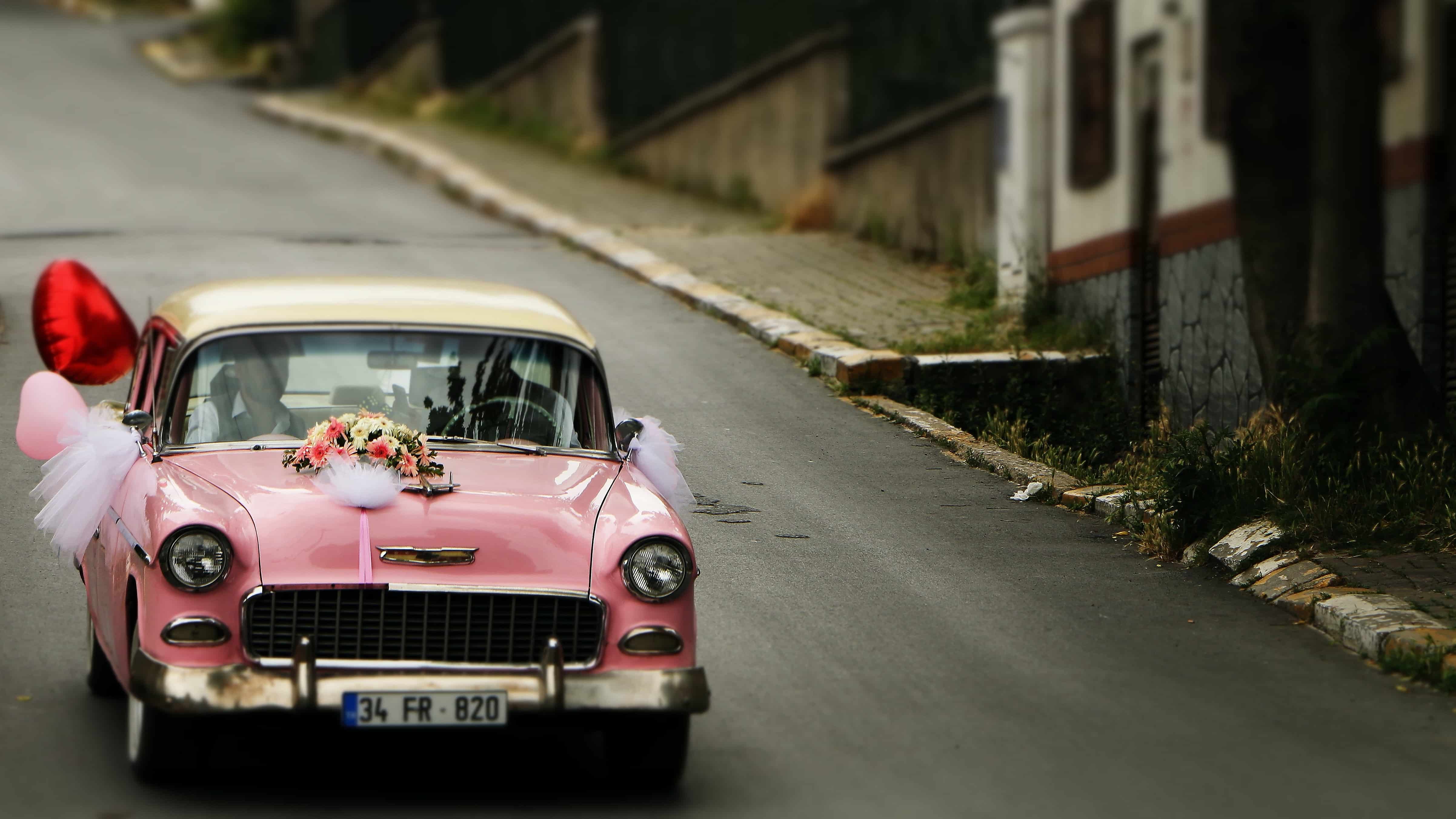 5 – Bows
There are some ways to accentuate flowers and signs. Bows are one of the best. When it comes to weddings bows can be found everywhere from how the bouquets are tied together to the ties around the grooms and his men's necks. It only seems fitting that, when throwing together your list of favorites, bows come up toward the top like ours.
You can tie bows anywhere and it brings the aesthetic up a notch.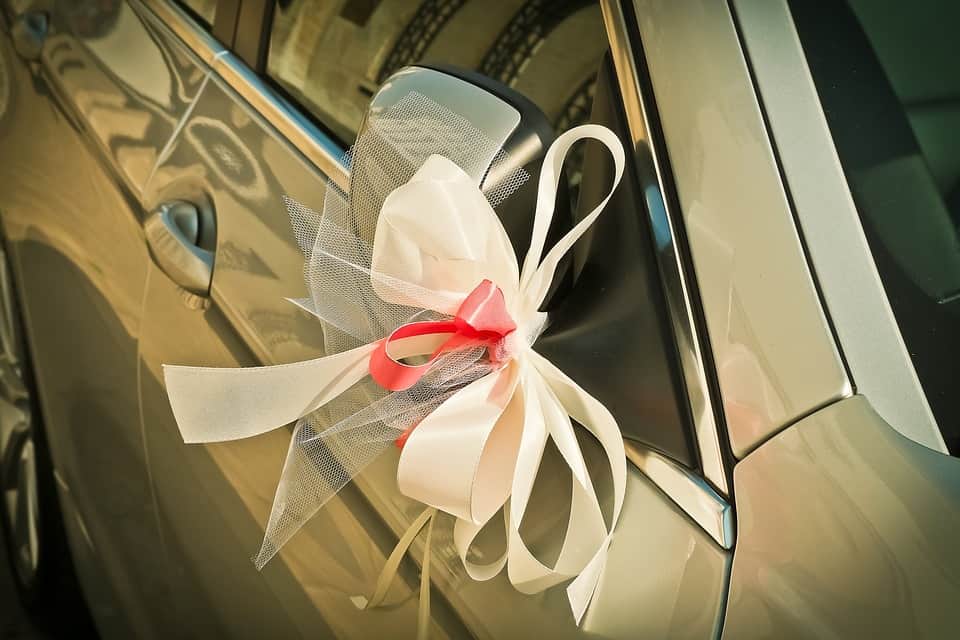 6 – Bells
Wedding bells are a tradition that began in churches and was used to ward off evil spirits. We still love it when the church bells ring but adding a few of these musical additions to your getaway theme will announce to everyone around that you have just tied the knot. Bells are like taking tin cans up a notch.
You could even go a step above and do a combination of cans and bells.
7 – Chains
You might be a bit darker in your tastes. You prefer heavy metal music, black leather, dark makeup, and a goth look. This idea might be something to fit with your Halloween theme. Chains are loud, clunky, and a fun way to do something a little bit different and be daring. Of course, you are playing with the "ball and chain" trope but doing so humorously.
8 – Pet Toys
Our pets are family and what better way to honor them than to make them a part of your special day. Some people use their dogs as ring bearers, others have their cats carried down the aisle in a basket. A fun way to show everyone that two animal lovers got married is by tying a couple of bones or toys to the back of the car along with the cans.
Be sure to get rid of those toys though. They could be dangerous to ingest after being dragged.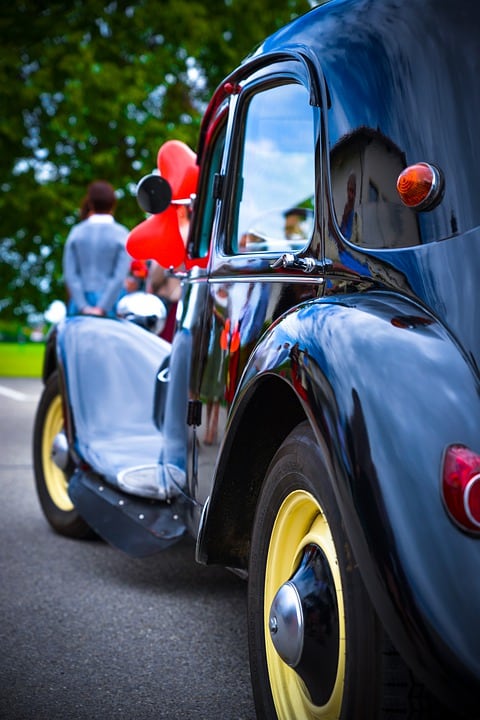 9 – Flags
Flags have been used to announce all types of events since humans first learned to sew a piece of fabric on to a pole. They have been used in battles, to announce the entrance of royalty, and are even used to honor the dead. Flags can offer some people a sense of pride, if it represents their heritage, which is an option as well.
10 – Pom Poms
Not just for cheerleaders or sporting events, pom poms are kind of like bows and flags. Something that is known to be synonymous with festive events. You can decorate your car from head to toe or go with a more tasteful approach and just hang them around your sign. These are also a nice way to incorporate your colors into your getaway theme.
11 – Greenery
Just like flowers, greenery like wreaths and garlands of nature is another elegant way to declare to the world that something wonderful has just happened to the people inside. These are a great way to accentuate other ideas on our list. Flowers with greenery are a no brainer. What about some balloons that are tied down by vines?
As you can see, there are so many options when it comes to decorating your getaway car you should have no problem coming up with creative ideas of your own. We do recommend sticking with a couple of the options here and build on those. Limiting yourself to three might be a good idea.
Good luck and happy decorating!