Although several of your guests may be more of the "go with the flow" type, most people appreciate having a wedding reception schedule so they have a better idea of when dinner ends and the dancing music begins. If you decide that you want to provide your guests with a timeline for the evening, your goal is going to be to make the schedule so that it is easily seen without being tacky. Here are 5 creative and elegant ways to display your reception schedule to your guests.
Programs
The most common option for displaying a wedding timeline is a sign. However, it can be equally convenient and helpful to guests if you provide an order of events list on the back of their program. This way, your guests are more likely to look and can carry a schedule around with them for the duration of the wedding.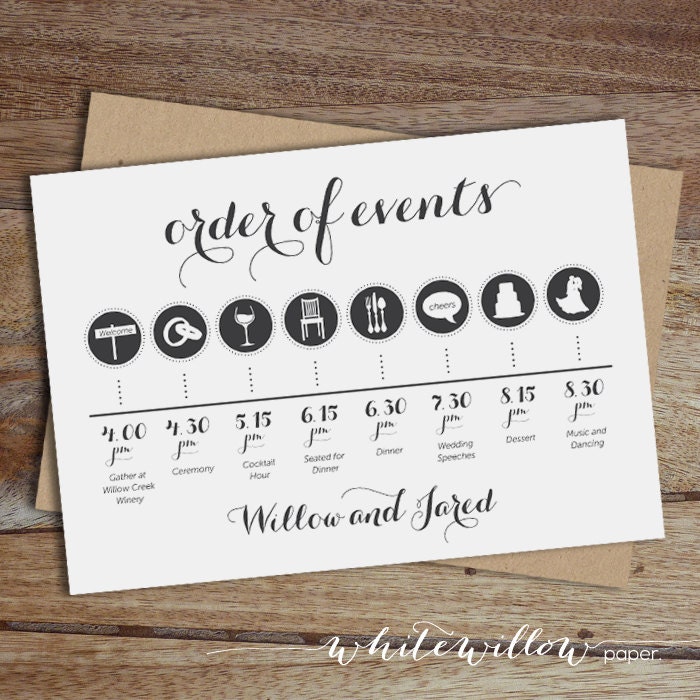 Mirror
Surround a vintage mirror with greenery and flowers, decorate with a fancy font, and your order of events sign will be an absolutely stunning addition to your decor.
Chalkboard Window
Using an old distressed window with sectioned slots makes it easy to keep your timeline organized. Buy a small can of chalkboard paint, give the chalk pen to a friend with great handwriting, and you'll have a gorgeous DIY sign to give direction to your guests.
Rustic Wooden Sign
A rustic wooden sign with either straight sheet wood or pallet boards would look lovely at a woodland reception. Make sure the color and font stand out enough against the darker grained background so that the sign can be seen from a distance.
Foldable Chalkboard
This simple yet elegant chalkboard sign would look beautiful in a rustic barn setting. An added bonus of a foldable chalkboard is that it is easier to move from the ceremony to the reception venue.