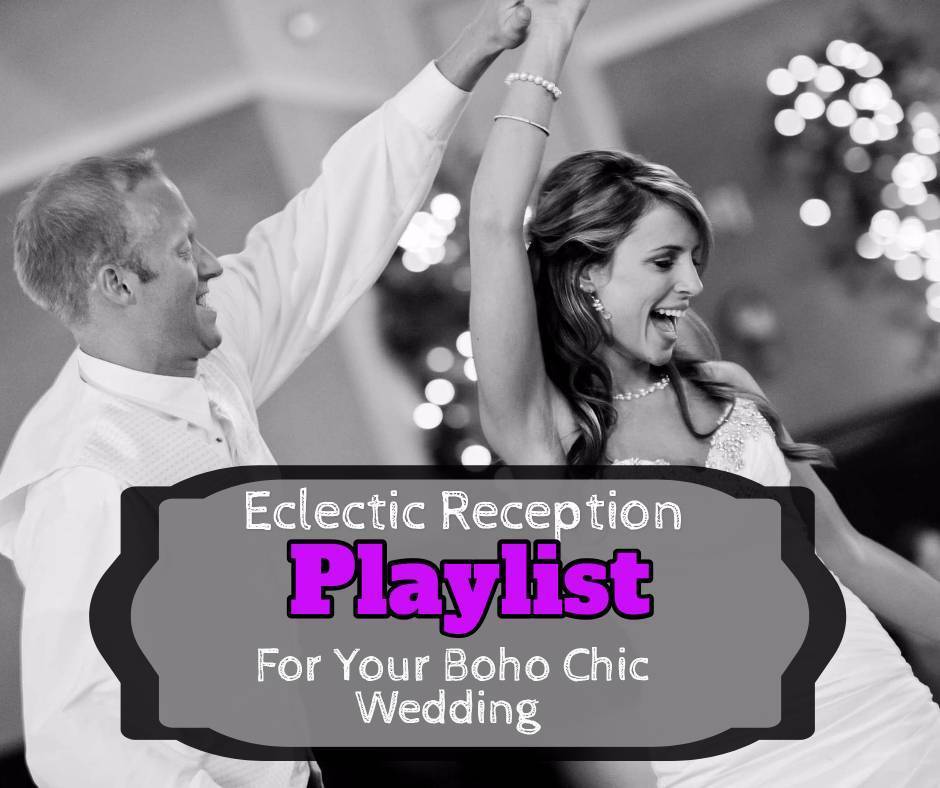 A boho chic wedding is all about the festivities; you've created a fun, carefree, loving atmosphere filled with nature, friends, family, and great food! Celebrate your union in style with an original playlist to match the amazing scene that you've set. A great reception playlist will have a relaxed "dinner" portion, and then move into a dancing set.  This play list, from dinner to dancing,  is all about love, love, love!
Meal Time Melodies
A mix of instrumental tunes as well as songs with vocals makes for a great dinner play list. Don't use up your favorite dance songs during meal time! Save those for the dance party later. You don't want this portion to be too relaxed (as in sleepy), but you want to allow for some great conversation and a peaceful, positive vibe. Here are some suggestions:
"Your Hand In Mine" by Explosions in the Sky
"I Do" by Susie Suh
"Over The Rainbow/Simple Gifts"  by The Piano Guys
"Budding Trees" by Nahko Medicine For The People
"One Voice Together"by  Martin Sexton
"Beethoven's 5 Secrets – OneRepublic" by The Piano Guys
"A Case Of You" by Joni Mitchell
Start Off The Dancing
Usually, couples choose to do their first dance after the meal is complete and dessert has been served. This signifies to the guests that the dancing portion of the evening will be starting up! Your first dance is a special decision that you and your fiance will make. This does not have to stick to the boho theme — choose a song that makes your heart sing and perhaps has some sentimental value.After your first dance, think about introducing a father/daughter and mother/son dance.  Next, open up the floor! It's a good idea to start the dancing part of the evening with some well known songs. Keep the theme of the evening positive and celebratory! 
"You Are The Best Thing" by  Ray Lamontagne
"Let Your Love Flow" by Bellamy Brothers
"Simply Beautiful" by Al Green
"Woodstock"  by Crosby, Stills, Nash & Young
"Move Like You Want" by Ben Howard
"Moondance" by Van Morrison
Keep Your Guests Groovin'
Once your guests are loosened up, keep them dancing with a  mix of old favorites, new and high energy modern songs that you and your wedding party love, and some slow songs that build up the romance. If you want people to get excited about dancing, you've got to play songs that they know. Throw in some classics as well as the alternative songs that make you feel amazing and creative. Your event is pretty non conventional, free-spirited, so you don't have to play songs that are too mainstream, but remember that people love to hear the beginning of a song, recognize it, and get moving. Choose a balance that feels right to you!
"It's Time" by Imagine Dragons
"Ho Hey" by Lumineers
"Symphony"by Clean Bandit
"Higher Place" by Dimitri Vegas & Like Mike feat. Ne-Yo
Light The Romantic Spark
As the night heats up, and your guests are dancing their boho buns off, mix in a down-tempo interlude once in a while with a romantic slow song. Here are a few ideas:
"Come Away With Me" by Norah Jones
"Wonderful Tonight" by Eric Clapton
"Blue Mind" by Alexi Murdoch
"Yellow" by Coldplay
"Skinny Love" by Birdy
"Fallin'" by Alicia Keys
With the right mix, your wedding will be one to remember. From a relaxed dinner atmosphere to wild crazy-fun dancing, the playlist should have a bit of everything, all in the right timing. Stick to your theme, but throw in some conventional goodness as well. In order to get people up and in the mood to dance, you need to play some old favorites, even if they seem over-done at first glance. Once you've got your guests grooving, throw in the unusual, true-to-you songs that only you know about! Do you have any to add to the list? Please do share in the comments section below!