Why are more and more couples using pallets in their wedding? Because it is an inexpensive, eco-friendly, durable material that adds a gorgeous rustic touch to any wedding. Here are 8 ways to use recycled pallets in your wedding.
Signs
Whether you need to instruct your guests where to sit, display your menu, or simply decorate with a special quote, pallet wood makes a beautiful and sturdy backing for your wedding sign.
Photo Source: Snippetandink.com
Decorated Chandelier
A pallet wood chandelier looks especially beautiful in a venue with a high vaulted ceiling. Use your imagination to create a unique and personalized chandelier that matches your wedding theme.
Photo Source: Brooke Allison Photo via Weddingchicks.com
Schedule Display
Because pallets have natural spaces between the boards, they work great for listing your wedding schedule in a way that is easy for your guests to follow.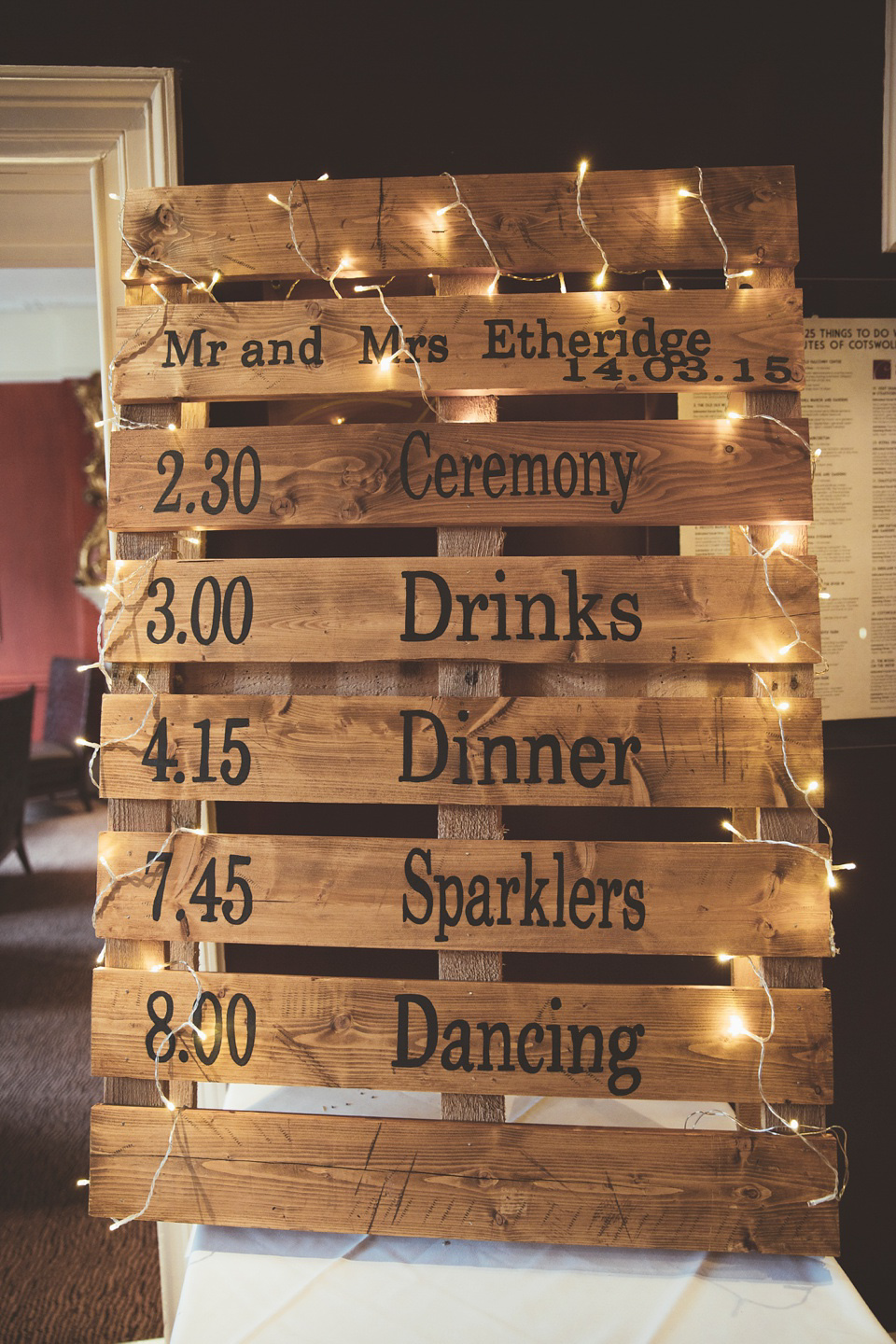 Photo Source: Philippa James Photography via Lovemydress.net
Backdrop
Make a pallet wall and cover it with flowers, ferns, or other greenery to create a mystical woodsy backdrop for your pictures.
Photo Source: Adam Barnes Photography via Hillcitybride.com
Reception Table
Stack pallets together to provide a table top for your guests in a laid-back picnic-style reception.
Photo Source: Padilla & Rigau Photographers via Thenaturalweddingcompany.co.uk
Dance Floor
Pallets are extremely sturdy. Use them for the base of your dance floor to create a unique space you can dance the night away on.
Photo Source: Nick Evans Photo via Hellomay.com.au
Display
A pallet is a simple and tasteful way to display pictures, seating assignments, and a host of other items at your reception.
Photo Source: Kat Mervyn via Whimsicalwonderlandweddings.com
Bar Counter
If you're feeling really motivated and are in a "do it yourself" mood, build your own rustic bar counter for cocktail hour. Your guests will love it, and you'll have a useful memento of your wedding to use for years to come.
Photo Source: Conforti Photography via Modwedding.com