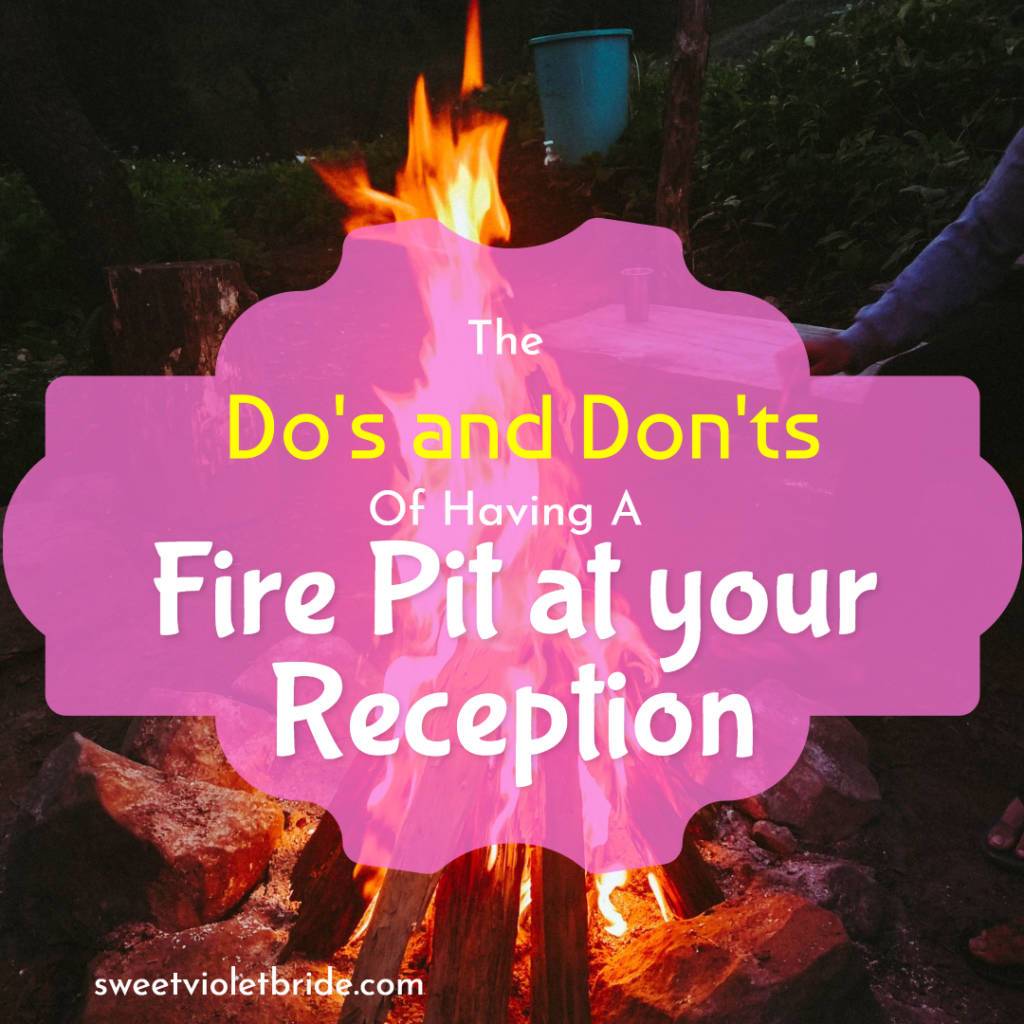 Is your wedding venue going to have a fire pit? That's exciting! No matter what time of year it is, from a starry summer night to a chilly winter afternoon, a fire pit can be a fun addition to your outdoor seating area. Here are some tips to help you use this aspect of your venue to the fullest! Give guests a cozy place to hang out, chat, and toast marshmallows. Most importantly, stay safe. Here's how…
Do: Know the Restrictions
Several days before your big day, check with the local fire department or town government to see if there are any fire restrictions in place. Check again on the actual day of your wedding, as this may have changed. If the area is dry and winds are high, there could be a ban in place, which means you can't have open flames. Get the details from people who are in the know, and play by the rules.
Do: Test it Before-Hand
Test out the fire pit yourself, to make sure you know how to light it. Or, delegate this task to the person who will be in charge of it during the party. The point is to know how to use it, instead of assuming that it's simple. It might not be! Some fire pits have "on" buttons that are located in building interiors, or the pit could have a quirk that you need to figure out before hand (press the red button twice instead of once, and it lights!).
Do: Offer Cozy Extras and Treats!
The fire pit likely has benches or chairs around it, but instead of leaving it at that, why not add a little luxury? Put cushions on the chairs, and a stack of blankets for guests to wrap up in. Even if you already have a rockin' dessert table inside your reception venue, consider putting s'more ingredients out, as well as some marshmallow roasting sticks.
Don't: Rely on a Fire Pit for Providing Warmth
A fire pit provides a cozy, fun ambiance, but unless guests are within a few feet of the flames they're likely not going to feel significant warmth from it. If you have a big group gathered around, people will likely hang back a bit to make room for everyone. Don't assume that guests will be crowded close to the fire, feeling toasty! Instead, if it's very cold out, give guests other ways to get warm — like the blankets, mentioned above.
Don't: Leave it Unattended
Fire should never be left unattended. Make sure someone is in charge of shutting down the fire pit at the end of the night. This could be done with a button, if you're using a gas-fed fire. Or, if the fire is fueled by wood, someone will have to ensure that the wood is sufficiently cooled, and that the fire is completely out. Delegate this task to a responsible friend or family member — preferably someone who won't be drinking!
If your venue has a fire pit, use it! This can add an inviting, warm, friendly vibe to your reception. Did these tips make you excited about having some flickering flames at your reception? Leave a comment below.