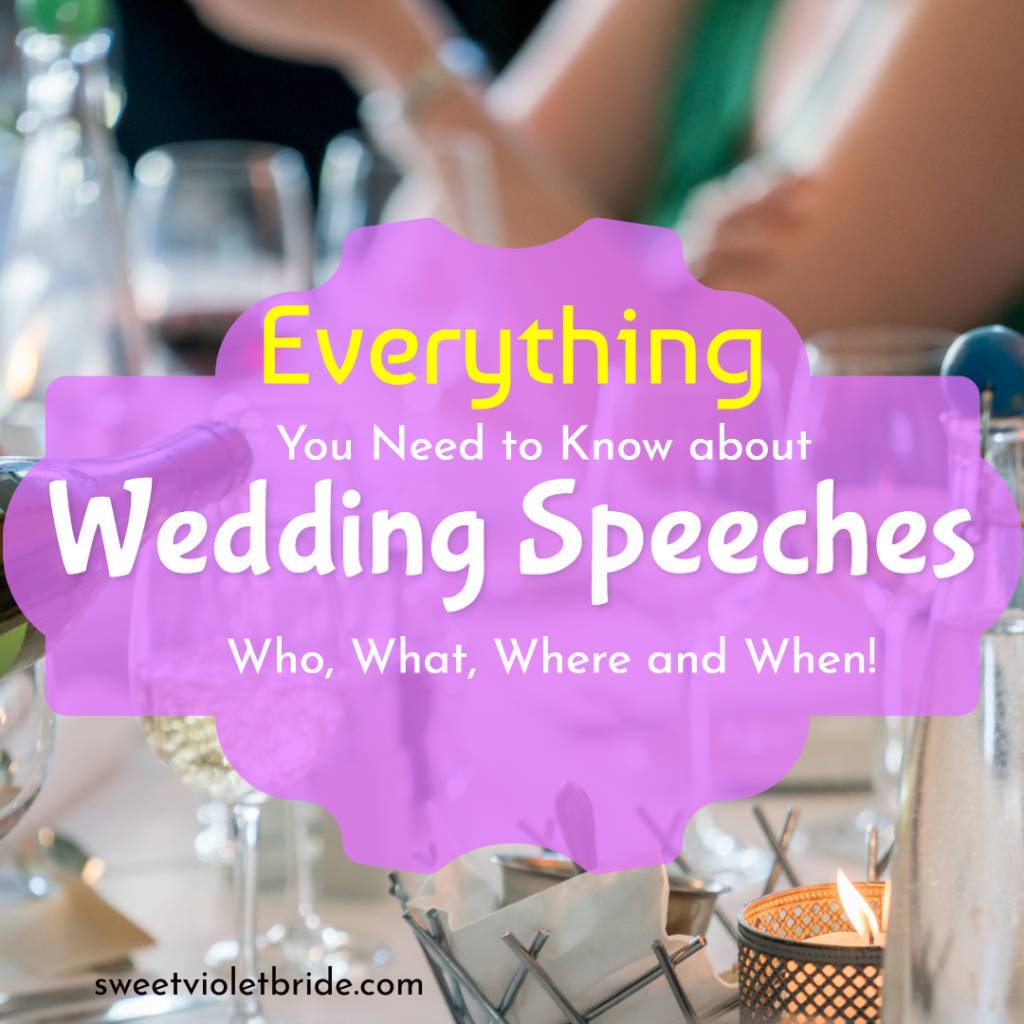 You may not be into following conventions when it comes to your wedding, and that great! Your day is all about celebrating the love and union between you and your partner, and that can be done in many unique ways. It won't follow a set formula or structure.
However, when it comes to wedding speeches and toasts, you do have to plan ahead! People need advanced notice if they're going to pick up a mic and engage in public speaking. Planning a timeline for the toasts will also help you make sure that you get to have those juicy, heart-warming moments that are going to stick with you, and your guests, for years to come.
Ready to do some planning? This guide will help you get crystal clear about the speeches and toasts that will be offered up on your big day.
Who Will Take the Mic?
First things first: Who is going to speak at your wedding? We suggest a list of three to five people, including the host, the parents, the maid of honor, and the best man. By "host", we mean you or your partner should at some point speak up and thank guests for celebrating with you. "Parents" could be one of the bride's parents, one of the groom's parents, or both. Of course, you know who your maid of honor and best man are.
Other Options
Who else might take the mic? Other options include the bride or groom's siblings, close friends, family members, or co-workers. Your situation is unique. Do you work at a fire station? Invite your Captain or Chief to speak. Raised by your grandfather? Ask him to say a few words. On a spiritual path? Maybe you want your yoga mentor to take the mic. Follow your heart, and consider the people in your life that are closest to you.
The Bottom Line
The bottom line is that you want to limit this to about five people, so that your guests don't begin to feel restless when yet another person takes the mic. Once you have your list of five people, tell them well in advance (at least a month ahead of time!) that you'd be honored if they would speak at your wedding. This will give them plenty of time to collect the thoughts and stories that they want to share on your big day.
What Should the Toasts Include?
Wedding toasts and speeches have a few different purposes, and the purpose depends on who is giving the speech. Here's a quick breakdown about what each speech should include. This is just a guideline! Be true to yourself, and spend some time envisioning the way you want these speeches to unfold.
Host's Speech
At the beginning of your reception, you or your partner should take the microphone and thank guests for being there with you. This can be short and sweet. The purpose is the express gratitude and create a feeling of community. Both bride and groom can stand together, while one (usually the groom, but it's up to you!) speak and simply offer thanks. This is a great time to say that you hope your guests enjoy the party and the great food.
Parent's Speech
Your parents have a unique perspective on your partnership. If you invite either one of your parents, or your partner's parents to speak, expect that they're going to tell a story about one of you in your younger years. Get ready for some laughs! Stories about little kids are always cute (and maybe a little bit embarrassing). The parent might also welcome their new son or daughter into the family. This sentimental speech will get those fuzzy, warm,  feel-good emotions flowing in the crowds.  Expect a few tears!
Best Man and Maid of Honor Toasts
What is the Best Man's speech all about? The Best Man should introduce himself, and then launch into a few stories about the groom. As the groom's best friend, the best man can share his excitement about the union. Is the groom happier than ever? Does he light up when he see's his bride? Does the future look bright? The Maid of Honor's Speech will be similar. After introducing herself, she will share stories about the bride, speak about the union, and then share some hopes for the future.
Where Should Toasts be Given?
One of the things you want to think about ahead of time is where the toasts will be given. A great place for this is close to the place where the bride and groom are seated. Whether you've picked an indoor or outdoor venue, this is usually a focal point of the venue, which is perfect.
At some point in many of the speeches, the speaker will want to address the happy couple directly, so being close to the head table is good. At the rehearsal dinner, or another point before the speech will be given, pull the speaker aside and show them where you would like them to stand. You should also show them where the mic will be, and tell them when they are expected to speak.
What's a Good Timeline for the Speeches?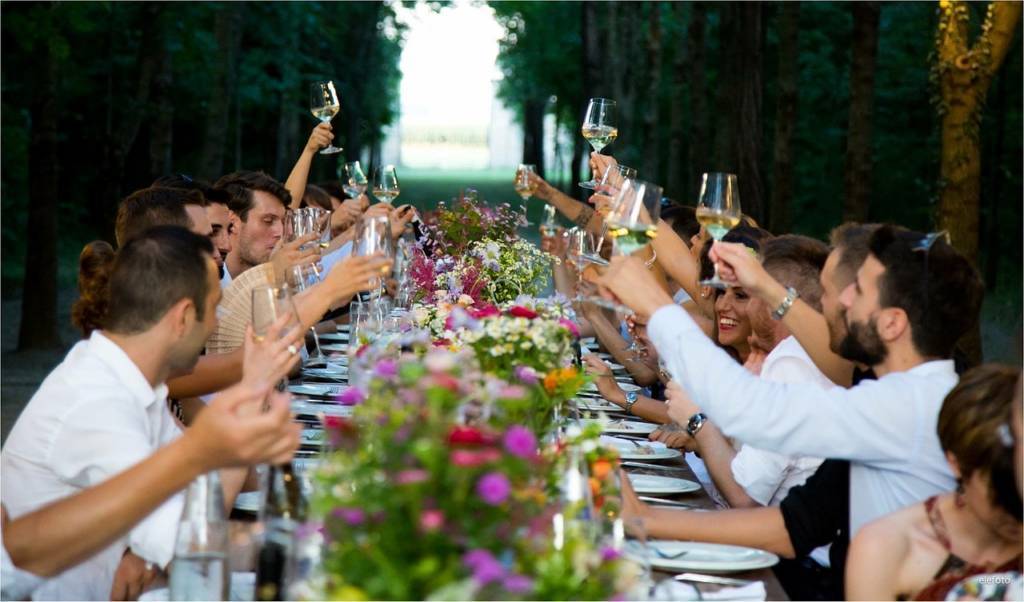 Now that you have an idea about who will be speaking at your wedding, and what those speeches will entail, it's time to put together a timeline. This doesn't have to be rigid — as in "at 5:15 exactly". Instead, you want to think about benchmark moments during the reception. Here's what we mean:
Kick Things Off — Soon After the Ceremony
The first benchmark moment is at the very beginning of the reception. The ceremony is over. Perhaps the guests have moved over to the reception venue, and the first glasses of champagne are being passed around. Within the first half hour of the reception, as the party is just getting started, the host should take the mic and set the tone for the reception.
Cocktail Hour Toasts
Another possible benchmark moment is once everyone has a drink in hand. This can be an ideal time for a speech! For example, the father of the bride might ask everyone to raise a glass to the happy couple.
Once Dinner is Served
Everyone is happier and more content with a plate of food in front of them! Take advantage of the fact that your guests are seated, and ready to be attentive listeners (as they butter roles or nibble salad!). You'll notice a definite lull in conversation once guests start tucking into the grub, which means it's the perfect time to the Best Man or Maid of Honor the microphone — and the floor.
Did this guide help you wrap your head around your wedding speeches? Hopefully you're starting to get an idea about who you want to speak at your wedding, and how you want the speeches and toasts to flow. It's important to have a schedule in mind! Over the next few days, keep thinking about the details until you feel really clear. If you'd like, you can share your ideas and thoughts in the comments section, below! We'd love to hear from you.