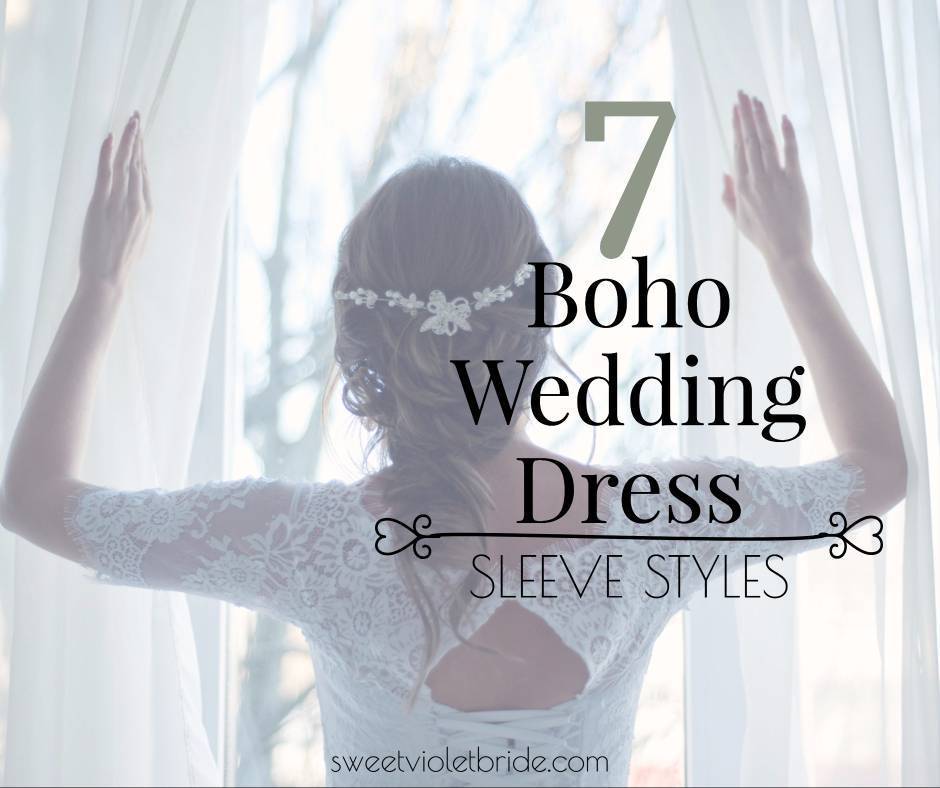 The wedding dress of your dreams might be flowing, layered, ruffled, or extremely simple. Within the bohemian gown styles there are many cuts and levels of formality. When you think about what kind of dress is right for you, consider the shape of sleeve that you desire. Is it long, billowing, capped, or lacy? Here are six inspirations to get you started in on visualizing the style that is right for you. If you have a clear image in mind, you will be more likely to find the perfect dress!
1. Off The Shoulder
This dress by Daughters of Simone exemplifies the boho chic style: laid back, unconventional, yet elegant. This gorgeous gown is perfect for a summery outdoor affair!
2. Capped
Capped sleeves are offer a beautiful feature to dress that is otherwise very understated. Boho gowns often hang loose around the ankles, rather than having an elaborate train. A capped sleeve is a beautiful way to add in some detail! Antique lace, beads, and a hint of sparkle could give your dress the extra romantic touch that you are looking for.
3. Lace Ruffles
Flowing light lace ruffles are a beautiful choice. This dress offers a glimpse into the potential that a billowy, ruffled lace has for creating a style that is unique. The creativity and free-spirited nature of bohemian inspired gowns offers designers so many options when it comes to style. The results are stunning!
4. Tassels
For a playful celebration with a casual atmosphere, consider tassel tying sleeves. This spaghetti-strap look is great for brides who aren't afraid to defy the norms and express their  hippy goddess side!
5. Long and Fitted
For a fall or winter wedding, a fitted long sleeved dress like the one above is a great way to go! These sleeves end just at the wrists, giving this bride a ballerina style. Boho inspired gowns are grounded in a late sixties and seventies foundation, but have since evolved to encompass a wide array of fashion elements. This dress is slightly more classic and conventional than some boho gowns, but retains a gypsy-like vintage element because of the antique lace, unconventional style, and flowing lower half. If you like this look, take a peek at the Sareh Nouri Vienna Gown. Stunning!
6. Off The Shoulder Flutter Sleeves
Flutter sleeves are rare and eye catching. This look is perfect if your wedding celebration theme is whimsical and fantasy oriented. It would go with with large, lush flowers and playful ribbons. The cut bares your shoulders in a bold way, yet is easier to wear because the straps keep the off the shoulder fabric in the right place. A flutter sleeve portion on this style of dress can be sheer and billowy, tight lace, or silky ruffles.
Which styles do you love? If you are like me, you love them all. It's a shame you can only pick one! Find your dream wedding dress by zeroing in on the features that you love. I'd love to hear which looks you find intriguing! Please leave a comment below with your thoughts.