And all the woods are alive with the murmur and sound of Spring,    
  And the rosebud breaks into pink on the climbing briar,
  And the crocus-bed is a quivering moon of fire        
Girdled round with the belt of an amethyst ring.
-Oscar Wilde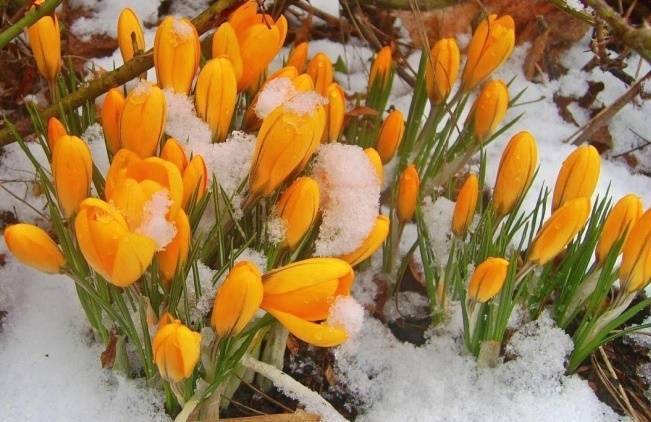 One of the most joyful sights of spring is finding a cluster of crocuses blooming happily in a patch of snow. It's no wonder, then, that these flowers symbolize cheerfulness and make a wonderful wedding day addition. Found in various habitats around the globe and grown in some climates to produce saffron, crocuses start from bulb-like corms and are hearty whether potted or cut. Include them in boutonnieres and bouquets, or adorn cakes and tables. Celebrate your new life together by giving crocus corms (bulbs) as wedding favors: your guests will think of you and your love as their gift grows and blossoms.
Crocuses grow in vibrant colors perfect for spring nuptials. Whether you prefer a soft palette of white and pale purple, bright hues of yellow and orange, or dramatic shades of blue and dark indigo, there's a crocus to match your taste. Even better, they can be used to create living centerpieces that will bloom long after your big day.
Here in New England, we're on the lookout for spring, and can't wait to spot these lovely flowers as the snow begins to melt.  

1) Pics to Pin  2) In Full Bloom by MJL  3) Juniper & Dash  4) A Guy and A Girl Photography  5)  Edible Crafts  6) Pinterest  7) Noon on the Moon  8) Orchard Cove Photography  9) Tiny Dot Photography  10) Spare Tire Design  11) Paddle Attachment  12) Florence Finds  13) Pinterest