If you're looking for the perfect platinum wedding bands but hesitant about the cost then it might be your lucky day because one couple will get a Love Rocks design ring set in platinum, at a super special price from Beth Cyr Jewelry. These simple rings are handcrafted and have a beautiful and organic, granite-like texture that is created by using three different hammers.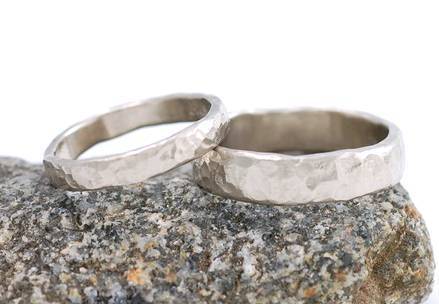 Read all the details and learn how to enter to win here. The special price will be around the price of her 14k palladium white gold love rocks rings, but will depend on the size and width of the rings needed. For example, retail cost of a size 9 for a 6mm ring in platinum would be $1850. For the lucky winner (if they are a size 9) it would only be $900.
Beth Cyr's passion is creating unique organic metal jewelry and nature inspired wedding bands in 100% recycled metals, handcrafted in Athens, GA. Love her work but not looking for wedding bands? You can also enter this promotion for a chance to win a beautiful sterling silver tree bark and diamond pendant! August 31st (midnight EDT) is the deadline. The winners will be announced by the end of the day Sept 2nd, so enter today!