I am so excited to share this artfully styled real wedding with you on this Halloween day! Kate and Jacob are both artists and when they started sketching ideas for their wedding they knew they wanted their guests to feel like they were in another world.  After a few months of brainstorming with their designer, Tricia Fountaine, Jacob said "It's like a steampunk Zeppelin crash-landed in a fairy forest." It became clear that Steampunk was the perfect avenue to create an elegant, fantastical and imaginative wedding. I'm in love with every single detail!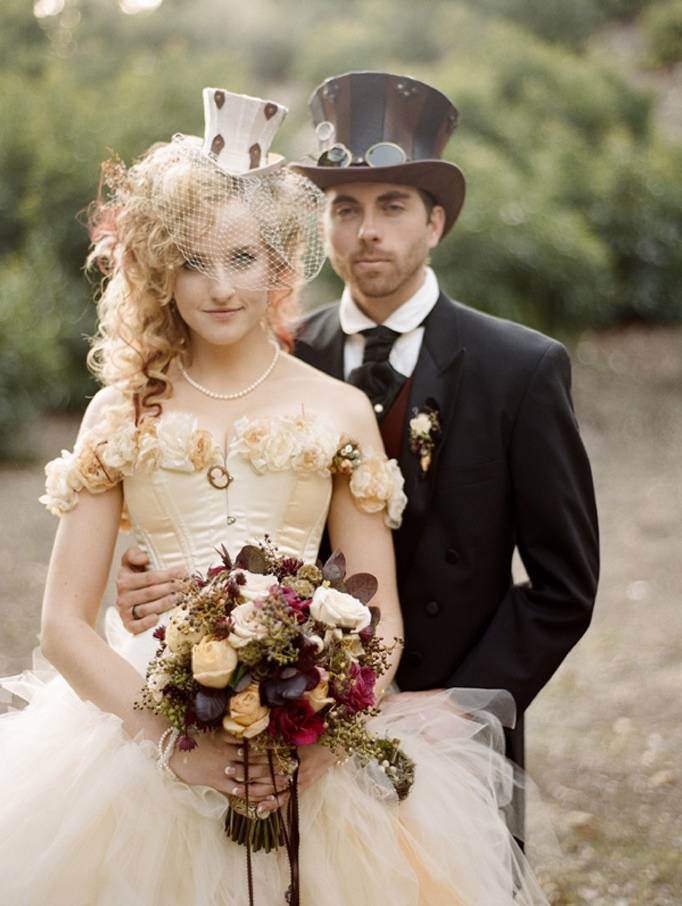 Steampunk merges the idea of Victorian art and fashion with a science fiction flare. Almost all of their guests dressed the part as well, and the couple exchanged vows at the base of a 200 year old Sycamore tree. This wedding shows that you truly can create the wedding of your dreams, no matter what your style!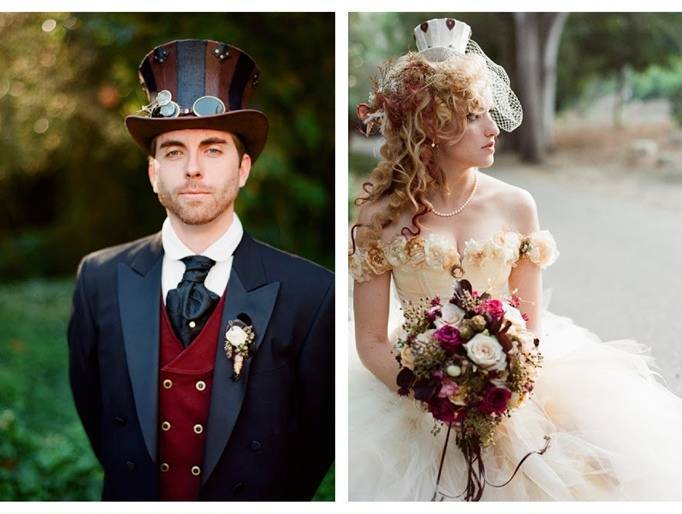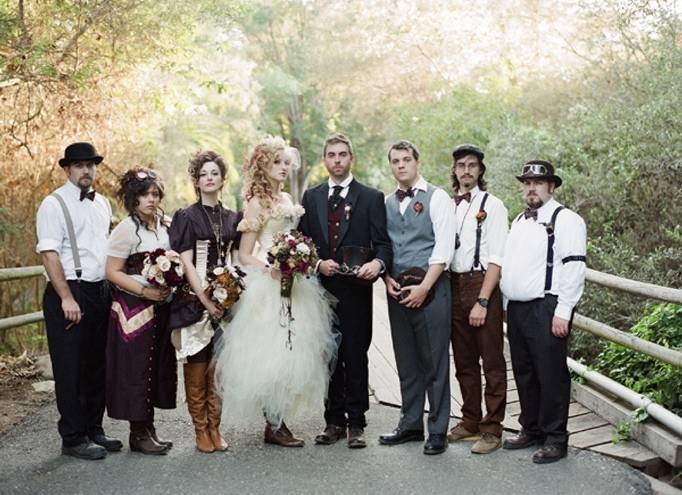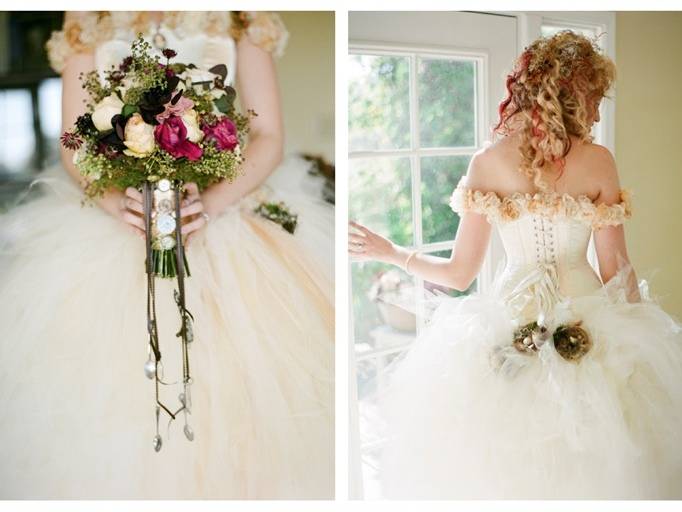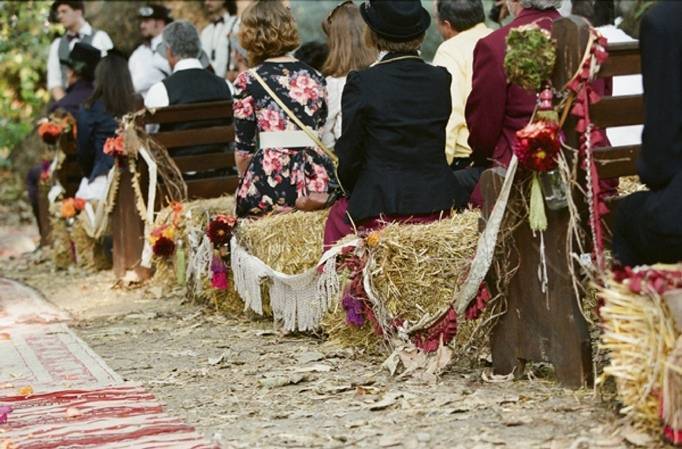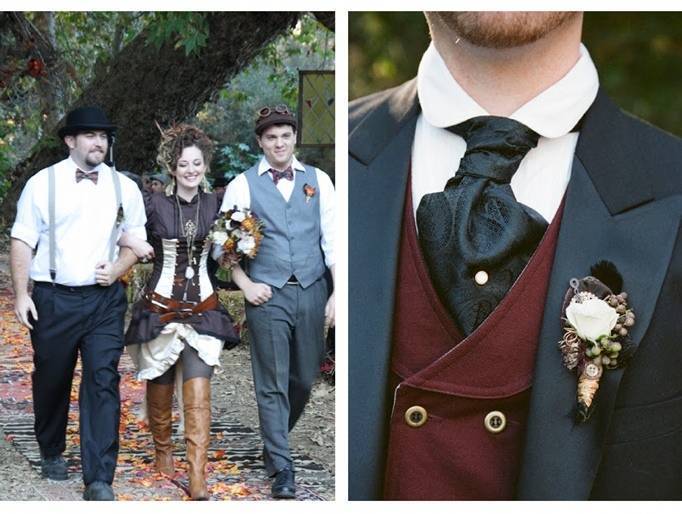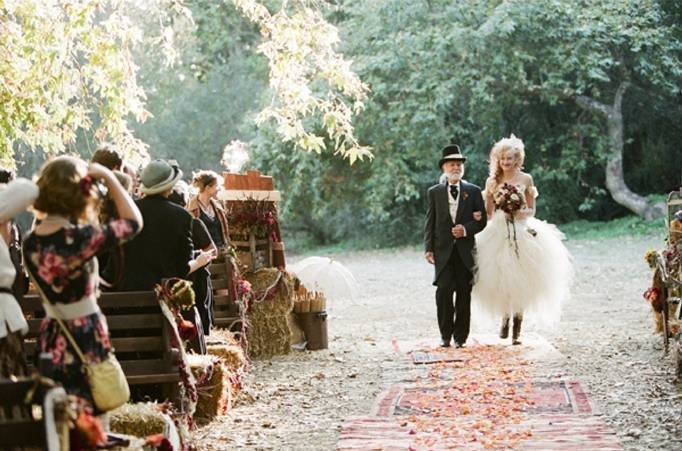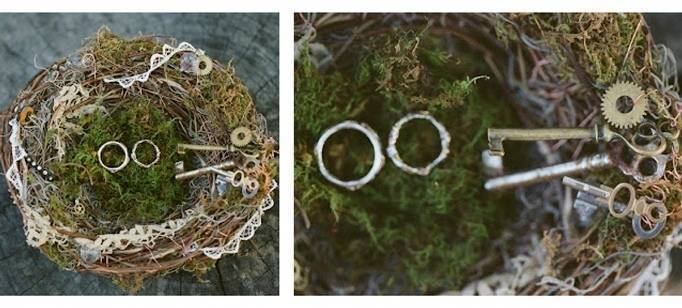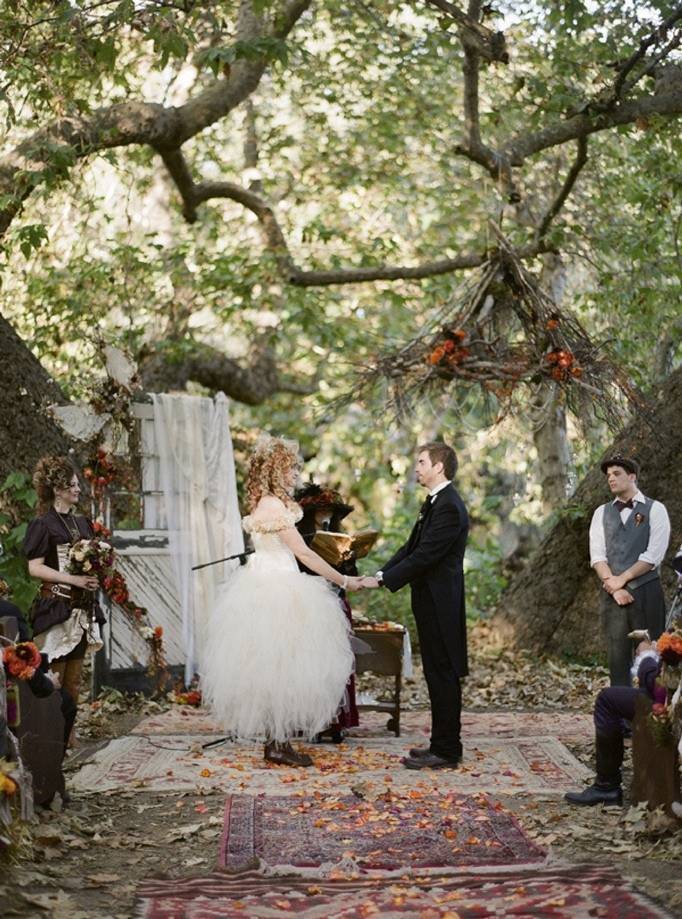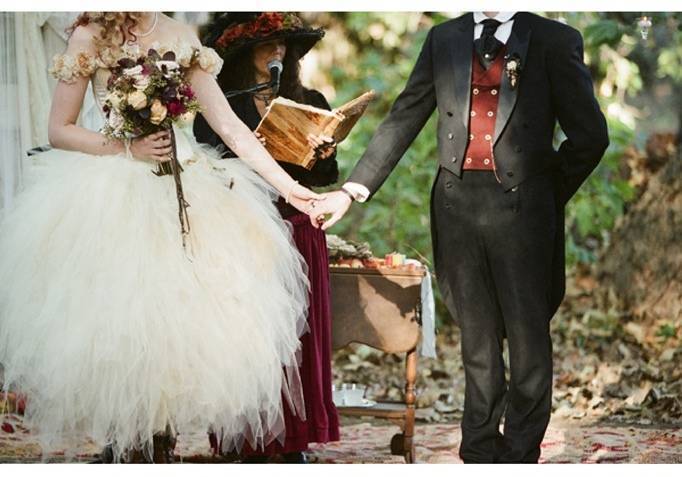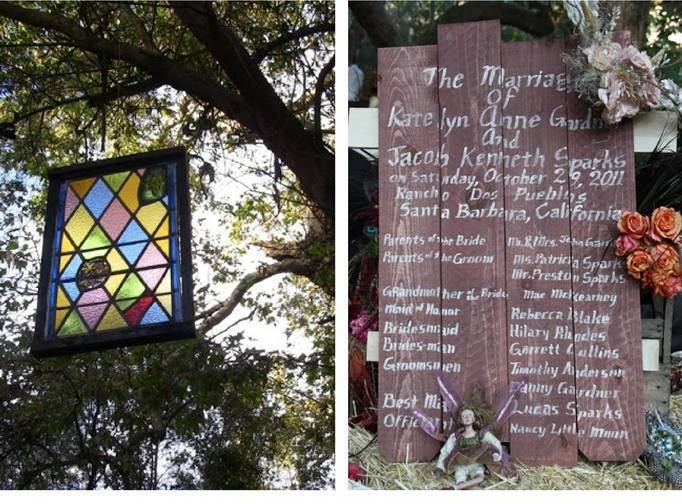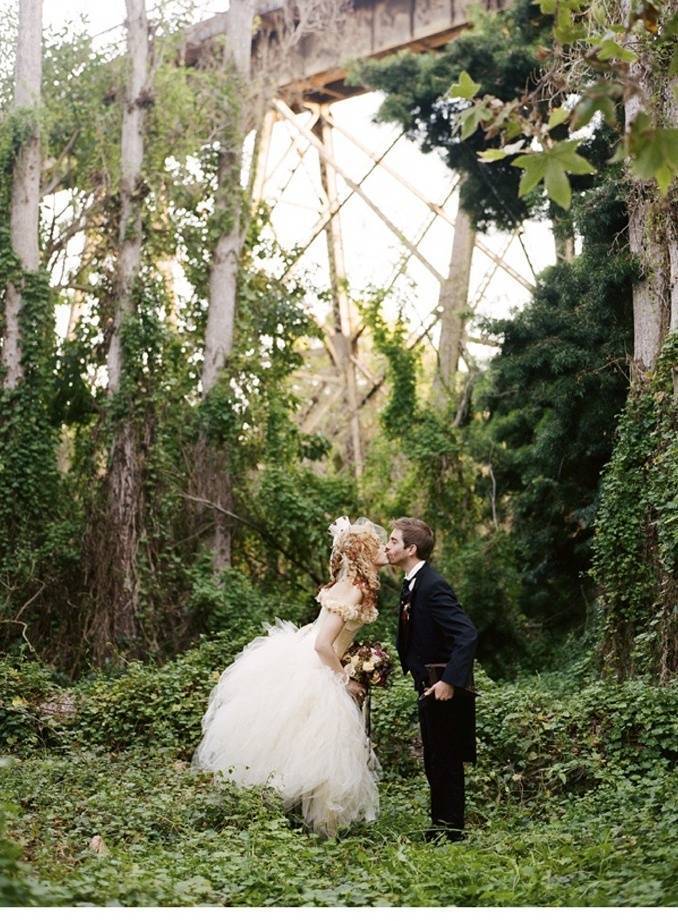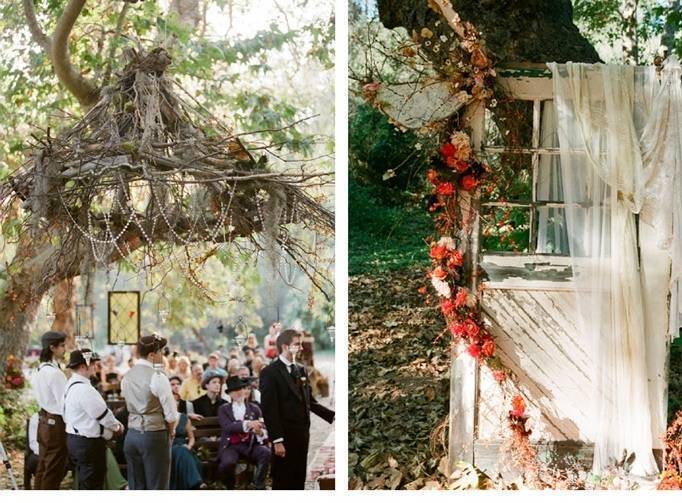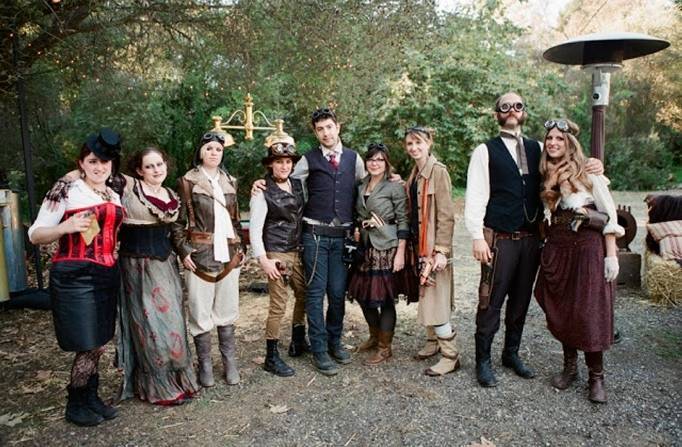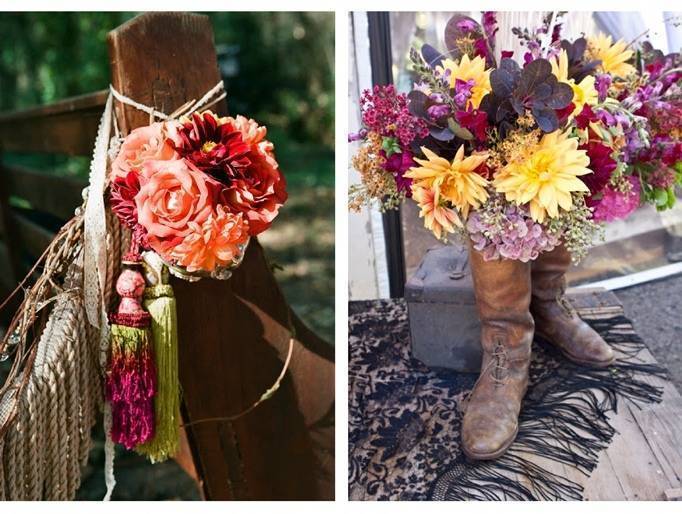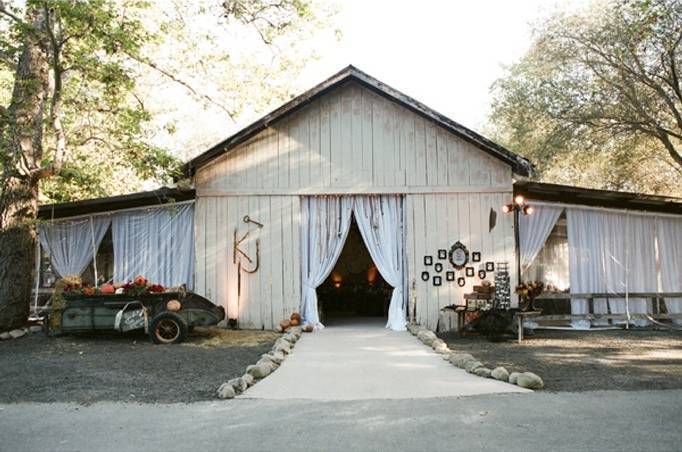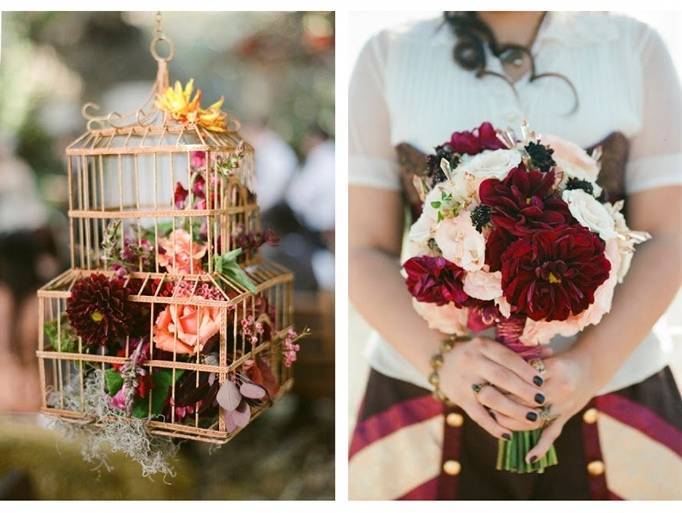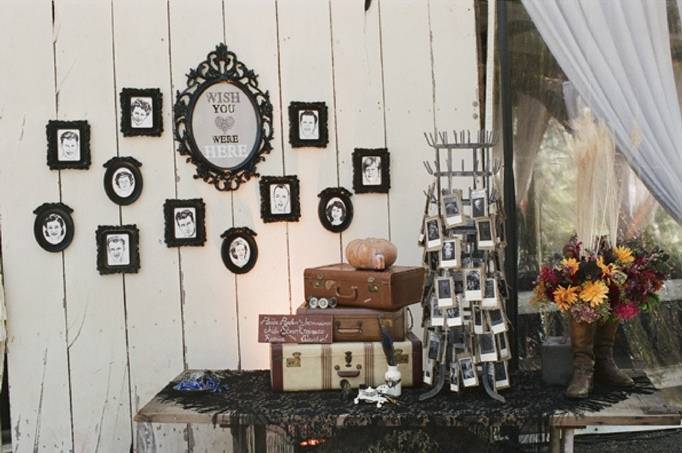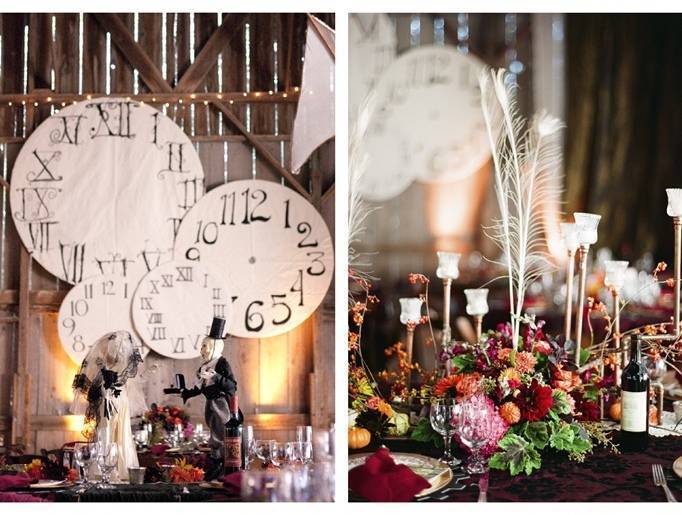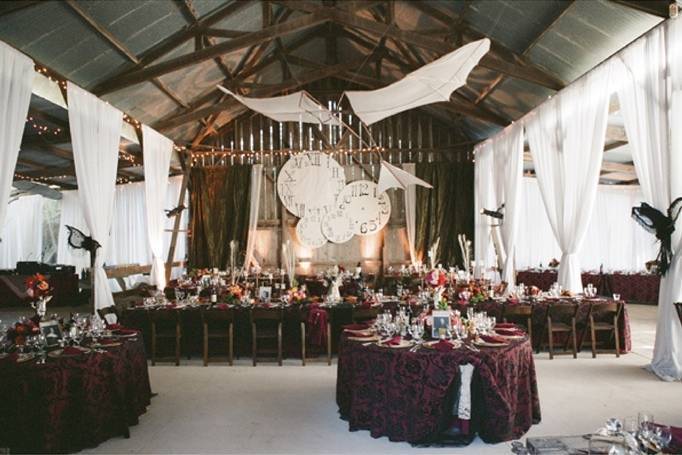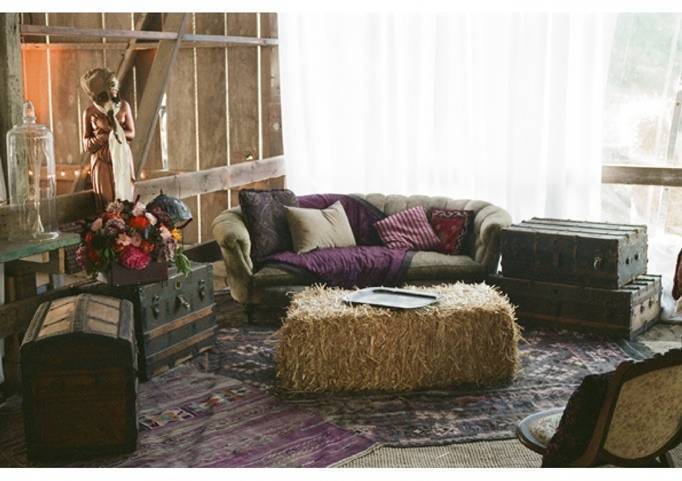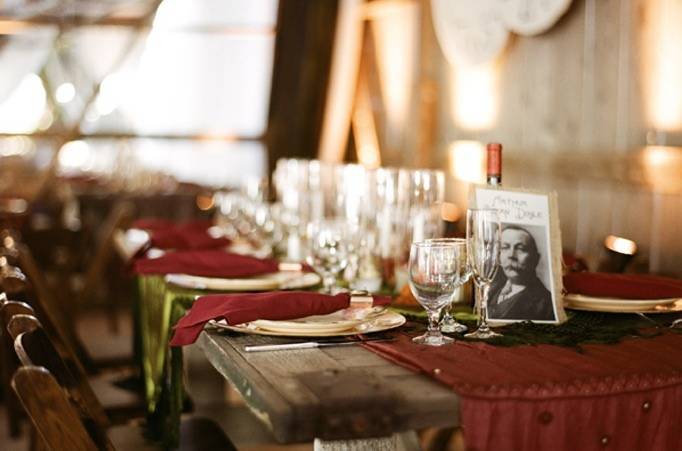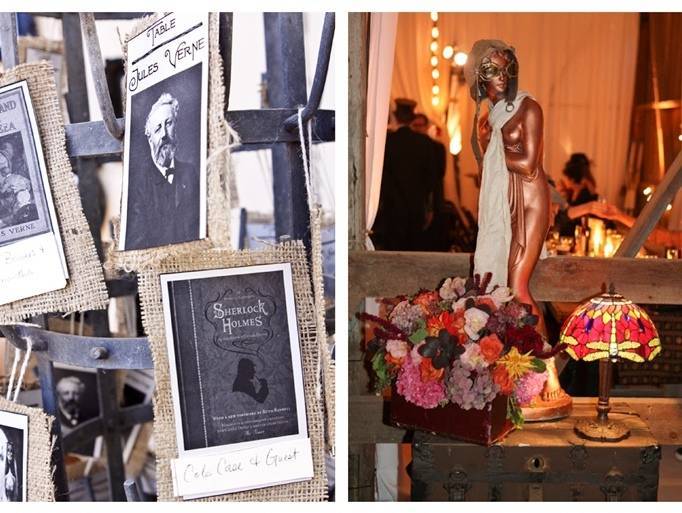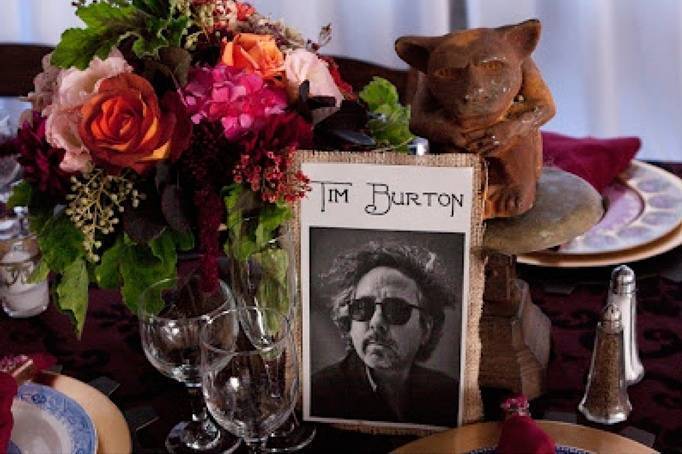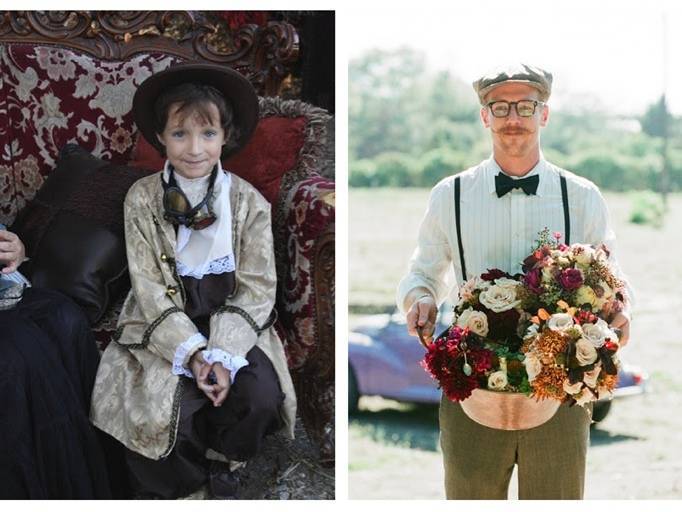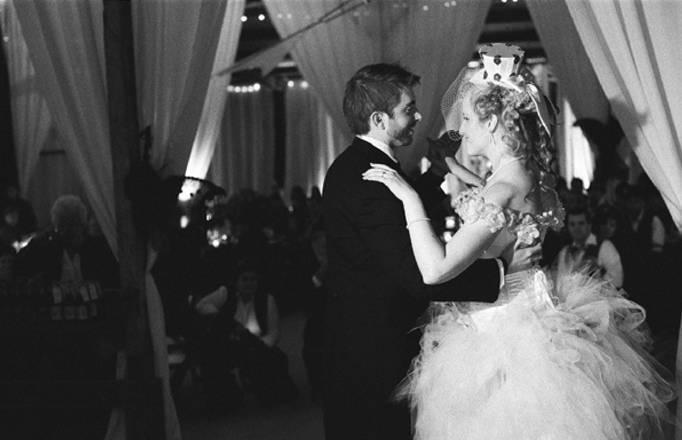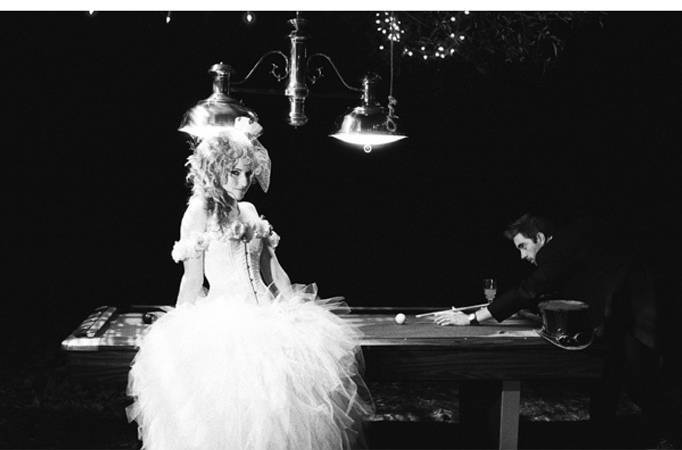 Details From the Bride:
It was important to us that our family felt like they were at a big reunion. Everything was casual, from the hay bales in the ceremony to the picnic benches in the reception. We even had blankets in baskets placed all over the ranch.
We decided on rich browns, deep reds, and other colors of autumn to accent the coppers and blacks. Copper is a huge part in steampunk design, and was also everywhere in our wedding. Tricia Fountaine and I did most of the work. We scoured junkyards, flea markets and strange stores to find everything. Some of my favorite memories from the wedding are all the small details we added to everything to really bring the look of the world together.
Advice to Future Brides:
You can always find your perfect dress. There are so many amazing resources out there, there's no reason to ever settle for less than perfect. This goes for any vendor, really. Flexibility and creativity are key to keeping from a meltdown. But if something really seems to be fighting you and you feel like you have to make too many compromises, look for another way! Find the path of least resistance and run with it. At the end of the day, as long as you marry the person you set out to marry, then your wedding was a success. Stay present. Take pictures of the PROCESS, not just the outcome.
Wedding Songs:
Groom's Processional: "Throne Room" theme from Star Wars Bride's
Processional: "Hysteric (acoustic)," Yeah Yeah Yeahs Hand Fasting
Ceremony: Instrumental theme from The Princess
Bride Recessional: "Today," Smashing Pumpkins Reception
Entrance: "Home," Edward Sharpe and the Magnetic Zeroes
First Dance: "First Day of My Life," Bright Eyes – performed by bride's Uncle and cousin

Ceremony and Reception Venue: Dos Pueblos Ranch / Wedding Photographer: Braedon Photography / Event Designer and Wedding Flowers: Tricia Fountaine / Wedding Planner: Tonya Szele / Wedding Dress: Made by bride / Corset: Isabella Corsetry / Skirt: Sisters of the Moon / Wedding Veil: made by bride / Organza Flowers and Adornments: made by bride, from Miss Tak / Bride's Shoes: Cole Haan "Whitley Knit Boot" / Rings: Wexford Jewelers / Bride's Hair: Jeff Weeks of Salon Benardo Makeup: Jamie Muniz / Bridesmaids' Dresses: Laura Scoby at bootlegink and Fan Plus Friend / Groom's Suit: Gentleman's Emporium / Music: Malia from Music by Bonnie / Wedding Caterer: Jamie Andersen from Live Oak Grill / Cupcakes: Kevin of Enjoy Cupcakes / Wedding Invitations: made by bride and groom / Wedding Videographer: Mike Goulding / Transportation: Santa Barbara Airbus / Linens: La Tavola Linen / Officiant: Nancy Little Moon of Blessing in Paradise