We have a special treat for you today, Violets! Diann Valentine has shared some of her tips and wedding planning experiences with us for today's Q & A spotlight! She is an internationally acclaimed wedding, event and interior designer, business woman, and television personality (you might have seen her on I Do Over on WeTV). She was also the master planner behind the weddings of Usher, Martin Lawrence, Toni Braxton, and Lela Rochon to name just a few. Read on to learn what it's like to plan a celebrity wedding, great tips for planning an outdoor event, and a bouquet alternative that won't hide your gorgeous gown as you walk down the aisle.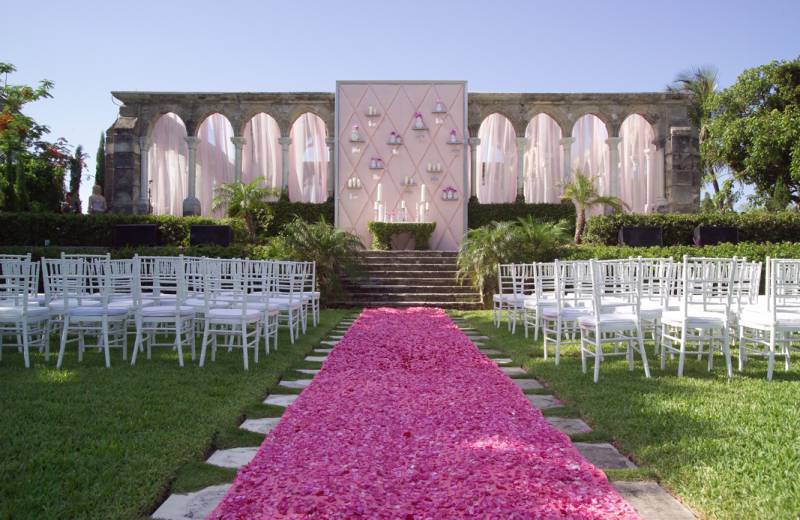 SVB: How did you find yourself in the wedding planning business? Was that something you were always interested in?
DV: I started my company while I was still in high school.  I originally thought my business would help to finance my college education and my intention was to attend law school after completing my undergraduate program. Fortunately, while working my way through college, I also fell in love with love and ultimately realized that I cared more about creative expressions of love instead of the thought of debating the law.  In essence, I hung my hat on love and just decided I would see how far it could take me.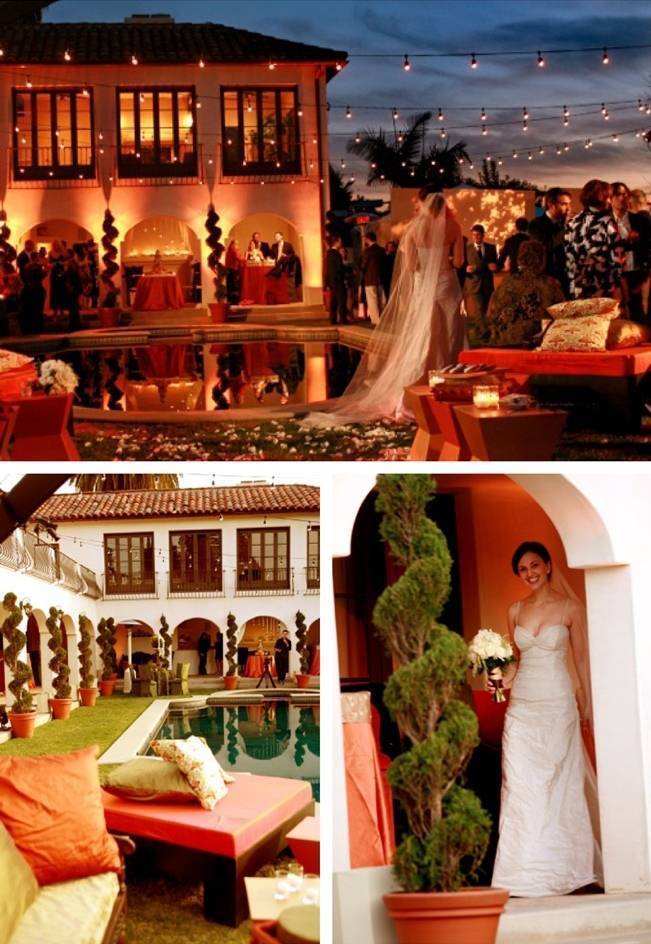 SVB: You've planned some pretty impressive weddings – including several celebrity weddings! We're curious, do you find it different planning for celebrities than non-celebrities?
DV: In many ways, my celebrity clients are much easier than non-celebrity clients and certainly not only because of the budgets.  They tend to be incredibly busy with their demanding careers and they are accustomed to having people work for them to keep their lives in order.  They come with a trust of professionals unlike your normal working bride.  They also tend to schedule their weddings and celebrations around their work schedules that change rapidly.  Therefore, the timeline with working with celebrities is normally quite shorter allowing for a more efficient working schedule.  Now the flip side to these clients is that they are more demanding.  They do not work your normal 9 to 5 job so it is not unusual to get calls or requests after 10pm and well into the middle of the night.
SVB: What is the most outrageous thing one of your brides has ever asked for?
DV: I had a client who married in Atlanta ask me to have their private jet wrapped with a graphic installation.  While I was happy to oblige her this was a complete waste of the wedding budget because no one ever saw this graphic installation other than the couple and the jet crews at the airports.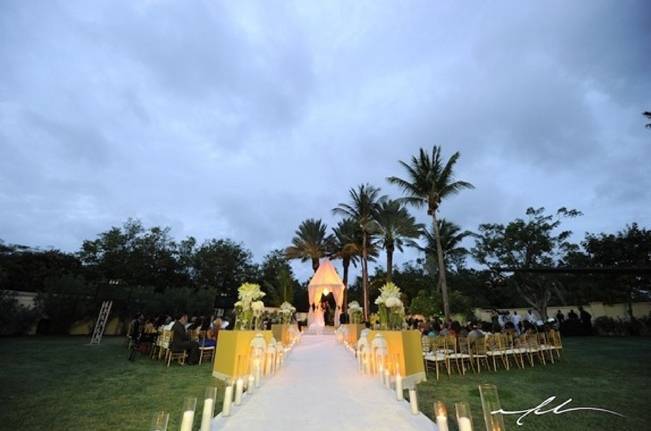 SVB: We love outdoor weddings here at Sweet Violet Bride – what would you say are the top three most important things to be aware of when planning an outdoor celebration?
Always have a Rain Plan!  I've experienced rain in the most sunshine prone destinations and sometimes even with a great forecast, mother nature can throw you for a spin.
Be sure to address bugs. Outdoor garden weddings are some of my favorites weddings but depending on the location and weather patterns, mosquitoes and other pests can put a big damper on even the most fabulous of weddings.
Inform guests about the conditions of the grounds.  If ladies will be walking in grass or other unpaved terrain always give them a heads up about this either in your invitation or other form of communication about your wedding details.  The ladies will appreciate your thoughtfulness and giving them the option to choose their footwear accordingly.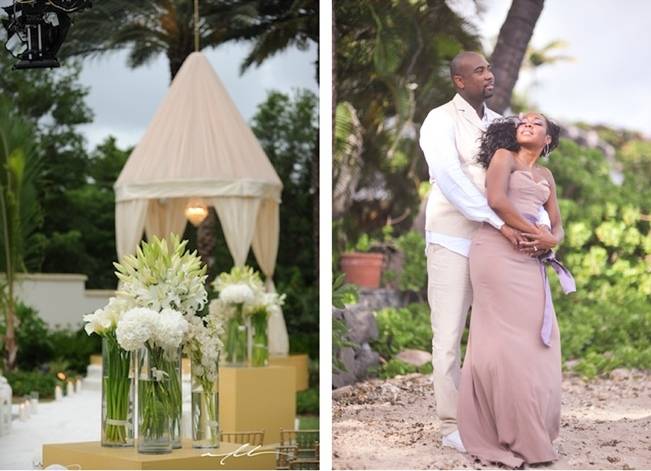 SVB: Do you find wedding and event design to be much different from the interior design work you do?
DV: Yes, incredibly different.  We are so spoiled in wedding and event design as we only have to design for less than a 24 hour period.  There have been many hidden dilemmas that my team and I have gotten away with because we knew that no one would see behind the 'velvet curtain' so to speak.  The same definitely does not hold true with interior design.  Every element and detail must be constructed and installed to perfection.  I always use 10 years as the amount of time that most home owners will live with a current design before looking to re-design so everything I suggest or install needs to be durable and reliable enough to last that long or I will get all of the calls when something malfunctions.
SVB: You've designed a line of signature bridal cuffs. Tell us a little bit about your inspiration for these.
DV: Yes, I designed The Valentine Cuff.  I started designing them for my celebrity clients because I felt that they were wearing these amazing couture gowns and then covering up the most beautiful details when walking down the aisle with a traditional bouquet.  I just felt like the bridal bouquet needed to evolve and all of my clients were blown away by the ingenuity in the concept.  The Valentine Cuff is a hands-free floral accessory designed to allow a bride's arm to rest at her side during the most important walk of her life without the need to properly position a bouquet in front of her gown.  They have continuously grown in popularity since we launched them last October and we are thrilled. They are currently available in 14 retailers around the country and we anticipate going into international salons by early 2016.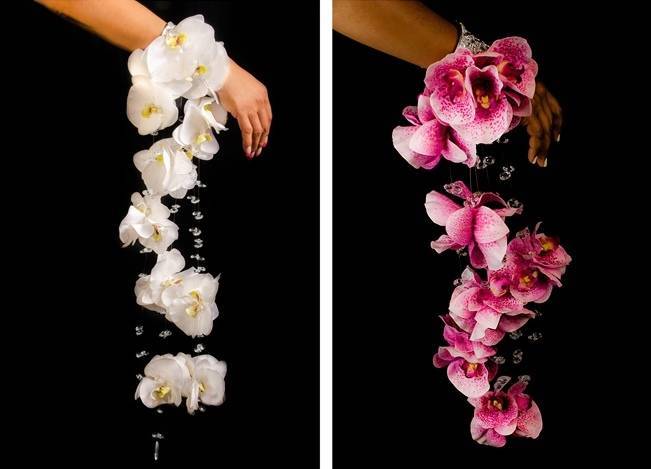 SVB: What is one of your favorite trends happening in the wedding world this season?
DV: Lighting.  I love how I'm finally starting to see brides gravitate to non-traditional lighting such as lighting projections and video mapping to tell a different story within their celebrations.
SVB: What should couples keep in mind when searching for the right wedding planner?
DV: Experience and personality.  Experience gives wedding planners wisdom with how to handle just about any situation when it comes to their weddings.  I also believe that personality is a key factor.  If you are going to share one of the most intimate and personal days with someone who will work closely with you then you need to feel as though this person will be a welcome addition and support system for you as you embark on this new roller coaster.
*FTC sponsored post