'To wear dreams on one's feet is to begin to give a reality to one's dreams.' – Roger Vivier
You can find the perfect dress, the perfect hairstyle, and the perfect lipstick, but when you slip into a pair of shoes that completes your look you might just experience that euphoric sensation of feeling ready. If you dream about beautiful shoes like we do, you are going to love this post today.  Emmy London, a luxury shoe and accessory brand, offers bespoke craftsmanship and quintessential British style. These feminine and elegant designs are the glass slippers of modern fairytales.  I'm excited to share a few of my favorite designs and the following chat we had with Creative Director Emmy Scarterfield.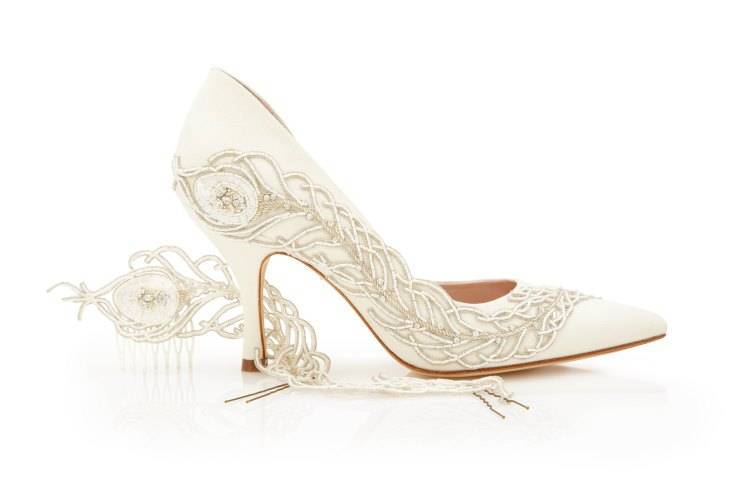 SVB: How did you start Emmy London? What drew you to fashion design and shoes in particular?
EL: I have always been fascinated by shoes, one of my earliest memories is from when I was around 2 years old – putting building blocks in my socks to create high heels. I loved the clippy-cloppy noise they made. When I was bought new shoes as a child which wasn't that often being one of four, I loved and savoured the smell of the leather. I remember putting them under my pillow the night I got them! I feel very blessed because right from the outset I've always known what I wanted to do so it was more about how I was going to achieve that. My degree was in footwear design, product development and business studies. When I graduated I moved to Milan and worked as a shoe and accessories designer for some of the biggest fashion houses in the world. I returned home at 28 just at a point in my life when I was drawn to setting up my own line as well as some of my friends getting engaged. I spotted a gap in the market for beautiful, delicate, super special wedding shoes that encompassed the same attention to detail as the dress. Emmy London was born!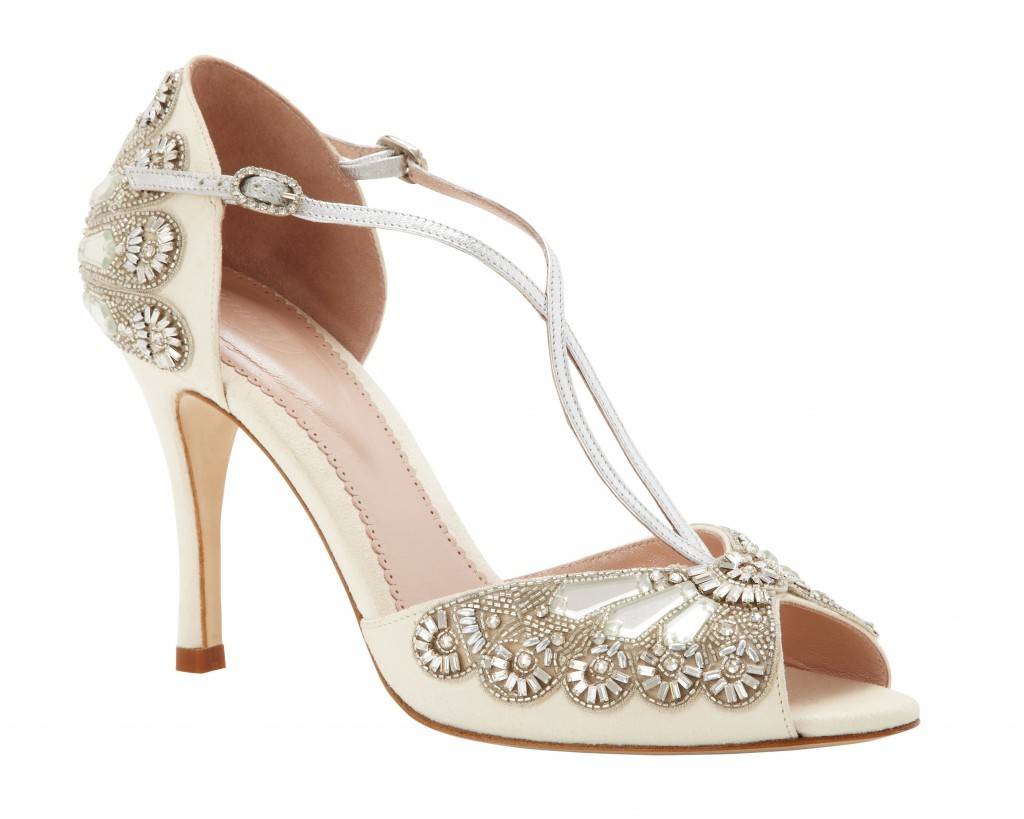 SVB: The details in your designs are exquisite. Can you tell us a bit about the beautiful materials you incorporate into your designs?
EL: All the shoes are made using the very best suedes and leather from Italy, each pair is hand stitched, hand lasted and hand finished using experienced craftsman with skills handed down from generation to generation. The details are hand embroidered using cut glass, real mother of pearl shell, Swarovski crystals, pearls and glass beads. Each pair is a real labour of love and finished with a Swarovski crystal.
SVB: Where do you draw inspiration for your designs?
EL: Never from shoes! Or very rarely. To achieve the timeless silhouettes I have collected vintage shoes over the years to create a basis for our last (the mould shape that depicts the shape of the shoe) developments. Most of the detailing comes from an array of beautiful objects….insects, jewelry, architecture, repetition of tiling, I have a shoe based on an old umbrella and my most recent collection for 2016, the Cancello Collection is based on the intricate geometric shapes celebrated in Italian gates.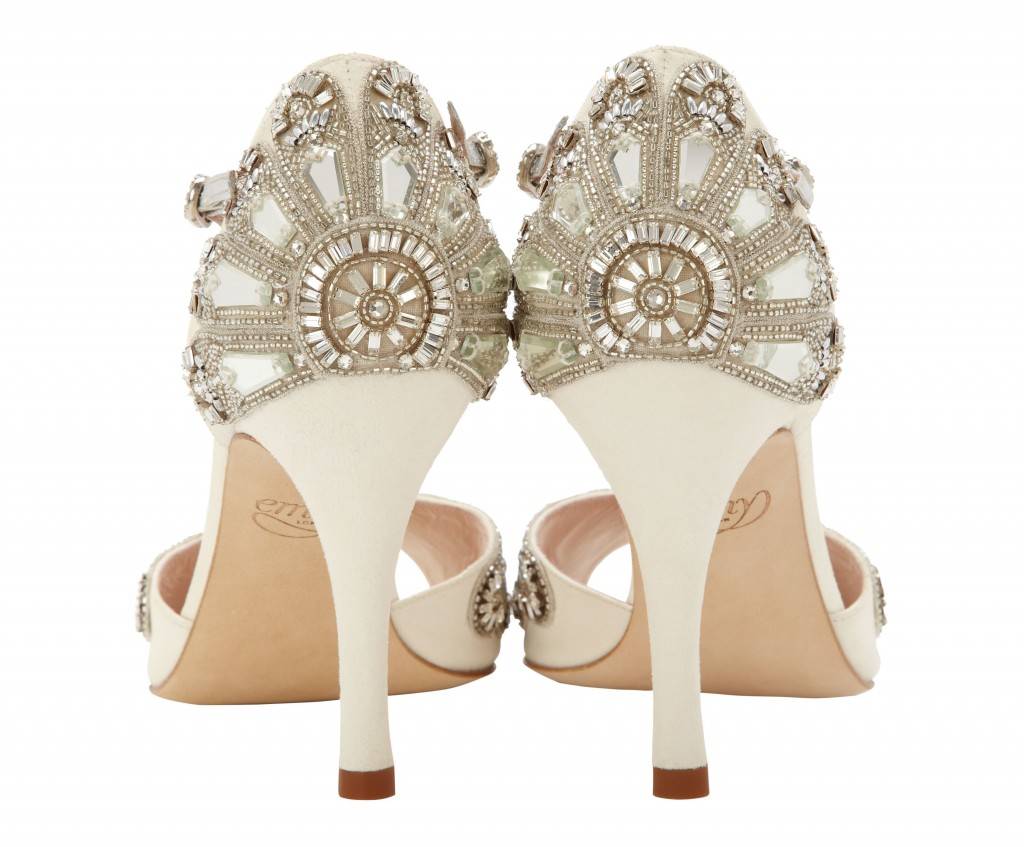 SVB: What excites you when designing for brides?
EL: To know that the shoes are an integral part of such a special day, the shoes she'll be stepping down the aisle in and they will be treasured forever.
SVB: Do you have any tips for brides who typically don't wear heels but want to for their big day?
EL: If heels aren't part of a bride's everyday wardrobe it's key to encourage her to select a style that has a balance of height and support, for example, a shoe with an ankle strap or tea bar will provide enough support to the foot to maintain it in the correct position, feel supported and secure throughout the day.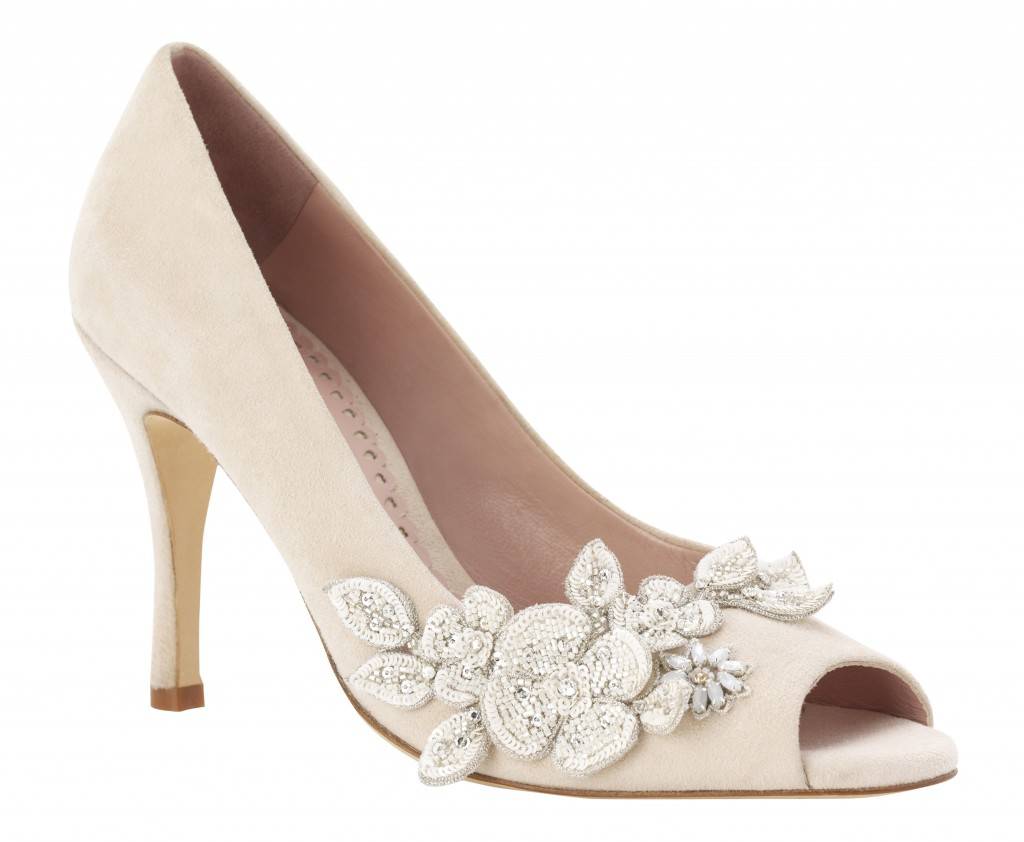 SVB: Do you think it's better to shop for the shoes or the dress first?
EL: Definitely the dress first as the dress sets the tone for the whole day and I think is a pivotal moment for the bride to actually visualize herself on her big day.
SVB: What are a few of your favorite designs (including accessories) for an outdoor event, let's say… an enchanted garden wedding?
EL: A halo is a must, a delicate beaded belt, real flowers, layers of silk, delicate heels with a kitten heel.
SVB: Tell us a little about your bespoke service…
EL: Our bespoke service allows the bride to create her dream shoes, by selecting from our shapes, heel heights, colors and details. So for example a bride can opt for the Francesca style typically with a 9.5cm heel but can have the shoes made specifically for her on a lower heel in a different color. The service takes around 8-10 weeks and on average costs an extra 250$. This service is only available in our London boutique by appointment.
Here are a few more of our favorite styles! We love heels in shades of mint, turquoise, and lapis for your "something blue!" Find a stockist near you, or shop online.
*FTC sponsored post