You've been looking forward to it for months, maybe even years, you've planned out all the sites you want to see, you bought that special little something to wear at night, you even have the perfect nail polished picked out to wear on the beach, but mostly you are just so excited to go on vacation with your significant other as newlyweds and relax after the wedding day hullabaloo. Did I just say hullabaloo? Yes. I'm talking about your honeymoon, people. It's supposed to be one of the travel highlights of your life, right? But what if you get sick? I did.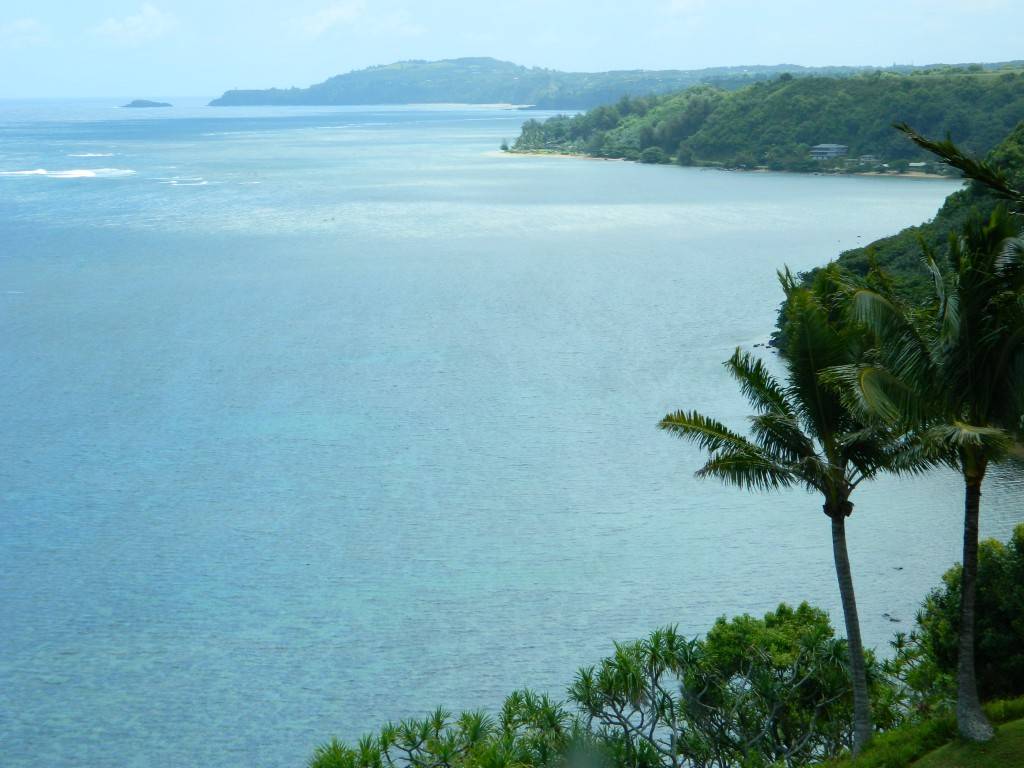 The view from our condo in Princeville, Kauai
First of all, there is one thing you need to realize, and this goes for the wedding day too – you are human, life isn't perfect, and things probably will go wrong. I'm not saying the sky will fall, but little things are bound to happen. The key is to not freak out if they do and to make it special even if you have to modify. Let me explain…let's head back to August of 2011 and I'll show you what I mean. Warning: This gets a little personal.
A few days after our wedding my husband and I were scheduled to leave for Kauai for a week but I woke up with a fever, a head cold, and a very angry digestive system. As someone who has struggled with anxiety my whole life and gets worked up about travel as it is, this was the last thing I needed. While my parent's drove Tim and me to the Boston airport to catch our flight I had to ask them to stop several times so I could sprint for a bathroom. I debated not even getting on the plane, but the trip was a gift from my mother-in-law and we'd been so excited about it. I can't miss my honeymoon for goodness sake, I thought. I made it through the flight (I hate flying) with some cold medicine and several DVDs. Upon landing I felt like I was in a fog…a very warm and colorful fog.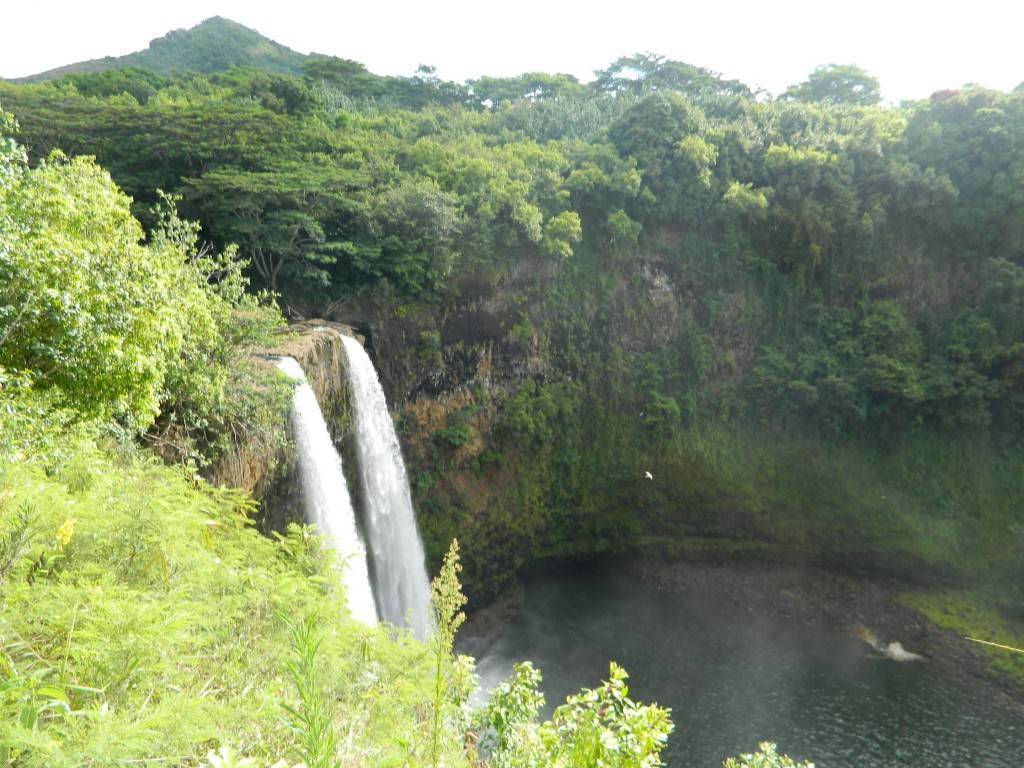 Wailua Falls, a short drive north of Lihue
My luggage was lost, I had a headache and couldn't stop coughing and my initial reaction was to be angry with the universe that I wasn't feeling well while in such a beautiful place. Soon after arriving at our dreamy condo on the North shore I realized though, that this was a once in a lifetime experience and I wasn't going to let being sick stop me from enjoying all the pretty details or from taking tons of photos. My husband knows I don't travel well, but I certainly didn't want to ruin it for him by being in a bad mood the entire time either.
Though my fever subsided and my luggage was thankfully found within 24 hours of arriving, I still had low energy, couldn't go anywhere without a pack of tissues, cut my foot on a piece of coral, and got big ugly hives all over my body on the second day (which lasted for the rest of the trip). I'm not sure if they were from some weird plant I might have touched at the botanical gardens, my anxiety choosing to manifest in an unruly and unattractive way, or who knows, but I certainly hadn't envisioned so many trips to the local drugstore for Benadryl and ginger ale while in one of the most beautiful places on Earth.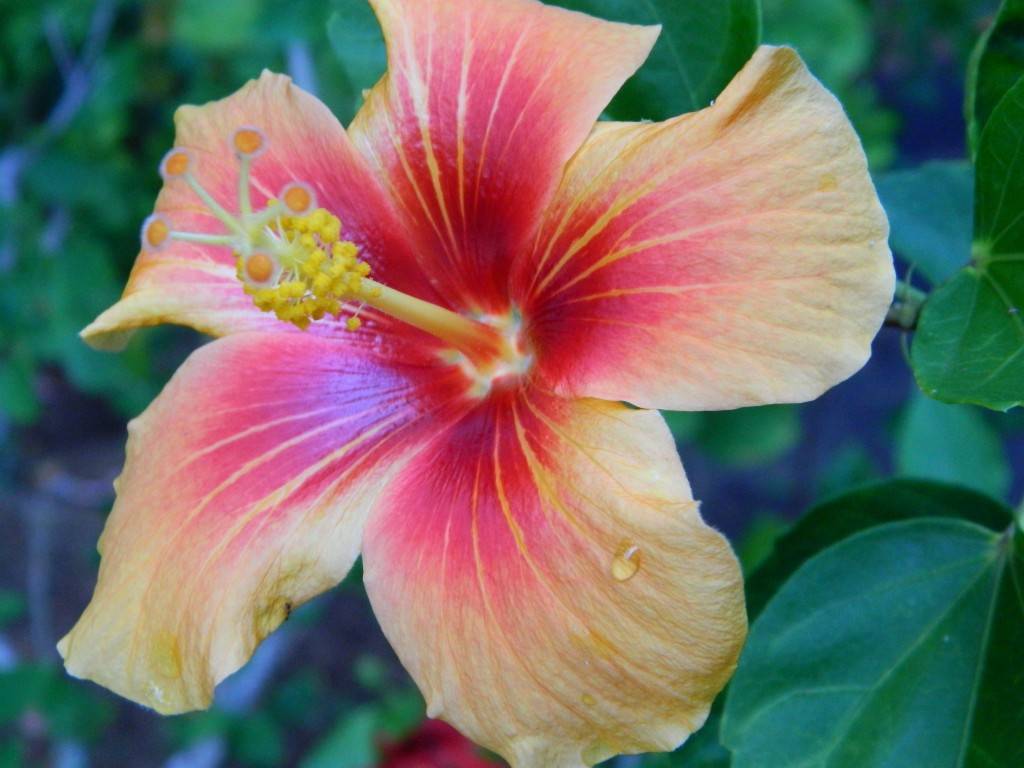 One of the many hibiscus I photographed
We didn't go hiking like I had dreamed of, didn't see as many sites as I had planned, didn't get any spa treatments or massages (hello embarrassing hives) but you know what? We still enjoyed ourselves, in and out of the condo. We took it easy, didn't rush. I took naps, we cooked a few meals in the condo, photographed hundreds of flowers in the quiet mornings, and soaked in as much beauty as I could. When the last thing I felt like doing was making out, my husband kissed me on my forehead and said we have the rest of our lives. Because we didn't put the pressure on to have THE best vacation ever, it turned out to be a pretty great trip considering.
I wish you all a very healthy and energetic honeymoon, but nevertheless here are some tips:
Pack a mini first aid kit.
Take note of where the health care facilities are where you'll be traveling, just in case.
Both of you keep this part of your vows in mind: "through sickness and in health."
Even if you don't feel energized, take tons of photos. You'll enjoy them later!
Take pause in a special place (on a beach, at a vista) to feel thankful for where you are and who you're with, even if you feel like crap. You'll feel so much better for having done this instead of feeling sorry for yourself and honestly these good vibes will probably help you heal faster!