With all its hustle and bustle, Los Angeles may not rank high on a nature-loving bride's list of wedding destinations. As a wedding planner in the city, I have had the pleasure to see a different side of this urban landscape. Beyond its skyscrapers, shopping malls, and traffic, Los Angeles is, in fact, home to some of the most beautiful gardens one can find. In the spirit of spring, I would like to share with you some of these "secret gardens." – Hovik Harutyunyan of Modern LA Weddings
1. Earl Burns Miller Japanese Garden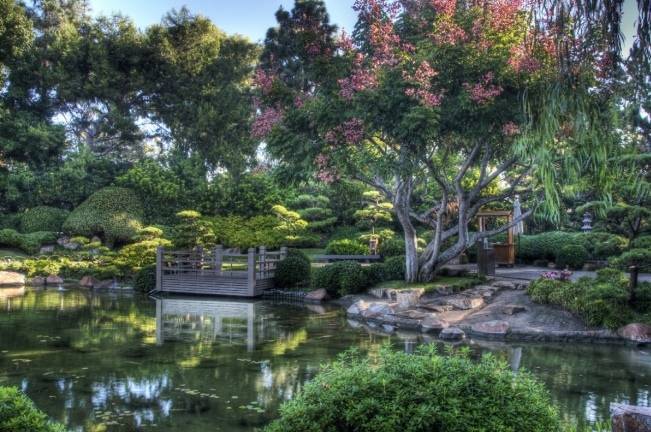 With iris and azaleas in the spring, flowering magnolia in the summer, and chrysanthemums and liquid amber tress in the fall, the Earl Burns Miller Japanese Garden is a year-round natural oasis for lovebirds planning their nuptials. Located on the campus of CSU Long Beach, the 1.3 acre plot offers a lush green landscape, arched wooden bridges, serene waterfalls, and an impressive koi pond. As educational and cultural as it is beautiful, the garden is a space for international learning, philanthropy, and meditation when not being used for weddings.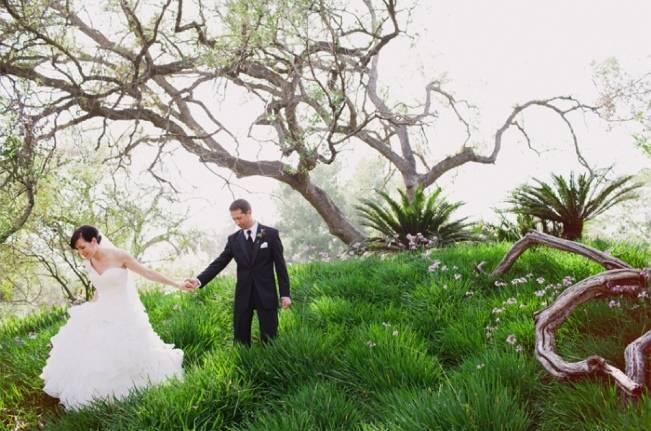 The Los Angeles Arboretum is a picturesque botanical garden and historical site that is home to plant collections from all over the world. From rose gardens, fountains, and tropical waterfalls to gazebos, lakes, and quaint cottages, the 127 acre site is filled with an inspiring array of backdrops for both ceremony and reception. Many beautiful species of wildlife have nestled into the natural oasis as their home. This is where they filmed parts of Jurassic Park and the movie Bridesmaids!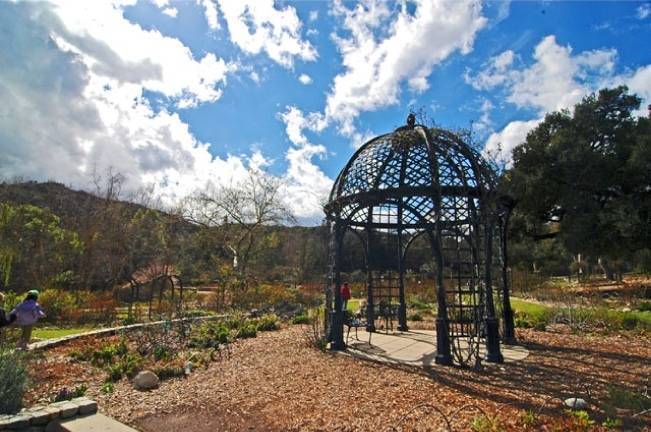 Soft elegance and classic charm combine to create the enchanting floral world that is Descanso Gardens. The botanical landscape boasts a variety of stunning amenities, including a rosarium, tea house, lilac garden, bird sanctuary, and xeriscape; not to mention the Descansco Gardens Enchanted Railroad, an eighth scale replica of a diesel trail that takes visitors around the garden. The Boddy House, Rose Pavilion, Magnolia Lawn, and Van de Kamp Hall are just some of the charming locations from which couples can choose to tie the knot.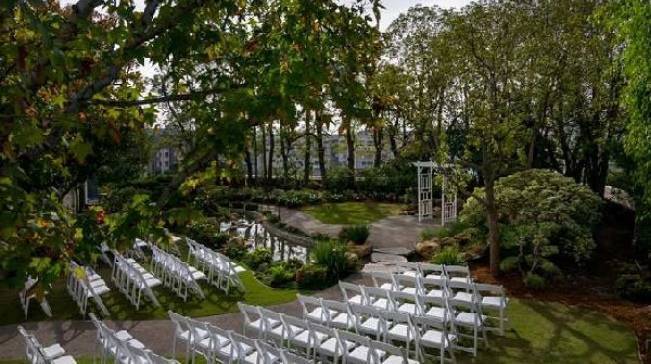 The second Japanese garden to make it on the list is the Kyoto of Doubletree Hilton. The true magic of this luscious paradise is its ability to make guests feel they are miles away from the city all while in the heart of downtown Los Angeles. Complete with ponds, waterfalls, botanicals, and a two-story garden, Kyoto offers a balanced venue for the nature-loving bride with an urban flair.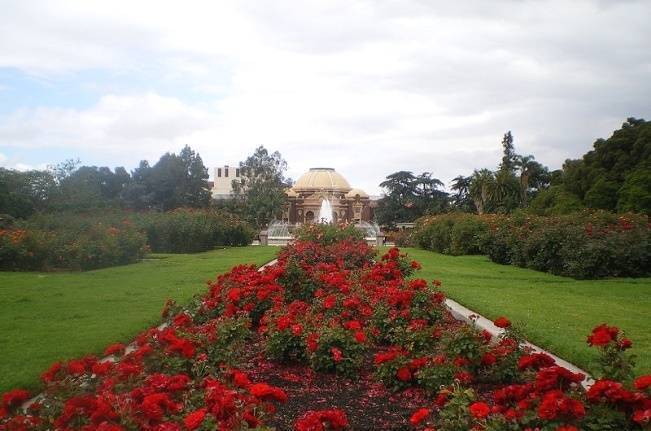 No secret gardens in Los Angeles discussion would be complete without the Exposition Rose Garden. Literally known as "one of the city's best kept secrets," the historic 7-acre sunken garden was added to the National Register of Historic Places in 1991. With gazebos, marble statues, over 100 varieties of roses, and two notable neighbors –Natural History Museum and California Science Center – the garden presents couples a variety of stunning options.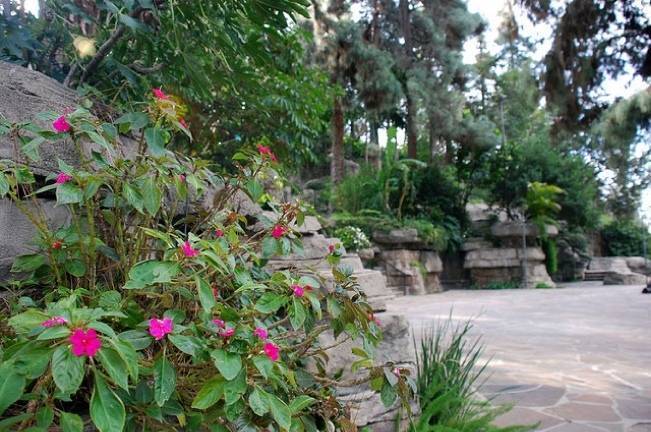 Founded in 1886, Elysian Park is Los Angeles' first park and second largest in the city at 600 acres. One of the most beautiful features of the park is the LA Police Academy's Rock Garden. Beautiful boulders, tall pine trees and an alluring waterfall make this rock heaven a sparkling alternative to floral gardens.
7. Huntington Botanical Gardens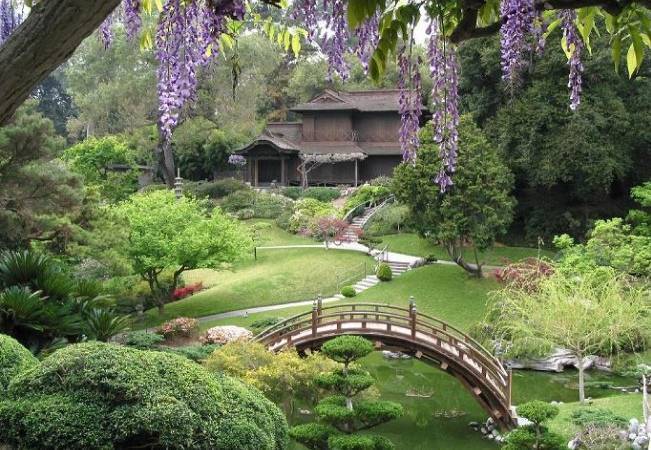 The Huntington Botanical Gardens is a garden venue in its own category of natural splendor. More than 14,000 different varieties of plants are showcased in over a dozen principal gardens, including the Shakespeare, Herb, Jungle, Subtropical, and Desert gardens. The historic, elegant estate gardens offer a truly romantic setting to exchange vows.
8. (Notable Mention) Hartley Botanica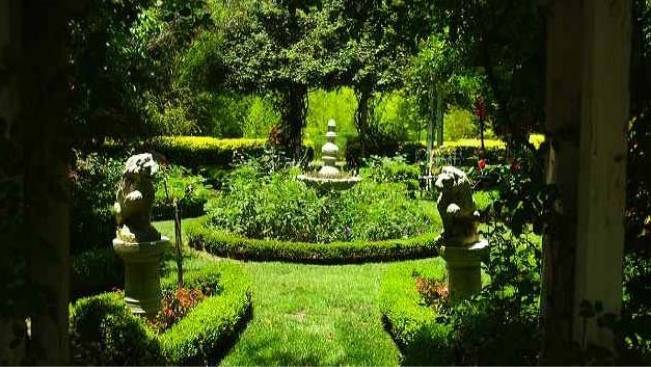 For the LA bride ready to make the trip, close by neighboring city Somis, CA offers us Hartley Botanica. Originally dreamt up by Richard and Kate Hartley for their daughter's wedding, the ethereal garden features hand-paved walkways, waterfalls, vine-covered archways, and a lotus tea garden. Seemingly straight out of the pages of a fairy tale book, the professionally landscaped grounds were specifically designed for garden weddings. I truly believe Los Angeles is a landmark of natural beauty in its own right. What are some of your favorite garden venues in Los Angeles?

This Guest Post is by Hovik Harutyunyan of Modern LA Weddings
1) 1zoom 2) Jerry Yoon Photographers 3) Descanso Gardens 4) Officiant Guy 5) Exposition Rose Garden 6) Big Orange Landmarks 7) Take Sunset 8) Hartley Botanica