Laura and Phil's September lakeside wedding was held at Manhattan Beach Lodge, on the beautiful Trout Lake of the Whitefish Chain of Lakes in Minnesota. Laura, a Lakeville native, spent many weekends in northern Minnesota growing up, and she and Phil wanted the wedding décor to reflect the warm memories of those times. "Knowing our guests were coming from all over the world for our wedding (Phil's extended family is from France and England), we wanted all of our guests to experience a true, northern Minnesota weekend," explains Laura. They included many DIY details at their reception including birds' nests, mason jars, a twiggy cake, rustic lanterns and birch log candles.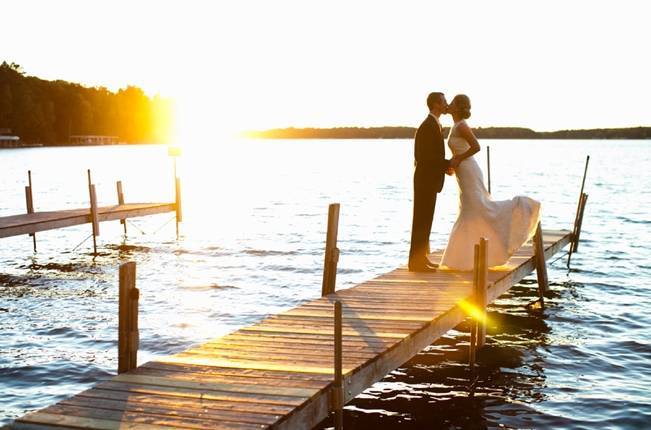 While there are many exciting things to come, they will always remember their special night, as will their guests. "I was the luckiest girl to have ever met Phil, but we are even luckier to have been able to share our special day with all of our family and friends," Laura says. "They still talk about how fun our wedding was and they all want to come back to northern Minnesota soon to go ice fishing." Thanks so much Erin Johnson Photography for sharing!
The Proposal:
When Philip suggested a rooftop dinner, Laura didn't think much of it. This was, after all, a regular summer occurrence at her downtown Pittsburgh home.  A self-proclaimed big eater, Laura didn't blink at the elaborate meal of steak, veggies, wine, and chocolate cheesecake. But when Phil was suddenly on bended knee next to her seat, she was so shocked, she didn't hear a word he said and asked him to repeat everything. Next thing she knew, there was a ring on her finger and she had (though she doesn't really remember it) said yes.  One year later, they tied the knot.
Details/Inspiration for the Day:
After selecting Manhattan Beach Lodge for the venue—they rented out all the rooms for their family, and friends stayed down the road at the Whitefish Lodge & Suites—Laura and her mom put on their DIY gloves and went to work creating everything rustic: Mason jars (a wink to her soon-to-be last name), lanterns, burlap runners, birds nests, and even the invitations, which they printed on real pieces of wood. Phil was in charge of the music.
A week before the wedding, everything was set to go off without a hitch. The weather was in the 70s and sunny—perfect for their outdoor ceremony. Then the weekend of the wedding rolled around, and with it came the snow. While this might throw some couples into a panicked frenzy, Laura says it actually felt picture-perfect for her and her groom. "Our pastor remarked it was a good day to 'snuggle in tight' and join in the celebration of our warm marriage," she says. 
After the ceremony, everyone headed inside to the rustic warmth of the lodge, where they could write in the guestbook, dance to the DJ, or munch at the Sweet Tooth table, which offered candies and chocolates, as well as toothbrushes and toothpaste—a hilariously juxtaposed mixture of Laura's love of sweets and Phil's career as a dentist—with a picture of a molar saying "I ache for you."
The guests were given the choice of wild rice-stuffed walleye filet with lemon sauce, New York strip with Gorgonzola sauce, or artichoke and Parmesan-stuffed chicken. The cake continued on the woodland feel, with chocolate twigs branching off three simple white tiers, and two lovebirds perched on top.
Most Memorable Moments:
"I remember sitting at the head table for dinner, looking out and thinking how incredible it was we had all of our family and dearest friends together in one room, joining in the celebration of Phil and I," says Laura of her favorite part of the night.
The father-daughter dance was another favorite moment. Her father is in the heavy highway construction business, and Laura works for a large construction company, so they asked the DJ to work with them to personalize the dance. They started off by dancing to Frank Sinatra when the music suddenly stopped. "The music turned into the sounds of a large dump truck backing up, 'beep, beep, beep.'" Laura explains. "Then we busted into a choreographed dance to the song 'A Hard Day's Night' by The Beatles—my dad's favorite song. We changed into hardhats, work gloves, and construction reflection vests." The guests continued to dance and party until 2 a.m.

Photography: Erin Johnson Photography  / Ceremony + Reception: Manhattan Beach Lodge / Dress: The Wedding Shoppe / Tux: Men's Warehouse / Bridesmaid dresses: Nordstrom / Groomsmen tuxes: Men's Warehouse / Flowers: Donna Murphy, Celebrations Floral Design Studio, LLC / Invitations: Sarah Glad, A Milestone Paper Co. / DJ: Jeremy Pollock, Premier Party Entertainment / Caterer: Manhattan Beach Lodge / Dessert: Jackie Tyrrell, Edible Art Bakery