Molly and Jon had their elegant wedding at the rustic Beano's Cabin at Beaver Creek in Colorado's White River National Forest. The mountain landscape even provided a few extra guests to look in on their outdoor ceremony – curious deer. Jon proposed to Molly in Beaver Creek so it was the perfect location to celebrate their new life together. We love all the woodsy details, from the wild blackberries and ferns in the bouquets to the mossy centerpieces in the rustic cabin reception. Gorgeous blush bridesmaid gowns from Jenny Yoo, and Molly's soft lace Elizabeth Fillmore gown added just the right touch of prettiness to the mountain venue. We wish this beautiful couple all the best and thank Brinton Studios for sharing these stunning images!
Two of Molly's bridesmaids were recently married also so they really wanted to have a few photos taken in all of their wedding dresses together! Why not!?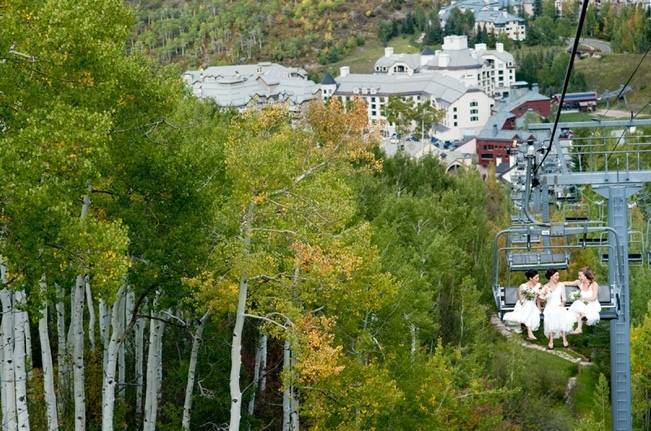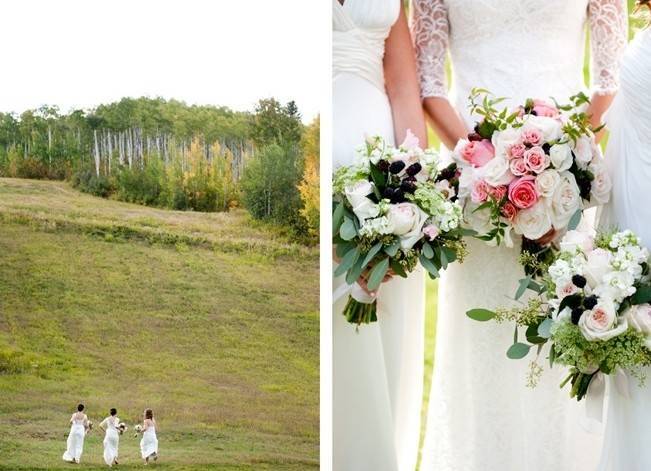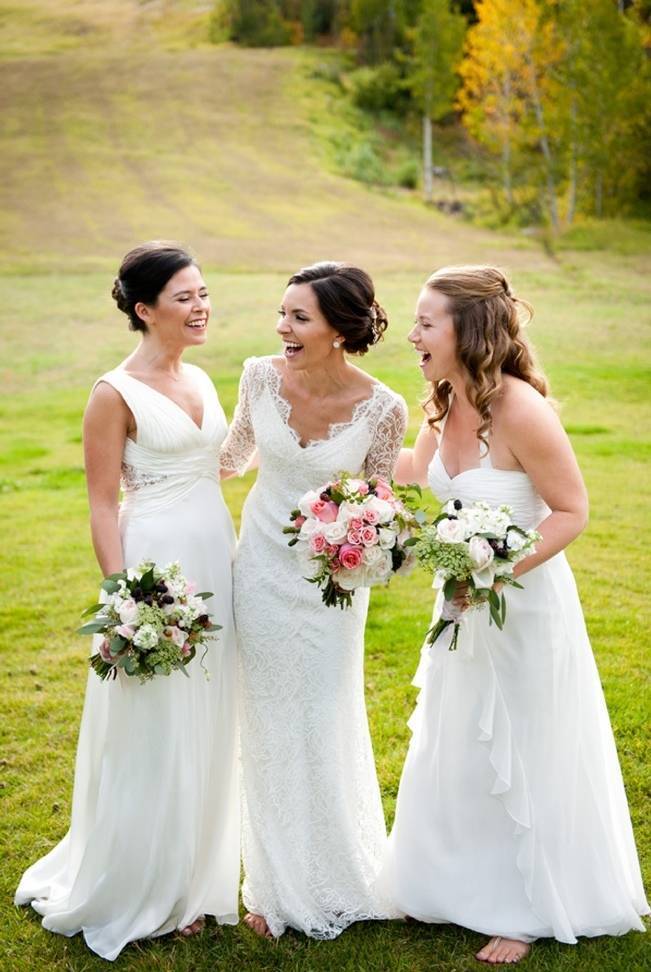 From the Groom…
Before the Ring:
Molly and I traveled in the same circle of friends, although we didn't really encounter each other face-to-face for a fairly long time. Though we had casually met beforehand, our relationship really started in October 2011 after a previous relationship ended. Molly and I began dating almost immediately and started spending almost all of our free time together. Molly would bake cookies and cupcakes for me, and we would go out to dinners and parties together. Pretty soon we were inseparable. I gave Molly a key to my apartment for her birthday, and every day I looked forward to coming home from work to see her.
The Proposal:
I proposed to Molly in Beaver Creek during their Thanksgiving fireworks show.  Molly had been up there almost a week and suspected that I was going to propose, but was growing frustrated because we were almost about to head back to town and nothing had happened.  Also, she had been stuck with both of our mothers, who both knew that I was going to propose and were doing not-so-discreet wedding planning.  I had everything perfectly planned out that evening, but Olivia (Molly's daughter) threw a tantrum as we were outside that evening that forced me to adapt on the spot.  When the fireworks started, I had to pull Molly out of the condominium and improvise a private location for us to have the moment.  I proposed as the fireworks were entering their grand finale right next to the bridge going over the creek.  She said yes—even though she doesn't remember.  She had to say it a second time because she had forgotten.  We then went back inside to have champagne and celebrate.
From the Bride…
Inspiration / Details of the Day:
Honestly, I was a terrible bride. My work schedule didn't allow me to be as involved in the process as I would have liked… my mother-in-law and wedding planner did basically everything. Jon and I guided them, but I wasn't super involved in pinning and researching other weddings, etc… just didn't have time for it. My wedding planner was phenomenal. Stacy Pisani of Alexan Events is outstanding.
Most memorable moment/s?
Definitely my daughter wearing her pajamas and cowboy boots down the aisle. She refused to wear her flower girl dress, insisted on being held during the ceremony, threw mini marshmallows down the aisle instead of flower petals…so sweet. Our entire wedding weekend was magical because of the friends and family who celebrated with us. Having them to support and love us on our day is one of the best feelings he and I have had. We had mule deer join us for the ceremony as well. That was pretty amazing 🙂
Any advice to couples in the planning process?
Anyone who tells you it's fun is lying. It was one of the most stressful six+ months of our life, especially when trying to balance the needs of all involved parties. But have fun with it and use your friends as a source of love, support, and wedding wisdom. I would not have survived had it not been for my friends.

Photography: Brinton Studios / Venue: Beano's Cabin / Wedding Planner and Floral Design: Stacy Pisani of Alexan Events / Invitations and Programs: Two Blue Doors / Hair + Makeup: Weemala / Bride's Dress: Elizabeth Fillmore / Bridesmaid Dresses: Jenny Yoo / Cake: Sugar Breck / Band: Tunisia Band / Harpist: Barbara Lepke