I typically post all of my beauty reviews and articles over on Sweet Violet Beauty, but today I figured I'd share this one here seeing as it is Tarte's first-ever wedding day collection! I do love a good bridal makeup kit and this one is super pretty! This kit would make a perfect gift for any bride you know who just got engaged. Send her one with a note saying congrats! She'll thank you for the gorgeous and useful items it contains.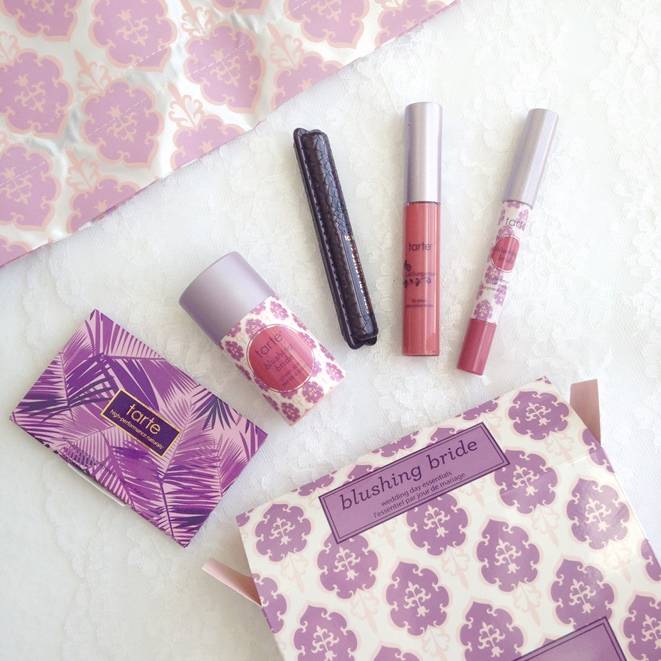 It comes packaged in a box so pretty you almost don't even need to wrap it and inside you'll find:
full size cheekstain in blushing bride
full size LipSurgence™ power pigment in blushing bride
full size LipSurgence™ lip gloss in blushing bride
deluxe lights, camera, splashes™ waterproof mascara
not so slick oil-absorbing blotting papers
coordinating blushing bride lingerie bag
My personal favorite items in the kit are the LipSurgence™ power pigment in blushing bride and the oil-absorbing blotting papers. It is worth it to get this kit just for those. The pigment pencil is such a gorgeous shade of deep rose. It is creamy, flattering on a wide range of skin tones and easy to apply thanks to the pencil form. It also lasts a really long time. The mascara is pretty awesome too, I just don't use waterproof mascara everyday – but for a bride it is a must! The bristles on the brush really help to lengthen and separate.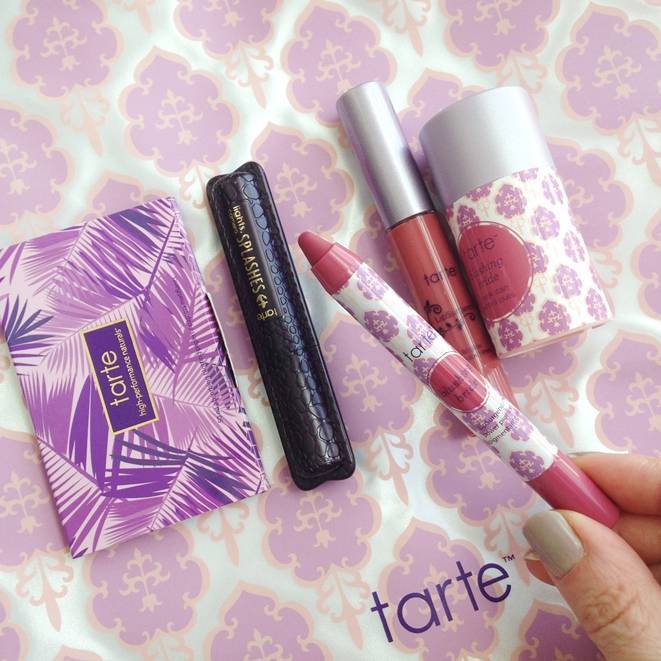 The cheek stain comes in a cute tube with screw-cap and has a beautiful pink rose tone (a little lighter than the lip products in the kit) with a heavenly pearly finish. It blends easily and gives that "blushing" glow. I love cream blushes, especially for brides because they just have a more natural, lit-from-within finish to them.
The lip gloss has such a nice wand with a curve in it so that it forms to your lips. It is the same tone as the pencil and does not have any shimmer to it, which I was glad about. It is beautiful worn alone, or over the pencil. Last but not least is the coordinating lingerie bag, which has a pretty pastel lavender and blush pattern on it and a violet satin drawstring. You could use this to keep delicate lingerie safe in your bag, or to put beauty supplies in or even protect a delicate pair of shoes or jewelry.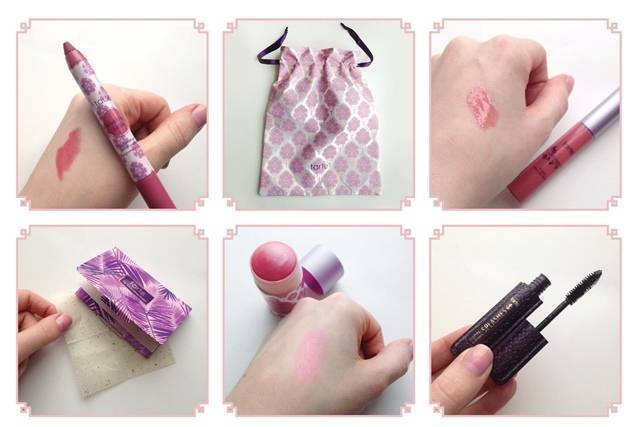 This kit retails for $49 which is a great value seeing as if you bought all these items separate it would add up to more than $100. Tarte doesn't pretend to be the most organic/natural beauty brand out there, but they do formulate all their products without parabens, mineral oil, phthalates, triclosan, sodium lauryl sulfate, or gluten which is awesome! Plus their products perform very well. Overall this is a stunning kit! I hope its given you a great idea for your friend who has a new ring on her finger, or for yourself – no judgement ; ) xo – Naomi