Do you love shoes? Do you love flowers? I'm a little obsessed with both, and when I found out about Lady O, a company that creates beautiful shoes using real pressed  flowers, I just about did a cartwheel. You don't have to be a botanist to appreciate the beauty in these shoes – they're so beautifully designed. Each pair is unique since each flower used is not quite like another and wearing something one-of-a-kind is a fabulous thing.
"Our new floral collection shoes are true artisan pieces which were created by human hands using methods that date back to the Victorian era," says creative director Lesley Zheng. "We provide authentic, floral artisan women's footwear.  We are also working diligently to launch the features which will offer shoppers an opportunity to select each flower and have it meticulously placed to convey an individual personality."
I also heard that these shoes were also super comfortable and just had to try a pair out for myself! I chose to get the Modern Floral with a Raffia Wedge. These are cute dressed up or down, with a tea length dress or knee length skirt for attending a garden party, special event or wedding. They also look great with a pair of pants and a chic blouse (the other day I rocked them with a pair of teal skinny cords!). Because there are many different colors in the flowers of these shoes they can go with so many different outfits (and nail polish!). Of course, with the right dress, I could also see them for the bride at a garden style wedding!
They're beautifully made, the sizing is spot on, and because they're made with Poron® cushioning (the same stuff often used in athletic shoes), they are one of the most comfortable pair of heels I now own. The cushioned layer is super thin but surprisingly springy.  I have ridiculously high arches so I was worried I might fall out of them as I tend to do with some heels (typically strappy wedges are my go-to), but so far they seem to stay on. They're very lightweight. Simply put, I'm in love with these shoes! I can't wait to wear them on my next date with my husband and perhaps to my sister-in-law's upcoming wedding.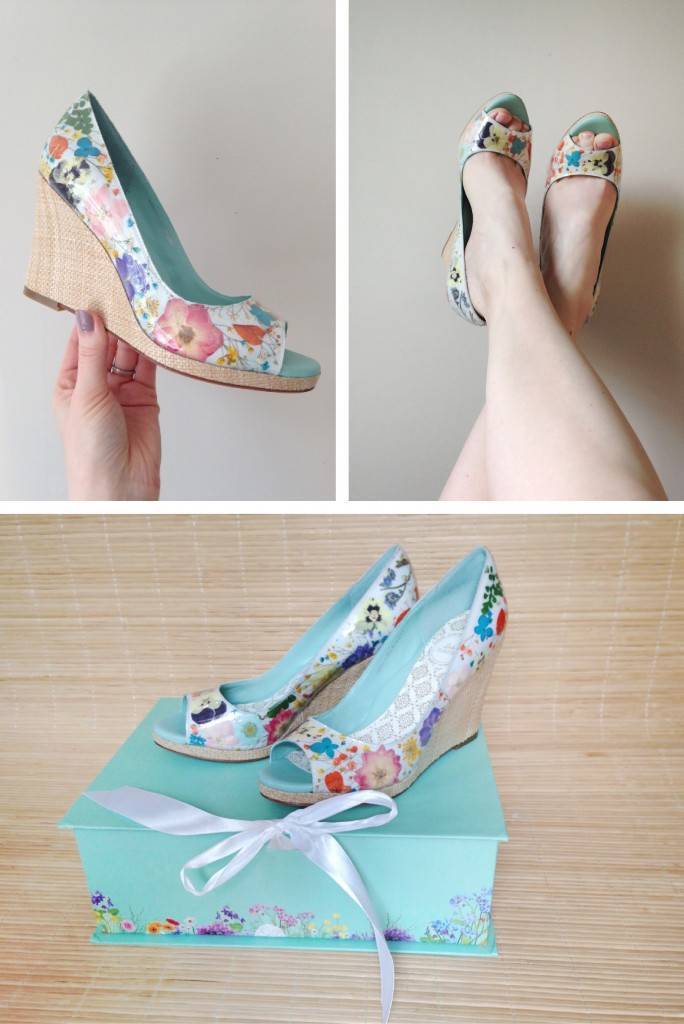 They also come in a gorgeous box that can be used to store them or other pretty things in for many years to come! These shoes are unlike anything I've ever worn and I'll treasure them forever. I'm sure I'll be adding more Lady O shoes to my collection too!
If you're looking to get a pair for yourself or your bridesmaids then I also have a special code just for you Sweet Violet Bride readers! Use code SWEETVIOLET over at Shop Lady O and get 10% off your purchase!
Here is a video about how these unique shoes are made: