The incredible beauty of Vermont's Green Mountains in September set the stage for Maggie and Chris's outdoor wedding at Riverside Farm. The many handmade details of their day created a nature inspired celebration that was fun and resplendent with rustic elegance. Woodland style bouquets with spice colored blooms, berries, and ferns accented the bridesmaid dresses (in a gorgeous not-too-red shade of red) and Maggie's Claire Pettibone gown was the perfect fit for her and the natural, rustic, and antique themes that were carried throughout the rest of the day. Congrats Maggie and Chris! And thank you Ampersand Wedding Photography for capturing and sharing these images. Feel Read below for their story and many more details.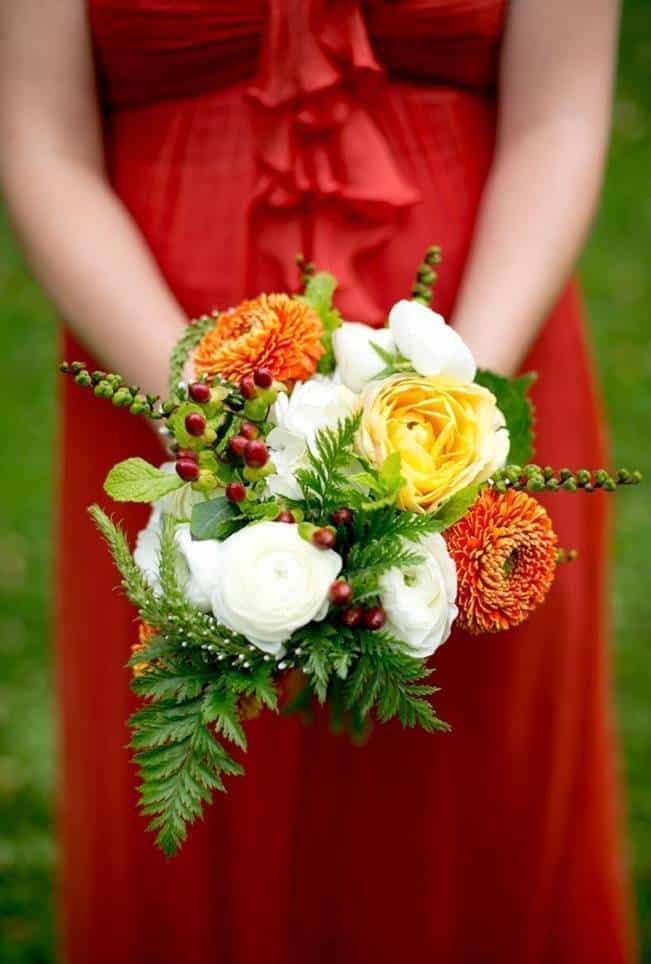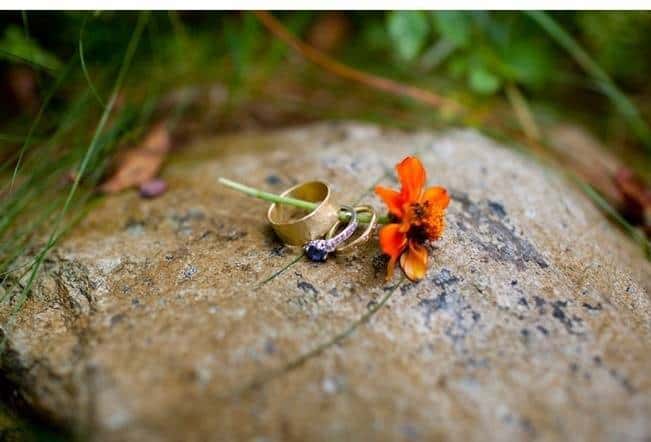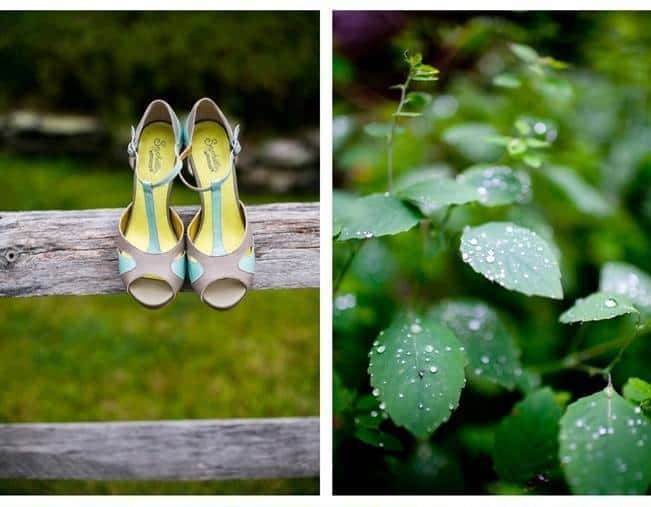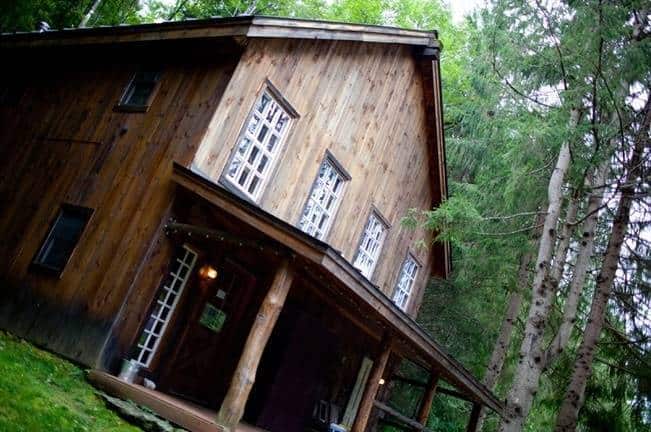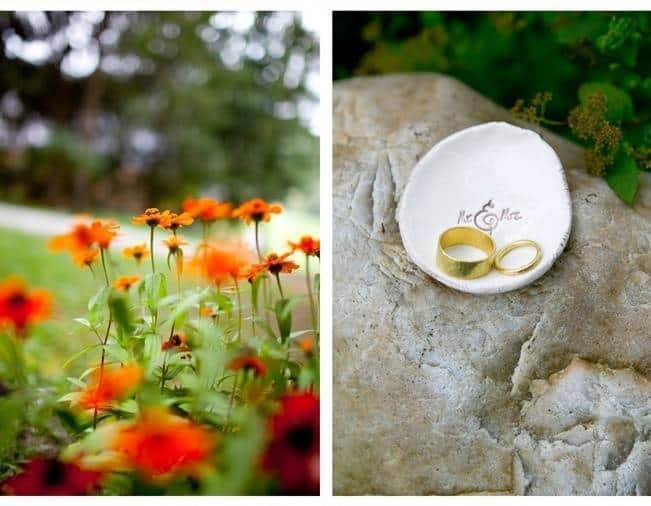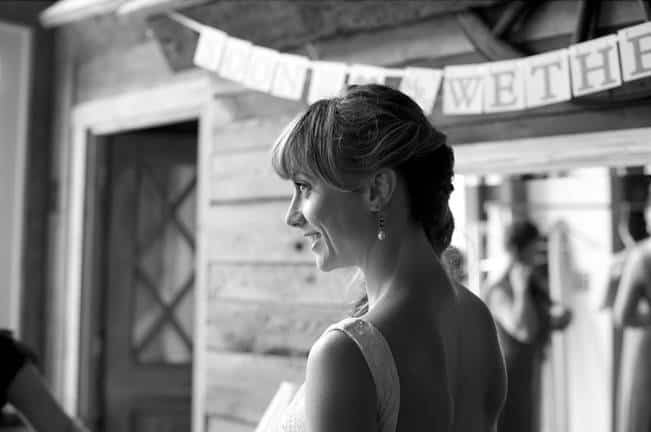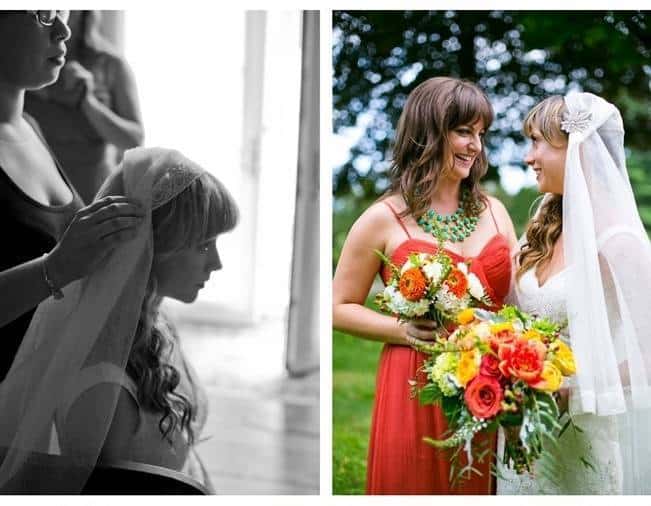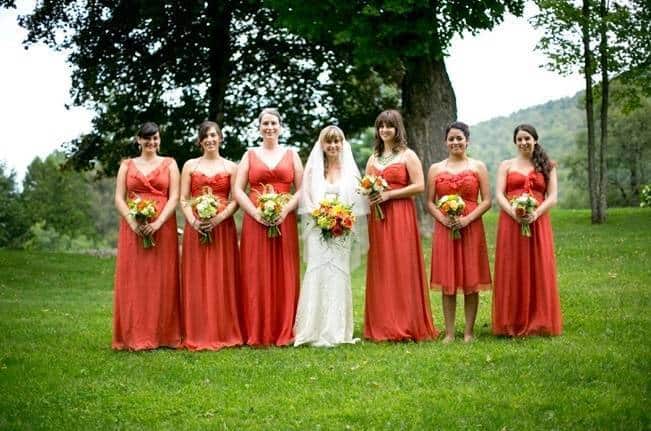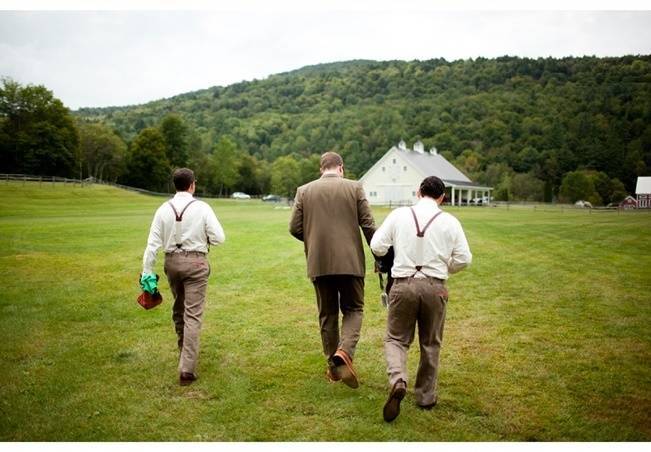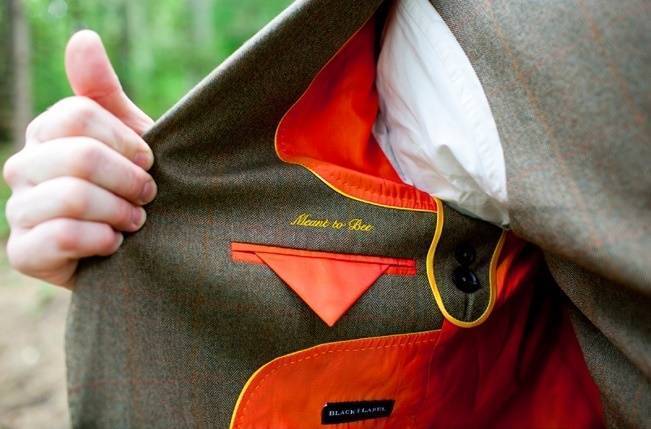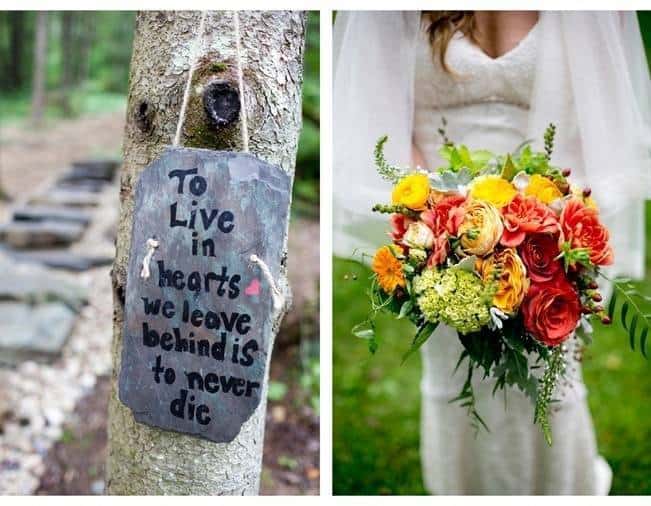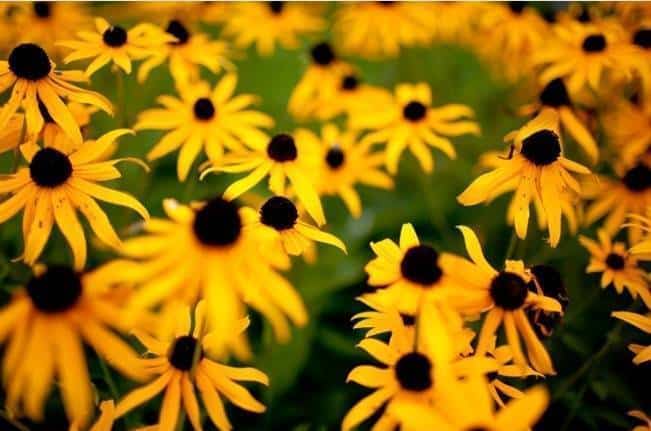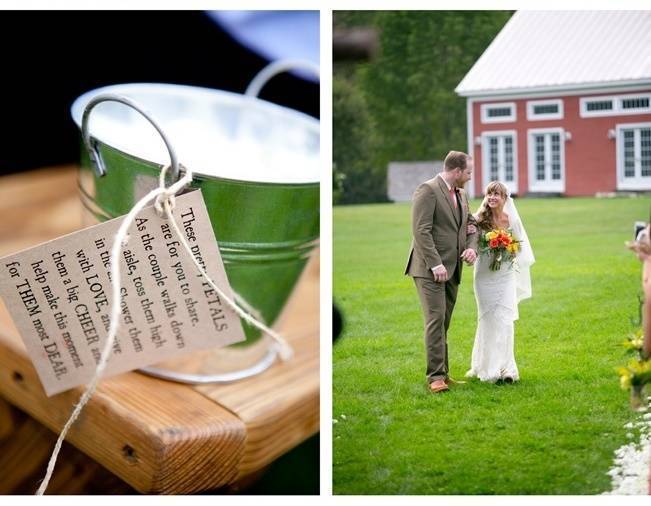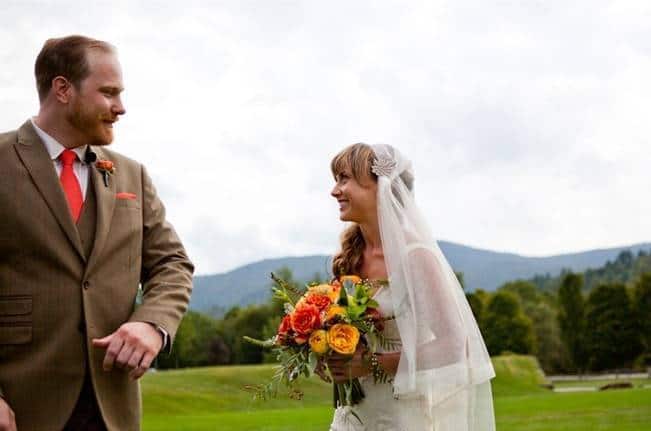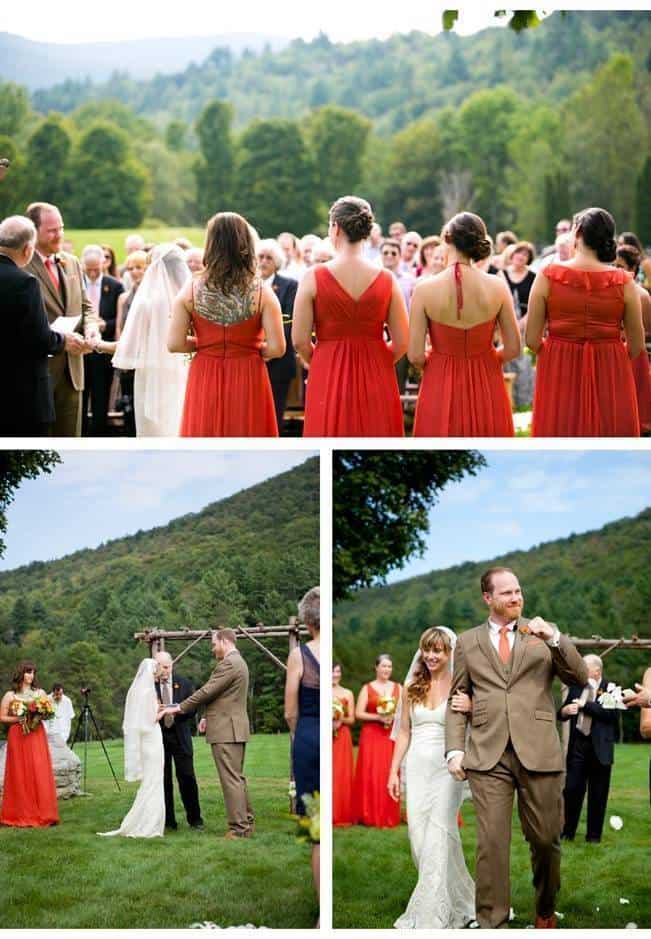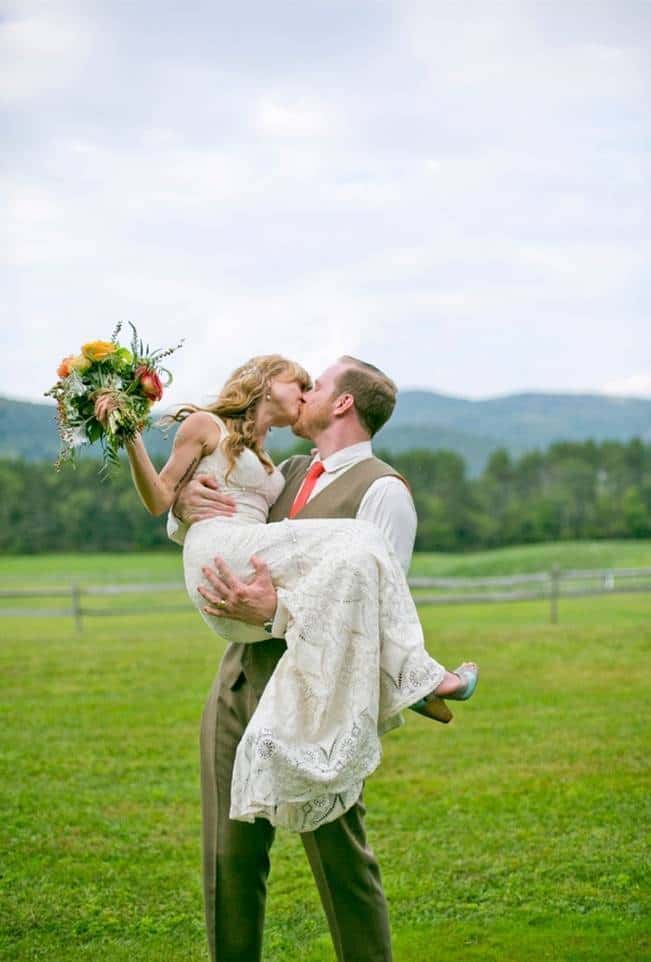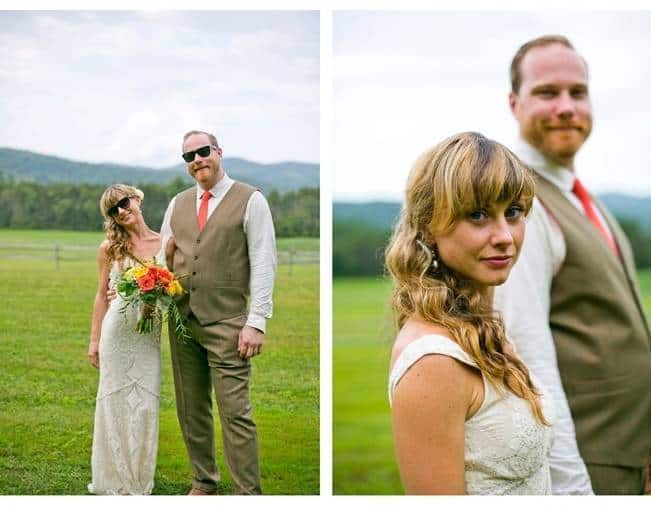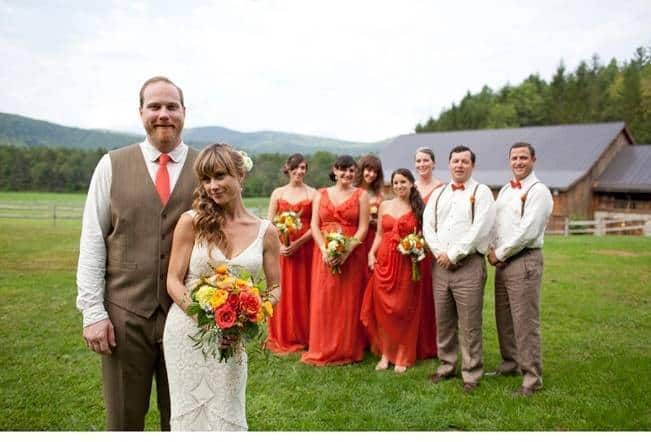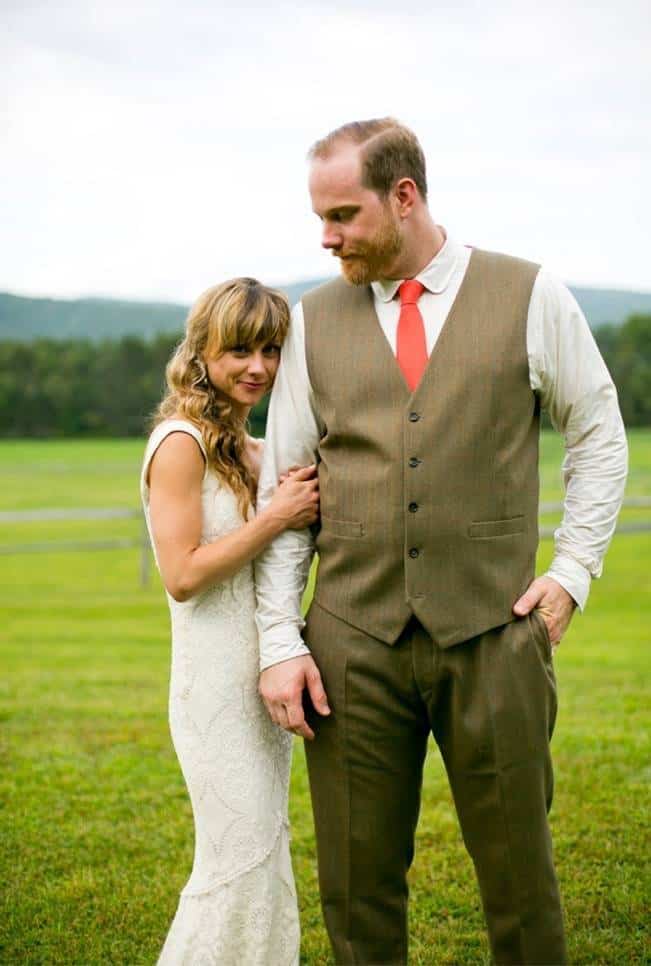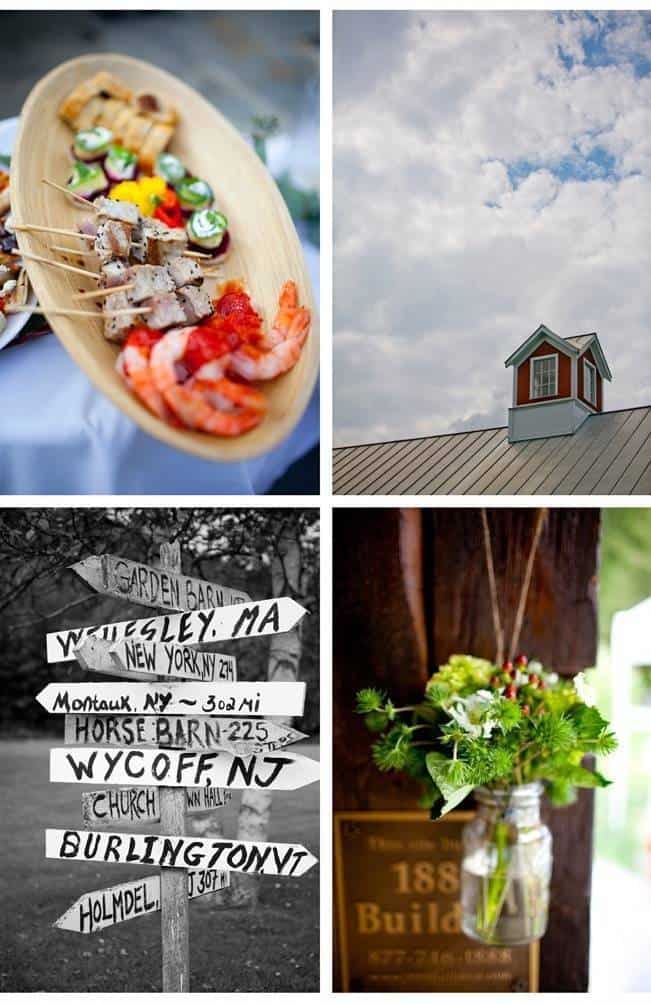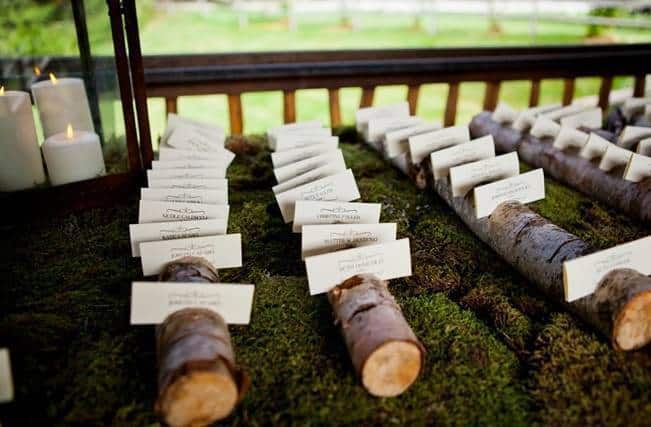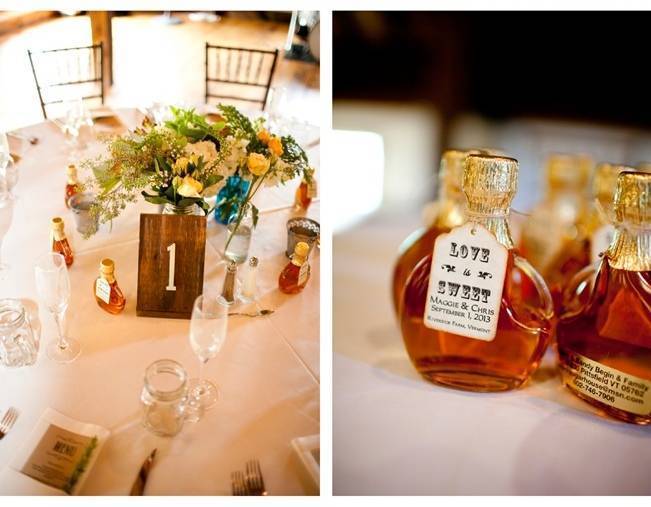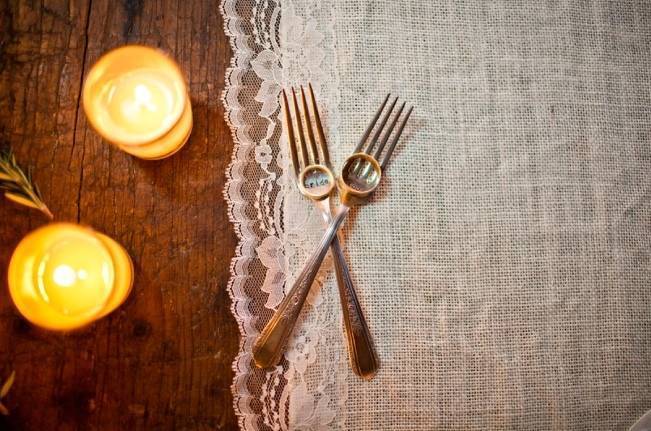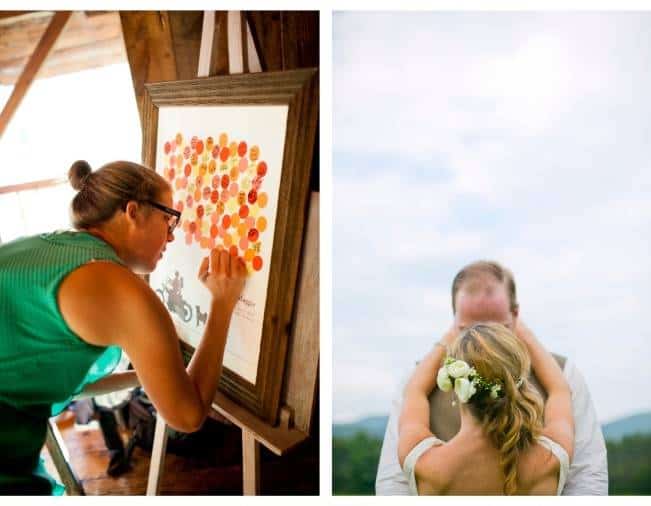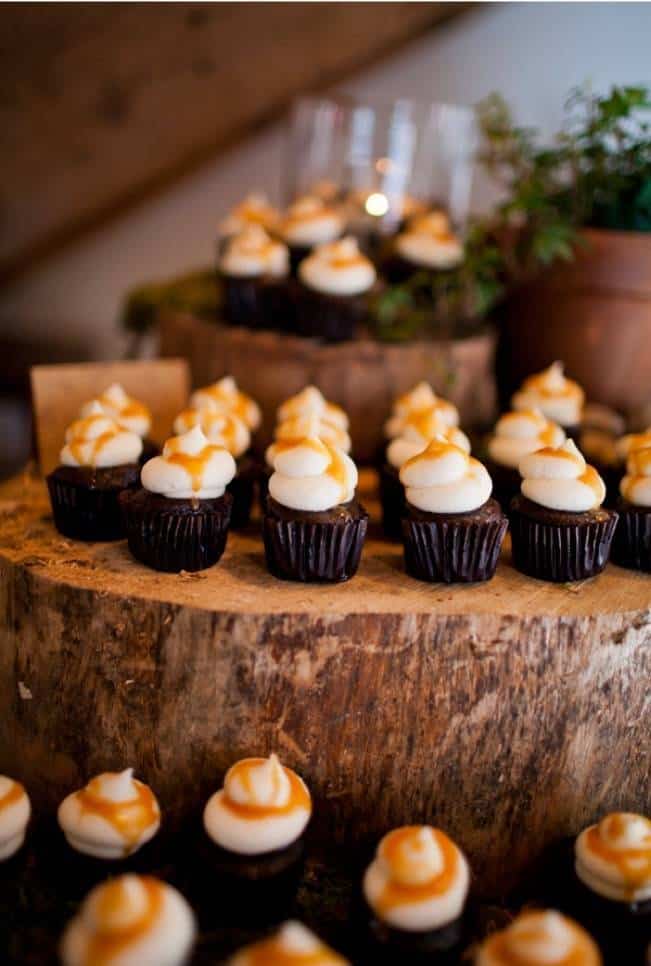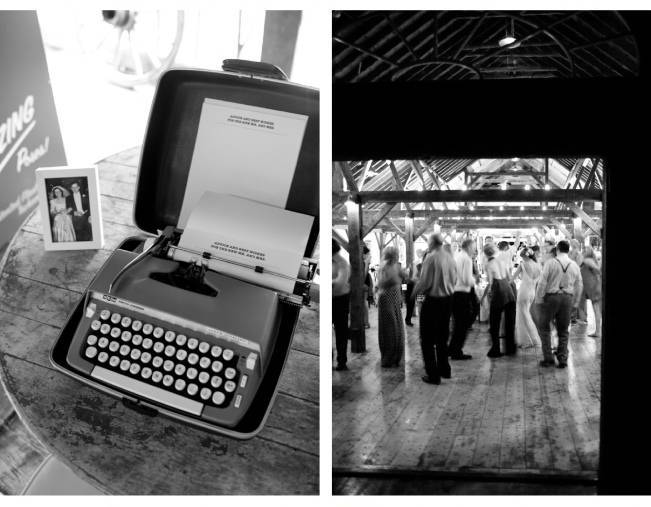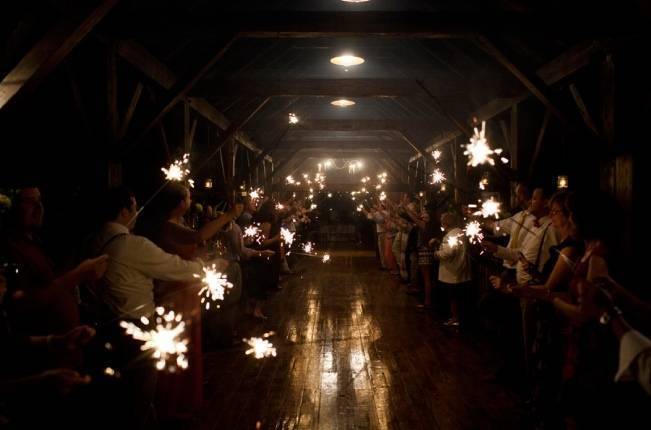 From the Bride…
Before the Ring:
I've heard "you can't search for true love, it will find you," and "You won't meet your soul mate until your worlds are ready for it."  For Chris and I this is very true.  We both went to different colleges in Burlington, Vermont during the same period of time.  We graduated a year apart and both chose to stick around to work and play in The Green Mountains.  We called Burlington our home for 8 years living parallel lives, even going to the same bars, concerts, and restaurants. We were even so close as to have the same circles of friends, yet we never met.
Our worlds finally aligned spring of 2008, at a bar called Three Needs.  He was sitting with some mutual friends and I grabbed the seat next him.  We started talking and didn't stop until the people I came with were ready to leave.  We had an instant connection and felt there was something new and exciting in our futures and couldn't wait for it to begin together.
The Proposal:
Side note: Being together 4 years we had never spent a Christmas together.  I hated being apart on holidays but the 4th year I felt extra lonely.  When Chris came home that Christmas he promised we wouldn't be apart again.
Chris's family has homes in Vinalhaven, Maine.  We try to make the drive every year to spend a string of nights on the ocean for some lobsters and R&R.  In July 2012, we drove up from Saratoga after seeing 3 shows of Phish.  We arrived to watch the sunset over the ocean and passed out.  The next morning Chris woke up early and went out to "get the boat ready" for a day trip.  He came back and picked me up and we went over to his mother's dock.  Before going down he grabbed me and brought me behind his mom's house where I saw what he had been getting ready.  It was a fully decorated Christmas tree! Christmas in July!!!  There were 3 wrapped presents under it.  I opened them up and then he said wait one more and ran into the house and came back with a box which he opened on one knee and asked me to marry him! Without hesitation I said yes!
Inspiration / details of the wedding day:
My inspiration was the beautiful setting on Riverside Farm, natural, antique and rustic.  My colors were mustard and terracotta.  Amsale had a beautiful spice color that season that i chose for my bridesmaids' dresses and Chris found a perfect matching fabric for the guys' bow ties and pockets squares to be made from. Chris and I had no idea what the other was going to wear but our styles pulled together, my ivory crocheted, Claire Pettibone, gown and his, Alton Lane, custom made 3 piece tweed suit.  The natural, antique and rustic themes were carried throughout in the food displays, flowers and votive candles.
Most memorable moment/s:
I've heard many brides say their day was a blur… but truly I remember each and every little moment, from the blessing my yoga instructor said during my morning practice to the final sparkler send off on the covered bridge. One outstanding moment was my walk down the aisle to my husband to be.
I chose to walk alone because in my heart that was what felt best. I stayed calm and collected all day getting ready, but as the bridal procession began their walk my knees began knocking and the butterflies in my stomach began fluttering. The walk from the farmhouse, across the field, to the arbor where I was to meet Chris was a long walk (probably 2 1/2 minutes). As the last of my bridal party had left the farmhouse, my nerves settled and I felt an overwhelming calm. I'm ready to marry my man! The song I chose to walk alone to was "Bliss" by Phish, a sweet instrumental that always gives me chills. I began my entrance, I was fearless and excited. As I got closer to where our friends and family were seated, Chris came to meet me, I took his arm, he told me I was the most beautiful thing he had ever seen. We happily walked up the final leg of the aisle together, arm in arm. Nothing could have felt so right. BLISS
Advice to future brides & grooms:
1. Stay Calm and Trust the Universe.
2. Whatever amount of time you have is enough. Work with what you've got!
3. Try your best not to get overwhelmed, ask for help, talk it out. Everyone wants to help, sometimes they just don't know how. Also talk to your vendors, I didn't have a wedding planner but my vendors were more than happy to help me feel confident that things were going run smoothly on my wedding day.
4. Accept that there will be errors. I planned every little detail and all the big ones too from types of seating to linens to flowers, transportation, food, music, etc. Things get lost in the shuffle for sure and in the end it really didn't matter.

Photographer:  Ampersand Wedding Photography / Venue: Riverside Farm / Floral Designer: a schoolhouse garden / Tuxedo and Men's Attire: Alton Lane and Brooks Brothers / Bridesmaid Dresses: Amsale / Bride's Dress: Claire Pettibone / Linens and Coverings: Constance Mendell's Occasions Catering / Band: Grippo Funk Band / Bakery: my little cupcake / Invitation Designer: The Paper Source / Submitted via Two Bright Lights