For many couples, their pets are like their children (I'll admit, I sometimes pamper my two cats more than my husband). Including your pet in your wedding can be a wonderful experience and many couples who have tied the knot wouldn't have done it any other way – no matter what species, dog, cat, horse, even chickens! When man's best friend becomes the groom's best man, it's a beautiful thing, but as a pet owner you'll know that however consistent they may be at home, they can still be somewhat of a wildcard at an event. It is important to think about how you want to include them. Read on for some tips and inspiration for incorporating that furry family member into your special day.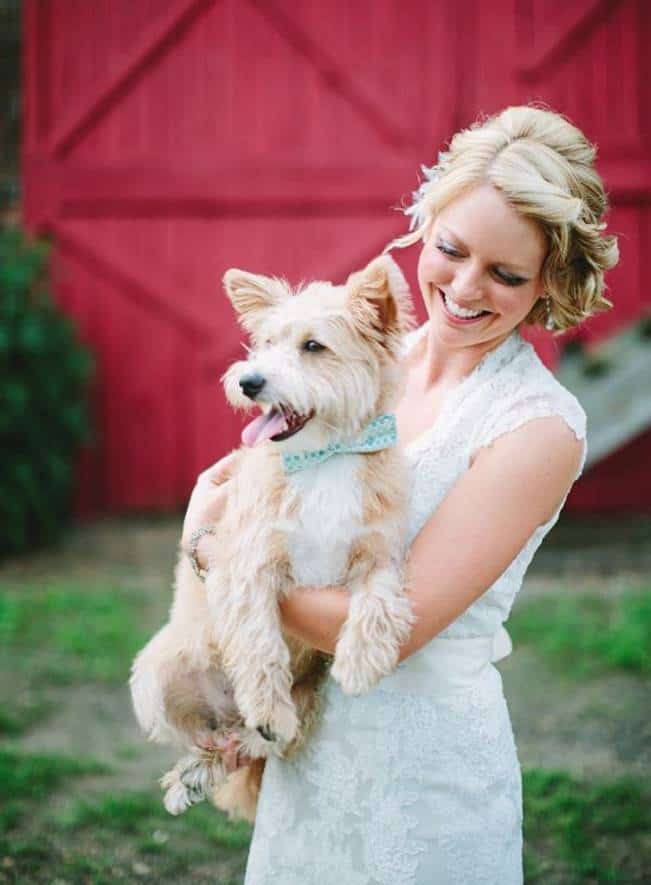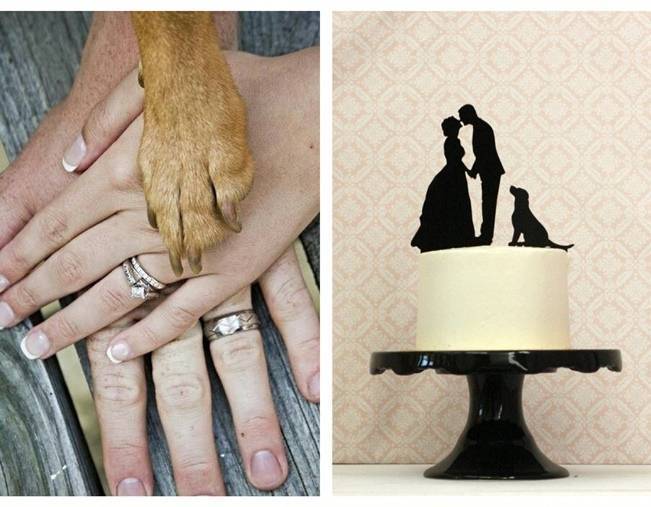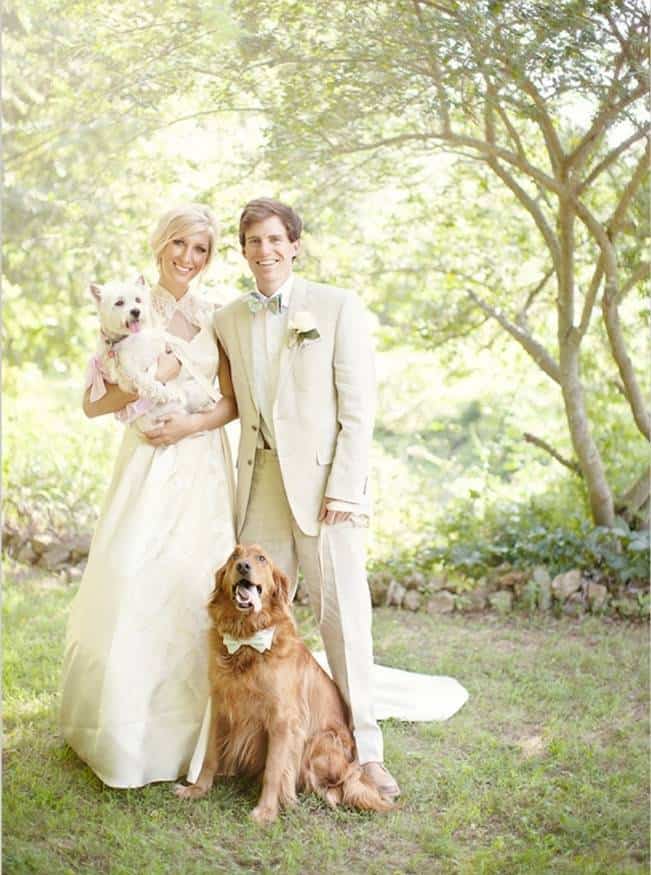 Many couples include their pet in the wedding party – typically dogs. If your dog will happily sit there among the other groomsmen or bridesmaids for 20 minutes, or however long your ceremony is going to be then this is a very meaningful way to include them. But there still needs to be someone on "dog duty". Preferably someone either sitting in the front row who can easily reach them (depending on the venue you might be required to have them on a leash) or one of the humans in the wedding party to stand with them. For more ideas, check out this guide about creating pet friendly weddings.
You could have your pet walk down the aisle as a ring bearer (you may want to have a faux set of rings tied to their collar) or carry a small sign around their neck that says "here comes the bride." Just make sure the sign doesn't interfere with their movement when they walk.
There's nothing like making an entrance, and when your pet is a horse you can ride down the aisle fairytale style. Many brides choose to simply ride to the ceremony (or take a horse drawn carriage) and then walk down the aisle with their father or family member. Also, I have heard of a bride who loved her horse so much that she named it her maid of honor and it stood there through the ceremony with her!
Cats. How on earth to include them!? It really depends on the cat. Are they outdoor, indoor, are they leash trained (yep I just said that), and do they travel well (most cats don't and if you've ever taken yours to the vet for a checkup you know what I mean). If you're having a wedding in your backyard or at your family farm and want to include your feline friend it's much easier because they're already there. I do not recommend stressing your cat (or any pet) out just to bring them to your wedding. But if they're comfortable sitting in someone's lap at your ceremony then go for it. Or you might just want to include them for a few pictures at some point in the day.
Again, have someone on pet duty all day…someone you can trust to essentially babysit the whole time so you don't have to worry while you're having fun. That way you can also rest assured that they are returned safely home.  No matter what animal they are, they'll probably be more comfortable going back to their space after the ceremony – be it the barn, coop, or couch.
–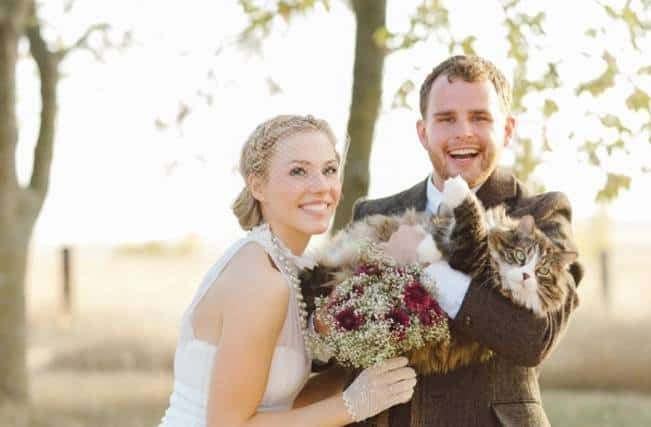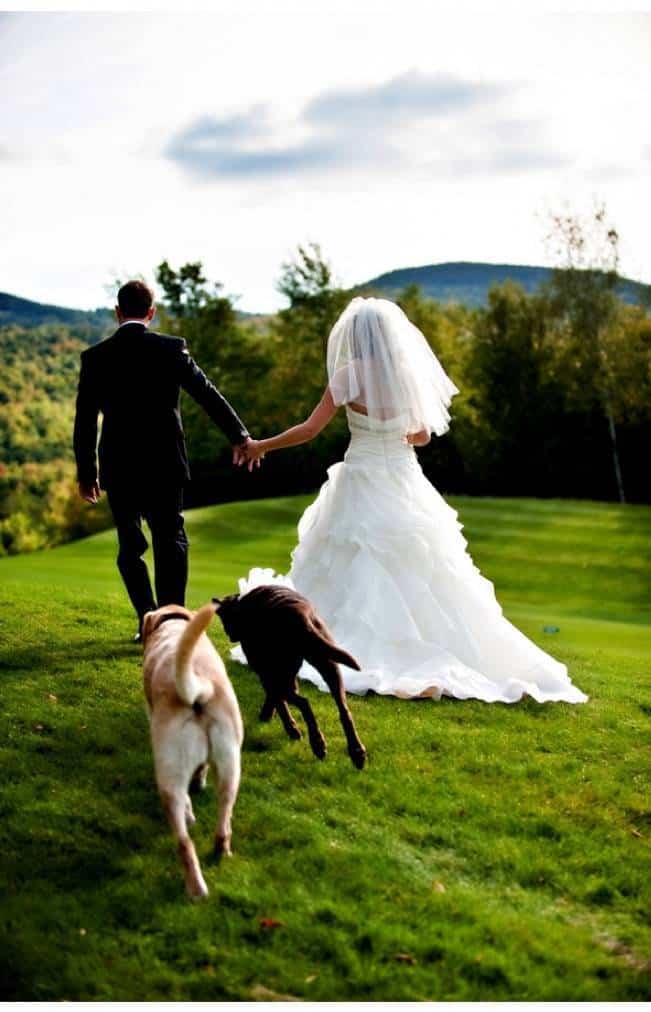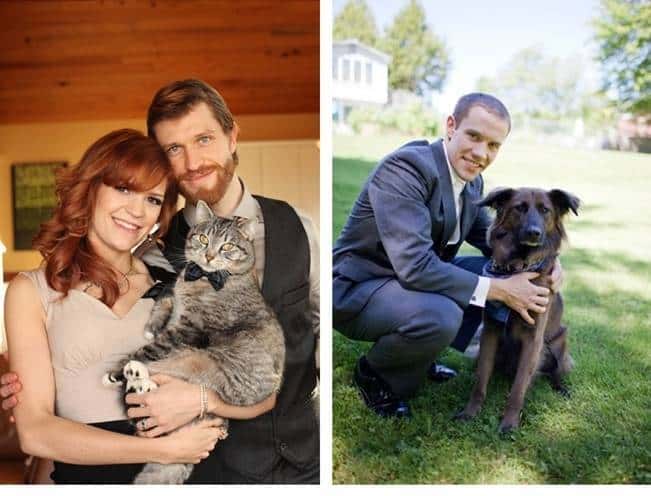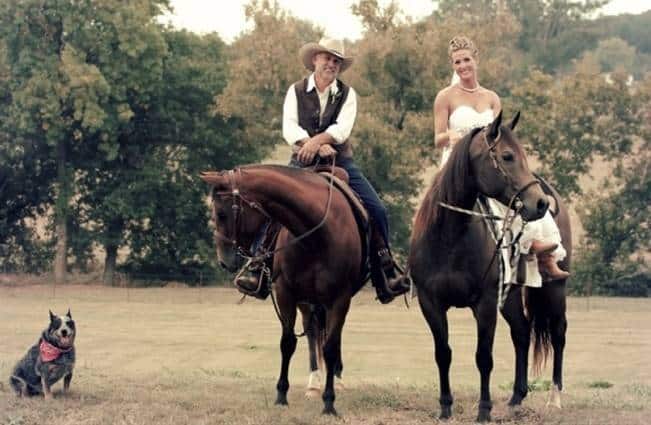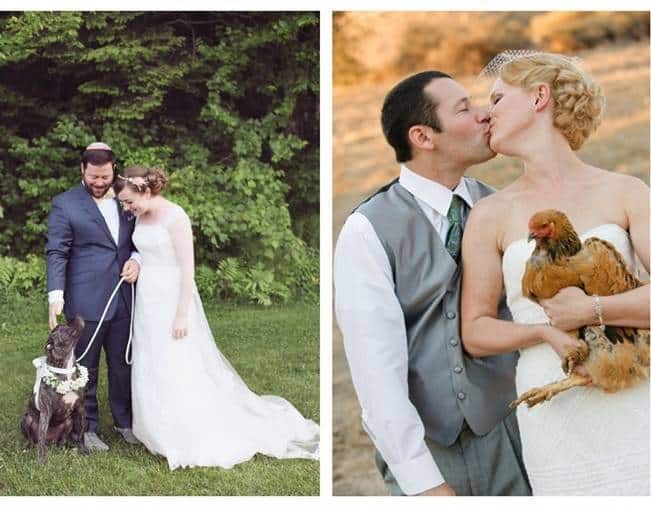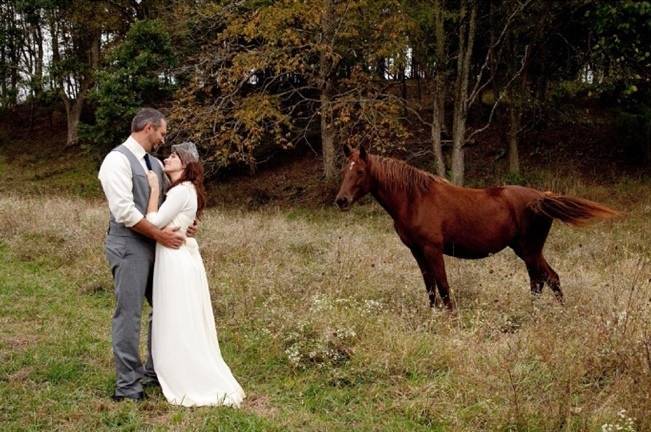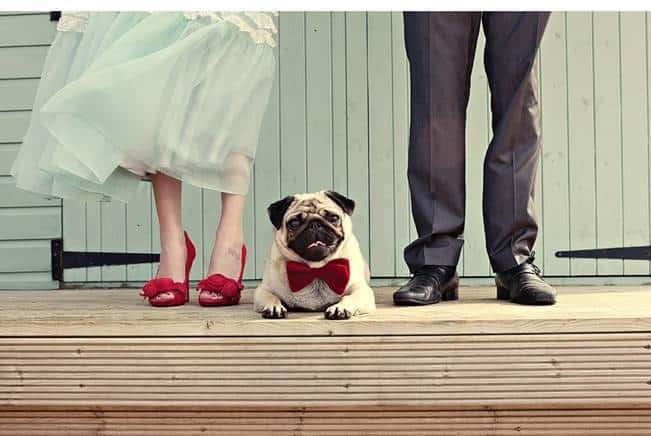 Pet Attire: I can't believe I'm writing about this but I've seen some seriously horrendous photos out there of pets decked out in full tuxedos, wedding dress costumes with fake arms in the front holding a bouquet, veils, and the whole nine yards. In none of these photos do the pets look happy. And yet that little red bowtie in the picture above is pretty darn cute and he seems to be loving it. So where to draw the line? In my mind it comes down to obstruction. If the getup you've put on your pet is hindering their movement take it off! For natural weddings I recommend something special but that doesn't feel to them like a "thing that they must tear off." A little bowtie, a wreath of flowers around their neck (simple, natural, and beautiful), or perhaps just a clean kerchief!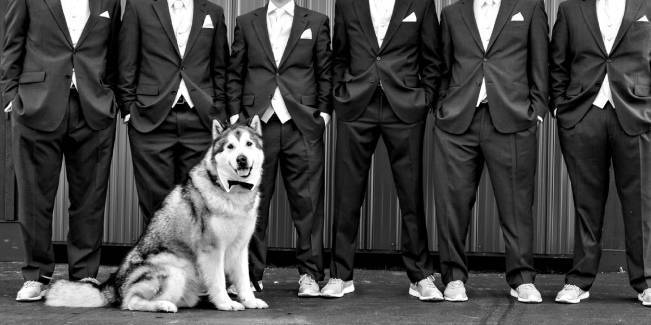 Gift Idea: For those who love their pets so much they want to include them in their wedding, an absolute perfect gift for the newlyweds is a custom pet portrait. Torin Judd Fine Art creates beautiful pet portraits, capturing the essence and personality of your pet with her realistic, yet whimsical style. These make great gifts for the holidays, too. She also paints landscapes and can combine the two for an ultimate custom piece – she'll even paint it on a rustic pine board if you like! Check out more of her work and get info here.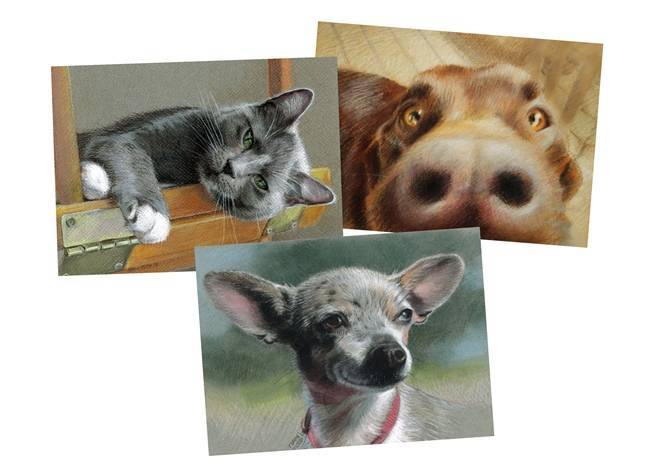 1) Pat Furey Photography  2) Pinterest  3) Silhouette Weddings  4) Glass Jar Photography  5) Jeff Loves Jessica Photography via Confetti  6) Casey Durgin Photoraphy  7) Jessica Zais Photography  8) Ampersand Wedding Photography  9) Shoot Y'all Photography  10) Dreamlove Photography  11) byCherry Photography  12) Melissa Perella Photography  13) Dottie Photography  14) Casey Durgin Photography  15) Pet portraits by Torin Judd