If you are looking for engagement rings or jewelry with a natural, organic style, then today you are in for a treat. We're throwing the spotlight on a chic gallery – Fragments. They have an amazingly gorgeous bridal collection with jewelry by talented designers such as Melissa Joy Manning, Vibe's, Shaesby, Sethi Couture, Marian Maurer, Kalan 14k, Annie Fensterstock, and more. I absolutely love these jewelry designers because they each have their own distinct style, but are all organically inspired. At Fragments, you won't find your run-of-the-mill, department store rings – they're unique, elegant, and earthy, yet also modern, and made with supreme craftsmanship. Fragments is the perfect place for nature inspired brides to shop. Here's a look at some of my favorite rings from their bridal collection.
As you can see, Fragments is not about traditional classics, they're for women who have their own individual style. So many of their pieces have the unfailing quality of being able to be dressed up or dressed down which translates into something you will want to wear for life.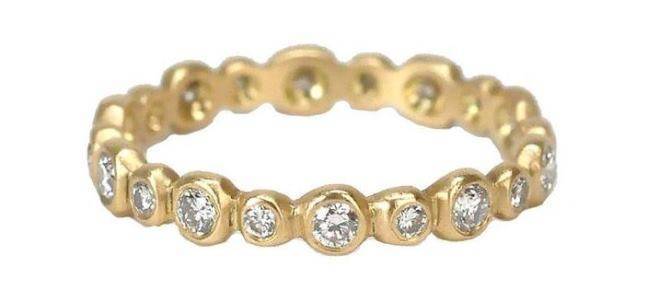 MARIAN MAURER – DIAMOND ORPHEUS BAND $2,795
More about Fragments:
Fragments is a finely curated gallery of fine and fashion jewelry, known for discovering and launching the careers of today's most celebrated designers. Seeking original design and unparalleled craftsmanship, we excite and inspire our customers by bringing them innovative collections with a unique point of view. They have a wholesale showroom as well as a retail store – referred to as a "one stop shop," "a destination," and "a jewelry mecca." Their Prince Street boutique is the heart of SoHo.
Be sure to check them out on Facebook, Twitter, and Pinterest for more inspiration and special offers.

This post is sponsored by Fragments