Holiday cards? But it isn't even Halloween I can hear some of you saying! I know, I know, but really this is the perfect time to start thinking about them so you aren't rushing at the last minute. The holidays will be here before you know it and you can have peace of mind not only that it is one thing checked off this season's to-do list, but that you're also making an eco-friendly choice with Night Owl Paper Goods. This amazing company, which you've heard me rave about before, is offering Sweet Violet Bride readers 20% off all personalized holiday card orders through October 31, 2014 with coupon code SHINE2014. And to make it even sweeter, they're also offering free domestic shipping on all orders $49+.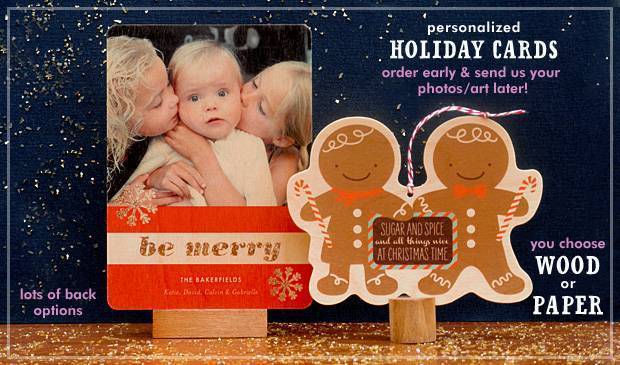 Inspired by nature, these cards are custom printed on eco-friendly, sustainably-harvested birch wood and are available in a new larger size, more ornament shapes and more back designs! Whether you're looking for traditional, modern, whimsical or adorable, they offer a variety of designs to help you express your unique style. You can view all of their selections and information in the Personalized Holiday Cards category of their online stationery shop.
My husband and I sent out holiday cards printed by Night Owl Paper Goods last year and people absolutely loved them. There is nothing quite like the beauty of a loving holiday message printed on birch! Here are a few of the designs I'm loving this year…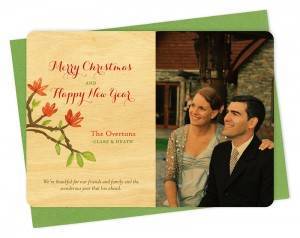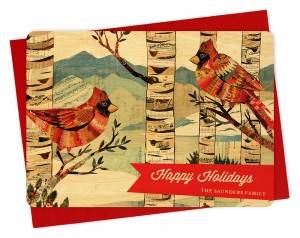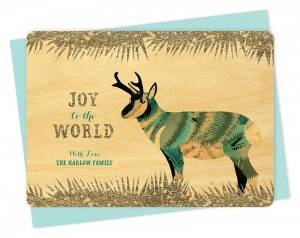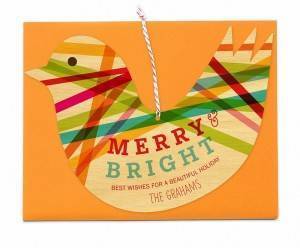 What makes Night Owl Paper Goods' Personalized Holiday Cards so unique?
NEW! Larger size standard cards, more ornament shapes and more back designs than ever before.
Choose from 200 modern-yet-folksy designs, custom-printed on sustainably-harvested birch wood. All designs also available on budget-friendly FSC certified paper.
Quick and easy personalization! Simply add your own greeting, photo, photos or logo and let our professional graphic designers do the rest.
12 unique back options: 2015 Calendar, Photo, Text, Festive Patterns, Faux Walnut, Postcard & more
One-of-a-kind ornament cards: Gingerbread, Angel, Reindeer, Otters, Birds, Dove, Bulb & Scalloped Round
Envelopes contain 30-100% recycled post-consumer waste.
All Night Owl Paper Goods products are handmade in the USA.
If your photos aren't ready or you're not quite sure what to say yet, you can place your order now to take advantage of the current specials, and then send your photos and/or text later. They'll keep your order open until you're ready. How's that for holiday cheer! Or, if you have your own holiday card card design (you creative little elf!), they can even print it on wood for you. Learn more about this option in their Print Shop.
**This post contains affiliate links and I will be compensated if you make a purchase after clicking on my links.