Imagine wearing a flowing gown of organic cotton voile, hemp silk, or organic cotton sateen – a gown that is made custom just for you, a gown that is eco-friendly and timelessly beautiful. Sounds blissful, right? Let me introduce you to Janay Andrews, the Kansas City based Fashion Designer behind Janay A. Handmade. She is passionate about sustainability and creates gorgeous, eco-friendly custom wedding gowns. Janay treads lightly, all of her gowns are sewn in-house and in addition to using the best vintage and organic materials she can find, she also breathes new life into heirloom materials. Read below for a Q & A with Janay and get some savvy tips on how to find your dream dress.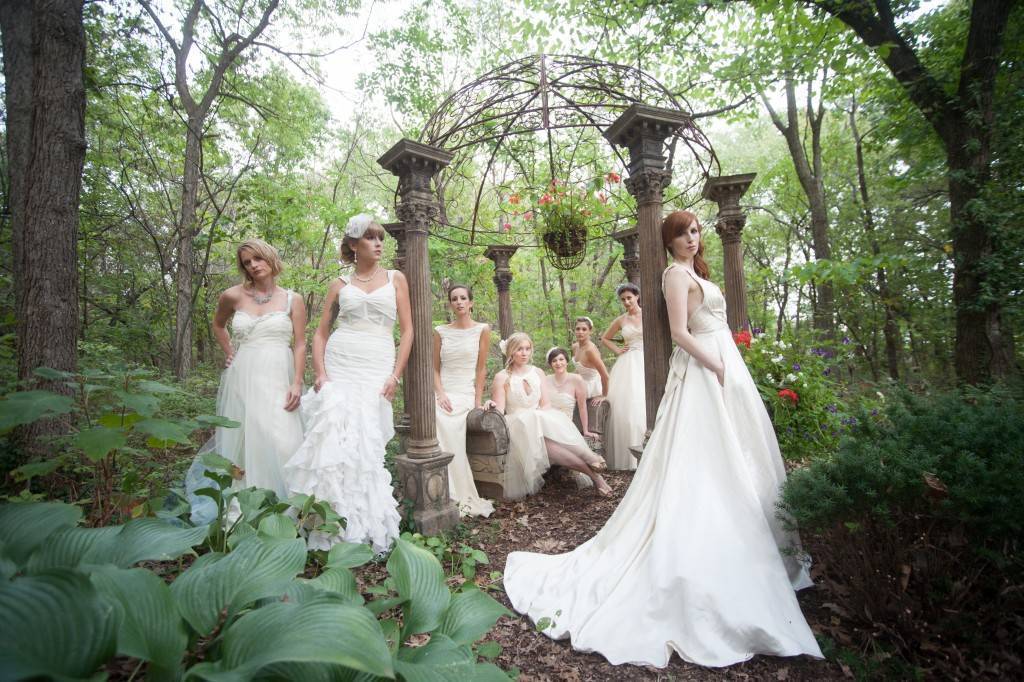 How did Janay A. Design start?
After doing fairly well making women's wear, I was getting asked to make wedding dresses left and right. At first, I resisted. I thought brides would be crazy divas! After making a few gowns, I realized the need for alternative, eco-friendly wedding gowns, gained skills and confidence, and launched my first bridal collection (it was separates – which, by the way I still think is a great idea). The ladies attracted to my type of business are laid back and awesome, and I have never regretted the choice to work with brides!
What inspires you and your designs?
I am very inspired by nature, femininity, literature, history… so much! I especially love a good story, and imagine my dresses as a tapestry in an ongoing love saga.
What kinds of brides do you have in mind when designing?
I design for such a wide range of brides – from ultra-clean and modern tastes to very feminine to bohemian styles. I'm the intersection of all those tastes, and find beauty in each bride's uniqueness. The unifying factor in each gown I make is a reverence for the environment, and I use the best organic and sustainable fabrics for each dress.
Any advice for brides searching for their dream dress?
When I was working in a gown shop, I saw so many brides coming in not knowing what they wanted, or making the classic mistakes of bringing too many of the wrong, non-supportive people shopping with her. Brides would be doing themselves a favor shopping with an open mind, a smile, and less of a posse.
Step 1 is to Clarify. Define your aisle style. Collect images, labeling each with what you do and don't like. Consider what will look best on you vs. what is trending – those wedding photographs will be with you for life (80′s puff sleeves, 'nuff said).
To read all 7 of Janay's recommended dress shopping tips see her blog post on finding THE dress.
Want to learn more about Janay A. Handmade? Take a look behind the scenes in this video:

1) Photo Mementos (Group Shot)   2) M/E Photo (Larkspur Gown)  3) M/E Photo (Aster)   4) Photo Mementos (Willow)  5) Morgan Miller of Cornerstone Photography (real bride)  6) Photo Mementos (Bellflower)  7) Photo Mementos  8) Morgan Miller of Cornerstone Photography (real bride)