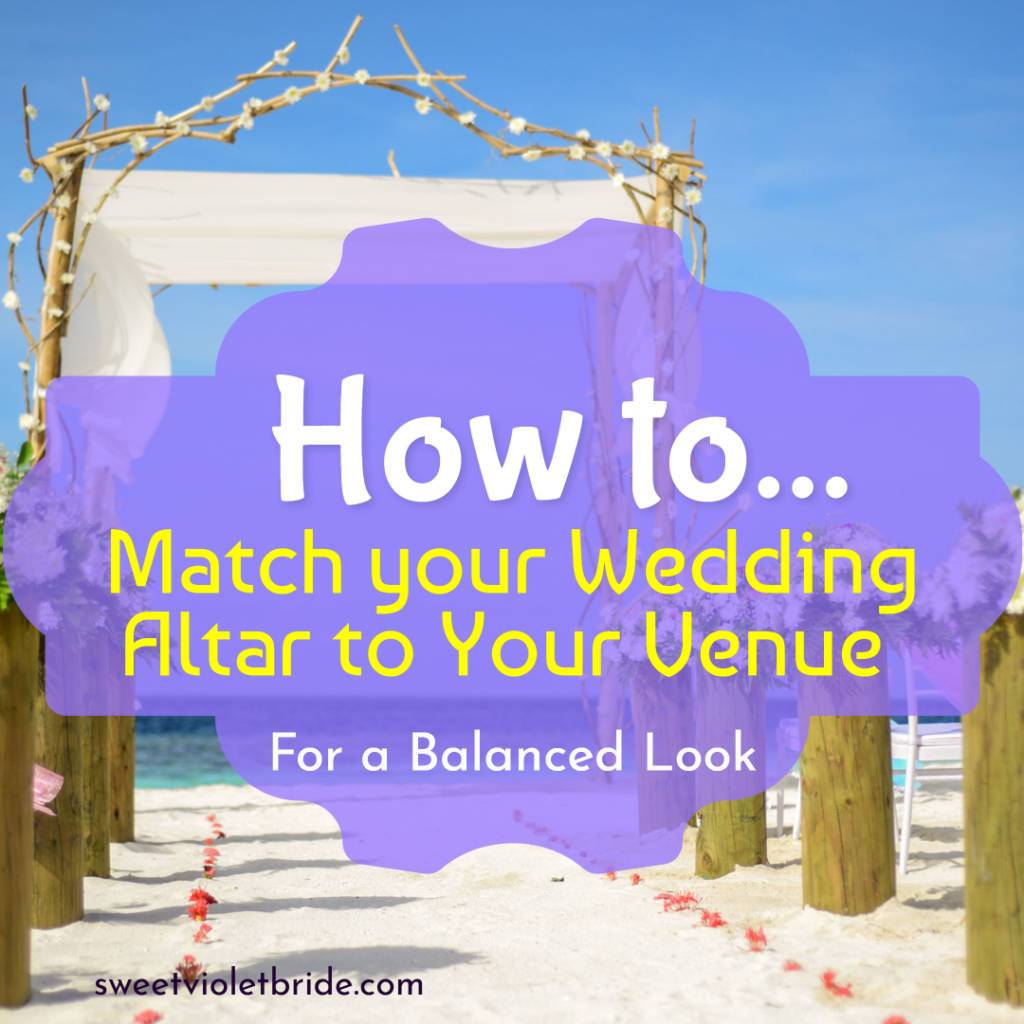 Once you have a venue booked, it's time to start imagining what you want your ceremony to look like and feel like. The altar that you will get married in front of is central to your ceremony. It is the backdrop for your vows, your ring exchange, and your first kiss. Of course you want it to look perfect! One way to make it look just right is to balance it with the surrounding environment. Not sure how to do that? Here are some ways.
1. Pay Attention to Color
One way to balance your altar with the surrounding area is to play up color combinations. For example, if you're getting married in a place with pale sand in the foreground and muted blue mountains in the distance, weave flowers or fabric into your alter that match the muted tones. The altar doesn't need to contain the exact colors of your setting, but it will help if it's in the same color palette — especially if the 'form' of your altar (like the wood and flowers above) don't match the setting. In the desert wedding scene above, there are no flowers in the scenery, but the altar looks visually pleasing because of the colors.
2. Use Natural Elements
Many boho brides choose to use plenty of natural elements in the decor. The altar is no exception. Even if your altar is man-made, you can decorate it with natural elements like greenery, flowers, vines, shells, or feathers. This will automatically make it appear more balanced with the surroundings.
3. Same Width as Aisle
Create a proportional look by making the altar the same width as your aisle. No, you don't need to pull out the measuring tape to make it exact, down to the centimeter. You can eyeball it!
4. Look at the Landscape
Once you know where your wedding ceremony is going to take place, as well as the date for your wedding, start planning what you want your altar to look like. Visit the site where you'll say your vows, and step back to consider the setting as a whole. What colors do you see? What shapes? Squint your eyes to blur your vision, and see what pops out at you. Then, imagine an altar that will fit in with the landscape. In the picture above, the pampas grass compliments the natural grasses and brown and tan branches that form a natural background for the happy couple.
5. Take a Practice Photo
Not sure if your idea for an altar is going to work? Once you have it set up, take a practice photograph to see if it looks good. You know how it's easier to judge an outfit once you look at a photo of yourself wearing it? The same will be true for your altar. Once you see it in a picture, you can fine-tune it with another vase of flowers here… another tall white candle there.
Your altar is going to be in some of your most precious wedding photos. It's central to your ceremony, so it's worth spending time on making it just right! Use the ideas above to help you have an altar that is beautiful and fits in with the setting just right. Have you been day dreaming about a picture-perfect altar? Tell us in the comments section, below!