If you are looking for the perfect boho or vintage style wedding decor you are going to love this. LunaBazaar.com offers just that, and also great prices. I'm talking paper lanterns in every size and color, pretty paper parasols, hand fans, mercury glass, vases and bottles in all kinds of cool shapes and hues, milk glass, twine, apothecary jars, banners, chalk board signs, paper straws, favor boxes and bags, hanging mason jars, lanterns, place card holders etc. (basically a DIY bride's dream store). They sent me a few of their products for review and have also partnered with us for this week's giveaway. Someone is going to get a $200 gift certificate to spend on Luna Bazaar items!!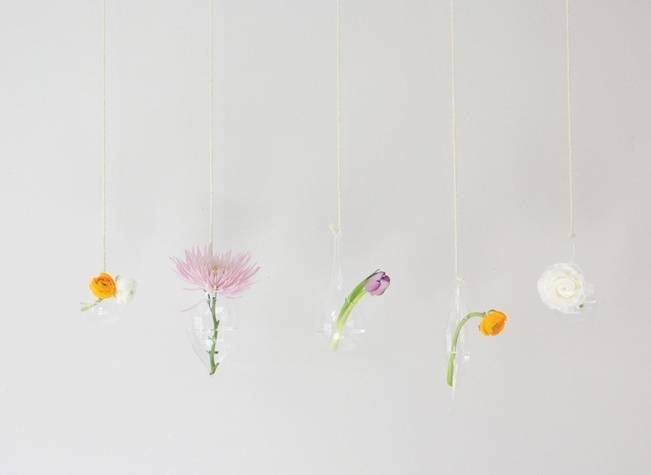 One of my favorites are the hanging glass vases (starting at $3.75). I strung these five of various sizes and shapes with twine from a dowel that I had installed with eye hooks to the ceiling (that way you only have two holes in the ceiling instead of five). These would make a beautiful backdrop for a ceremony whether it is indoors or outdoors. If outside you can more easily string them from a wooden ceremony arch or even have dozens of them hanging from the trees! For my home I chose to fill them with orange-gold and white ranunculus, soft pink spider mums, and violet tulips.
These hang beautifully when hanging right off the wall as well. Simply tie a knot in the end of the twine and pin to the wall with a sturdy thumbtack. They brighten any wall in just about any room! For a barn wedding you could easily hang these all over the inside of the barn walls for the reception.
Tip: Hang the vases first and then use a small teapot or funnel to add water. This way you can adjust their heights without water sloshing around.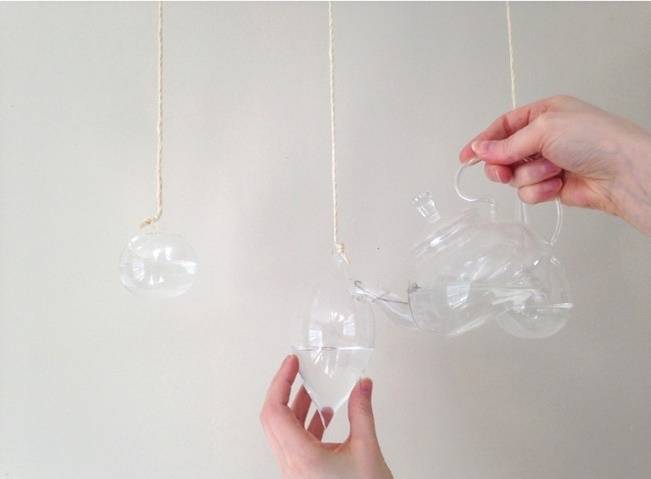 Luna Bazaar has SO many pretty hanging candle lanterns like the one below left (Temara design, $13.25). These channel a beautiful boho-Moroccan vibe and are such a unique way to bring light into any space. They can be used with either tea lights or flameless tea lights. Can't you just imagine a dozen of these hanging from the trees at night for a wedding reception (with flameless tea lights of course). We also featured a real wedding last month in which the bridesmaids all carried different lanterns instead of bouquets -> take a look.
Paper Lanterns have a zillion applications as well when it comes to weddings. Below right I strung just a few of the no frills paper lanterns (which start at just $0.80 ea.) to brighten up a corner of my office. They look great even when they aren't lit. Though these are just 6-inches, they offer them in sizes up to 36-inches. A few ideas for paper lanterns: cover an entire ceiling (or inside a wedding tent) with different sizes hanging at different lengths, hang them from the trees outside for your ceremony or reception, hang a cluster of them just above the ceremony area, or hang a row of them over a long table.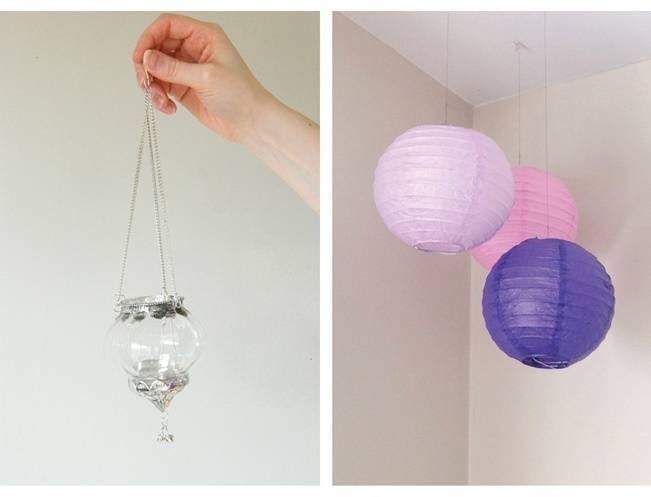 Paper Parasols…these are just so fun! I tried out a round 28-inch rice paper parasol in lilac ($6.95) and a scalloped 33-inch rice paper parasol printed with cherry blossoms on it ($11.95). They're made with a sturdy bamboo stem and are well constructed though the paper is naturally delicate so you want to keep these away from moisture. Perfect for bridesmaids, guests, and even as decor. I've seen these used to decorate a high ceiling by hanging several of them in different colors upside down (by the handles). It creates a really cool look and serene yet whimsical ambiance.

Photos by Naomi Farr (except image on giveaway entry which is from lunabazaar.com)