I could not be more excited to share this lovely shoot with you as we head into the weekend! The light blue and yellow color palette was inspired by the hues one would see when cloud gazing on a breezy summer afternoon.  Hydrangea blues, periwinkle, butter yellows dotted with bits of cream and gray are a breath of fresh air. The Claire Pettibone gowns were the perfect choice to go with the natural beauty of Quonquont Farm in Massachusetts, and details such as homemade pies sweetly packed in mason jars and tied with twine. The pressed flowers, shaped into a heart and framed are a particularly lovely project idea for the nature-inspired bride! Thanks to dani. fine photography for sharing such beauty with us!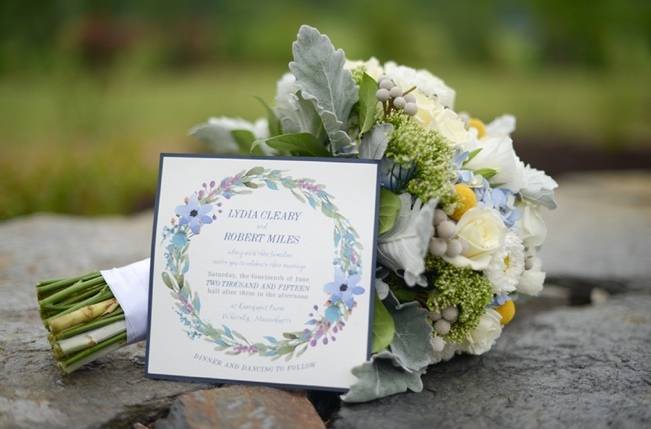 From Megan Alissa Glanville (event designer)
The inspiration for this shoot was a medley of all things sweet and reminiscent of summer love. The theme of "Letting the Love Grow" was communicated through each beautiful detail. The concept of growth and nature was important so we incorporated blooms and blossoms of all kinds anywhere possible. From the exquisitely detailed embroidery flowerets accenting our lovely bride's Claire Pettibone gown to the pressed flower place cards and custom water color inspired invitations – a bountiful garden of flora was infused into every aspect of the shoot. We wanted to create a refreshing classic English country aesthetic with a very organic under current. With the cheery palette and darling details like a baby lamb and hand crafted sugar flowers adorning our multi-tier cake, this scene offers the quintessential summer wedding experience.

Photographer: dani. fine photography / Cake Designer: A Little Imagination Cakes / Dress Designer: Claire Pettibone / Bridal Shop: Bella Bridal Shoppe / Floral Designer: Durocher Florist / Model: Erica Larson / Paper Props: Essentials / DIY or Handmade Goods Designer: Flora-ly / Makeup Artist: Janice Raccio for Salon Naomi / Event Designer: Megan Alissa Glanville for Dani Fine Photography / Other: Melanie Zacek of dani. fine photography / Hair Stylist: Naomi's Salon & Studio / Other: Pottery Barn / Event Venue: Quonquont Farm / Bakery: Wicked Good Cupcakes / Submitted via Two Bright Lights