What could be sweeter than a honey bee theme? I love how they carried their theme throughout with subtle details that aren't overdone – the bee cufflinks, little golden bees in the cake flowers, and bee illustrations on the stationery. Kari Ann and Kyle, who look absolutely stunning, made just about everything for their wedding at Rolling Greens in Poughkeepsie, New York. They made the lovely feathered boutonnieres and corsages, lavender colored bouquets, centerpieces, the stationery, place cards, you name it. Read below for the story of how they met and how he proposed!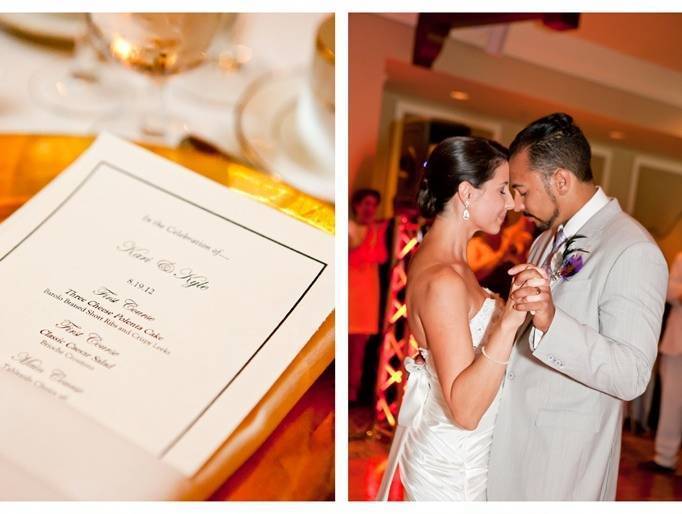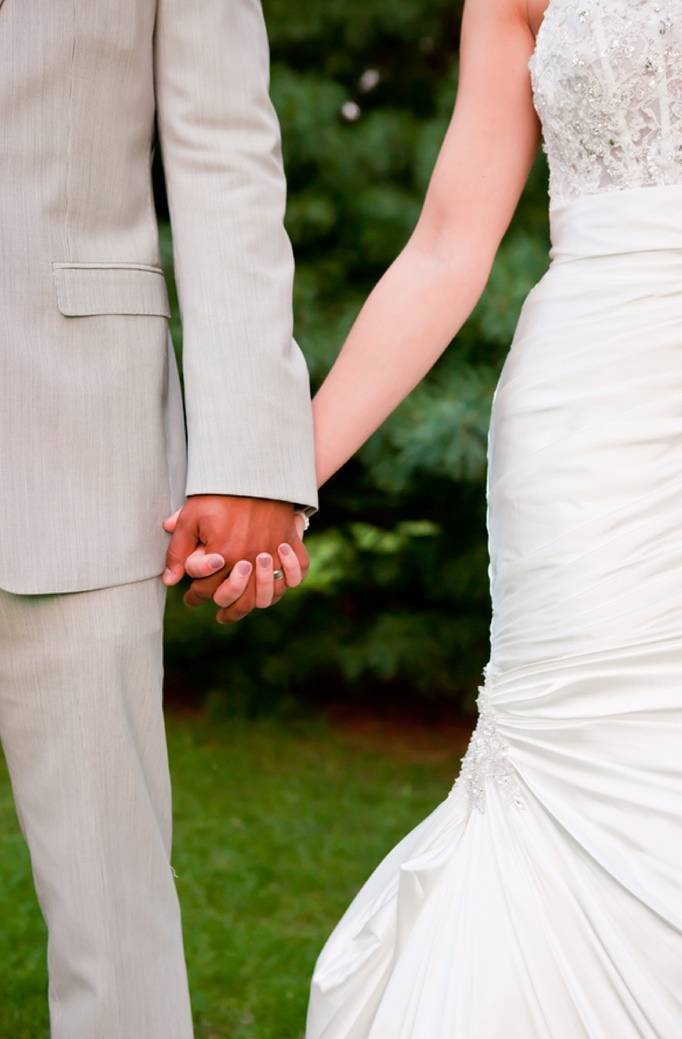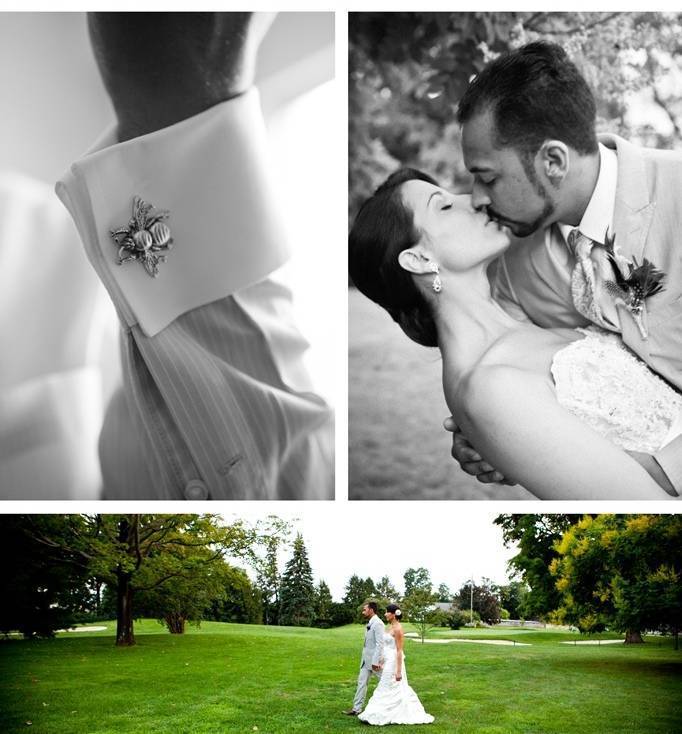 As told by the bride…
Before the Ring:
Kyle and I met in high school gym class. I was quiet and reserved and he was wild with a tendency towards outrageous. We caught each other's eye in that gym class but never said much to one another. It wasn't until the next school year in our photography class that we became friends, but I also happened to be dating someone else at that time, so not counting the occasional flirtation, we stayed only friends through high school. High school ended and so did most of our interaction, although both of us admit we stayed on each other's mind over the next few years. A few months after college I moved back home and a few weeks later got an e-mail from Kyle (over MySpace haha) and we reconnected. We went on our first date about a week after the initial e-mail and haven't parted sides since.
The Proposal:
After about 3 years of dating (and many discussions) we decided to purchase a home together. Marriage had come up many times in these talks, and we knew we would be together, but at the time making a home for ourselves was a first priority. We chose a home about 100 miles from our friends and family to be closer to the graduate school I was hoping to attend. The day came to close on the house and we signed papers and committed the next 30 years of our paychecks to this mortgage. Upon leaving the closing I was a nervous wreck and hadn't eaten all day due to nerves so I asked that we please stop to get a bite to eat. Kyle agreed, but insisted that we stop back at the house first for unexplained reasons. Being the persistent person I am, I insisted that we get something to eat then go back to the house. With Kyle refusing I reluctantly went into the house with him, dragging my feet the whole way, not understanding why he was so insistent on this pit stop for no reason. We went into the house and he took me by the hand and led me into (what is now) the dining room. He turned to face me with tears running down his cheeks. I panicked thinking the worst, that Kyle was regretting the purchase of the house and our move altogether. Then, he dropped down on one knee and pulled out the ring. Then I panicked for a whole new set of reasons. I, of course, said YES and it put an even more amazing end to the most exciting day of my life. Kyle is my soul mate and I am beyond grateful to have him in my life as a partner and best friend.

Photography: Caitlinn Mahar Daniels Photography / Venue: Rolling Greens at Dutchess Golf and Country Club / Bride's Dress: Maggie Sottero from Town Shop Bridal / Hair Stylist: Wedding Hair by Annaliese / Makeup Artist: Alexandria Gilleo / Tuxedo and Men's Attire: Banana Republic / DJ: Level 8 Entertainment