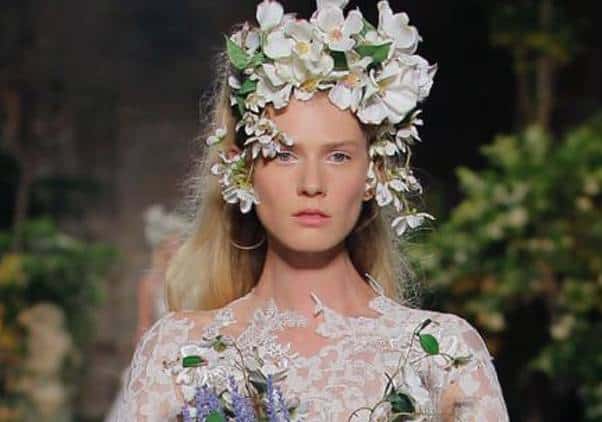 When it comes to bridal fashion for 2019, a number of the biggest designers are showcasing many of the same trends. At each of the various Fashion Weeks from the end of 2018 up until right now, there have been plenty of collections that featured these elements: giant statement veils; short, party-style reception dresses; jewel tones; quite a bit of jumpsuits, and finally, Meghan Markle-inspired everything—including silhouettes, crisp fabrics, minimalism, and that infamous neckline.
It seems that everyone is on the same page, because each of these trends have kept popping up again and again in shows for 2019 designs.
However, amongst all of these similar trends spread across various bridal designers, the most elegant standout has been high necklines. They've been making appearances everywhere, and they are absolutely stunning.
High necklines are a welcome shift from plunging V-necks, which tend to only work well with certain body types. Less jewelry is required for high necklines, and there's also something about them that evokes purity and sophistication—two things that nearly every bride wants to radiate. Designer Madeline Gardner has said that a high neckline is a bride's "most sophisticated option."
Different styles of high necklines include graceful boat necks, sexy halters, jewel or "crew" necks, turtlenecks and mock turtlenecks, standing collars, Peter Pan collars, and keyhole necklines. Each of these styles tend to go beautifully with plenty of different gowns, as evidenced in this article. Let's take a look at some of the most beautiful high-necked bridal gowns from the 2019 bridal runways.
The two creations below, both by Viktor & Rolf, echo the boxy "mod" style of the 1960s—a golden age for high necks. As you can see, this style continues to be gorgeous, and makes a particularly sweet choice for a bride in both short and long styles.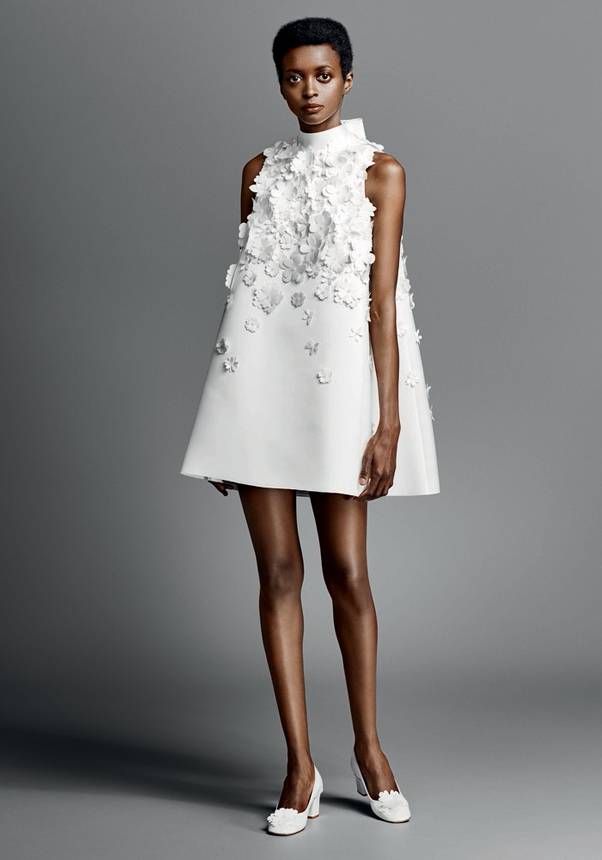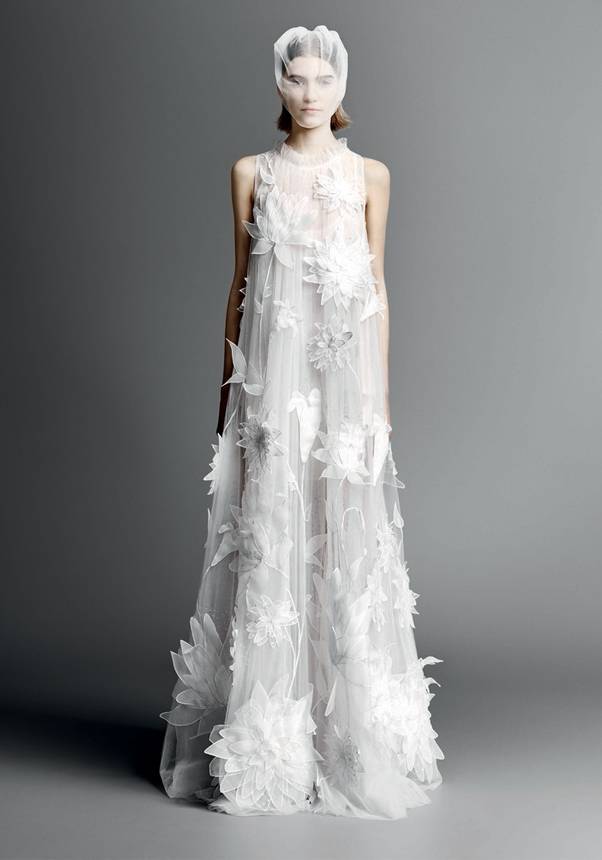 From the mod 1960s we jump to the 1990s, when minimalism in fashion reigned supreme. The 2019 bridal runways have been thick with this paired-down style—and of course high necklines played a big role, just as they did during that era. Take a look below to see: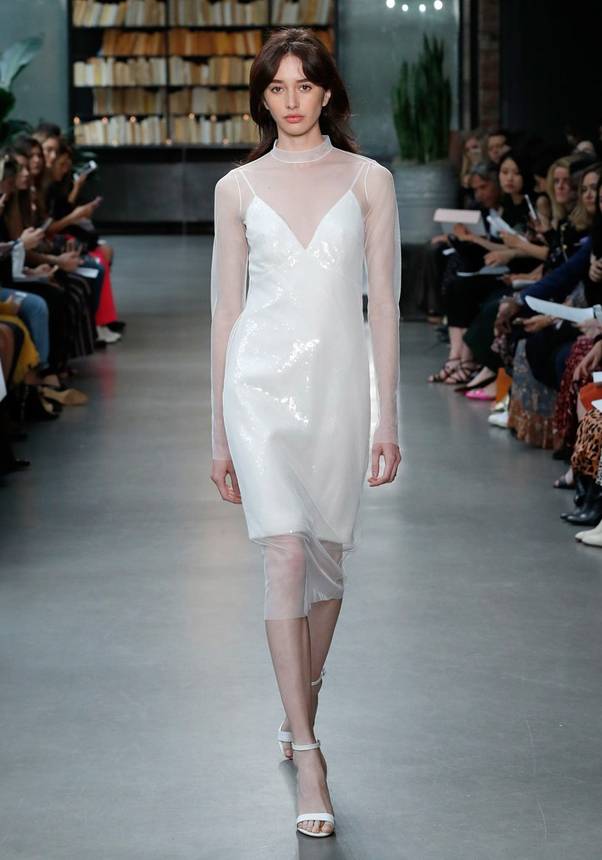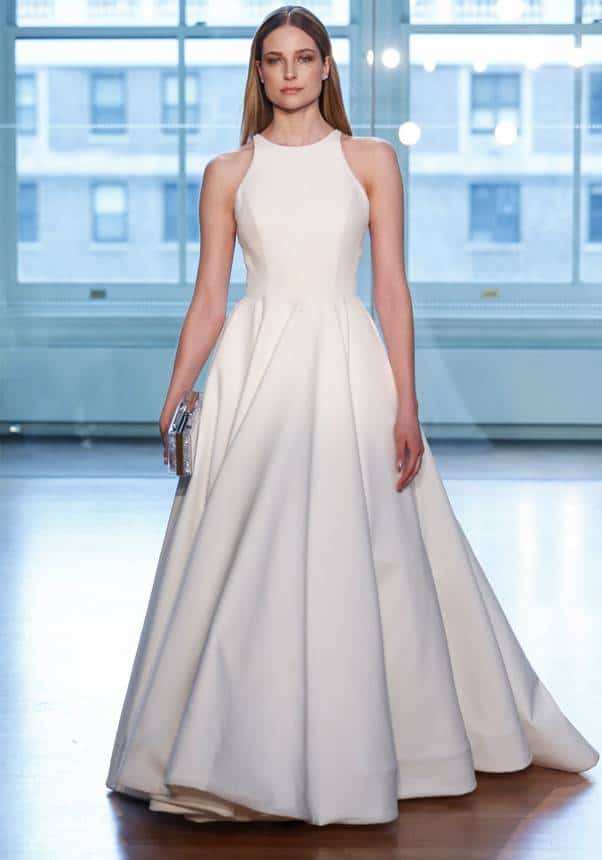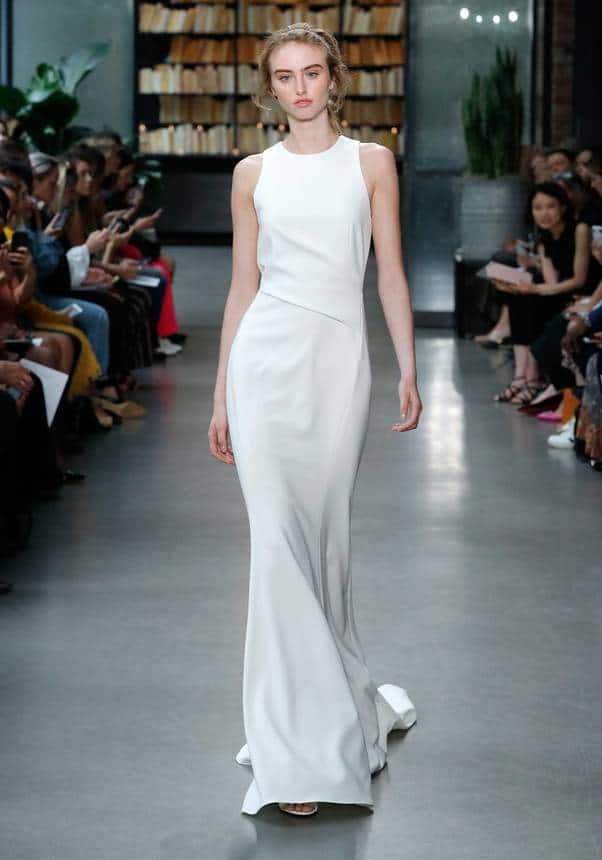 Many of the high necklines parading across the runways have been sheer. This gives a bride the best of both worlds: from afar, the shape of the gown stands out more, and the neckline appears almost invisible. However, up close, the neckline is apparent and elegant, and adds an entirely new element to the dress, like the ones below.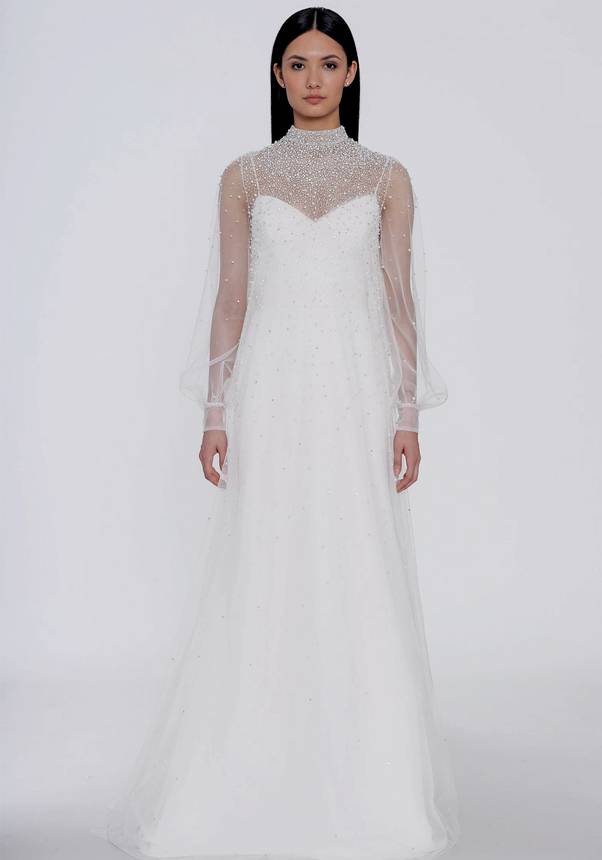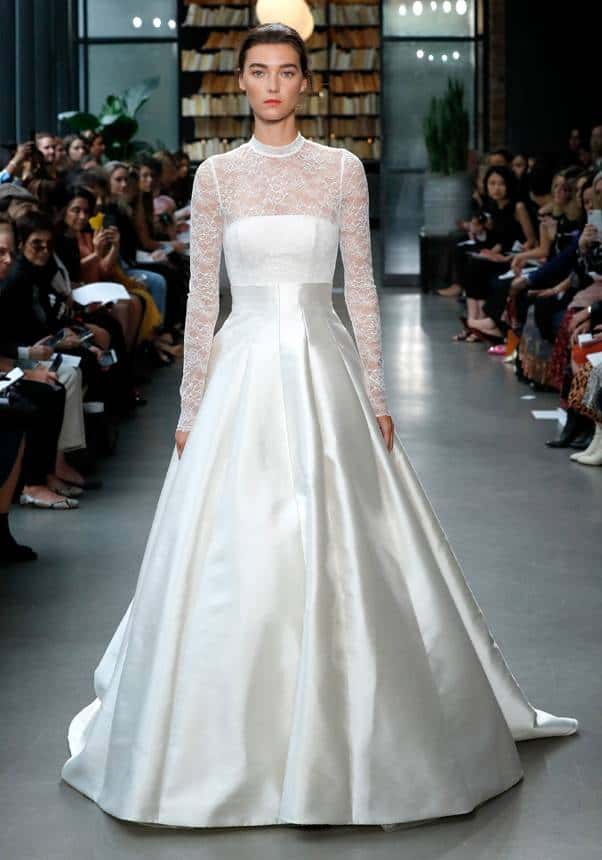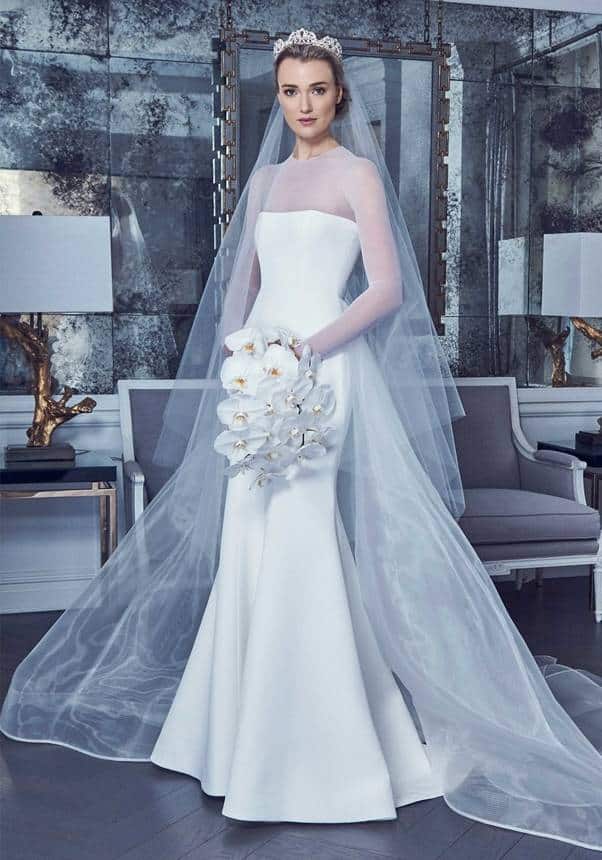 A high neckline can turn a wedding gown into a work of art. Many of those designed for 2019 are ornate, intricate, and make a huge statement, working together with the rest of the gown to create a remarkable piece. If a bride wants to be dressed head-to-toe in in beauty for her wedding, high necklines like the ones below are recommended.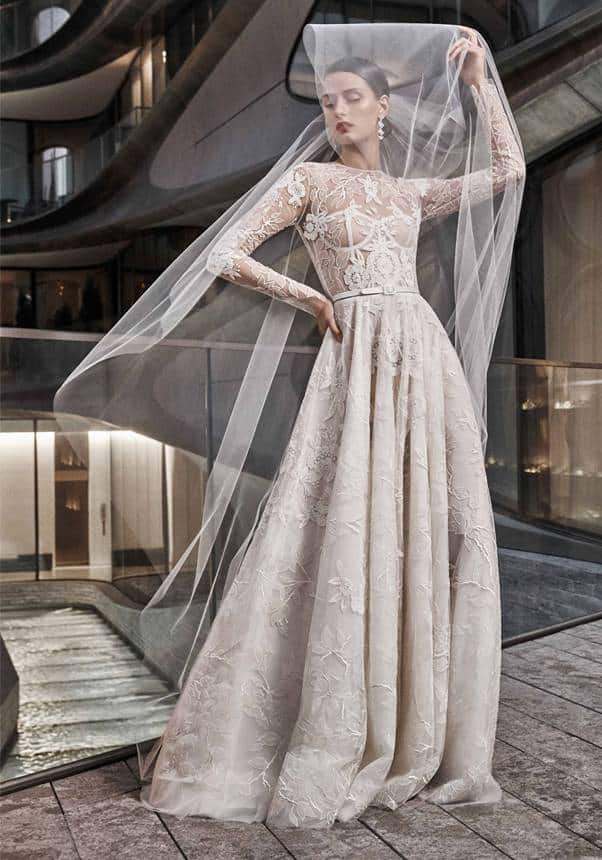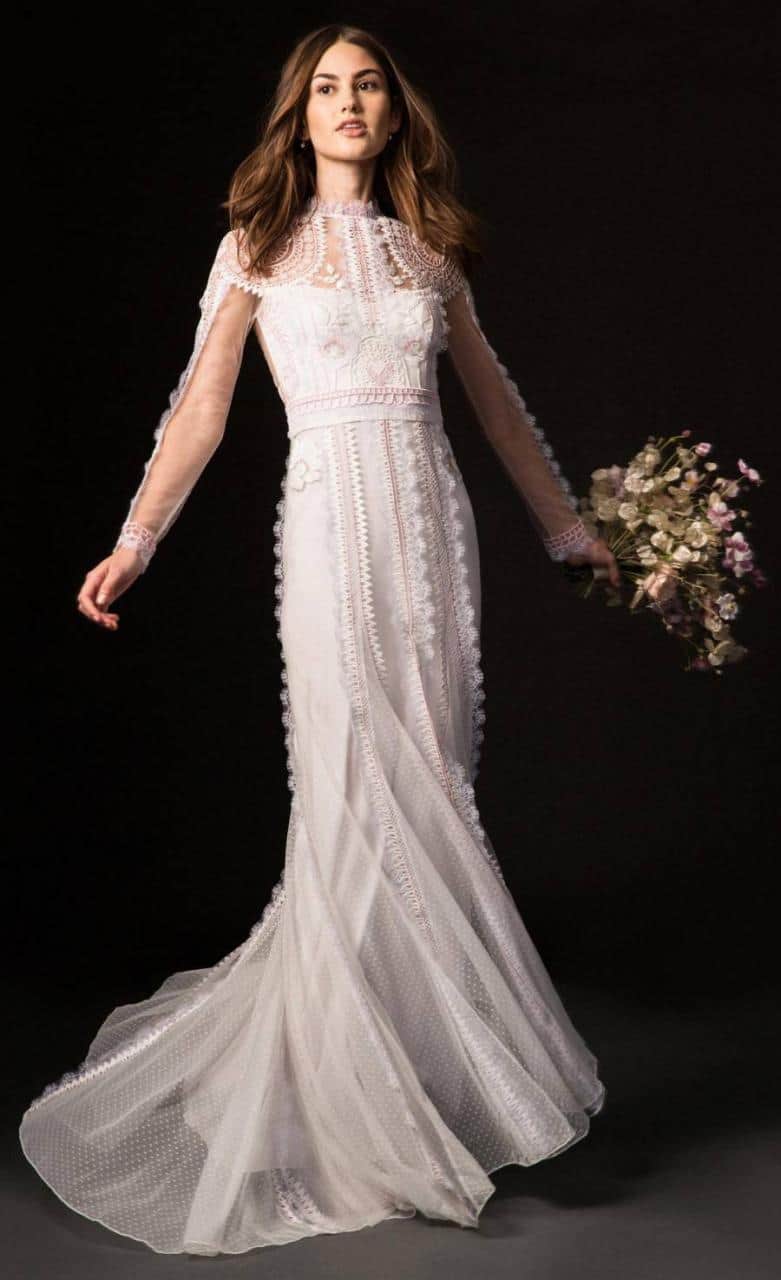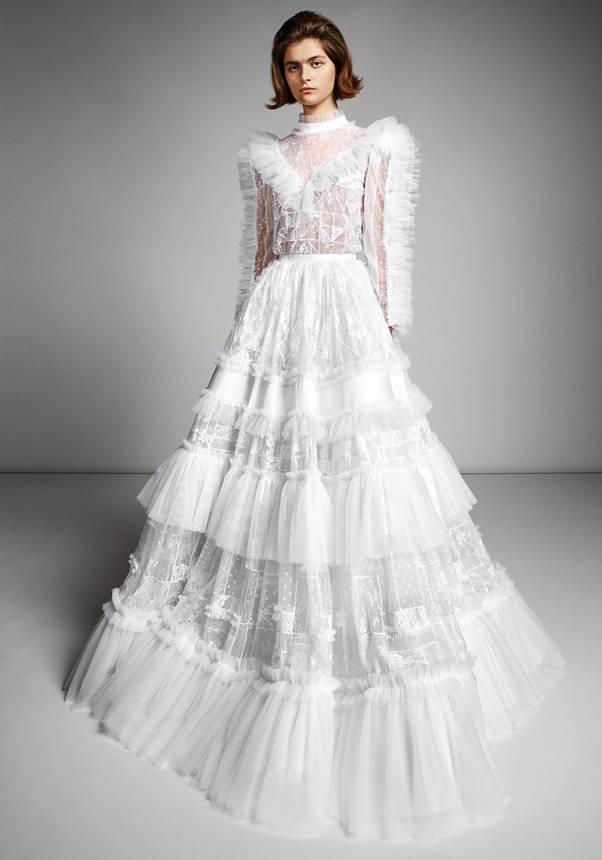 Another benefit to high necklines for bridal gowns is that they can be both very youthful and very sophisticated, offering plenty of choices for brides of all ages. Compare these girlish styles…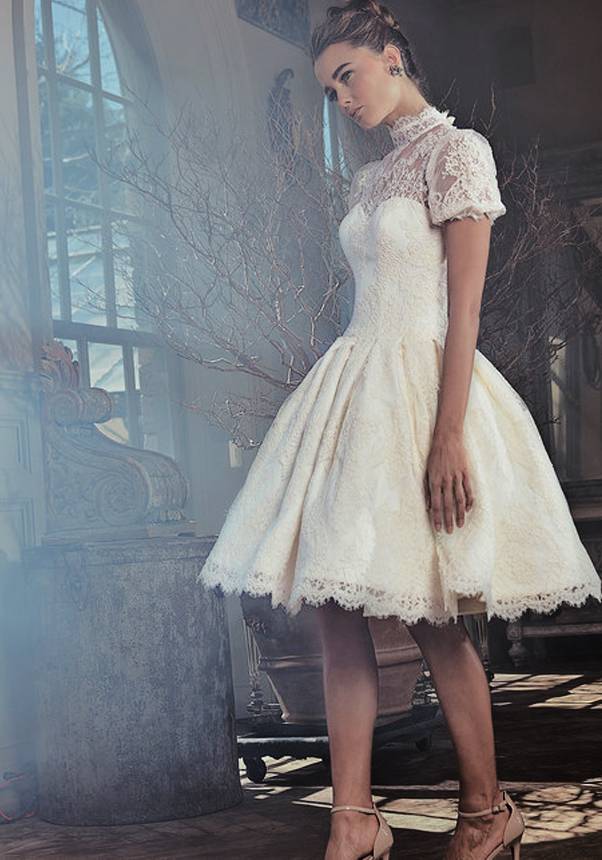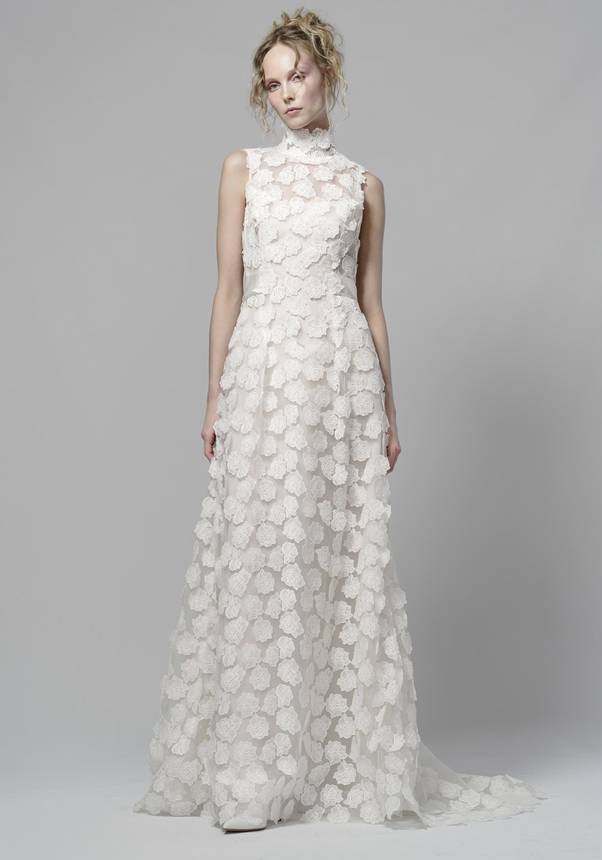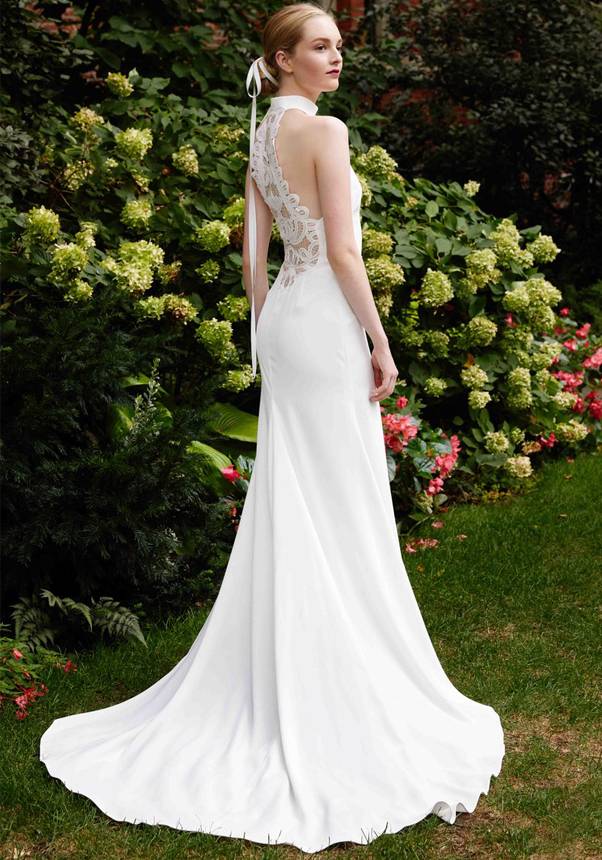 …with the more mature, timeless elegance of the gowns below. Clearly high necklines know no age, and work flawlessly for brides of all points of life.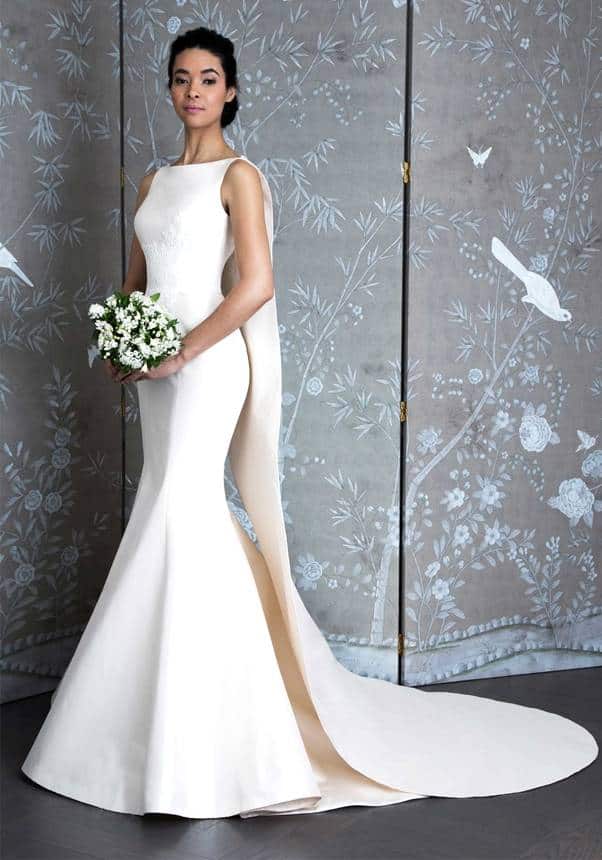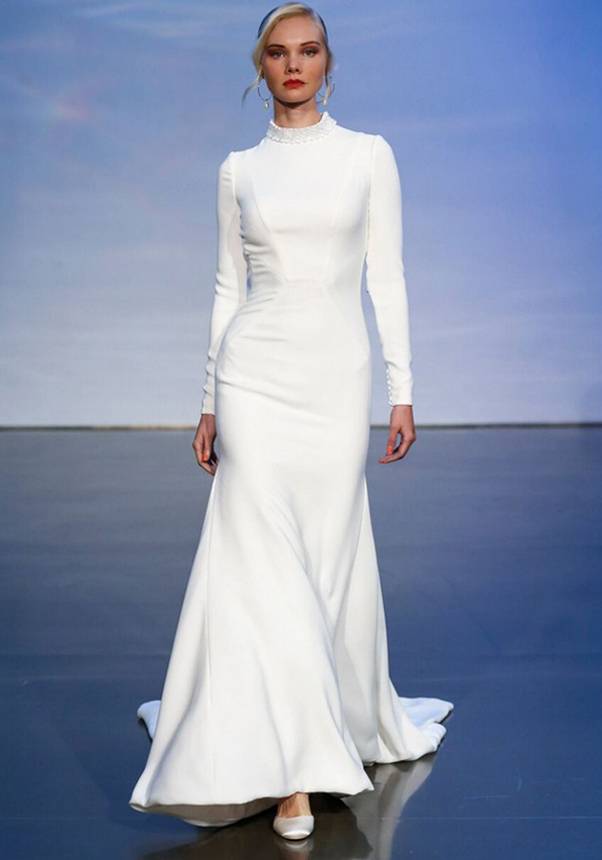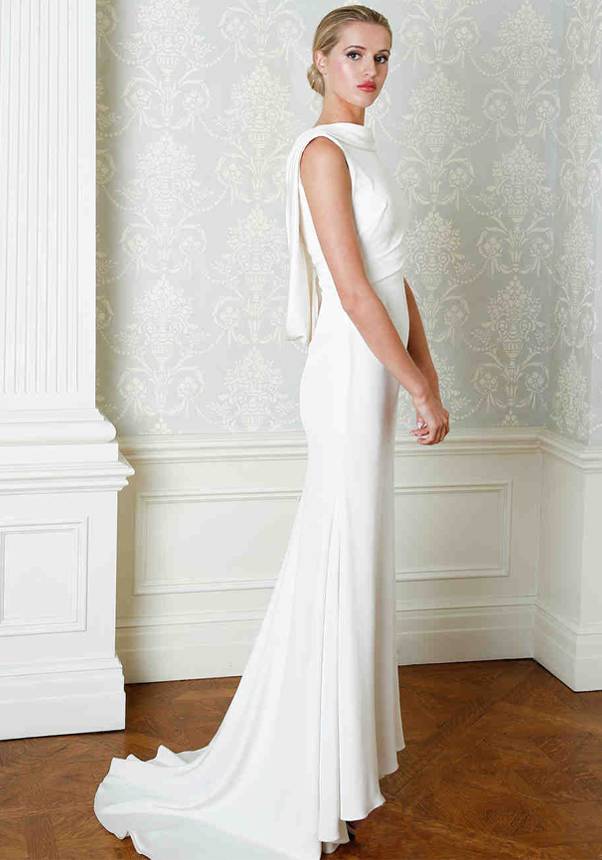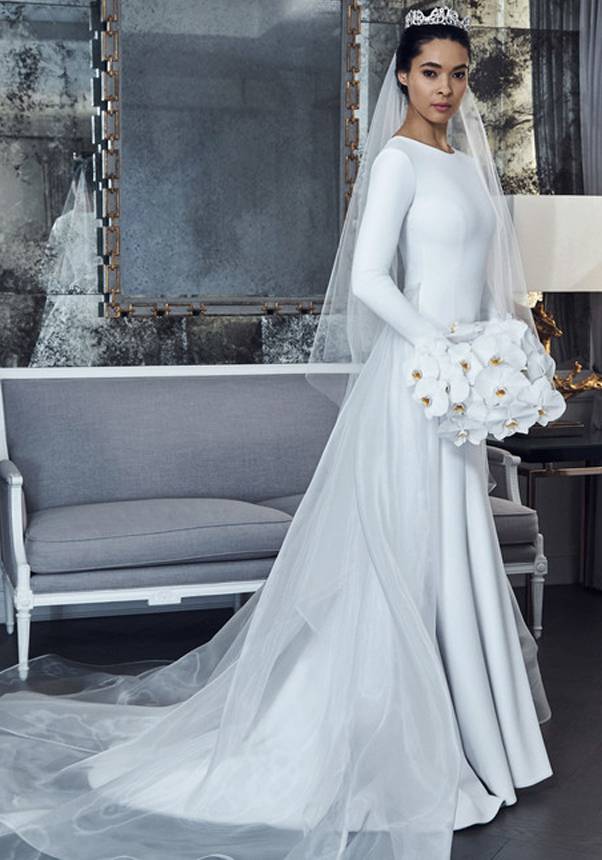 Of course, we can't talk about 2019 bridal trends without mentioning the Meghan Markle craze. Bridal designers have taken hold of the concept of Duchess of Sussex's sleek Givenchy wedding gown and utilized it for their own collections.
One of the main features of Meghan's simple gown was, indeed, its high neckline—thereby it earns a place here. These are just two examples of gowns inspired by Meghan's (by Savannah Miller and Kaviar Gauche, respectively), but similar dresses have been everywhere at fashion shows. It should be noted that Meghan's reception dress was also high-necked.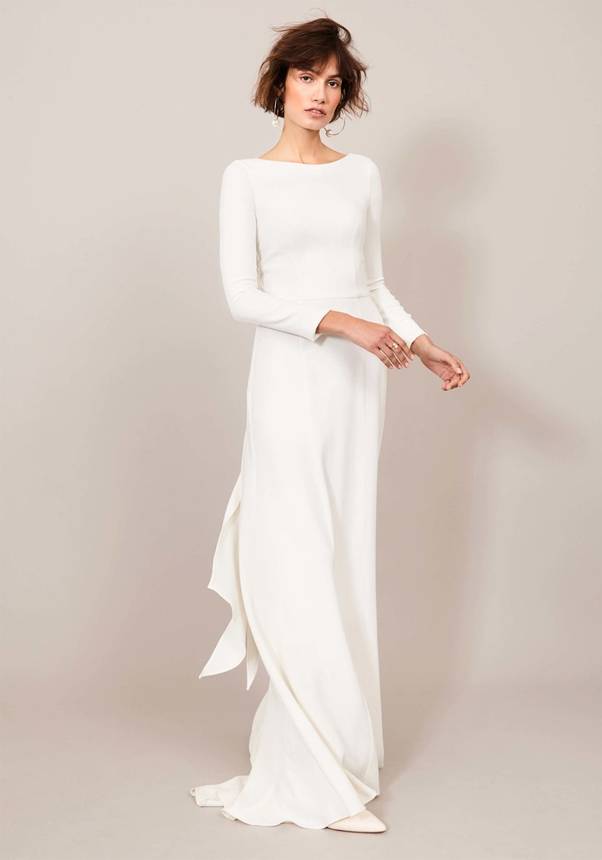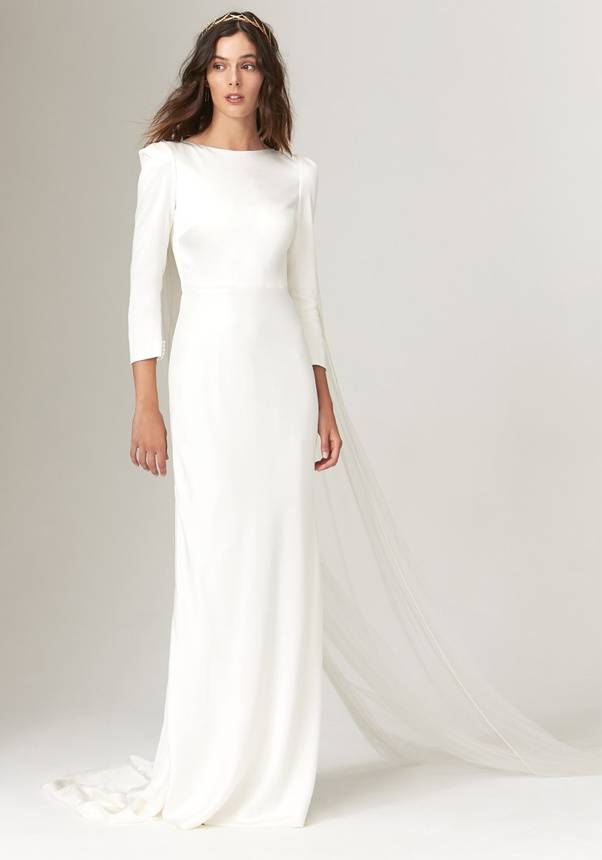 Besides Meghan Markle Mania, another big trend for wedding gowns seen on the runway for 2019 is big, romantic sleeves. Designers have truly embraced this, and dreamy sleeves have been spotted across fashion shows of all kinds. They flow, they billow, they flutter—and high necklines play very nice with these sleeves, accentuating their beauty and making them feel even more elegant.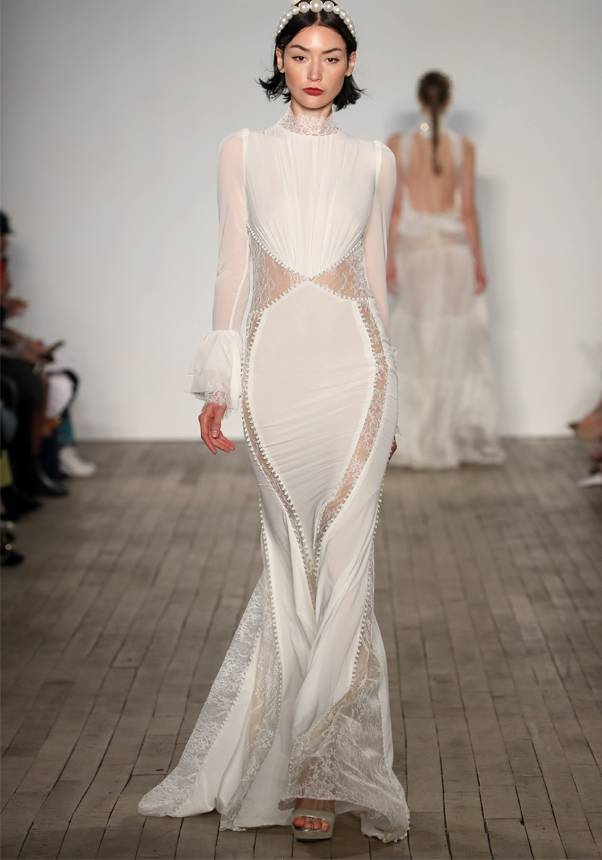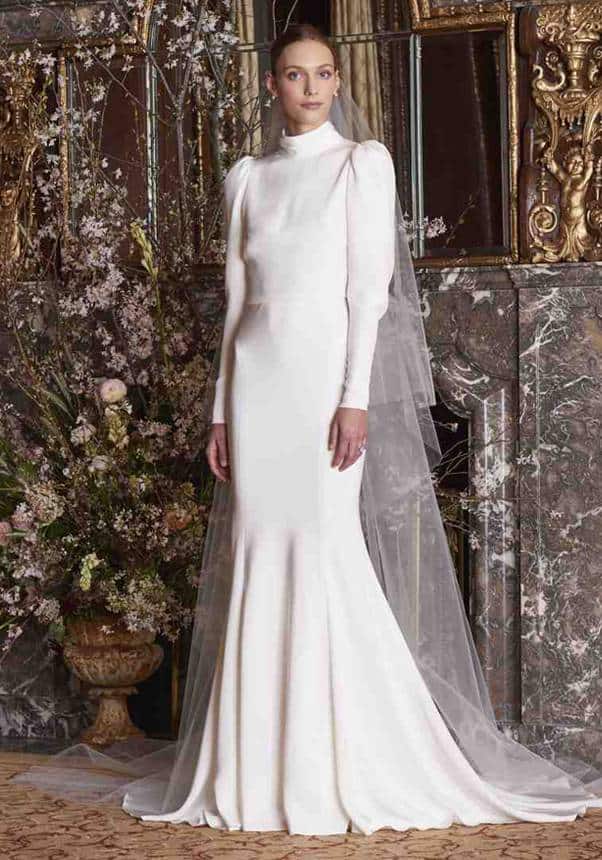 And what else do high necklines go perfectly hand-in-hand with? Lace, but of course. If a bride wants an ultra-romantic look, a high neckline and lace are definitely an ideal option. And as you can see from the dresses below, high necklines and lace can be both extremely formal, or a little more casual. Both styles are stunning.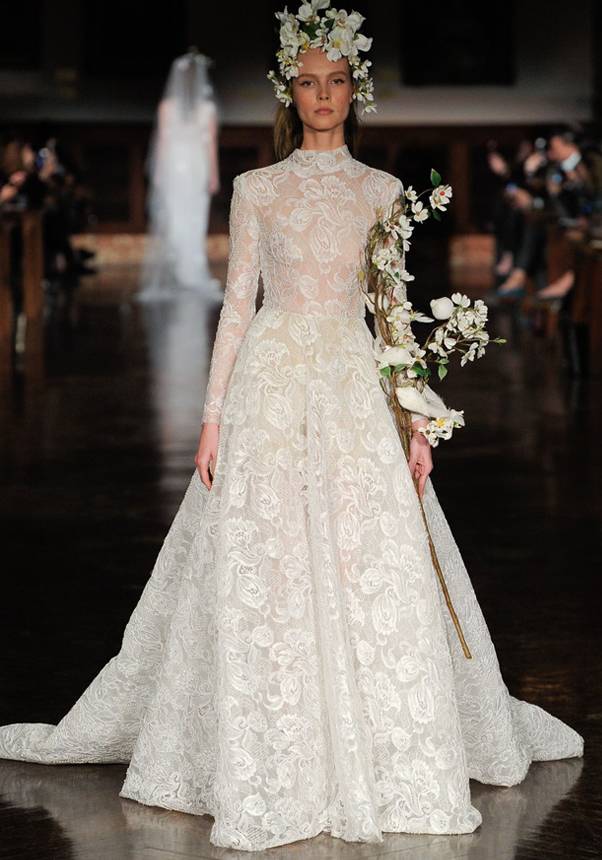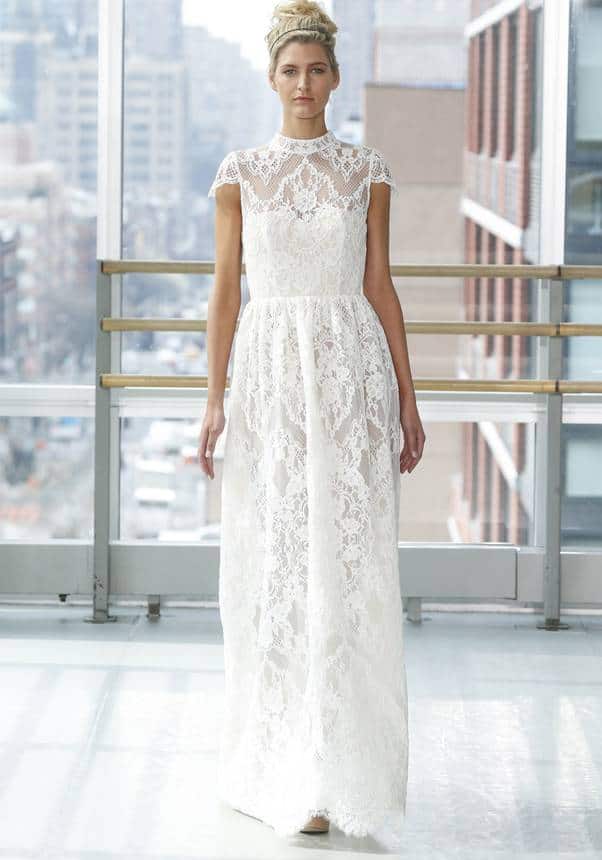 High necklines also make a fantastic opportunity to show off other unique details of a wedding dress. Good examples are below, in these designs from Viktor & Rolf and Reem Acra. Added touches such as floral or jewel embellishments or capes most definitely stand out more when complimented by a high neckline.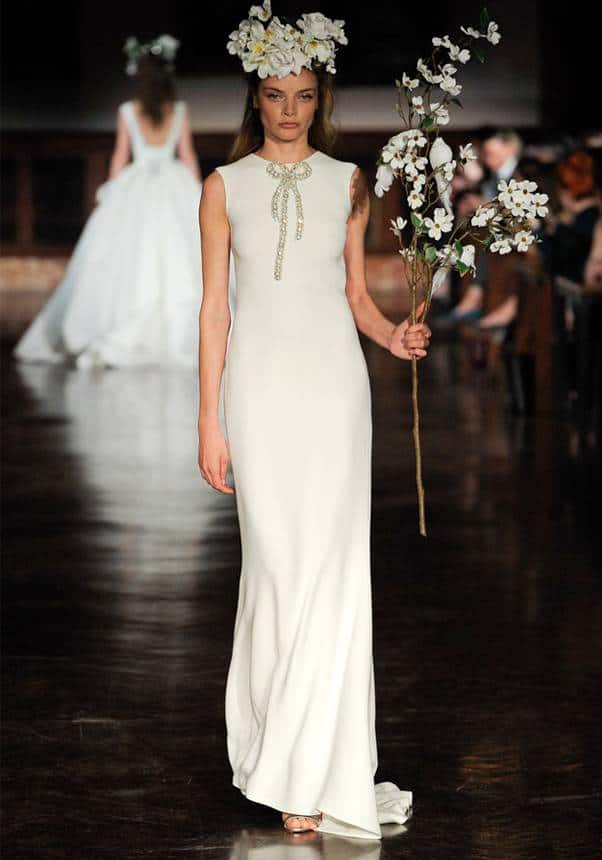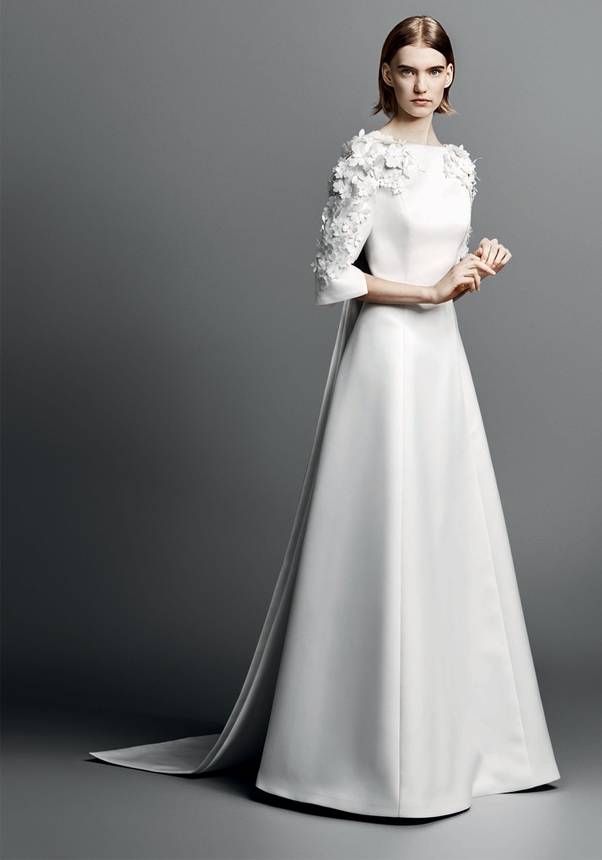 If you're not sure if high collars flatter you, it's best to ask someone who you trust to be honest. Try on the high-necked dress in question, and ask your friend to tell you truthfully how you look.
Generally, high collars look the best on those with wide shoulders, longer necks, small to medium busts, and straight or hourglass mid-sections. However, if you don't have these features and you still have your heart set on an elegant high collar, try a few anyway. You may be surprised.
So, chin up! If you're a fashion-forward bride-to-be, consider a high neckline for your wedding day look. Not only is it one of the better trends for 2019, it's also flattering, timeless, and sensationally chic.