Guest Post: You're in good hands for the adventure of finding the perfect wedding dress, minus the stress, with Eco Gown Designer, Janay A of Janay A Eco Bridal.
With a plethora of options, how do you navigate the world of wedding dresses to find THE perfect one for your style and body?  Use this easy guide to find the dress that stays true to you!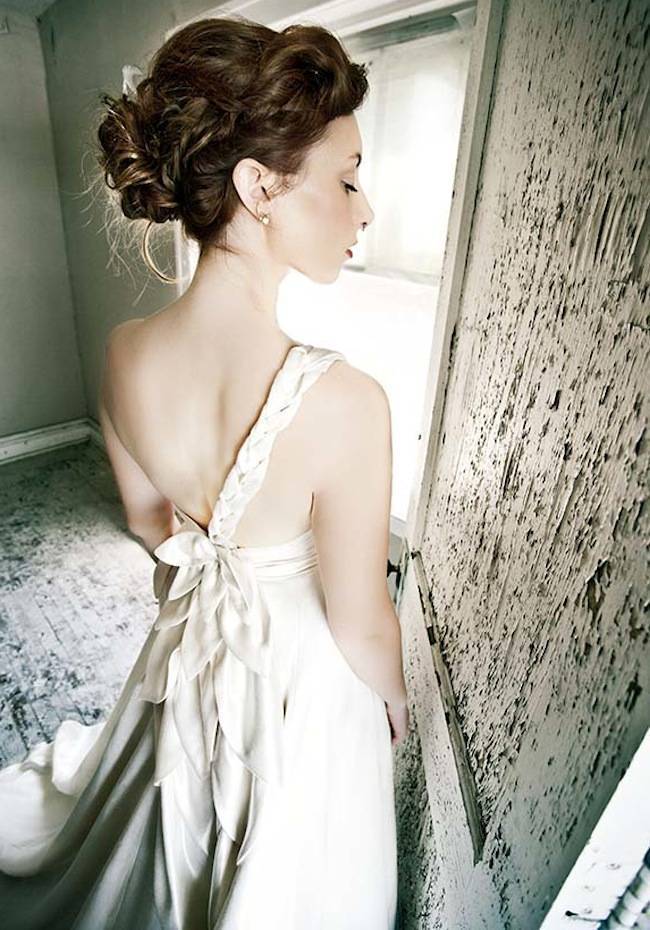 Aster gown, by Janay A Eco Bridal
Clarify: Define your aisle style.

Consider what will look best on you over what is the "now" trend

(80's puff sleeves, enough said).  If there is going to be a bold element on your gown, keep it away from the face and chest since that area will be the focal point of your photos. Try a different back or skirt detail if you want to add color or a big design element.


–

Budget: Before you waltz into that shop and fall in love with a $10,000 gown (read: epic heartbreak), be sure to nail down your budget. Remember that gowns at most stores will not include alterations and fees like steaming, storage, and taxes, but most offer payment plans. It is typical to pay ½ down for your gown and the remainder when it arrives.


–

Time It: Most dresses take 6 months to be made for you, so begin shopping 8-12 months before your wedding. Shop only when you are ready to find and buy within a week or two, since designers discontinue dresses every season, samples sell off the floor, and custom designers have a limited capacity per season. Finding the dress of your dreams and later discovering that it's no longer available (since you waited too long to pull the trigger) is the fast track to a bridezilla-worthy-roar.


–

Where to go: There are so many options beyond stuffy traditional stores! Consider vintage shops, wearing a re-designed family heirloom gown, shopping sample sales, a handmade gown from Etsy, or having your gown custom made. Be sure to make an appointment for the best service.  DON'T order a dress online that has a too-good-to-be-true price tag, the photos of the dresses are ripped off from the real designers and you may regret the nightmare-in-a-box that you receive.


–

Who to Bring: Hit the town, but don't shop with too big of a posse, pleasing everyone is not possible (or the point!). Limit your guests to 2-3 whose opinions you trust and who accept your taste and choices and who aren't guilt or anxiety-inducing.


–

Prep for It: When trying on wedding gowns, bring a strapless bra, hair tie, shoes of the approximate height that you will be wearing, and a shaping garment.  Most importantly, bring a smile on your face. Being nice goes a long way for having the best experience. You get what you give – capiche?


–

Shop for It: In most designer salons, you will be brought dresses to try on. Have an open mind about trying on because dresses look different on the hanger. Try different silhouettes, but don't hesitate to gently clarify your vision if needed.


–

Choose It: If you think you have found the one but are not sure, take some time to quiet your mind and visualize yourself walking down the aisle towards your partner. Everything should feel right and meant to be. If so, you've found your dress! Now that you've chosen your gown, you can solidify your other wedding plans around the mood of the gown.


–

Size It: Be sure to order the right size (ie: the size that you are NOW), and sizing in bridal gowns is wild, too, so don't freak about it. Your gown will be altered to fit closer to your wedding date, so don't let size changes hold you back from placing your order early… seamstresses can work magic taking dresses in but may not able to let some styles out.


–

Alter It: Get your gown altered and customized (2-4 months prior to your wedding date) by a highly recommended wedding gown specialist. Personalize your gown with a belt or statement accessory, dye the tulle petticoat a fun color… make it your own!
You're set.  Rock that aisle, girl!