Happy Wednesday, Violets. I've got something to bring you out of your midweek slump! I've introduced you to Night Owl Paper Goods before, and today I'm going to rave about them again because they continue to impress me with nature inspired, quality and innovative products – that are also eco-friendly. I recently discovered that in addition to Real Wood Wedding Invitations, they also offer Personalized Real Wood Holiday Cards!
That's right…totally eco-friendly, incredibly unique holiday cards that you can customize with a personal holiday message, photos or even a company logo. Not a photo person? No problem. They have many designs to choose from – including non-photo designs and even specialty shapes and Personalized Ornament Cards.
These designs aren't like anything else; they're vibrant, eye-catching and utterly adorable. In fact, each card is like a small gift! The creative minds at Night Owl infuse a modern, folksy spirit that guarantees your cards will be the shining stars in your friends' holiday card displays. Take a look for yourself.
You can choose from nearly 200 designs, and even 11 different backs to make your card totally one-of-a-kind. Back options include a selection of patterns, adding more photos, more text, or even adding a keepsake 2014 calendar! What better time than the holidays to give or to get a new calendar, right?
The most incredible thing about these cards is that they're all made from sustainably-harvested birch wood. Mmm, birch. My favorite tree! If you're looking for the perfect way to set yourself apart from all the other cards, nothing makes a statement like a card made from real wood! However, those folks at Night Owl Paper Goods have thought of everything. For those who are a bit more traditional or perhaps just watching their wallet, all of these cards are also available budget-friendly (yet still eco-friendly) luxurious, FSC-certified paper. Now that's lovely!
And speaking of service, unlike the "big guys," every one of Night Owl Paper Goods' proofs is created by hand by a professional designer! As soon as they receive your order, they create a digital proof and send it to you via email so they can get your feedback and make any requested adjustments to the design, text and/or photos prior to printing. In other words, they don't let an automated system determine the quality of your cards… Instead, they work together with you to make sure you're delighted with the result before a single card goes to print.
Night Owl Paper Goods is offering Sweet Violet Bride readers 20% off all personalized holiday card orders through October 31, 2013 with coupon code SHINE2013. And to make it even sweeter, they're also offering free domestic shipping on all orders $49+.
So why not go against the grain this year and send totally unique, personalized WOOD cards from Night Owl Paper Goods? We're owl about it! Pick your favorite design and get started now.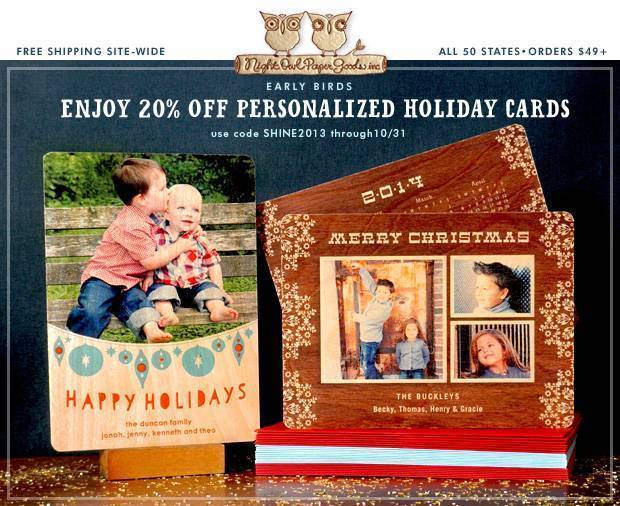 P.S. In the event that you already have your own holiday card design, they can even print it on wood for you! Learn more about this option in their Print Shop.