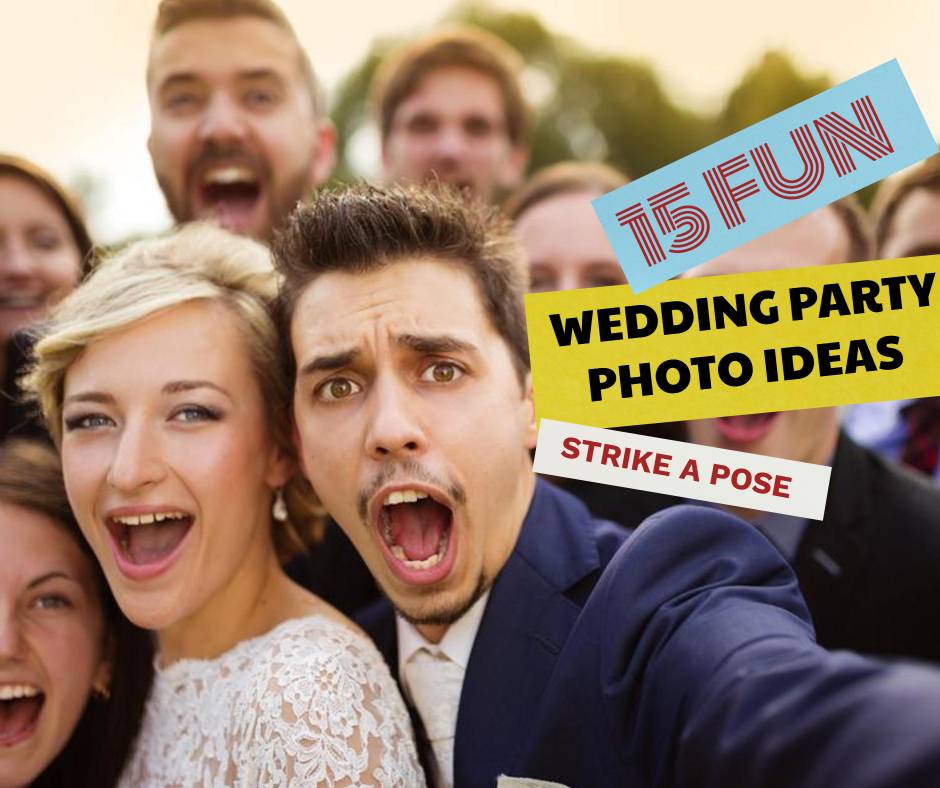 If the idea of standing neatly in a row at a slight angle with one hand on your hip makes you think of the endless snapshots your parents made you take before prom, then you might want to consider shaking things up in the wedding photo department.
There are so many things you can do to make those (sometimes dreadful) hours-long wedding shoots more bearable, from changing up your backdrop to striking a funny pose. Here are some of the best ideas for those who want to try something brand-new during their wedding photo shoot.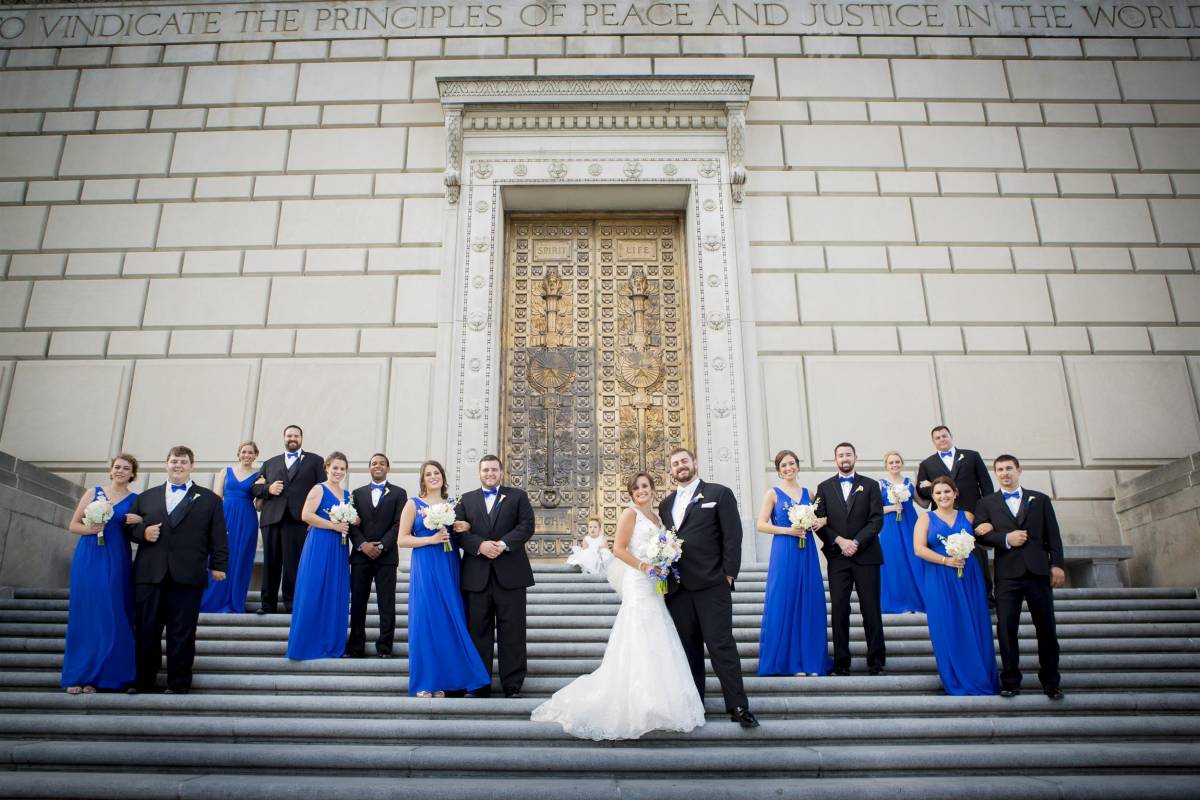 Voguing from Above: Drone Photos — If you're getting married at a particularly cool venue — such as on the beach, at a historic estate, in a sprawling cornfield or in the middle of an urban oasis — then you can't go wrong when you zoom out to the extreme with the help of a drone. Have your bridal party wave or stand in a cool formation to capture the effect from above.
Play with Props: Make Funny or Cute Signs — They say a picture is worth a thousand words, but you can make it worth a thousand-plus with some cute photo signs. Have your bridal party members hold chalkboards indicating their relationship to you — i.e., new sister, college roomie, etc. — or ask them to hold signs with funny phrases.
Get Up-Close and Personal: Detail Shots — In addition to their dresses and suits, the bridal crew probably put a whole lot of thought into their wedding day accessories and finishing touches, like elaborate, matching manicures, pretty pieces of jewelry, hidden temp tats or novelty socks. Whatever it is, make sure your photographer captures every little detail.
Pose with Pets: Invite Your Furry Family Members — Who says you can't have a best dog or a dog of honor? Even if your pup isn't an official member of the bridal party, let him make a few cameos in a matching outfit. Because nothing makes bridesmaids and groomsmen smile bigger (and more naturally) than a pet wearing a tuxedo or a bowtie.
Not the Straight-and-Narrow: Unique Positions — Of course, having your best girls and guys line up for one or two group pics is essential, but you don't always have to take the linear approach. Ask your photog to position you at different distances from the camera to create a unique, dimensional look.
All Dolled Up: Fun Getting Ready Photos — Bust out the champagne, don your bridesmaid robes and crack a smile! No wedding day shoot is complete without shots of all the girls getting dolled up, and you can make it extra fun with pics of your girls jumping on the bed, applying lip gloss and clinking mimosa glasses.
Add Texture to the Backdrop: Barns, Bricks and Beyond — Something as simple as adjusting the background of your photo can make a huge difference in the aesthetic and vibe it portrays. Play with fun backdrops, like barn wood, bricks, shrubs, drapery or even paper printed with a unique pattern.
Getting Active: Posed Activity Shots — Mixing up a cocktail in the dressing room, shooting hoops outside the venue, hitting golf balls in a tux, walking the dog in a wedding dress: There's something super cool about watching people dressed in formal attire do everyday activities, and it also makes great pics.
Gender–Benders: Undoing Stereotypes — It's your wedding and your rules! Playing with the typical gendered photos can be a fun way to add an unconventional feel to your wedding pics. Have the girls pick up the groom or ask the guys to hold the bouquets for a group pic. Don't forget to ask the guys to do the typical bridesmaid jump photo, too!
Get a Little Irreverent: Stop by the Bar — Rowdy bridal parties will definitely want to get a few snapshots of the group imbibing at the bar during or before the wedding. Have your ladies or gents line up at the bar and chug from a bottle or take a shot for a fun, irreverent snap.
Keep it Candid: Skip the Posy Pics — Noticing a trend? The biggest shift in wedding photography in the past few years has been a preference for fewer posed photos. Sure, you've got to have your requisite group pics, but it seems that everyone prefers the more candid wedding photos nowadays. Have your photog keep the shutter clicking even when you're not posed.
Totally Magical: Toss Some Confetti — Pop a confetti canon and have your photographer snap away! You can also have someone who's not in the shot throw confetti, glitter or fake snow to create that cool snow globe effect. Have all the guys and gals smile, blow a kiss or jump while the photographer snaps.
L-O-V-E: Spell Something Cute — You'd be surprised to find how many different words you can spell just from posing your arms in a certain way. L-O-V-E, I-D-O or O-H-I-O (for all you Buckeyes fans out there). Have your crew send a big message with some fun letter poses that play into your theme or sentiment.
But First: Let Me Take A (Professional) Selfie — In effect, selfies are the exact opposite of professionally staged wedding photos. They're messy, silly and off-the-cuff. But that's what makes them special! Have your photographer lend you the camera for a group selfie like no other.
Watch Them Gasp: Reaction Photos — One of the best parts about the wedding day is watching everyone react to seeing the bride in her gown. Have your photographer create "first looks" with your bridesmaids, groomsmen and even your parents and ask her to shoot their reactions.
The goal of any good wedding day shoot should be to capture the essence of the day, and that usually means a whole lot of love. Your photographer wants to immortalize the tenderness you feel with your new spouse, but also the special bond that exists between you and your closest friends. A little bit of planning will help bring that to life even more!