A wedding can be like a fairy tale, and for many women is one of the most important events of her life. For the groom there is a tugging desire to make it as special as possible for his bride. There is, however, greater awareness of the environment these days, and so the saying "spared no expense" might not be the best objective of a wedding anymore. Couples are finding great ways to express themselves in the form of eco-friendly weddings and this doesn't have to mean compromising on the festivities. For those concerned about the environment here are some fashionable, eco-friendly ideas that will help you have a wedding that will be memorable for more than one reason.
Jewelry that Every Bride Fantasizes About
Most women have many dreams about what their wedding will be like and exchanging rings is something that invariable makes people misty-eyed. It is one of those moments when time seemingly pauses. To make it even more special, memorable, and green, couples can opt for conflict-free diamonds set in recycled (eco-friendly) metal. Many people nowadays go for synthetic diamonds which need no mining but have been developed in laboratories. Synthetic diamonds and gemstones are becoming quite popular not only because they are much less expensive, but also help brides show their commitment to the environment and ethical practices. Such jewelry can be easily purchased through sites such as Angelic Diamonds, an online retailer of diamonds from all categories and price brackets.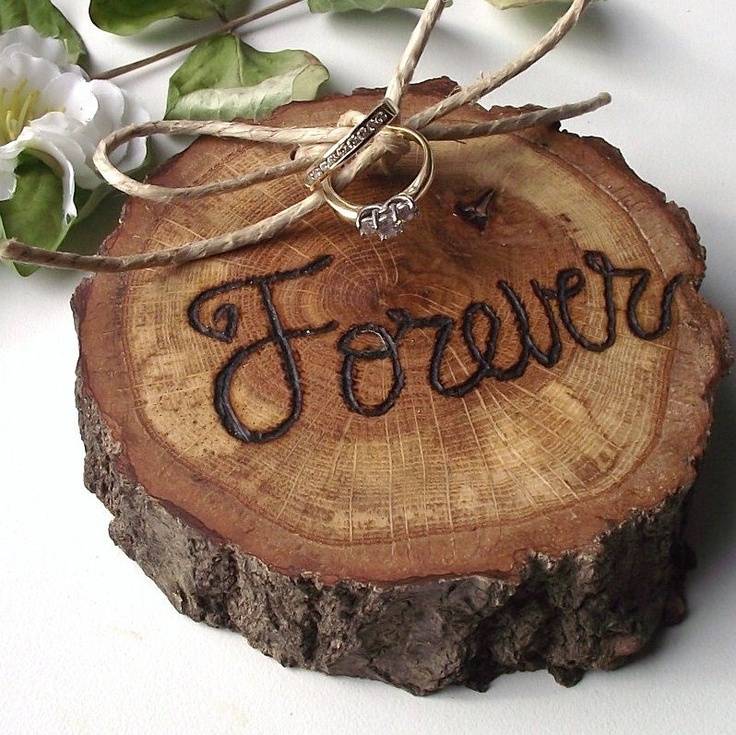 Ring Bearer Wood Slice by A Remark You Made
Eco-Friendly Wedding Invitations
Invitations speak volumes about you and show your friends the style of your upcoming event – whether you want a quiet backyard wedding or an expressive over-the-top soirée. By choosing to send wedding invitations in recycled paper you send a powerful and sensitive message that as a couple you think of the environment too. Another option is to send something that doubles as a useful object (i.e. the coaster save the dates below). Many people these days reduce the hoopla around wedding invitations and opt for paperless e-invites. When you send out eco-friendly cards, you set an example among your friends and family that (who knows) may just start a trend.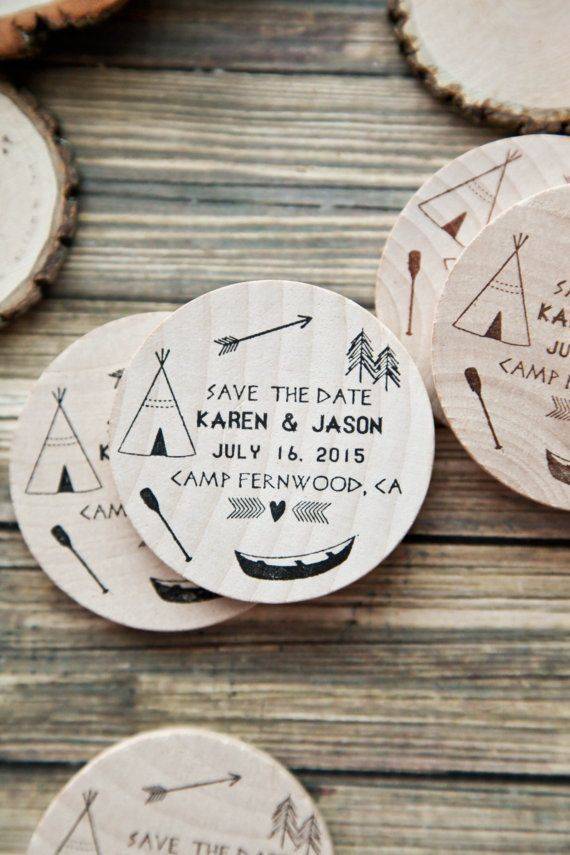 Coaster save the dates by Red Cloud Boutique
Choosing a Green Wedding Venue
A little forward thinking can do the environment a great favor. Scout for locations that need minimal décor, where the surroundings create a natural appeal. Open spaces such as parks, the beach, barns, or backyards could all be potential eco-friendly locations for weddings. Keep in mind the number of guests expected, whether or not you can get catering with locally grown and seasonal food, choose floral arrangements that include in-season blooms, and things like what kind of electrical hook-ups you might need for outdoor lighting. Solar powered lights are a great idea for pathways or gardens. With a little imagination you can zero in on a locale which will be a fit for the occasion and be green too.
The Eco-Wedding Dress
Which wedding has ever commenced without a nerve-racking hunt for the THE dress? For the eco-conscious bride, the dress could be crafted with natural fabrics that have been procured through sustainable efforts that are preferably Fairtrade (i.e. don't trust those sites that offer replicas of designer gowns for less than it costs to pay your phone bill). Organic cotton and silk blends are great options that are delicate while also adding to the beauty of the dress. You will feel beautiful inside and out wearing a gown made in an ethical manner from eco-friendly fabrics.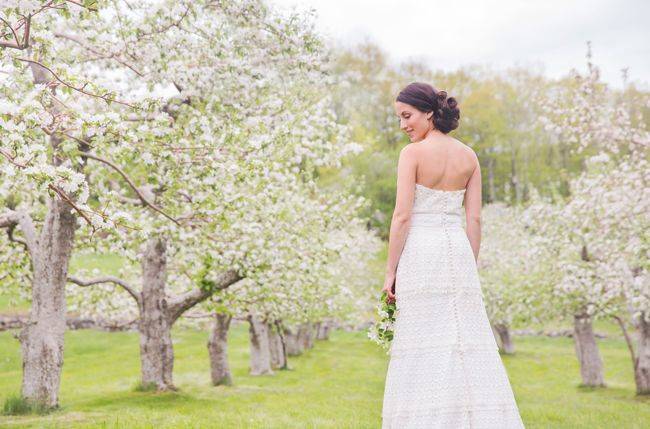 Michelle Girard Photography / Gown Designer: Celia Grace