If you have the opportunity to customize something, especially something as special as an engagement ring or wedding band, you'd prefer the option right? I thought so. Anjolee offers just that. They have an extensive collection of wedding and anniversary rings, earrings, bracelets, and necklaces.  Jewelry designs can be customized by any metal type, any carat size, any diamond or gemstone and size. You can customize your dream wedding ring easily on their site, and they also have a mobile app which you can download to customize your favorite designs.
Curious about Anjolee's process, I had a custom ring made so that I could check out the quality and experience for you guys. I wanted something for my right hand, and as you know I love purple. So had them make their Eight Prongs Solitaire Diamond Engagement Ring in a sterling silver replica with an amethyst stone instead of a diamond. I got a size 6.5 and it was true to size, beautifully made and came in a lovely wooden box which actually lights up when you open it! Proposal in the dark anyone!? I'm really enjoying my ring, and can happily recommend their designs.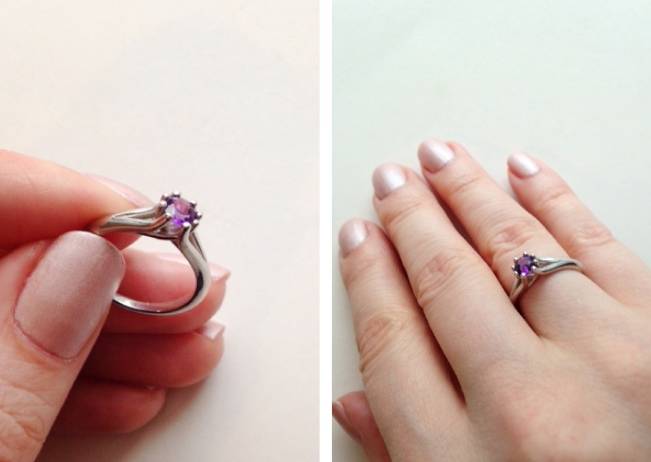 If you're looking for a bridal set ring, you can rest assured that you'll be getting a top quality diamond. Anjolee guarantees that all diamonds carried and sold from its inventory are natural, authentic, and genuine. Anjolee also conforms to the Kimberly act of 2003, so their diamonds are conflict free. On their site you'll find engagement rings with side stones, wedding and anniversary rings, diamond eternity rings, solitaire engagement rings, 3-stone engagement rings, and matching diamond bridal sets ranging from around $500 to $5,000. Their designs are classy and timeless. Here are a few more of my favorites.
Anjolee has been a fine jewelry manufacturer since 1977 and is based in San Diego, California. They are committed to keeping the environment clean and are proud of their innovative and eco-friendly manufacturing facility. They offer free shipping and a 30-day return policy.