Guest post by Gwen Lewis
Your bridesmaids have done all they can to make your perfect day as impeccable as when you described it as a little girl. You likely all still remember lying on your bedroom floor in Disney Princess sleeping bags, discussing flowers and dress styles. Now the day has come and they helped you make it out in one piece. Here's a list of creative gifts to help repay your bridesmaids for their eternal support and friendship.
Teacher Bag
I love this teacher's bag. This beautiful bag is a great and practical way to show them you appreciate them! They will for sure use it all the time! Check it out right here.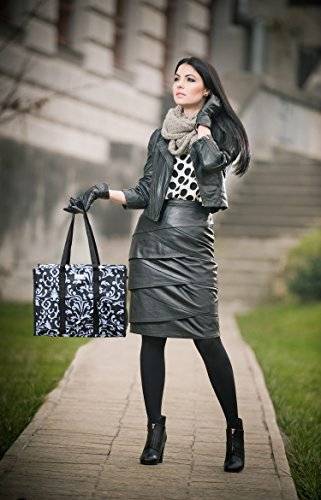 Natural Bar Soap
Nature is the best way to go in seeking bath soaps. Your bridesmaid may want to try something different depending on her tastes, like artisan made rose geranium bar soap. Natural beauty products have beautifully-aromatic scents and don't include some of the unhealthy ingredients mainstream soaps contain.
Sushi-making Kit
Some women love to cook, so why not give them something new to try? Otherwise, if she loves sushi, this will give her a chance to create her own. No more expensive California Rolls from the local grocery store. Throw in a bonus sushi-making cookbook and she can't go wrong.
Retro Video Game Console
If you know your gamer bridesmaid, you'll know she left her heart in old-school gaming and a certain console was one of the first experiences she had with video games. This would be a sentimental gift and can be interchanged for the bridesmaid's console of choice. Just pair it with a few of her favorite classic games. Older consoles aren't very expensive anymore and can cost about as much as a pair of jeans from Pacsun.
Certificate for a Facial
You think it's time for this bridesmaid to get primped and pampered and a facial is just the way to do it. She's always had beautiful skin and you know she loves skincare products, but this will give her a chance to let someone else do all of the work for a change.
A Photo Collage of You and Her
This may be one of the most sentimental gifts you can make, depending on your style. Across a cardboard frame, you can collage together pictures of you and this bridesmaid from many years past up until recently. It's a visual representation of your friendship and it's a guarantee she'll cherish it forever.
A Homemade Picture Frame
If collaging isn't your thing, it's very easy to make a picture frame that is just as gushy. One idea is to take items from your friendship that link to special moments and glue them to the frame. This could be a movie ticket stub, a button, a keychain, or anything that has sentimental value to both you and your bridesmaid.
Tickets to Her Favorite Broadway Show
You've noticed your bridesmaid has been bogged down with work and family stuff and hasn't had time to do anything entertaining, even outside of your wedding. You realize the perfect gift is to get her something entertainment-related. If she's a Broadway gal, then tickets to her favorite show will make her squeal with glee. If she has kids, offer to babysit or find her a babysitter for when she goes out.
Burt's Bee's Gift Basket
There's nothing more elegantly natural than the Burt's Bee's brand. For that nature-loving bridesmaid, a Burt's Bees gift basket can contain things like lip balm, lotion, face wash, body butter and more! There's a product for every type of woman and pre-arranged gift sets by type of product, scent or function. Or look for more natural beauty product ideas at Sweet Violet Beauty.
DIY Accessories
These are a great gift idea because they can reflect a special bond or shared interest between you and that bridesmaid. Try something nature-inspired for a generally fun and highly personalizable gift! For ideas, try sites like Pinterest or My Bride Fairy.
A Cell Phone Cover
The cell phone cover is an important accessory. It encompasses not only the personality of the user, but it makes a statement for that user. Consider your bridesmaid's personality and choose wisely. This could be as imperative as the perfect handbag, depending on the bridesmaid.
With each gift the bride gives, a bridesmaid goes home with a piece of her heart. Each present has a meaning, a memory or an inside joke and should always carry the strong connotations of their friendship. Because this day is not just for the bride to remember, but also for her bridesmaids to never forget.
Gwen Lewis is a writer and makeup artist based in Southern California. In the past, she has written on beauty and health, but has begun branching out into writing about wedding and party planning–two things that have always been a passion of hers. In her free time, she enjoy shopping and pick-up soccer games with her friends.