The natural beauty and southern charm of this wedding instantly swept me away! I'm in love with the stunning Ukrainian headpiece the bride's mother brought along with her custom design wedding gown from Russia. And that sunset! Polina and Robertas truly had the type of wedding dreams are made of. Litchfield Plantation, in Pawley's Island, South Carolina, was the perfect venue for this sweet couple as they loved the 240 year history, the dreamy landscape and the quietness of the rice fields. As Polina spoke very little English, Robertas shared her vision for her dream day with their wedding planner – romantic, soft, pretty, with shades of pink, cream, and gold. As luck would have it they found Russian photographer Pasha Belman in Myrtle Beach who would not only be able to communicate and understand their vision but created these amazing pictures.
From the Wedding Planner:
Only 10 guests were to be in attendance and all were from other countries. During our first meeting with the couple we chatted about which vendors would be a perfect fit. The minister, with a few short lessons online, was able to speak a part of the ceremony in their native language. This was a special surprise for their parents, who spoke very little English but were able to understand when their children said "I do!" It was very important for Polinas to have her bridal bouquet match a silk bouquet her Mother had made. Little did we know that when we created a bouquet filled with fragrant peonies and beautiful roses that it would perfectly match the Ukrainian headpiece her mother brought along with her custom design wedding gown from Russia.
We knew instantly that we would need to include lots of beautiful flowers, a gorgeous tablescape and lots of candles. With such a breathtaking venue, we knew that we could only enhance it. A tent frame was erected and then draped with sheer white fabric. Polinas' love of candlelight and lighting added to the ambiance. A round table with 10 chevre chairs was placed under a crystal chandelier. We added beautiful flowers in soft shades of pink and cream, pink and gold candleholders, birdcages and designer china and crystal. Menu cards were tucked into the linen napkins. On the front side the menu was listed in English and on the back side in Russian.
A dessert table was designed with both a traditional wedding cake and a traditional Ukrainian cake specially ordered for the occasion. Although the table featured a silver tea service, the couple provided a silver Russian samovar (tea urn). The family also provided a variety of Russian candies and cookies featuring Oreshki, a cookie baked in a walnut mold, filled with Dulce de leche and traditional wedding spice cookies. Many shouts of "Gorko, Gorko" were heard throughout the night signaling that the bride and groom must kiss! The couple ended the night by dancing to "Unforgettable," by Nat King Cole under a crystal chandelier hung in a 300 year old oak tree overlooking the rice marsh. Robertas translated for Polinas the feelings she was unable to verbalize in English. She said that the night had been magical and dreamlike with everything she imagined making the memories of the night "Unforgettable."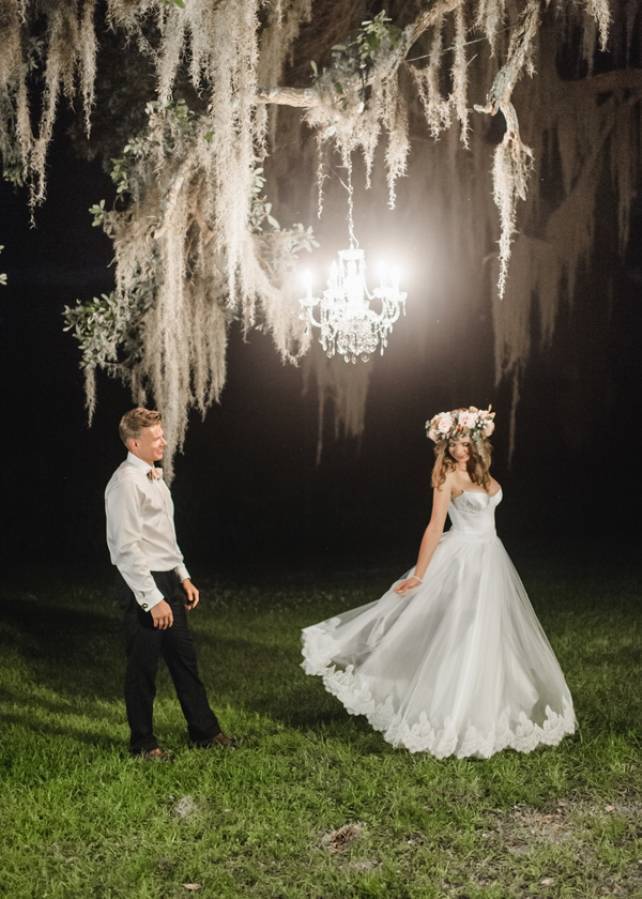 Photographer:  Pasha Belman Photography  / Hair Stylist: Ami Creations / Caterer: Creative Catering / Cake Designer: Croissants Bistro and Bakery / Event Planner: Gigi Noelle Events / Ceremony Location: Litchfield Plantation / Event Venue: Litchfield Plantation / Other: Pasha Belman Photography / DJ: Paul Matthews Entertainment / Cinema and Video: Reel Weddings / Submitted via Two Bright Lights