Shawna and Anthony are tying the knot in January and this summer they had an engagement shoot down the road from the Palmetto Riverside B&B, where they'll be married. Their first session got rained out, but on round two they had some seriously gorgeous light from a sunset at Emerson Point! It cast the perfect glow on their boho picnic themed shoot photographed by Ashlee Hamon Photography, Inc. They included items that represent some of their favorite things to do together, including a mancala board, books, iPod, wine, and Scrabble letters. They ended the day by lighting the night up with heart-shaped sparklers – a reference to their July 4th anniversary. Be sure to read more of their story below, including a scavenger hunt proposal!
From the Groom…
Before the Ring:
We met while I was bartending at The Hyatt Regency Sarasota. Shawna came to the pool bar with some friends and I noticed her right away. She came up to order her drinks and we hit it off almost immediately; making each other laugh and talking about how we knew all the same people but hadn't met until that moment. After she went back to join her group of friends I even remarked to my coworker "now THAT'S a girl I could see myself with." Through the next couple years, we kept in touch but the opportunity to date each other never really presented itself. When the time was right though, we casually met for drinks after work and never turned back. Five years later and it still feels brand new.
The Proposal:
I didn't want to do the cliché, "ring in the champagne" type of proposal. I realized that throughout our relationship, we had accumulated quite a few "regular" spots we frequented and decided that a little scavenger hunt would be a creative way to pop the question. I set up a series of clues around town, starting with the place we met: The Hyatt Regency where I worked; followed by the kissing statue near Marina Jacks where we always went to watch the fireworks on the 4th of July (our anniversary), Libby's (the restaurant we always go to for our anniversary), The Table (the restaurant we went to for valentine's day), and finally to Siesta Key (the only beach we ever go to in town and Shawna's favorite place in the whole world). Each clue was paired with a piece of a big love note I wrote her, and I had a photographer waiting at the final spot to capture the moment I got on one knee and asked Shawna to marry me. After she said yes, both of our families came out of hiding to surprise her after having been present to witness the whole proposal. I couldn't have done all this without Shawna's sister Kristyn, who helped to make sure that everything went off without a hitch! Shawna was definitely surprised! After some more photos were taken and Shawna was filled in on the depths we went to in order to keep the day a secret, we all met at our favorite spot, Libby's to celebrate together.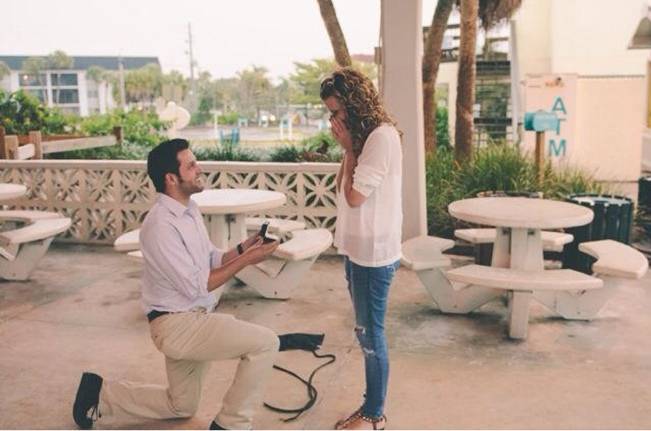 Photographer: Ashlee Hamon Photography, INC. / Props: Their own + Hobby Lobby (scrabble pieces), Home Goods and Marshall's / Sunflowers: Fresh Market