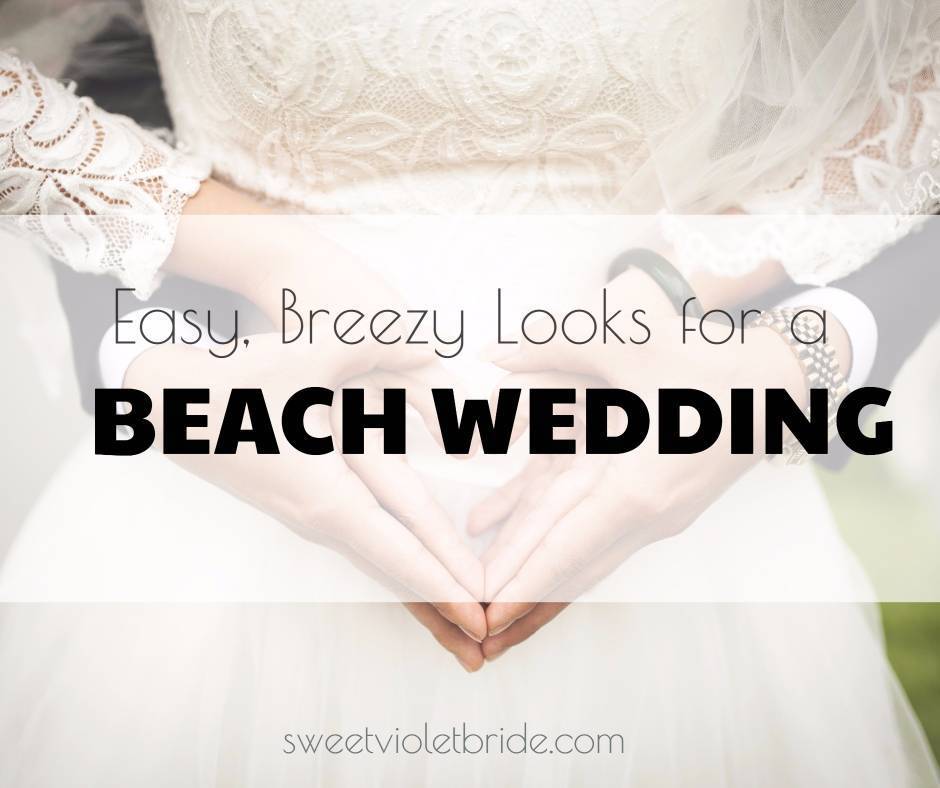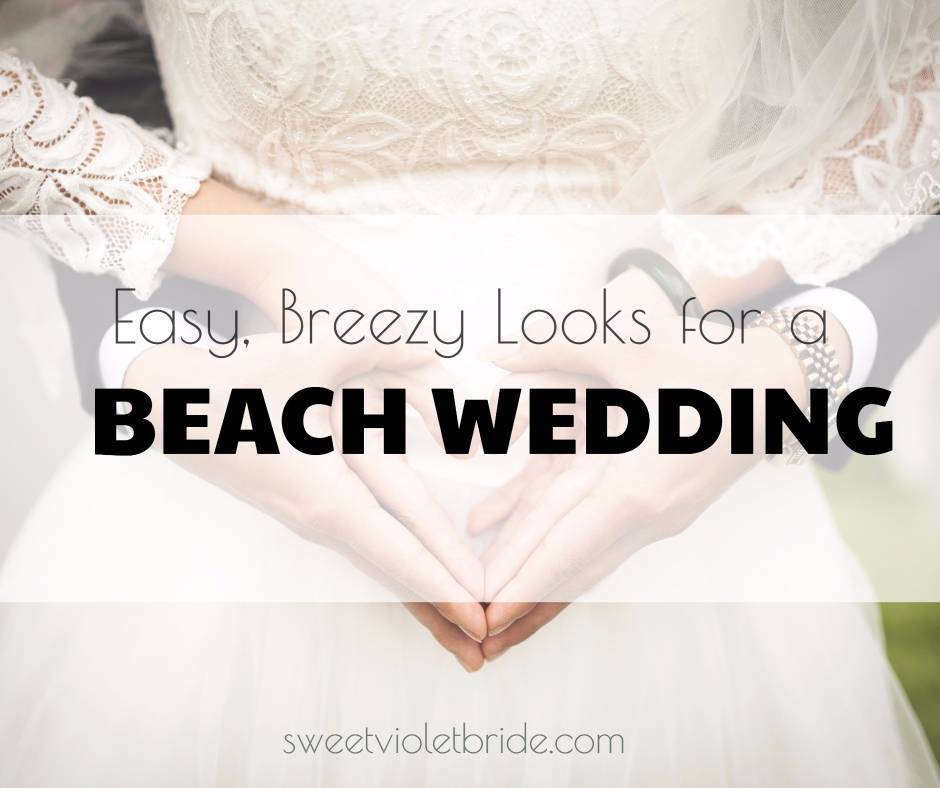 For many brides, there is no setting more romantic than the beach. The gentle sounds of the waves at your back, the refreshing salt breeze playing lightly with your hair, the soft, white sand beneath your feet, the soothing ocean smell mixing delicately with your bouquet — not to mention the undeniably gorgeous views of the ocean. Maybe you're interested in a destination wedding,  Florida or Cancun beach destination wedding have become quite popular in the past couple of years among young brides.
However, there are some limitations of a beach wedding; namely: your attire. Glitzy princess gowns don't often go with sand and surf, and neither do stiletto heels and caked-on makeup. You have to think carefully about how you'll look on your big day if you hope to say "I do" to a beach wedding.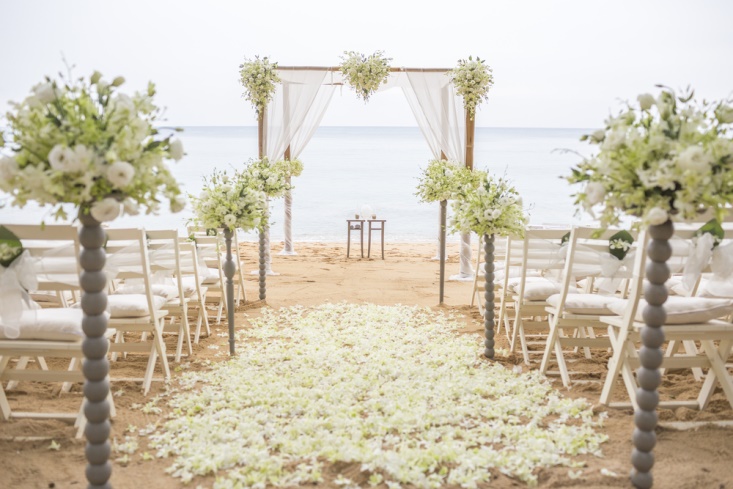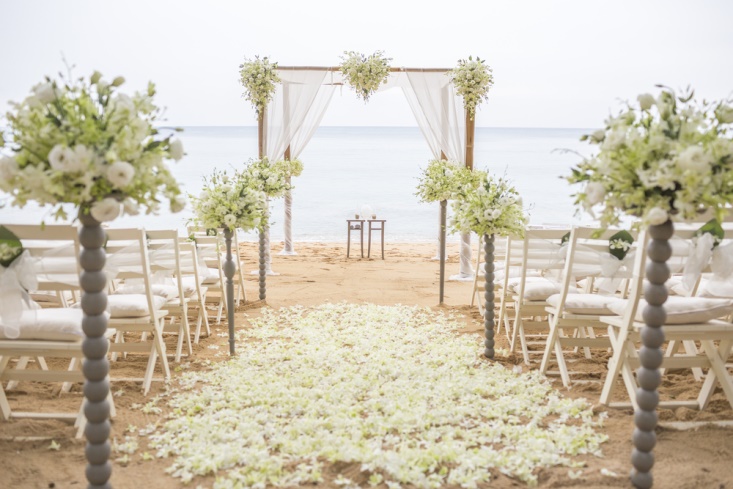 The Dress
Typically, the beach is warm, windy, and difficult to walk around, so it is imperative that you find a dress that is light, breathable, and comfortable. Often, this means you should say goodbye to any dreams about ball gowns with plenty of petticoats, which will cause you to sink into the sand and stick to your legs when the temperatures rise. You should also avoid a tight corset, which will make you sweat more and perhaps overheat and hyperventilate. Heavy satin fabrics are also a no-go as they look too fancy for the beach and trap in heat. Finally, the beach is not a good place for a long train, like a cathedral or a chapel train, since it will only accumulate sand as you stride down the aisle.
With all these don'ts, you might be wondering what you should look for in beach wedding dresses. The answer is: There is no one, true answer. Just as you are unlike any other bride, the perfect dress for your wedding will be totally unique. However, we can give you some smart shopping advice:
Lightweight, flowy fabrics are good. They will keep you cool and comfortable on the beach, and you will look utterly ethereal in photos and in person. Think: chiffon, tulle, and silk.
Slits, low cuts, billowing skirts, and lace are good. All of these elements keep air flowing around your body, keeping you cool. If you don't want that much skin showing, you can find a dress that covers cutouts with lace or mesh.
Puddle trains are good. If you absolutely must have a train, puddle trains look most natural and allow more movement than other styles.
The Shoes
High heels are a dangerous choice even for a garden wedding; surely you shouldn't even imagine walking around in typical heels on the beach. For one, you'll sink into the sand, making your trip up the aisle haltingly awkward; for another, they are bound to get grimy from mud and muck; and finally, heels are painful enough as they are, without the added agony of gritty sand between your toes.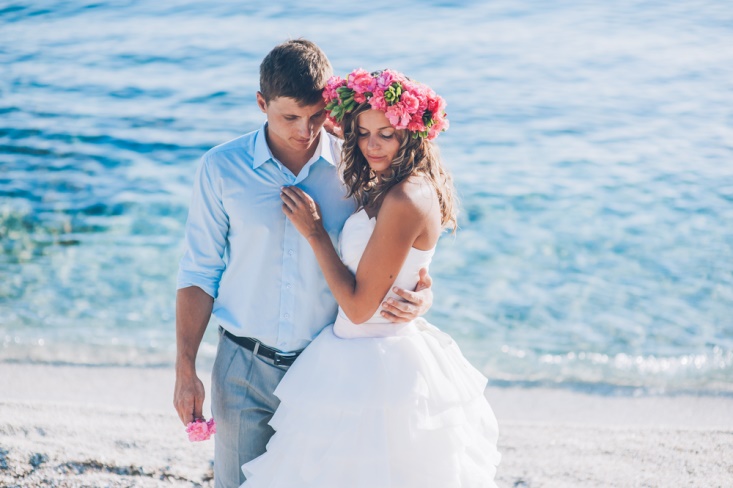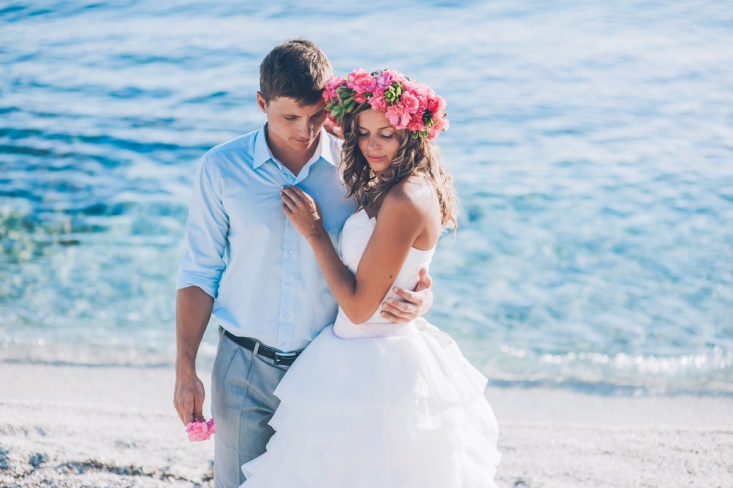 Flat-soled shoes are unequivocally the correct choice of footwear for a beach wedding. You can find gorgeous, formal-looking flats that match the style of your dress, and you can find beach-appropriate sandals with elegant embellishments, like jewels and pearls. You might even consider going barefoot. However, if you absolutely must have some height in your heels, you might be able to get away with wedges — but they should have a wide base to give you a strong foundation during your nuptials.
Other Accessories
Because coastal breezes tend to carry away anything and everything that isn't fully fastened, you should try to keep your bridal accessories to a minimum. That means veils should be short and well-secured to your hair — which in turn should be down and loose or else held with enough bobby pins to build another Eiffel Tower.
You should avoid wearing too much dangling jewelry, opting instead for studs in your ears and a bare neck. If the forecast is chilly, you might want to grab a lightweight shawl that complements your dress, but as with your other accessories, you should have a way to keep it from flying away while you exchange rings and perform other wedding duties.
The Makeup
No matter where you get married, your wedding makeup should probably tend toward the natural. On the beach, in daylight, you should be especially wary of unnatural colors and dark tones, which will make you look older and out of place. Instead, your goal should be to make you look like you, but radiant. That means going light on the foundation and contour but using enough bronzer and highlighter to make you shine. In general, the less you use, the better: You don't want your face to melt off before the reception, and loads of product will increase the likelihood of messiness. Besides, you want your love to recognize you, so you should be as fresh-faced as possible.