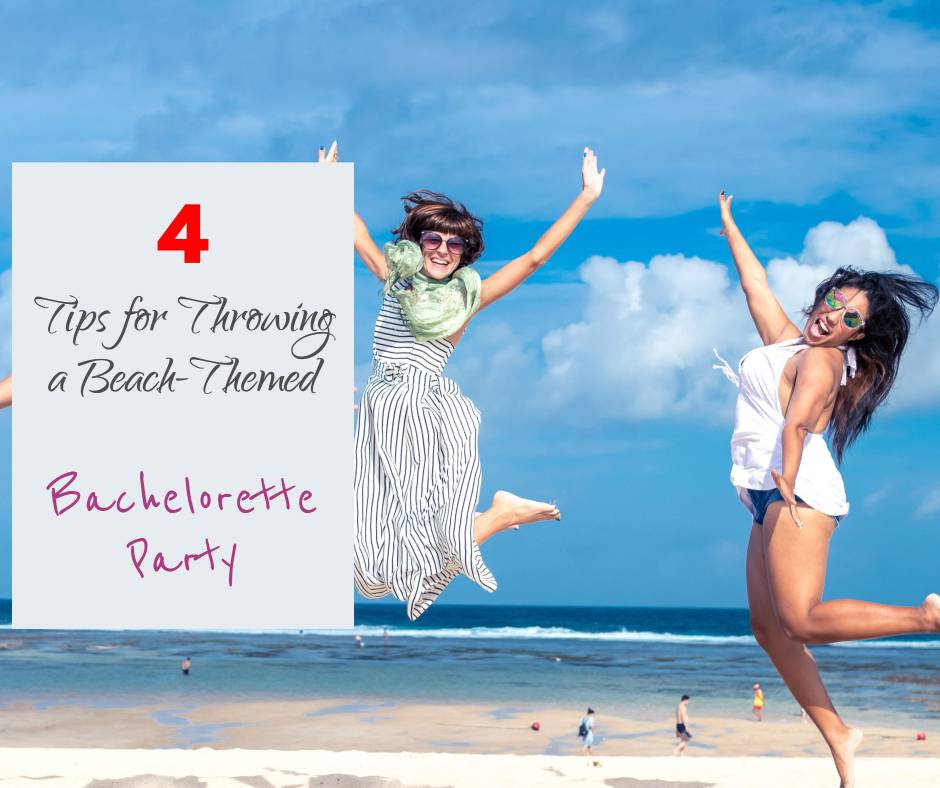 There's nothing quite like throwing an awesome bachelorette party on the beach. The sand, sun, and surf provide the perfect backdrop for any special occasion and, once the tropical drinks start flowing, it's easy to get your party on. Whether you are planning an intimate beach party for the bride-to-be and her pals or you're trying to put on the party that everyone will talk about for years to come, the beach is the perfect setting for any bachelorette party.
If you want your party to be amazing for all the right reasons, though, a bit of careful planning is required. After all, you want the guest of honor (and everyone else!) to remember the party because it was so amazing—not because it was a total disaster. Here are a few tips for throwing a beach-themed bachelorette party that any beach babe will love.
Choose the Right Location
First things first. Before you can start working out all the details, you need to know where the party will be taking place. Figure out whether you want to host the bash close to home or travel to a location. If you happen to live near a beach, hosting the party nearby will save everyone some money and allow you to have a great time without needing to worry about things like flights.
If you plan on heading out of town, start planning as early as possible. This will ensure that all attendees have time to book flights, get passports, plan for childcare while they are away, etc. When you're looking at potential destinations, be mindful of other things that may be going on at the same time. If you're wanting a relaxing beach vacay, for example, you will probably want to avoid traveling to a tropical vacation hot spot during spring break season. It never hurts to call around to a few resorts to find out when would be the best time to travel.
Figure Out Food and Drinks
No bachelorette party is complete without a menu of yummy foods and mouth-watering drinks. Talk to the bride-to-be to find out her idea of a perfect meal. She may want a five-star gourmet meal, or she may just want to grab a pizza. Figure out the menu and make arrangements with caterers as needed. If you are doing something simple like a beach cookout, figure out who is paying for the food and making the arrangements. If you plan on dining at a beachfront restaurant, make reservations or, at the very least, call to make sure the restaurant can accommodate your group.
The drinks are a big part of most bachelorette parties, too, so make sure you have a game plan. Bar hopping along the boardwalk is always a fun way to spend a night, but if you are planning on spending your time hanging on the beach, you'll need to have a more solid plan. Figure out if you will be bringing your own beverages or paying to have them delivered to you. If you choose to have your party at an all-inclusive beachside resort, of course, you and the rest of the wedding party can have drinks delivered to you by the resort staff. When it comes to keeping things simple, this is often the best option.
Come up with a game plan for who is paying for everything, who is responsible for what, etc. A bachelorette party on the beach can be expensive, so it's usually best to split the bill between a few people.
Plan Your Activities
Does the bride-to-be want to spend an entire day on the beach soaking up some rays, or would she rather go on a hike through a tropical rainforest? Or maybe some time at the spa is more her style? If you are heading to a local beach, you'll likely spend most of your time on the beach swimming, listening to the waves, and working on your tan. You may also want to consider planning a game of beach volleyball or coming up with some other fun oceanside games.
If you are heading to the beach for a long weekend, you'll probably need to have some more plans in mind. While you may spend the evening of the actual party dancing on the beach and downing fruity drinks, you will need some things to do during the day. Check out local shopping destinations and tourist attractions to figure out how to spend your time while you're away. Remember that the weekend is all about the bride-to-be and choose activities that she will love. Make sure she's happy and spoiled for the entire trip.
Make Amazing Goodie Bags
No beach bachelorette party would be complete without awesome goodie bags for all the attendees. Instead of going the traditional route, get each guest a monogrammed beach bag and fill it with beach essentials. A bag stuffed with sunglasses, a beach towel, sunscreen, lip balm, flip flops, and other necessities is the perfect gift to get everyone in the mood for an amazing party. Pick out some special customized gifts for the ladies in the bridal party, and everyone in attendance will feel valued and ready for the big day.
Conclusion
Planning a beach-themed bachelorette party doesn't have to be difficult. Keep the bride-to-be's interests and preferences in mind when making decisions, and you will be able to plan a day (or a weekend) that she will remember for years to come. Whether you are heading to a local beach or traveling to a tropical destination, the tips above will help you plan a party that everyone will enjoy.