As a nature-inspired wedding magazine, it's no surprise that we adore an outdoor wedding. What could be better than saying "I do" atop a mountain or on a beach? If you're one of those brides whose imagination wanders outside, rest assured there are numerous venue options, from forest clearings to your own backyard. Good news: with the popularity of knot-tying in nature, many vendors are more prepared than ever to provide the flowers, food, and equipment for your big day. Having organized our own outdoorsy weddings and receptions, we know it takes a lot of work and extra planning to make these events a success. Here are a few things we learned along the way. Hope they help!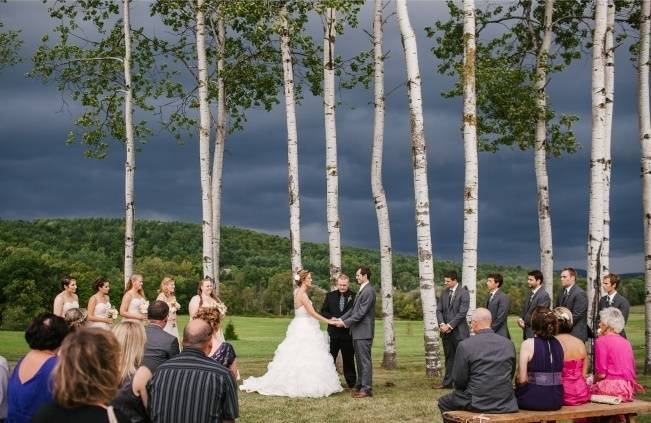 1. Prepare for weather
I was married in Vermont, where rapid barometric changes are the stuff of legend. Wherever the location, it's useful to consider what curveballs the elements might throw your way. If you're planning a destination wedding, the internet can give you a little weather background and timetables for tides, sunset, etc. Chance of rain? You'll likely want to have shelter available. Keep a pretty umbrella handy, and perhaps a stylish pair of wellies. You're likely to encounter wind wherever you get hitched, so be sure to secure table settings, décor, and of course – your hair, so nothing will blow away! Will it be cold? Have a jacket or wrap for yourself, and perhaps blankets or shawls and hot chocolate available for your guests. Will it be hot and sunny? Make sure your makeup is sweat-proof, and consider parasols, fans, sunglasses, or even sunscreen for yourself and your guests. Think about your menu and how weather could impact what you want to serve. (You may want to skip the ice cream cake if the temperature is going to be 90 degrees). Make sure you have good lighting in place so you'll be able to see when the sun goes down.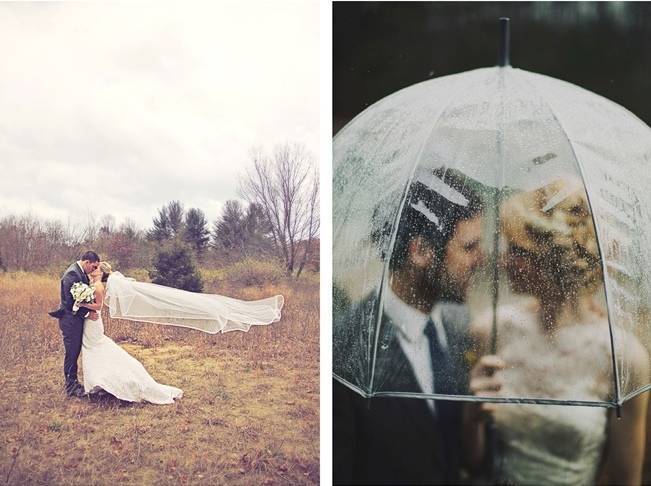 2. Have a back-up plan
We all swoon over photo shoots of seaside ceremonies and rustic tables set in flower-decked meadows, but the romance factor drops significantly if a storm has your guests running for shelter. Tents are most common for outdoor weddings, and there are endless options available, from classic canopy, frame, or century designs to giant yurts or even cool teepees. Not planning to rent a tent? If you're in a public park or garden, check the vicinity for structures like picnic shelters. If you'll be in the woods, look for a trailside hut (or build a really big fort!). Planning a small backyard affair? Keep the ceremony short and sweet, and be ready for the party to move indoors if inclement weather strikes.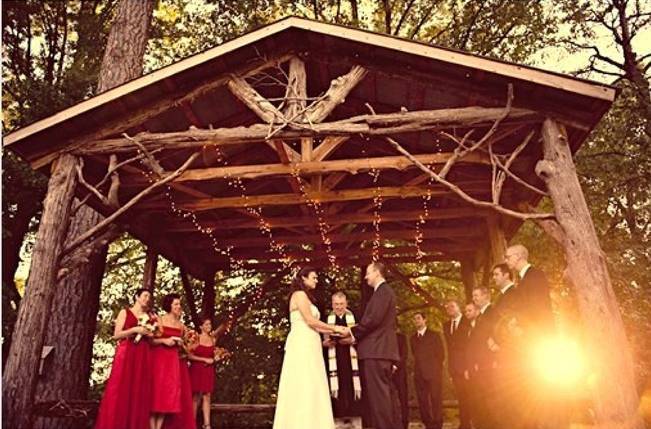 3. Keep guests in the loop
You have a beautiful venue picked out and you can't wait for your friends and family to see it. Now make sure they know what to expect when they show up for the big celebration. Use your invitations and/or wedding website to provide as much information as possible, from forecasts to suggested footwear. Give guests accessibility and facilities information, and of course, directions and transportation tips (will they need to hop on a ski lift or hike into camp?). Even your most spontaneous, good-humored guest will appreciate being prepared.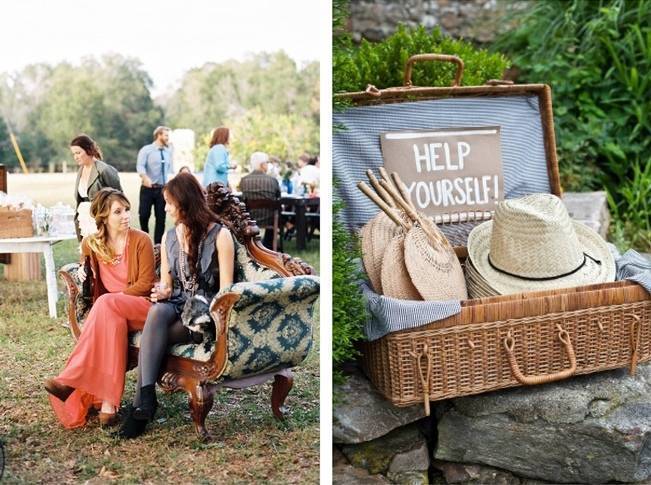 4. Choose the right venue (and check permits)
Is there a spot you've always fantasized about getting married? Don't rule out a venue just because it seems too quirky. Check with the appropriate municipality or organization to see if a wedding would be allowed on-site. Make sure you have proper permits for the location, and if you plan to serve alcohol, be sure you're in compliance with applicable regulations (you don't want your reception shut down because you didn't have the right license!).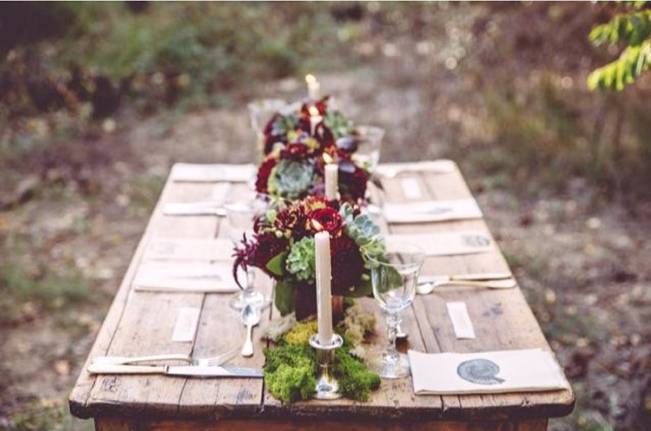 5. Consider ways to use ceremony items at the reception
This isn't strictly necessary, but it could be a useful money-saving idea if your ceremony and reception are in the same vicinity. For instance, you can enlist friends to move chairs from one site to the other. This might sound like a recipe for chaos, but I've seen this done a couple times and it has always been a smooth transition. Floral arrangements and décor can be transferred in a similar way. One bride hung mason jars of flowers on hooks along the aisle so they could be moved quickly to serve as centerpieces. Depending on your budget and how many helpers you have available, similar ideas could be handy.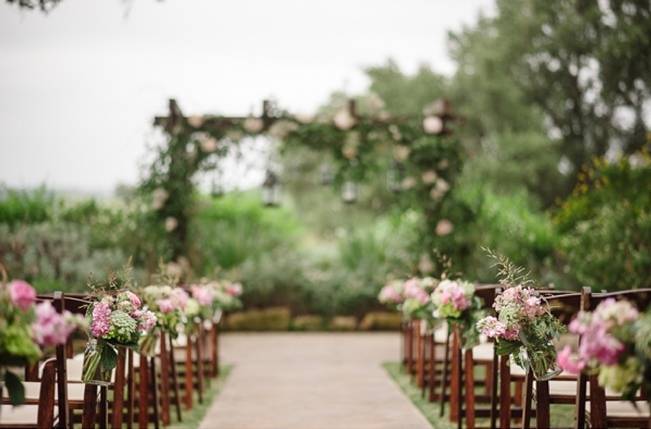 6. Be ready for song and dance
Mother Nature doesn't always provide the best acoustics, so you may want to consider a microphone and sound system if you're worried the wind might drown out those beautiful vows you wrote or the ipod cranking out your first dance. What about a dance floor? Some tent companies provide portable units that can be installed on the ground, or perhaps you and your friends would rather dance barefoot on grass or sand.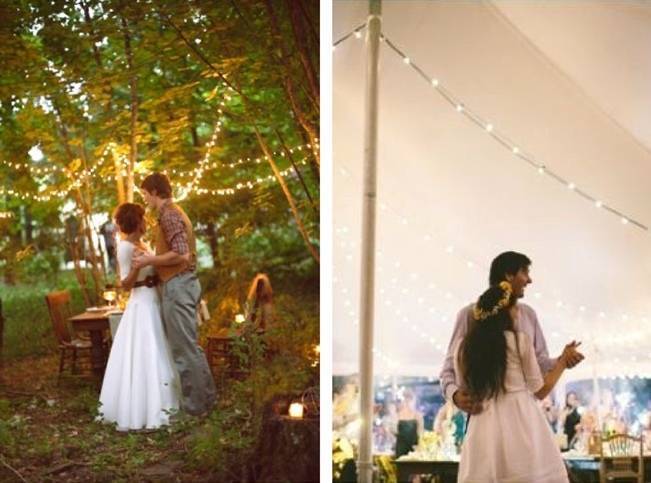 7. Pick and prep your vendors
While you're on the hunt for the perfect florist, caterer, cake-maker, and other vendors, be sure to choose people who have experience with outdoor events and who are excited about making sure your bouquet remains intact and that your food stays hot (or cold). Check for positive reviews online, and look at portfolios before signing any contracts.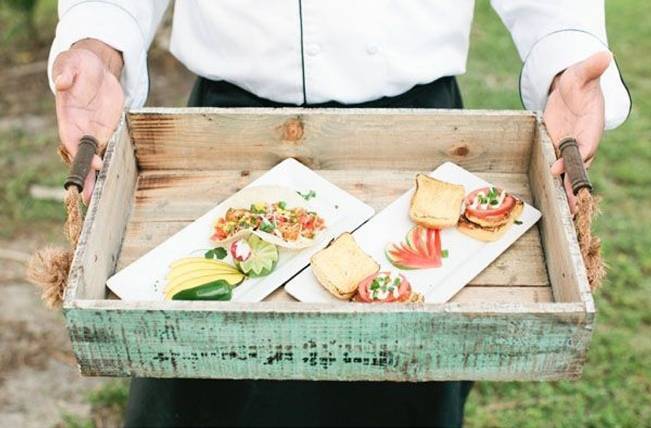 Pulling off an outdoor wedding comes with a few unique challenges, but with a little inspiration and some help from your friends, it's sure to be a beautiful (and memorable) celebration.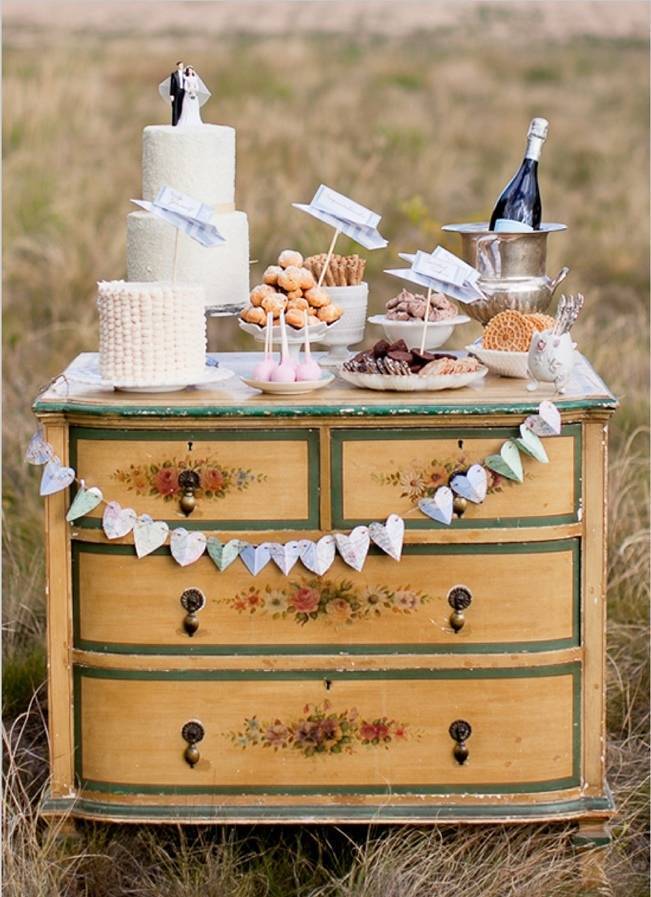 1) Christina Bernales Photography, DK Studio, Ariel Renae Photography 2) Carla Ten Eyck 3) Ryan Ray, Martha Stewart Weddings 4) Monsieur + Madame 5) Caroline + Ben 6) Rebecca Hollis, Katch Silva Photography 7) Chelsey Boatwright, Cat Mayer and Toast Events