For better or worse, the gown shopping experience has changed dramatically in recent years. The internet offers millions of dresses just a click away, and reality TV shows have changed brides' expectations and perceptions.
Despite all this, there's a good chance you'll set foot in a "mom-and-pop" bridal boutique in your quest for a wedding dress. There are numerous reasons to buy local. While corporate chains often stop you at the door with a desk-load of paperwork, independently owned bridal shops generally have a more relaxed atmosphere, with knowledgeable staff eager to help you start your search. Unlike reality shows where a sales associate chooses gowns from a back room, you'll get to browse the shop and try on the dresses you want. Smaller boutiques often know their designers personally (and how and where the gowns are made), making it easier to answer questions, customize, or troubleshoot if issues arise.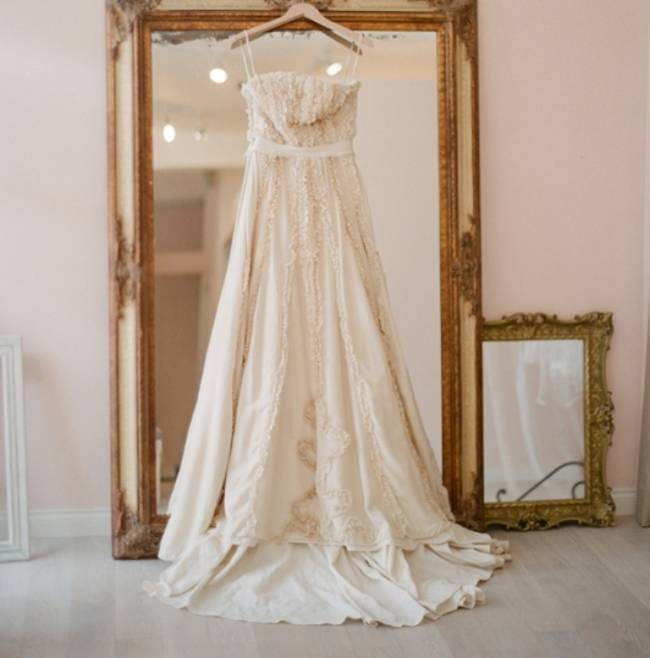 In my own wedding gown search, I visited a variety of places: national chains, local chains, and small boutiques, and had both good and bad experiences at each type of store. In general, though, I found the most welcoming environment and best-maintained gowns at the independent shops in my area. Ready to visit the boutique next door? Here are a few ways to make it a fun and worthwhile experience. 
1.      Call Ahead and Ask Questions.
It might seem obvious to make an appointment, but this quick phone call can also yield useful information for planning your visit. If you're on a budget, make sure they have dresses in your price range. If they offer mostly made-to-order gowns, how far in advance would you need to purchase? Find out the format and length of an appointment, and ask whether you will receive one-on-one attention. Is there anything you should bring (or leave at home) for your appointment? Some shops don't allow shoes until the gown is yours, and while most provide strapless bras, you might feel more comfortable bringing your own.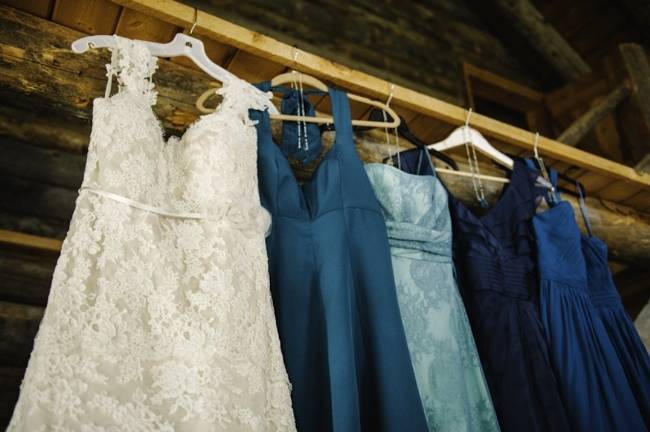 2.      Know Your Budget.
If you learn from your initial phone call that a shop is out of your price range, it might not be worth visiting. There's nothing more disheartening than falling in love with a dress you can't afford. Unlike TV shows where gown prices are negotiated like a car sale, most small boutiques use a pretty standard retail price and won't be interested (or able) to bargain. Ask about designer trunk shows and special events which often offer significant savings.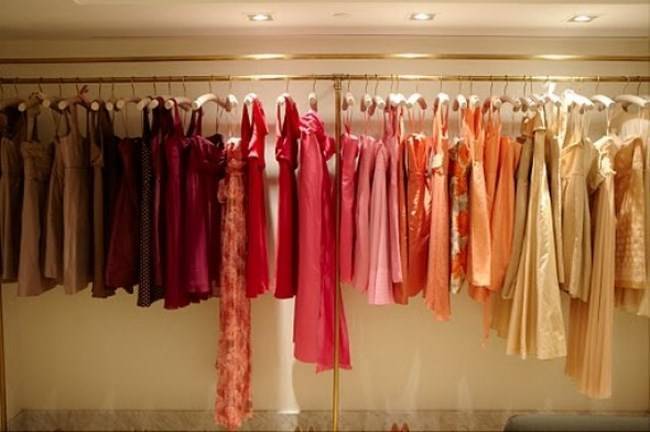 3.      Determine The Kind of Experience You Want.
Before you head to the store, take a moment to consider your shopping style. Is this an important part of the wedding process for you, or are you just ready to pick a gown and be done? Do you want one-on-one attention? How much attention? Some shops give you a brief tour and then leave you to explore, others require a sales associate to handle the dresses and to help you in and out of each gown. Would you simply want someone nearby in case you have a question, or do you want staff members who will guide you through the process and share expertise and opinions? Be sure to choose a shop where you'll feel comfortable.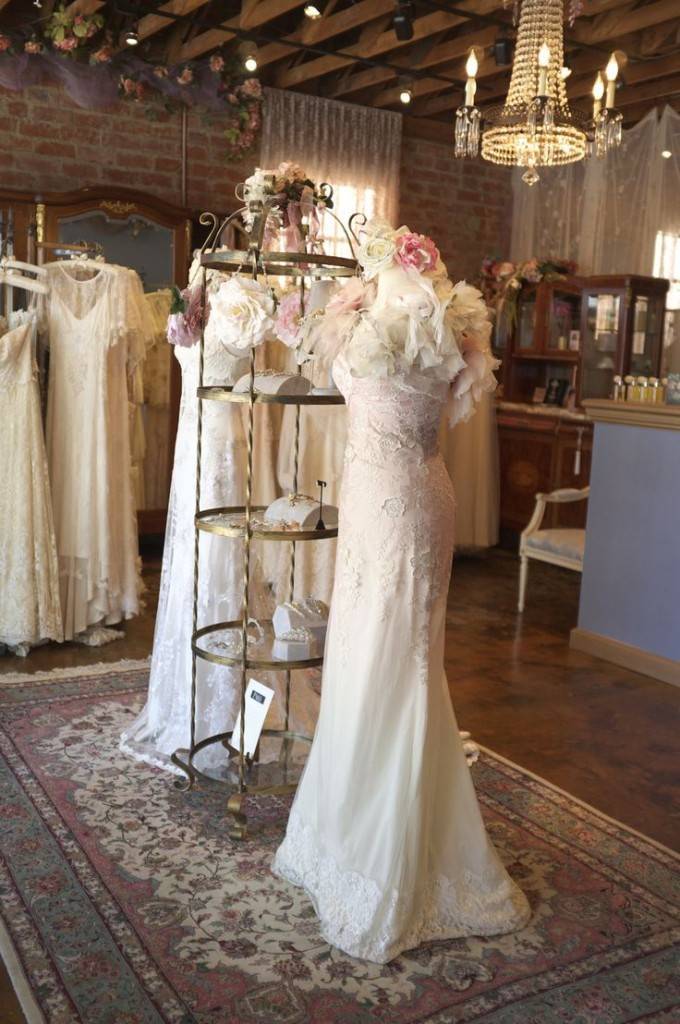 4.      Show Up With An Open Mind.
Shopping at an independent boutique can be a painless (and even fun!) way to find your wedding gown, whether you have pin-boards full of inspiration, or no idea what you're looking for. If you have an idea of what you want, definitely share these at your appointment. If this is your first time putting on a wedding dress, be willing to try something different: sometimes "The Dress" turns out to be a very different gown from the one you thought you wanted. If something catches your eye (or your staff helper makes an interesting selection), go ahead and put it on.
Not sure what you want? Take some time to explore the shop and give the staff information about your wedding venue, time of year, and personal taste to help them make recommendations. Most gown consultants have lots of experience and have developed a superpower for finding the right dress for your style, body type, and budget. If a gown strikes your fancy, give it a try, and use your gut reaction to narrow down your favorites.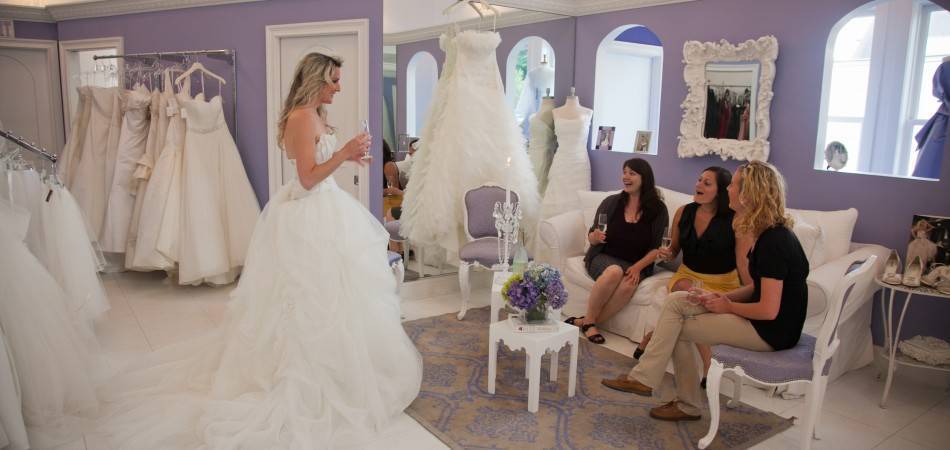 5.      Utilize The Staff's Expertise.
A small bridal shop provides the perfect setting for getting expert advice. Not only will they help you find the right gown (and dresses for your bridesmaids), but they can also help complete your look with ideas for shoes, headpieces, and jewelry. Still hunting for a photographer, caterer, or venue? Ask your shop consultant: she has probably heard the horror stories and rave reviews and can be a great resource for insider information about vendors.
Take the appointment seriously, and approach yourself and your bridal consultant with patience and respect. With a little self-awareness and lots of communication, shopping at an independent bridal boutique can be the most enjoyable, low-stress way to find your gown.   

1) Lovely Bride, photo by Elizabeth Messina  2) Michele Hart Photography  3) Engaged and Inspired  4) Claire Pettibone Flagship Salon, photo by Michele Barr  5) Michele: A Bridal Boutique